When thinking about our ancestors in Pennsylvania, you may not give much thought to the nutritional sustenance that sustained them from season-to-season over many centuries. According to Lewisburg Area High School environmental science teacher Van Wagner, eels have a significant historical significance in the Mid-Atlantic region, because they were a major source of protein and calories for Native Americans, including those inhabiting the river towns of central Pennsylvania.
"Historically, eels are the fish that most humans lived on from the river, and it could have been the single greatest source of protein for people in our area," Wagner said.
"American eels are fish that live in freshwater streams like our river," he said. "Each fall, they swim downstream and head to the Sargasso Sea off the coast of the Carolinas, where they lay their eggs. Eventually these eggs hatch and the baby eels, known as "elvers," make the two- to three-year journey back to the waters where their parents lived. They ascend the rivers and can live over 50 years. Native Americans constructed eel weirs to trap them in the fall as the adults swam to the ocean. This consisted of a stone dam of rocks that would funnel the eels to a wooden trap or weir. Hundreds of pounds of eels could be caught each day during the peak weeks of the migration. They would then smoke and dry the eel meat to be used all winter."
This eel migration and capture is no longer prevalent, however. Due to a series of five dams now located on the Susquehanna River, eels can no longer migrate from their breeding grounds in the Sargasso Sea.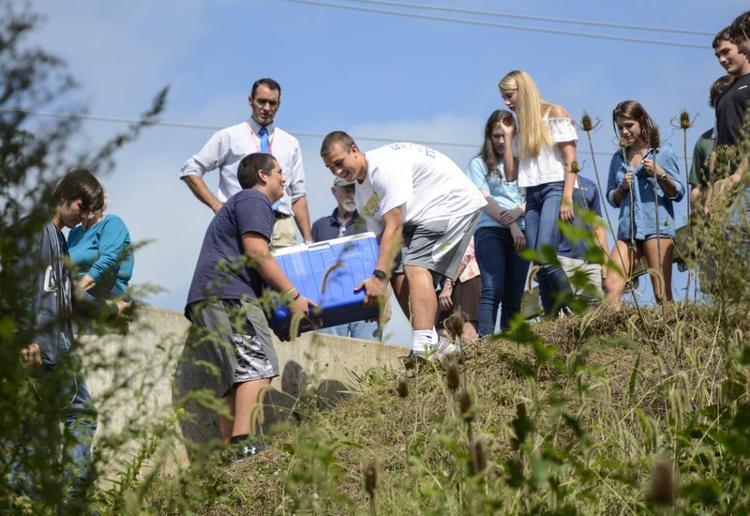 For the third year, Wagner and his 150 environmental science students in grades 9, 11 and 12 at LAHS have partnered with the U.S. Fish and Wildlife Service, the PA Fish and Boat Commission and the Susquehanna River Basin Commission to pilot a program called Eels in the Classroom.
"This grew out of reading about the U.S. Fish and Wildlife Service doing efforts to restore eels in our watershed," Wagner said. "Originally, they would catch eels that were trying to migrate up the Susquehanna River. They would catch them as babies down in Maryland and then they would release them locally in Buffalo Creek and a few other places. I thought, 'Well, why couldn't my students participate?' so I reached out."
He continued: "But rather than simply catching baby eels, driving them up and releasing them the same day, the idea was to have them as guests in the classroom for a few months. Students could learn about them while we raise them and get them bigger, which, biologically speaking, they should be bigger by the time they get up here to the Lewisburg-Danville area. It would have been a few months from when they were coming up through Maryland, so it's not natural for them to be picked up in Maryland and the same day dropped off in northern Pennsylvania. It's better that we fatten them up, so to speak."
Since eels are a federally-protected species, the class works in cooperation with government agencies to trap the young eels below the first dam on the Susquehanna River.
The eels are raised in a special classroom tank donated by the Green Dragon Foundation in Lewisburg. After several months of feeding the eels worms, the students release the growing eels into local streams, after spending months researching optimal habitats for the eels.
In October 2018 and 2019, LAHS students released eels into the White Deer, Chillisquaque and Mahoning creeks, introducing them into streams where they haven't been present for decades.
Fortunately for the class, Wagner had the foresight to reserve one eel as a classroom "mascot" of sorts, because current COVID-19 field trip restrictions make the release of eels impossible.
While eels aren't the most beautiful fish, the environmental science students gravitate to the hands-on project, according to Wagner.
"One of my ninth-grade students has described herself as not an outdoorsy person, but she's in here every morning before school, asking if she can feed the eel. She enjoys digging in the soil and digging out worms and feeding the eels barehanded. It's not just the traditional science students, it's definitely some of the kids that normally aren't into this kind of stuff. I think it's just weird enough," he said, laughing.
Historical Significance of Eel Dams
This year, since field trips are not permitted due to the COVID-19 pandemic, adjustments are being made in the classroom. Instead of traveling, students are focusing on the historical side of the story by researching ancient eel dams in the river. While many can currently be seen with the naked eye, thanks to low river levels, the class is using aerial pictures from as far back as the 1930s. They use a public access website called Penn Pilot (Pennsylvania Spatial Data Access) at https://www.pasda.psu.edu/, to spot V-shaped rock formations in the river bed.
Perhaps not surprisingly, Native Americans were exceptionally attuned to their natural environment and innately aware of migratory patterns of local fish. They erected the large eel dams, giant stone structures in the shape of a V, in rivers to catch eels as they came downstream in the fall on their trip to the ocean.
Wanger said, "The V would come to this point, and at the point you'd have a wooden trap that the eels would get snagged in. During the eel season ... it was a massive producer of protein and calories; I would argue possibly more important than hunting deer, elk and bear."
"While the specific age of the ancient eel dams in the Susquehanna River aren't yet known, one eel dam in Maine has been radiocarbon-dated at 6,000 years old," he said.
Looking at the eel dam near the Danville-Riverside bridge, Wagner's research reports that " … even in a poor eel year like 1912, the eel take was staggering: 50,000 eels, weighing more than 44,000 pounds, were caught in (Pennsylvania). In Danville in September 1914, three tons of eels were taken in 10 days. Some were 3 feet or longer and were sold for 18 cents per pound if cleaned or 15 cents per pound if uncleaned. Most folks agreed that eel was especially good eating when smoked."
Interested science teachers are encouraged to contact Wagner for more information about raising and releasing eels once COVID-19 restrictions are eased. He can be reached at wagner_v@lasd.us.
To learn more about the ancient eel dam near the Danville-Riverside bridge, watch Wagner's educational video, which includes drone footage taken by his son, at https://youtu.be/RcbbKJ17_No.