Victoria (Herr) Brown has undergone quite a role reversal. Last year at this time she was a senior at Penn State looking forward to graduation. Now she's nearing the end of her first school year in front of a classroom as the teacher.
And, just as important as her selection of a teaching career is what she's teaching. Brown is sharing her love for agriculture with students in grades 8 through 12 at Berks County's Kutztown Area School District.
A Lancaster County, Pennsylvania, native and 2014 graduate of Penn Manor High School, Brown didn't grow up on a farm, but has deep agricultural roots. In 1914, her orchard-owning great-grandfather, Robert Christian Herr, founded Herr's Fruit Farm.
Nowadays, Victoria's father, also named Robert Christian Herr, operates the business, seasonally buying produce, flowers and Christmas trees wholesale, then retailing them to the public.
Brown, who says, "I've always wanted to do something with animals," once considered careers as a veterinarian or a marine biologist. But, that was before an "a-ha moment" she had, courtesy of one of her own teachers.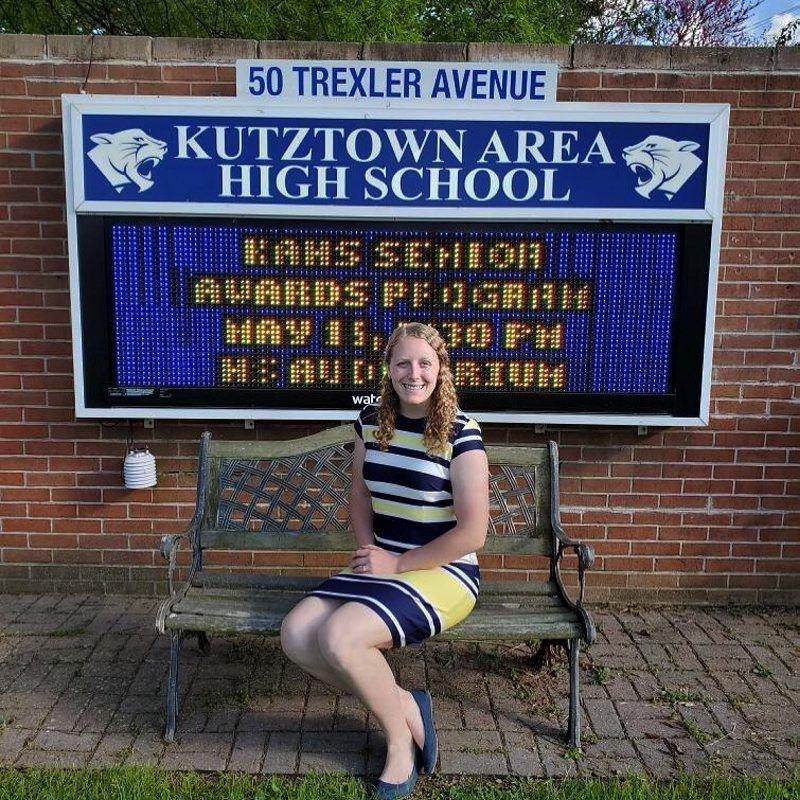 In ninth grade, a friend living on a dairy farm invited Brown to join Penn Manor's FFA chapter and she accepted. Before long, Brown was hooked. And, a few years later, Brown's ag teacher, Neil Fellenbaum, predicted that she was "going to be an ag teacher."
As it turned out, he was almost wrong about that. During the summer after her sophomore year in college, Brown landed an internship with the education department at the Lehigh Valley Zoo in Schnecksville. It was such a positive experience, she was tempted to change her major, but the alluring combination of agriculture and classroom teaching kept her on course for her current career.
While in high school, Brown was active in FFA and was elected state FFA secretary. It meant taking a year off between high school and her enrollment at Penn State as an agriculture and Extension education major, but she now views that delay as a positive thing.
She points out that having a state FFA officer's added responsibilities and opportunities gave her "the chance to see what I was capable of and to believe in myself more."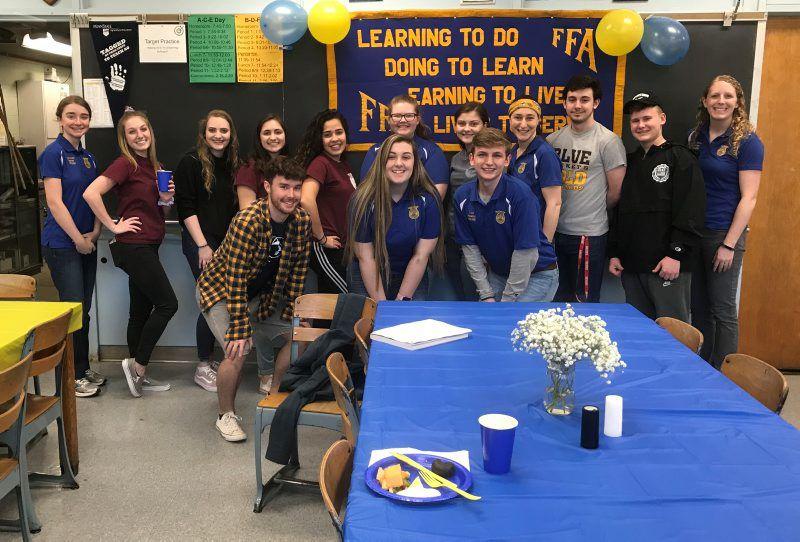 It thus provided her with a "springboard into college" as a more mature individual, better able to take advantage of the learning experiences ahead of her, she said.
Brown's academic success at Penn State was reflected in her selection to Alpha Tau Alpha, the national honor society for professional agriculture educators. She also became a founding member and eventually president of the Literacy, Education and Agricultural Development (LEAD) Society, which combined Penn State's collegiate FFA and its Teach Ag Society. Another experience was being selected as one of 12 2017-2018 National Teach Ag Ambassadors. With teachers of agriculture in high demand across the U.S., Ag Ambassadors are tasked with recruiting more individuals into this career field.
Brown said being a National Ag Ambassador was a rewarding experience for many reasons. Among her travels was a trip to the 2017 National FFA Convention in Indianapolis, where she, a Penn State student, met an ag ambassador who hailed from rival Ohio State University. He accepted her invitation to Penn State's homecoming a few weeks later. Her date's name was Kelse Brown, who now teaches agriculture at Eastern Lebanon County High School. With so much in common, they married in June 2019.
With her own college career coming to an end in May 2019, Victoria Brown was a busy gal, not only planning a wedding, but also "applying for every ag position that came across (her) desk."
She had done her student teaching at Penns Manor Area School District in Indiana County, and, while there were plenty of out-of-state job opportunities available, Brown already knew she wanted to teach within Pennsylvania.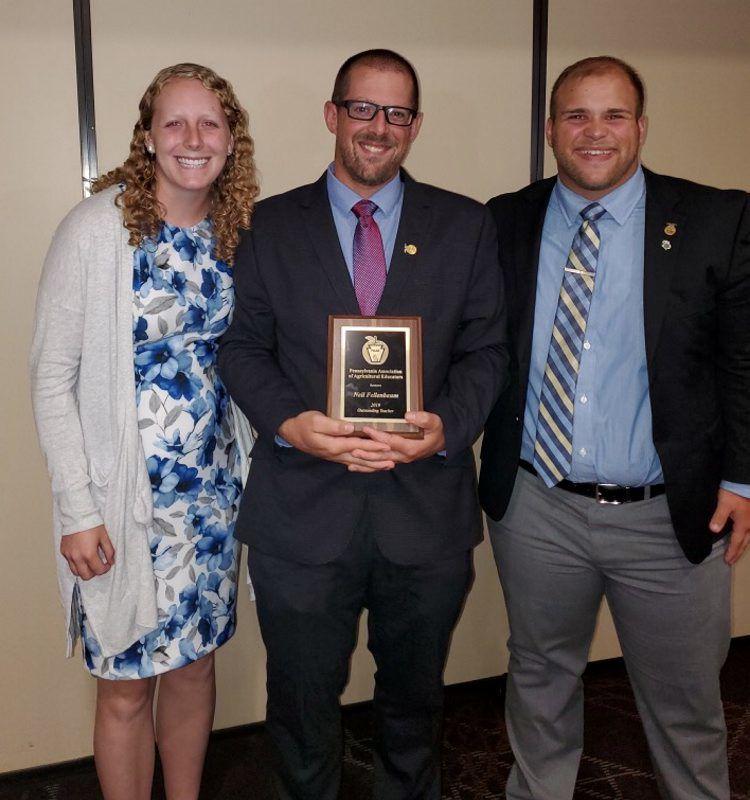 The day after graduating from Penn State and being honored as the College of Agricultural Sciences' Outstanding Senior, Victoria had a second interview with the Kutztown Area School District. She had done her homework and knew it was the kind of place she wanted to work, with an established agriculture program and a supportive administration. She was offered the job and happily accepted.
It's been a demanding first year, she said, but one that Brown relishes. In fact, she admits that the hardest part of it thus far has been the sudden separation from her students as a result of the school's coronavirus closure. Brown said she didn't realize how much she would come to love her students, so during this hiatus in their school year, she is trying to keep them engaged by staying connected with them electronically.
Among Brown's accomplishments at Kutztown has been launching an introductory agriculture course for eighth-graders at the district's middle school to give them a better appreciation for agriculture and its career options. Otherwise, her focus is on ninth through 12th graders. She teaches classes in horticulture, veterinary science and agri-business, as well as an Advanced Placement course in environmental science and a hands-on class for students enrolled in the district's life skills education program.
Brown actively incorporates STEAM elements in her teaching, especially emphasizing mathematics, reading and science during classwork. She also tries to instill the importance of students being ready to adapt and learn new technologies in the rapidly changing world of agriculture, and the world in general.
Brown also serves as adviser for Kutztown Area School District's FFA chapter, which currently has over 50 members. She's trying new activities with the group, guided by suggestions from the members themselves. They've placed an emphasis on community service, such as serving food at activities of the Old Time Plow Boys Club and volunteering at nearby Hawk Mountain Sanctuary. They also attend conferences and agricultural events, with the high point for eight students last fall being attendance at the National FFA Convention.
As she grooms her students to be lifelong learners, Brown recognizes that many are likely training for careers that don't yet exist. And, although she realizes not all of them envision working in agriculture, she's confident that, as future consumers and decisionmakers, all of her pupils will benefit from their ag coursework.
She said that the five Kutztown seniors who received their FFA Keystone degrees this year represent a typical cross-section of her students. After graduation, all five plan to continue their educations, studying topics like wildlife science, sustainable agriculture, welding, animal science and nursing.
What does the future hold for agriculture?
Brown doesn't have a crystal ball, but when it comes to things like the dairy crisis, she believes consumers are in need of education, and asks, "Unless we are educating them, who is?"
When asked about emerging trends like the organic movement and growing hemp, Brown said she discusses these options from an agri-business perspective to get her students developing their own informed thoughts on such subjects.
As for her own future, Brown said, "I'm not going anywhere. I love Kutztown and I love my students."
She plans to start a master's degree program in education leadership in the near term and may eventually pursue a principal's certificate.