PEMBROKE, Maine — Feral apple trees abound in Maine.
Abandoned many decades before, the tall trees produce golf ball-sized, relatively hard, semi-sweet to bitter, yellow to red apples or "pippins," a somewhat archaic word used by farmers and residents of North America during the 19th and early 20th centuries to describe several cultivars of dessert apples.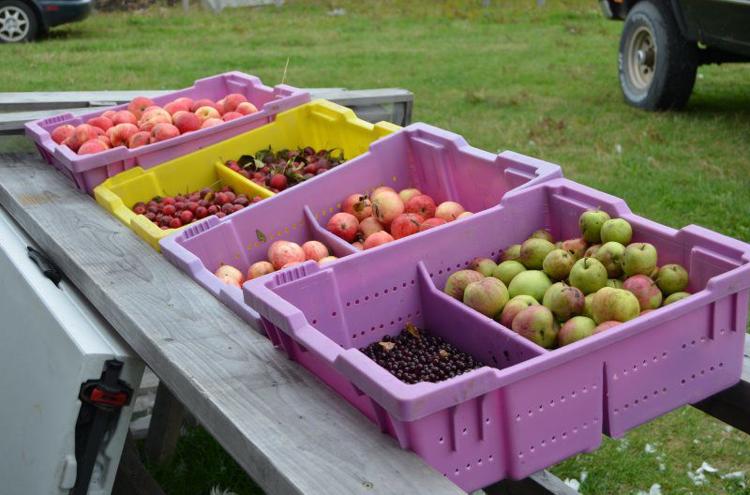 In the fall, the wild apple trees are easily spotted along country roads throughout the state, said Severine von Tscharner Fleming, the founder and director of Greenhorns, which held a do-it-yourself, cider-pressing "camp" earlier this fall.
Greenhorns is "a grassroots organization with the mission to recruit, promote and support the rising generation of new farmers in America," according to its website.
Greenhorns is based in the small coastal town of Pembroke, Washington County, the easternmost point of land in the continental U.S., which borders New Brunswick, Canada. Celebrating its 10th anniversary, the Greenhorns organization hosts farming and related sustainable agricultural events throughout the year, in addition to producing educational films, a weekly radio show, almanacs, guidebooks and numerous projects promoting the arts.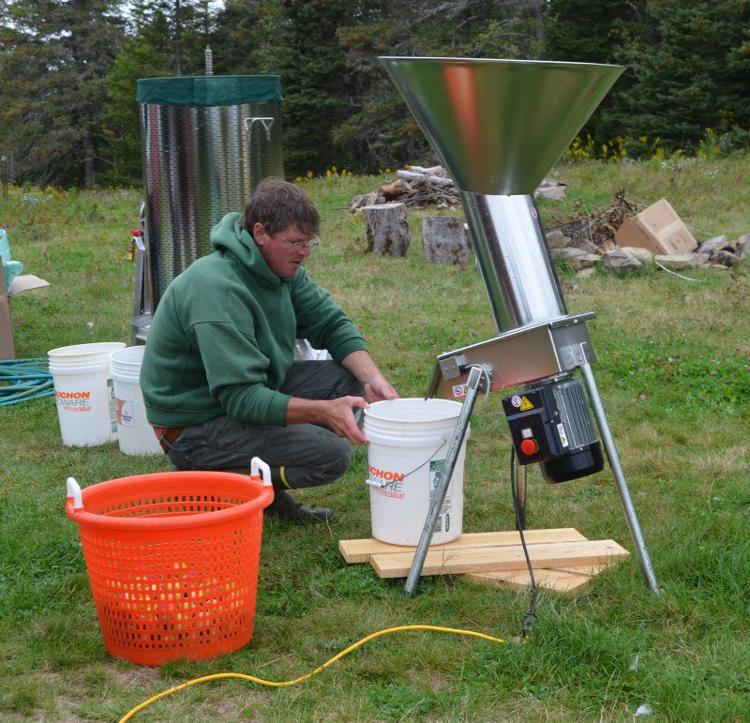 "We hope ... to host more workshops on these kinds of things and co-visioning natural resource economies that are of use in this region. And, we believe that there will be more young farmers in this region — that is why we are here," Tscharner Fleming said in her welcoming remarks at the cider-pressing weekend in mid-September.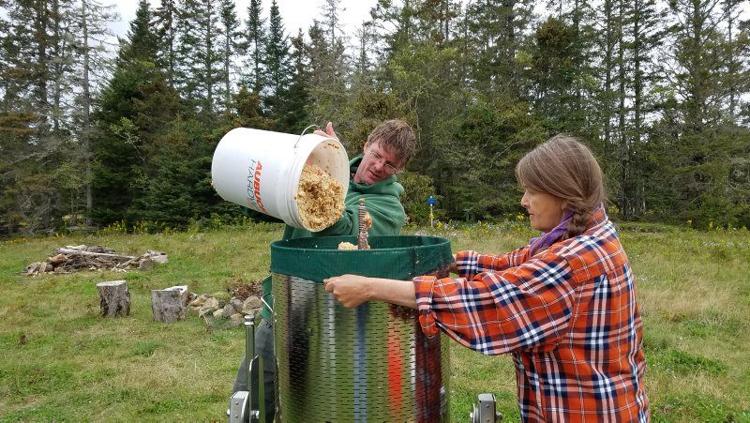 "We believe that there are a lot of fruit trees in this region already, and that there's a lack of fruit-tree processing, value-added economy related to apples," she said. "That's why we invited Gene Cartwright (from Whaleback Cider in Lincolnville) and Abbey and Angus Deighan (Rocky Ground Cider in Newburgh) to come from the mid-coast to share their experiences — not just about how good the cider is, but what the business of cider is, and how to find the balance between entrepreneurship and subsistence for this region."
Cartwright, in his brief presentation at Reversing Hall, which serves as Greenhorns' venue for lectures and other presentations, told the small group of Cider Camp guests that on the three-hour drive to Pembroke "you see so many apple trees and it's exciting (to) do something with all that fruit, even if it's on a small scale."
"This is my sixth year doing it," he said, "so I am just really getting started myself."
Prior to starting Whaleback Cider, Cartwright began experimenting with making cider from wild apple trees in his neighborhood. Describing those first years as "a really exciting project," he explained that he had to get to know how and what each apple tree and apple variety "contributed to this beverage that is very much like a delicate, white wine."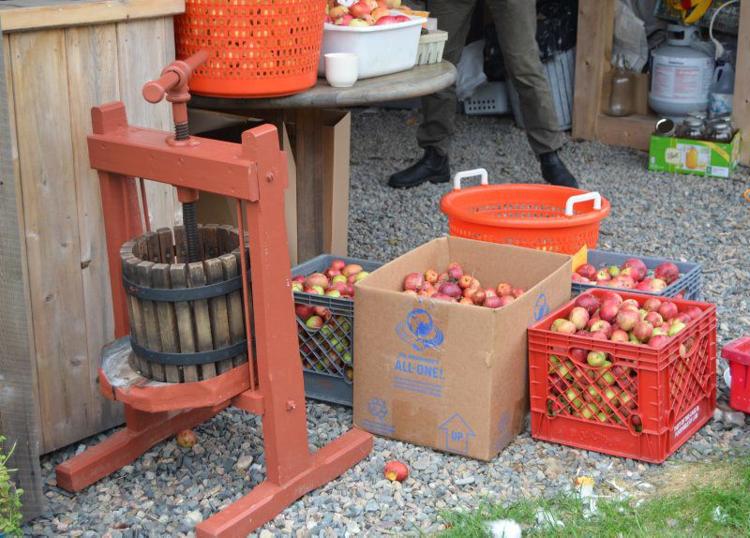 After two years of experimenting with cider recipes, combining trial and error with research, Cartwright made the decision to devote his time to building a farm-based cider business.
Currently, his farm features about 1,000 trees, including a nursery, where he experiments with grafting trees with different fruit stock varieties. The orchard features large, heritage trees, along with smaller tree varieties that are common to modern orchard operations.
"Almost all of the orchard is basically spliced together or rooted cutting," Cartwright said. "I started with 625 varieties in 2013. Now they're all producing fruit and it's an exciting process."
"So how do you (harvest) 625 trees?" he asked. "No one tree produces more than a bushel of fruit right now. For now, most of the labor has been tending to the big trees."
A major part of Cartwright's operation is establishing the orchard to include various apple and pear varieties. He also is planting elderberries, grapes, blueberries and other wild berry varieties, he said.
Although wild varieties of apples, along with wild berries and nuts, are used to produce Whaleback Cider blends, Cartwright still relies on standard apples like Macoun, Northern Spry, Cortland, Golden Delicious, Liberty and Empire as the base source of the company's products.
In addition to the 5-acre orchard on his 8-1/2-acre farm, Cartwright also picks apples from wild tree areas and field edges he has found in the Lincolnville area.
The fruit is pressed on the farm and is cold-fermented during the winter. Then it is aged in oak barrels. In the early spring, Cartwright begins blending various fermented batches of wine. Combinations are tasted, as he attempts to find the best balance of sugar, tannin and acid. Those batches selected are combined in separate bottling runs, and after a short time of bottle conditioning, the cider is ready for consumers, he said.
Following his brief presentation at Reversing Hall, the Cider Camp attendees moved to Smithereen Farm, which was established in 1820 overlooking Cobscook Bay and the Pennamaquan River estuary. Protected by the Maine Coast Heritage trust, the farm is a bird sanctuary adjoining the Moosehorn National Wildlife refuge, a home to eagles, puffins, Arctic terns, loons and many other bird, animal and marine species. The farm grows and wild harvests seaweed, wild herb teas, wild chaga mushrooms and blueberries. Its young orchard features 125 heritage apple, pear, plum and nut trees that will provide the ingredients for its own brand of heritage hard cider.
At the cider event, Cartwright set up his portable apple grinder and cider press in front of the Farm Camp, a two-story, timber-frame outdoor kitchen, which features a large, iron, kitchen wood-stove. Baskets and bins containing various small apple varieties, along with chokecherries, blueberries and nuts, lined the entrance of the building. With the help of attendees, he demonstrated grinding and pressing apples, the first step in the cider-making process.
On Sunday, the last day of the camp, Angus and Abbey Deighan, owners of Rocky Ground Cider, based in Newburgh, talked about their experiences in developing a hard cider business. The Deighans explained that they spend their autumns driving around the state searching for wild apples, which they pick, and take back to their family homestead. The fall and early winter is spent pressing the apples, and transferring the juice into barrels for fermenting, which takes up to nine months. In the early summer, they bottle the cider.
They also discussed Maine regulations governing foraging, talked about a "cider bar" that recently opened in Belfast, and shared their knowledge of developing a fermentation process to produce high-quality hard cider. That evening, the group participated in an outing to the Pennamaquan River to spot feral apple trees, wild hops and identify other wild plants that can be foraged in the area.
For more information on Greenhorns, visit www.greenhorns.org; for Whaleback Cider, visit www.whalebackcider.com; and for Rocky Ground Cider, visit www.rockygroundcider.com.