Three Garden Spot High School ag students from New Holland, Pennsylvania, made good use of their unplanned time off from school this spring. High school junior Kara Martin, senior Daniel Horning and freshman Kolby Stoltzfus each got serious on-the-job training recently — a good thing, because they all want to end up with future careers in the agriculture field.
Prior to the coronavirus pandemic, which began March 11 and resulted in the state closing its schools to prevent spreading of the virus, the ag students were spending nearly a full day in career-building work. Now, the ag students are keeping up with their academic subjects through online courses and outside reading. It all adds up to busy weeks for these teenagers
Ashley Peirson and Katherine Ranck are the ag educators at the high school. Pierson said it was not surprising that the students with farm backgrounds would naturally be looking to learn more and help more in the ag world, rather than think of the unplanned, early end to their school semester as a vacation.
Martin, age 16, lives in East Earl and has been attracted to horses since shortly after she learned to walk.
"My parents brought me to BrownHill Stable in Narvon for riding lessons as a 4-year-old," she said.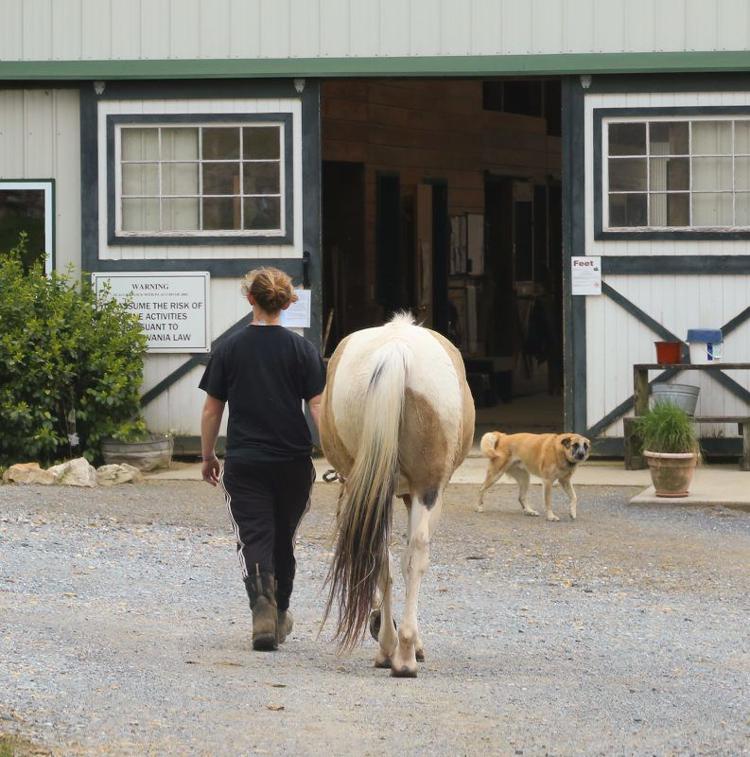 When Martin was about 9, she began to help stable owners Sherri and Lee Brown clean stalls and care for the nearly 20 horses on-site in return for riding lessons.
"She is one driven young lady," BrownHill Stable owner Sherri Brown said about Martin. "She is trustworthy, on time, wonderful with our students and willing to do anything here at the stable."
Martin has progressed through the years from just cleaning stalls to giving pony rides and, in the past year, teaching riding lessons to small groups of students.
Even though the stable has closed, like many other businesses during the pandemic stay-at-home period, Brown said it hasn't stopped the regular work around the stable.
Martin said she was spending about 20-plus hours at the stable each week during the school year. Now she can be there almost double the hours, doing tasks ranging from cleaning out stalls to grooming and caring for the horses.
"I love it," Martin said. "There is no other place I'd rather be now and after I finish school."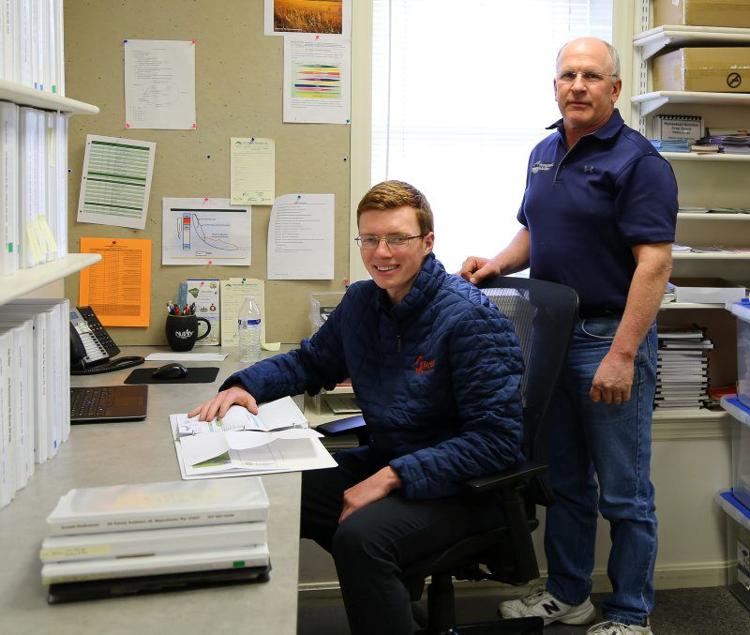 Student Daniel Horning, 18, from Denver, Pennsylvania, has been raised on a family farm that grows produce, corn and alfalfa. Through the high school co-op program, he has been working part-time at Homestead Nutrition in New Holland, Pennsylvania. Now the co-op role has turned into an actual job with growing responsibilities. The company, founded by dairy farmer Don Weaver in 1993, helps farmers with water quality and nutrient issues as they manage their farm's resources. Horning said it also has a line of products like animal mineral supplements, manure treatment products, specialty fertilizers, feed supplements, and cover crop and forage seed mixtures.
Horning works with consultant Ken Becker, who describes him as a responsible young man learning how to interpret farm data to create a clear plan to help clients manage farms and resources in the coming decade.
Horning is completing his last English course online from a community college and will attend Penn State's Berks Campus in the fall while continuing to work at Homestead Nutrition. He hopes to become a full-time consultant after he graduates from college.
"I'm excited about a career in agriculture," Horning said, "and I am actually working in the business now and learning every day. I'm very fortunate."
Student Kolby Stoltzfus, 15, from East Earl, Pennsylvania, feels that he was always destined to be a dairy farmer, and he's probably correct. As part of the Stoltzfus' Warwick Manor Guernsey Farm, he grew up with twice-a-day milking of the farm's 50-plus Golden Guernsey cows that trace their heritage to the dairy cattle from the British island of Guernsey in the Channel Islands. Stoltzfus has helped raise and show many of the farm's award-winning animals.
His dad, Kevin Stoltzfus, got Kolby and his two sisters involved with the cows at an early age. Kolby has helped with morning milking, before the sun rises even on the longest day of the year, as well as milking after school.
"It started to turn real for me at age 12," the future dairy farmer said, "and I feel a calling to support the family business and, hopefully, be able to run it as an adult."
Kolby's dad is happy to have his young, strong son with him every day this spring during the pandemic. Kolby has been helping get the 3,000 pounds of milk, daily, from their 50 milking cows ready for customers at the farm's processing facility at Yoder's Market in New Holland where all Warwick Manor milk is sold.
Said Mr. Stoltzfus, "The milk is so fresh that milk from the 4 a.m. milking can be bottled and on the grocery shelf that afternoon."
Kolby has found himself doing farm maintenance work too this spring that, as his father said, "is all part of the business."
Kolby is only a high school freshman and thinks it is a little early for him to be sure if he wants to jump into the business right after graduation or continue as an ag student at Penn State, like his sister.
"I have time to decide," he said while holding a cow in the barn for a photo.
The three students are making their instructors proud. There are more than 300 students at Garden Spot High School who take ag courses in animal, plant and food sciences. Many of them go on to post-high school or post-college careers in the field.
"We're certainly proud of them and their accomplishments," Peirson said, "and happy they can be working in the field in this — we hope —once-in-a-lifetime pandemic school closing."