NEW HOLLAND, Pa. — Young Grace McCarty can't weigh much more than 100 pounds, but her 1,200-pound American Quarter Horse, Hank, knows who is boss. The horse listened intently for her instructions recently on a cool, damp, late-summer morning at Colonial Acres in New Holland.
Grace, 15, a sophomore at Garden Spot High School, owns and cares for Hank with her brother Jack, 17, a senior at the high school. Jack is helping Grace work the gelding back into shape for her school SAE (Supervised Agricultural Experience) project after the horse spent the past years rarely being ridden or exercised.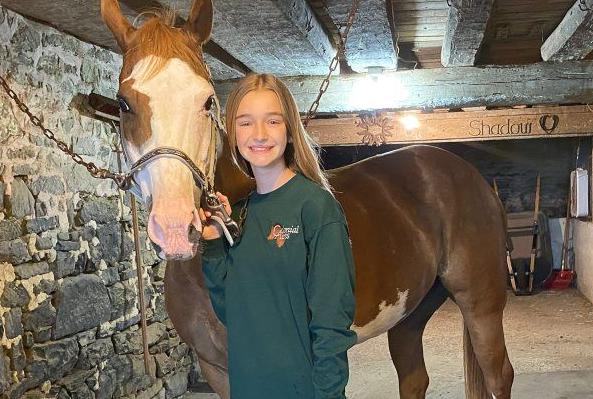 The McCarty teenagers have been riding since being introduced to horses by their grandmother early in their elementary-school years. They are committed to getting the 13-year-old horse back into shape with trail riding and ring work. They share the responsibilities of caring for Hank including mucking the stalls, feeding, riding, and getting him used to an English saddle, rather than Western saddle and tack.
Hank gets ridden four or five days a week around obstacles in the ring and over small jumps as well as on the trail, Grace said.
Jack describes their first horse, a Thoroughbred, as having the speed of a sports car, while he feels Hank is more like a pickup truck but making progress in the right direction.
Grace said the Thoroughbred was always ready to take off once you pointed him in the right direction and she loved it. She said Hank is a little slower, but getting stronger every day.
As part of the project, Grace has been shadowing Stephanie Myers, whose family owns the farm, for the past year to learn about working with and caring for horses.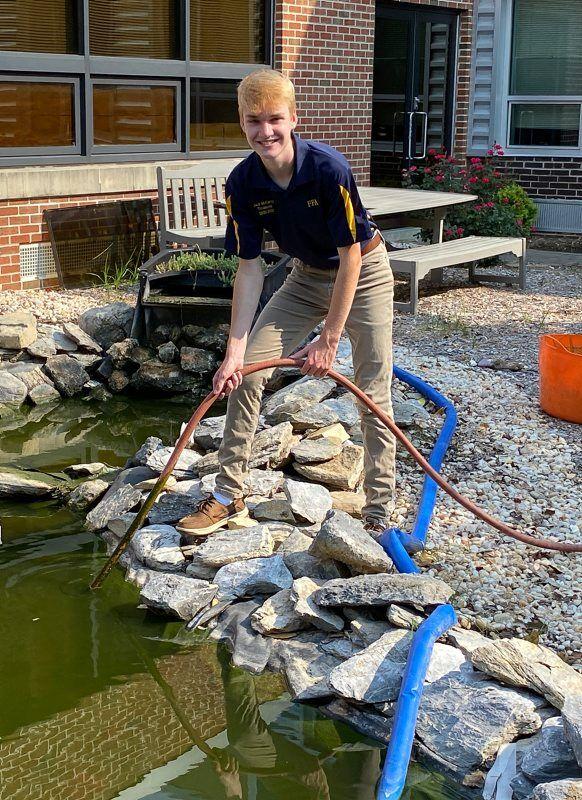 "Grace is a dependable young lady, and both an excellent worker and one who is dedicated to the health and well-being of her horse, Hank," Myers said. "She wants to learn and is a pleasure to work with."
To fulfill the SAE requirements for her high school ag teacher Katherine Ranck, Grace updates a weekly online log of her work and is preparing a report, including a video segment on her progress with Hank.
"It's way early yet to be thinking about a career," Grace said, "but riding and caring for horses has given me an appreciation of animals and maybe a career as a veterinarian is a possibility."
Jack feels that working with Grace and the horses has been a learning experience and one that has brought him closer to his younger sister as he helps her care for and train Hank.
Jack and his sister are both FFA members and club officers. Jack serves as the local chapter treasurer and the county president. Grace is the local chapter recorder, taking responsibility for the group website, social media and media relations.
Rehabbing Hank is Grace's SAE project, however, and Jack has one of his own. He combined it with the final work in 2020 for finishing Eagle Scout requirements. The senior has been restoring an overgrown and forgotten interior courtyard at the high school, making it into a teaching and learning area for both ag and science classes.
"It was an area that had literally gone to weeds," Jack said, "and I saw it as a chance to turn it into an outdoor classroom and teaching area with annual and perennial plants as well as herbs for use by ag, science and health classes."
He applied for and received grants totaling $2,500 from the national and state FFA organizations to help support the courtyard project, which he undertook with Ranck's guidance.
"After the 'grunt work,' of stripping out vegetation, cleaning the pond and preparing the site with mulch, the grants have permitted me to buy the plants and materials needed for the renovation," Jack said.
Ranck serves as Jack's and Grace's adviser for their SAE projects.
Speaking about Jack's environmental project, she said, "The courtyard project was important, because it is a space that had been neglected and was visible from several hallways and classrooms. Jack identified this space as an area he wanted to invest in. It was also a way for him to leave his mark at the school. He has spent many hours planning, implementing and working in the courtyard to ensure it is a clean, sustainable and usable space for all, providing a safe, outdoor location for learning and relaxation."
This year Jack plans to add a tower garden for the health classes to grow herbs, install raised beds for students in special needs classes to plant vegetables, and have a small plastic greenhouse so he can start plants from seeds earlier for spring planting. He will install small signs identifying the classification and species of the plants that fill the growing space. He will also include larger signs that explain photosynthesis and the nitrogen cycle to students and visitors.
To complete the project, Jack is working with classmates and painters Gemma Lindquist and Ashley Kerchner. He selected an open wall in the school's classroom wing that will become the site of an environmental mural to be painted by them.
For the long-term scenario, Jack hopes to set up an aquaponics garden in the courtyard pond and train underclassmen to keep the courtyard project going.
Jack is thinking about majoring in political science in college with possibly law school in his future. His determination on his SAE project bodes well for his success in those endeavors as well.