It's true that the COVID-19 pandemic has caused most of us to pivot in new and unexpected ways since it began 11 months ago. For college students, the virtual learning experience has been upended even more drastically, especially for hands-on majors in the agricultural field.
John Torbert, a junior agribusiness major specializing in crop production at Delaware Valley University in Doylestown, Pennsylvania, decided early on in the pandemic to embrace the "new normal" of virtual learning and flexible class schedules by expanding his work at Growmark FS, where he turned an internship into a part-time job.
According to Growmark FS's website, the company is a subsidiary of the third-largest agricultural retailer (Growmark Inc.) in the U.S. and provides retail sales of seed, plant nutrients, lime, crop protection materials, custom application, turf, propane and precision agriculture to customers in the Mid-Atlantic region of the U.S.
Torbert, who lives in Yardley, Bucks County, grew up helping out on his grandparents' farm, one of the last remaining family farms in the area, he said.
"We have good family friends that farm it, so I'd help out occasionally," he said. "I've always had a real interest in farming."
When it was time to look at colleges, he decided to build on his interest in crop production, researching agricultural programs in Pennsylvania. Torbert completed his first two years at Bucks County Community College, then transferred to DVU to complete his junior and senior years. He was attracted to DVU for its small classes, access to professors, hands-on approach and 13:1 faculty to student ratio.
"I was also really looking forward to the college's clubs, trips and farm shows. Travel and study abroad (were part of the decision, too)," Torbert said.
When the pandemic began last spring and the university announced a transition to online learning, Torbert was a bit leery
"Many of the lab-based classes like soils and animal science are difficult to learn virtually," he said. "Our professors did the absolute best that they could."
Fortunately, just before the pandemic disrupted the lives of college students everywhere in March 2020, Torbert was already doing an internship at another branch of Growmark FS as an agronomy operations intern. So, he extended his time there into spring break ... and then into the summer.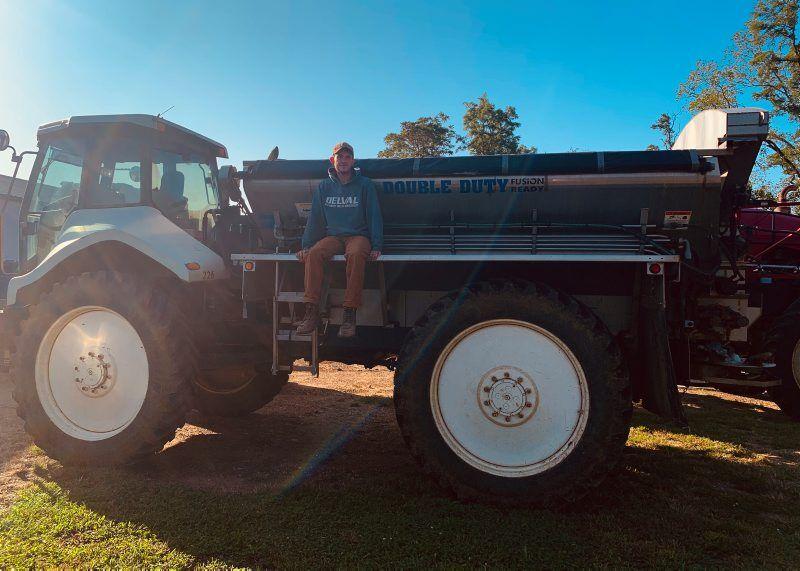 The internship gave him firsthand experience applying agronomy — the science and technology of using agricultural plants for food, fuel, fiber and land restoration — to real-world, on-farm challenges.
When he learned that his fall classes would again be half virtual and half in-person, he decided to set his goal on securing a part-time job with the company to enhance his education, gain some real-world experience for his resume, and earn some income.
His decision worked out well. He reached out to another branch of Growmark FS in Columbus, New Jersey, a reasonable commute from his home, and parlayed his internship experience with the company into a part-time job as a custom applicator. The job requires him to travel to Pennsylvania and New Jersey farms and interact one-on-one with farmers, assisting with applications of seed, fertilizer and nutrients.
"I love talking to farmers. It's one of my favorite things to do," he said. "This is an industry that can't stop because of the pandemic."
Torbert assists farmers with equipment issues, takes soil samples, and suggests custom application solutions.
"(It's) work that cannot be done over the phone," he said. "I may have a farmer who tells me there's a wet spot in a field or a field entrance behind a certain treeline and that's not something that can be understood over the phone. You have to physically get in a pickup truck, so he can show you," he said.
He is grateful to apply his lab- and class-based educational experiences directly to local farms for the benefit of farmers and farm health.
But, Torbert said, logistically, it can be challenging to find a place to take university courses remotely when he's also in the field working. Since many coffee shops and libraries are closed because of COVID-19, he admits that he's had to attend a few classes, virtually, from his car, which definitely isn't ideal.
Torbert isn't the only student taking advantage of the additional class flexibility that online college offers.
"Many of my brothers in Alpha Gamma Rho (an ag-based fraternity) are doing similar things — working part time and attending classes," he said. He feels it is setting up motivated students for success, post-graduation.
"I am not one to sit at home. I need to make good use of my time," Torbert said.
While the pandemic wasn't a blessing, Torbert sees the opportunity to work while taking college classes as a welcome opportunity, in the midst of challenging circumstances.
He encourages other students to consider gainful employment during the spring semester as a way to boost post-graduation marketability, and personal and professional confidence.
Torbert plans to continue working at Growmark FS or a comparable company full time after he graduates in 2022.