MOUNT JOY, Pa. — If you think this summer has been sweltering, you should talk to Aaron Harbach.
The aspiring herd manager spent his summer working at Barrington Dairies, about 30 miles south of Macon, Georgia.
Triple-digit temperatures several times lasted into the evening at the farm.
"If you ever want a good weight loss plan, just move to Georgia in the summertime," Harbach joked.
Harbach, a Cornell University student whose family runs a large dairy near Lock Haven, was one of seven college students who participated in this year's on-farm internship program offered through a partnership between the Center for Dairy Excellence, the Professional Dairy Managers of Pennsylvania, and the Pennsylvania Dairymen's Association.
The interns spoke about their experiences on Aug. 22 at MidAtlantic Farm Credit's Mount Joy office.
Interns must attend a Pennsylvania university, be a Pennsylvania resident attending an out-of-state school, or be a recently graduated Pennsylvania resident with an interest in dairy production, according to Emily Barge, a center spokeswoman.
Harbach is the only one who worked at a farm outside the Mid-Atlantic, and he also worked at the biggest.
With 11,000 cows in milk at two sites, Barrington is huge. The livestock housing area alone at one of the farms is a mile wide.
In addition to getting his exercise going from building to building, Harbach experienced almost every job on the farm.
He trimmed hooves, threw tires on a feed bunk, even drove the cattle-moving truck after the driver abruptly quit.
"I am very proficient in driving a semi now," he said.
But Harbach's biggest achievement was improving the efficiency and cleanliness of the farm's three parlors.
These parlors accommodate 42, 35 and 36 cows, and except for two washes, they run around the clock.
Harbach was asked to develop maintenance schedules for these heavily used buildings and make sure the workers followed a good routine.
Harbach's first step was to test the pulsators — all the pulsators.
Using a "cute little $3,000 computer," he found 14 broken units on his first go-round. After he had tested everything twice, Harbach trained the parlor manager to do the job.
Harbach also noticed that when parlor equipment broke down, the replacement parts weren't on hand.
He developed an inventory sheet for the parlor shop, which a maintenance worker now goes through every week to decide what to order.
"They basically have everything in that parlor shop now to rebuild that parlor, I would say," Harbach said.
That's important because the nearest service technician is seven hours away in Tennessee. If both parlors went down, the farm would lose $5,000 in income per hour, he said.
Later in the summer, Harbach changed every gasket in the lines at two of the parlors in response to high plate count readings.
That took a lot of time but dropped the plate counts, he said.
In the small parlor where the cows with contagious mastitis are milked, Harbach also noticed that a pulsator line was running full with cow's milk, which it wasn't supposed to do.
He cleaned all of the parlor equipment, but when he ran the wash, he noticed that the cleaning acid was bubbling out onto the ground.
He fixed that issue too, and now the parlor is functioning well under a protocol he created.
At the parlor manager's request, Harbach timed every part of the milking routine, and gave presentations in Spanish and English to improve their efficiency.
Harbach had taken some Spanish in high school, but over the summer, he became fluent in "dairy Spanish."
"I wouldn't say it's conversational Spanish outside of that, but if I need to communicate about anything on a dairy farm, I feel like I can do that," he said.
On top of those achievements, Harbach will be able to tell future employers that he filled in for two weeks as the farm's herd manager and helped reduce somatic cell counts by almost 20% over the course of the summer.
And he did it all in the muggy Southern sauna of a summer.
As it happens, the cows stuck out the hot weather pretty well themselves.
When Harbach left, the all-Holstein herd, which hasn't been bred specifically for heat tolerance, was producing 83 to 91 pounds of energy-corrected milk per cow per day.
The farm has plenty of water troughs, as well as a maintenance crew monitoring the always-running fans and sprinklers.
"When people say that they can't be making milk when it's that hot out, maybe you need to look at some other reasons" besides the temperature, Harbach said.
The Southern setting brought other curiosities — armadillos on the road, pork from feral pigs for dinner, the occasional alligator in a pasture.
Cotton gin trash was a major component of the cow rations.
"Doesn't exactly look or smell appetizing, but you add some molasses and corn silage to it, I guess you want to eat it," Harbach said.
After his internship, Harbach still wants to become a herd manager.
He wouldn't want to work at a farm of Barrington's scale for his entire career, but for eight or 10 years, he said, it'd be exciting — and a great way to build knowledge and work experience.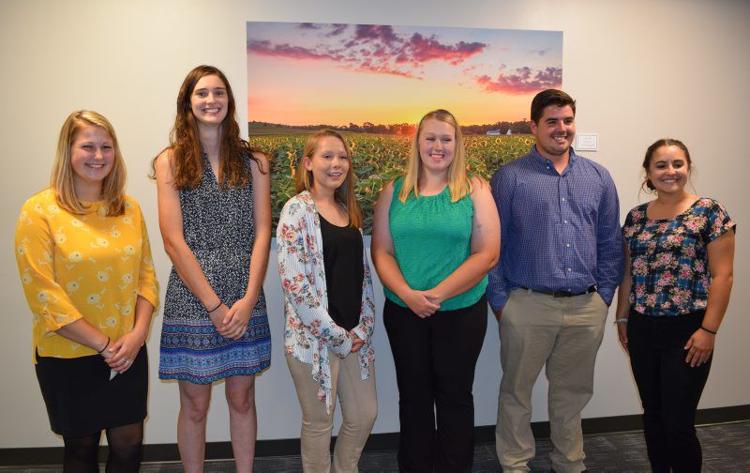 The other Center for Dairy Excellence on-farm interns will be featured in the next Eastern Dairy Reporter, published as part of the Sept. 21 edition of Lancaster Farming.
This story has been updated.