HARRISBURG, Pa. — What is the most important part of baking an apple pie to win as state's best?
"Consistency," said chef and pie judge Tim Twiford, of Redner's Fresh Market, at the annual Pennsylvania Farm Show's Blue Ribbon Pie Contest last Saturday. "The cooking of the apples is important, too. The apples shouldn't be too hard, or too soft."
And, even the color matters. The lighter colors "felt cleaner," he said, using words to try to describe the complex sensory experience of taste-testing many pies, one after another.
"It was pretty filling," Twiford said about judging the event. "It was great, because you got to try different pie crusts."
To compete at the state show, all the contestants needed to win first-place honors in the apple pie baking contest at their local fairs during the summer or fall. Then, they recreate the identical recipe for the state Farm Show competition in January, and transport it to Harrisburg for the event.
Sharon Kurtz, who won the first-place ribbon and $500 for her pie on Saturday, had placed first earlier in the year with her pie recipe at the Plainfield Farmer's Fair near Bangor.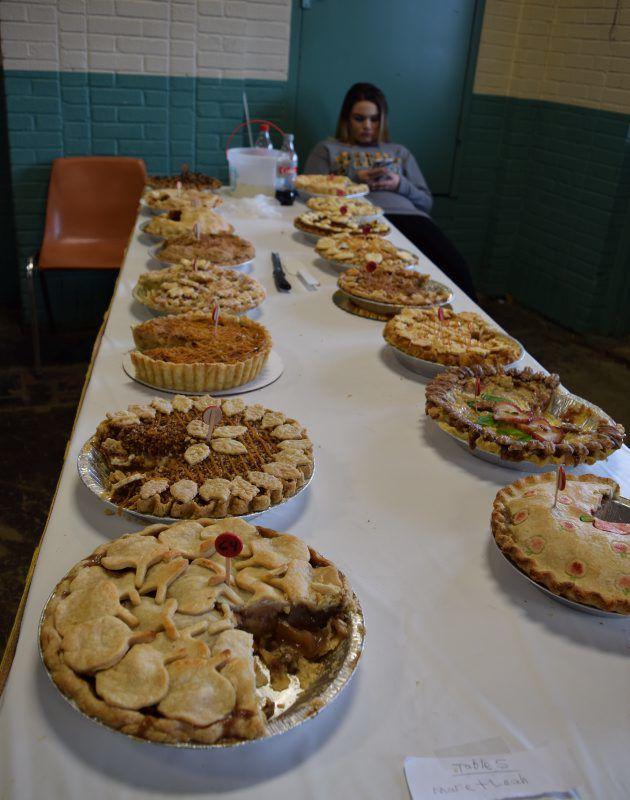 On Saturday, the 79 apple pie entries were first divided into groups and each judge narrowed down a table of pies by considering a variety of its culinary qualities, from appearance to taste and more. Having announced the top 25 best pies to the audience, the judges then all tasted a slice from each. After nearly an hour, five prize winners were announced.
Twiford said that all the judges unanimously selected Kurtz's as the first-place pie.
The second-place winner was Lucinda Donough, from the Juniata County Fair. In third place was Ann Krug, from the Harmony Grange Fair in Clearfield County.
Fourth-place prize winner Chris Arbutina, from the Centre County Grange Fair, bakes with her family recipes.
"I love baking," she said after receiving her prize ribbon. "My aunt taught me to bake pies one summer when I was 10 years old."
Arbutina, who works at Penn State as an undergraduate admissions recruiter, still uses her aunt's rolling pin and her mom's pie crust recipe. When she bakes, she "feels connected to family," she said. "It's really relaxing."
Arbutina used Northern Spy heritage apples from a local orchard along with a few Cortlands in her award-winning pie. She refers to herself as a purist, meaning she doesn't like to mix other fruit into the apple pie.
Her other secret?
"I pre-cook the apples," she said.
Winning the fifth-place prize was Angie Espenshade, from the New Holland Farmer's Fair.
Following are the top three winning apple pie recipes.
Four-Layer Apple Pie (First Place)
For crust:
3 cups flour
1-1/2 teaspoons salt
1 teaspoon sugar
1 teaspoon cinnamon
1-1/2 cups butter-flavored Crisco shortening
1 large egg, beaten
5 tablespoons cold water
1/2 teaspoon vanilla extract
1 tablespoon apple cider vinegar
Mix flour, salt, sugar, cinnamon and Crisco using a mixer. Add beaten egg mixed with water, vanilla and vinegar. Divide dough into 2 pieces and wrap in plastic wrap. Place dough in refrigerator for at least 1 hour. Using a rolling pin, roll dough out on a floured board and transfer into a 10-inch pie dish. Trim excess and flute edge. (Note: This recipe makes 2 pie shells plus enough for cut-outs if desired.)
Place pie shell in freezer for 1 hour prior to baking. Heat oven to 375 F. Line pie crust with aluminum foil (weigh it down with 2 cups of rice). Bake on center rack for 30 minutes. Remove foil and rice. Bake for 5 more minutes or until lightly golden brown.
First layer:
2/3 cup chopped roasted pecans
1/2 teaspoon vanilla extract
1/3 cup sugar
1/3 cup light corn syrup
1 egg, beaten
2 teaspoons butter, melted
Mix pecans, vanilla, sugar, corn syrup, egg and butter together. Pour into prepared pie shell. Cover edges of crust with aluminum foil and bake in a 350-F oven for 24 minutes or until set. Completely cool on rack.
Second layer:
1/2 cup heavy whipping cream
1/2 cup confectioners' sugar, divided
2 tablespoons butter, softened
4 ounces cream cheese, softened
1/4 teaspoon vanilla extract
Using a chilled bowl and whisk, beat whipping cream on medium-high speed for 2 minutes or until stiff peaks form. Add 1/8 cup confectioners' sugar and gently mix into whipped cream until well-blended. Set aside.
In a large mixing bowl, blend butter, cream cheese, remaining confectioners' sugar and vanilla. Mix on medium-high speed for 1 minute or until well-blended and smooth. Add whipped cream to cream-cheese mixture and mix gently until well-blended. Cover with plastic wrap and keep in refrigerator until ready to assemble pie. When ready to assemble pie, spread second layer evenly over cooled first layer.
Third layer:
7 cups finely sliced Granny Smith apples
1/2 cup sugar
2 teaspoons cinnamon
1/2 teaspoon vanilla extract
1 tablespoon butter
Place apples, sugar, cinnamon and vanilla in a 4-quart slow cooker and mix until incorporated. Place butter on top and cook on high heat for 1-2 hours or until apples are soft. Let pie filling cool for 1 hour and then place in refrigerator until chilled.
Spoon chilled third layer over top of second layer. Note: Making the third layer the night before allows it to be chilled and ready to go in the morning.
Fourth layer:
1 cup chopped glazed pecans
2 tablespoons caramel dip
Sprinkle glazed pecans over top of third layer and drizzle caramel dip over top of pecans.
If desired, you can bake pie crust cut-outs out of any remaining pie crust dough and place on top of pie.
Note: This pie should be refrigerated until ready to serve.
Apple Pie (Second Place)
Apple Filling:
7 cups sliced apples
1 cup sugar
3 to 4-1/2 tablespoons flour (amount depends on juice in apples)
4 tablespoons apple juice (or cider)
1/4 teaspoon salt
1 teaspoon lemon juice
2 tablespoons butter
Combine sugar, flour and salt; mix. Add to apples. Sprinkle in lemon juice and apple juice or cider. Cut butter into small pieces and add to filling mixture.
Filling for bottom layer:
8 ounces cream cheese
1/2 cup sugar
1 egg, beaten
1/2 teaspoon salt
1 teaspoon vanilla
1 (10-inch) un baked pie shell
1-1/4 cups chopped pecans
Topping:
3 eggs
1 cup light corn syrup
1/4 cup sugar
1 teaspoon vanilla
Cream together softened cheese, sugar, egg, salt and vanilla. Spread over bottom of unbaked pie shell. Sprinkle pecans evenly over cream cheese layer. Combine all topping ingredients and beat until smooth. Pour over pecan layer. Bake 35-40 minutes at 375 F until pecan layer is golden brown.
Add apple filling.
Topping:
1/2 cup pecans, finely chopped
1/2 cup sugar
1/4 cup flour
4 tablespoons butter
Combine pecans, sugar and flour. Blend in butter until you have a crumb mixture. Spread across top of apple filling. Reduce heat to 350 F and bake an additional 15 minutes or more.
Crust:
2-1/2 cups unbleached flour
1-1/2 teaspoons sugar
1 teaspoon salt
1/2 cup chilled shortening cut into 1/2-inch cubes
1/2 cup (1 stick) chilled unsalted butter, cut into 1/2 cubes
5 tablespoons ice water (or more, if needed)
Blend flour, sugar and salt in food processor. Add butter and shortening; blend until mixture resembles coarse meal. Transfer mixture to medium bowl. Add ice water and mix with fork until dough begins to clump together, adding more water by teaspoonful if dry. Gather dough together. Divide dough in half; flatten each half into disk. Wrap each disk in plastic and refrigerate at least 1 hour. Roll one disk into 9-inch circle and save other half for top. Fit dough into 9-inch pie pan and trim edges to a 1-inch overhang. Fold dough under and crimp edges. Place in refrigerator for 20 minutes. Use half of crust for bottom crust and other half for decorating the top.
Makes 2 single crusts.
Blessed Pie (Third Place)
Crust:
2-1/2 cups flour
2 tablespoons sugar
1 teaspoon salt
12 tablespoons unsalted butter
1/2 cup vegetable shortening
1/4 cup vodka, tequila or rum
1/4 cup water
Cut crust together and wrap halves in plastic wrap to chill in refrigerator for 2 hours.
Filling:
4-1/2 cups apples
1/2 cup pears
3/4 cup sugar
1/2 teaspoon cinnamon
Pinch of butter
1/4 teaspoon salt
3 tablespoons flour
Mix dry ingredients in large bowl. Then toss apples into bowl. Layer apples in unbaked crust. Top with pie crust and bake until golden brown. Decorate as desired.