HARRISBURG, Pa. — Spectators in the Pennsylvania Farm Show's Family Living area can be forgiven for thinking they'd just stumbled upon an elite bake shop's show room on Sunday, Jan. 5. Instead, they had discovered a display of beautifully decorated angel food cakes spread out across five tabletops for the annual Incredible Angel Food Cake Contest sponsored by the Pennsylvania Egg Farmers and the Pennsylvania State Association of County Fairs.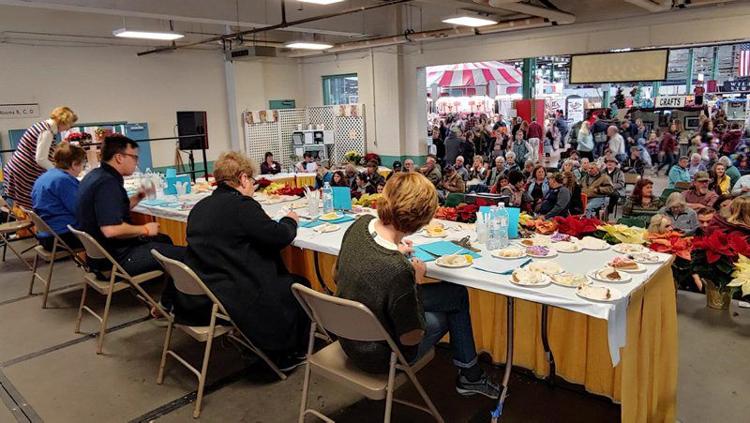 Unlike a commercial bakery, where the goodies are baked on the premises, all of these cakes had traveled from afar to make this command appearance. Each competing angel food earned its way to the Farm Show in Harrisburg by first winning at one of Pennsylvania's 109 local fairs during 2019.
The uniqueness of every angel food entry was evidenced in cakes with shapes ranging from the traditional round to square and even oblong. Likewise, berries, cherries, slices of lemon, lime and orange, nuts, flowers and cookies adorned the cakes' frostings, glazes or meringues and made each of the 67 angel food entries distinctive.
Chris Pierce, of Penn Ag Industries and a member of the American Egg Board, hosted the angel food competition, which has been a part of the Farm Show for at least 15 years. He called the contest "the best utilization of Pennsylvania's eggs," and said that Pennsylvania is the fourth-largest producer of eggs in the United States.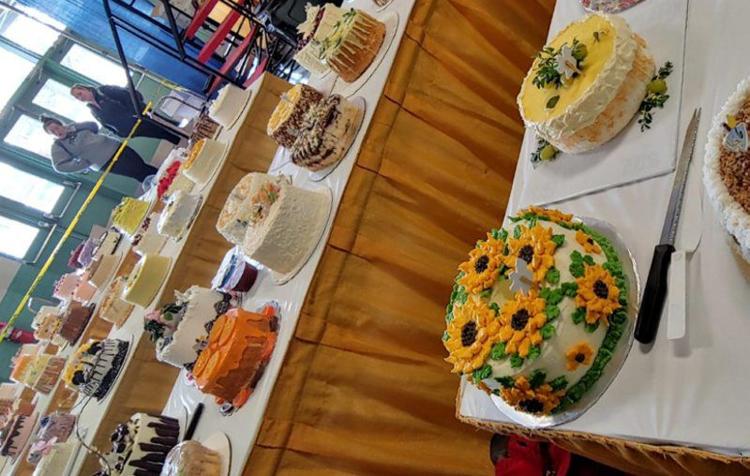 "I especially enjoy this competition because it's not just one egg company's eggs being used," Pierce said. "This really represents egg producers all across the state."
The competition's five judges had their work cut out for them as they rated the entries on creativity, flavor, smell, taste, lightness, overall appearance, size, color, topping, icing and decoration. The stakes were high, with prizes of $500, $250 and $100 being awarded to the top three angel food cakes' bakers.
Kevin Bieber, who emceed the event, explained that each judge was initially assigned to rate the 13 or 14 angel food cakes on one of the five tables. After each judge selected the top five cakes from his or her table, all five judges then evaluated the resulting top 25 angel food cakes and eventually determined the top five winners of the competition.
As judging proceeded, anticipation ran high in the crowd of onlookers, which included many of the bakers. Husband and wife Robert and Jane Wenger from Reinholds had each won angel food honors at different Lancaster County fairs, which put the couple in competition with each other at the Farm Show. The Wengers brought along supporters in the form of Jane's sister and niece from New Jersey, as well as a nephew and his girlfriend from New York City. Jane's cake advanced to the final round of judging.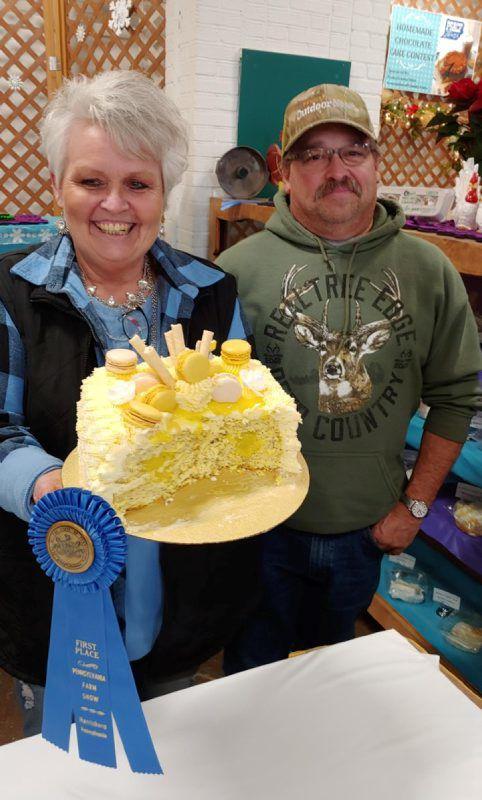 Nearby sat another family group in a similar situation. The pineapple-filled angel food cake baked by Bryan Hoover from Punxsutawney took its top honors at the 2019 Wolf's Corner Fair in Clarion County. This year's Farm Show represented his fifth appearance at the state's angel food cake competition. Seated with him was his fiancé, Becky Morrison, who he had encouraged to enter a chocolate cake into local fair competition originally. Also present was Bryan's aunt, Karen Turner from Fleetwood, Berks County, who won with her tiramisu angel food cake at the 2019 Kutztown Fair, and like her nephew, also became a finalist at this year's Farm Show.
This time, the blue ribbon and $500 first prize in the angel food cake contest went to Everett's Pam Foor, representing the Bedford County Fair, for her lemon poppyseed angel food cake with a lemon curd filling and lemon buttercream frosting. Her square-shaped creation was topped with macaroons and profiteroles. An accomplished and versatile baker, Foor is no stranger to the winner's circle at the Farm Show and has competed successfully through the years as a finalist in not only the angel food cake contest, but also in the chocolate cake, sticky bun, cupcake, ginger snap, whoopie pie and pineapple upside-down cake competitions.
Foor baked her cake on Friday. In fact, she had baked three cakes on Friday using two dozen egg whites in each of them, before deciding the last of the three cakes turned out the best. It was a case of "back to the future" for Foor, who revealed that her first angel food cake to win at the Farm Show years ago had been lemon-flavored, so she reverted to lemon for this year's cake, which also happens to be husband Tony's favorite flavor. While Pam Foor was undecided about how she's going to spend her $500 premium, Tony Foor already had plans for it. "She wants a new kitchen. It's going in the kitchen fund," said Tony, her self-described chauffeur and taste-tester.
The Incredible Angel Food Cake Contest's other top prize winners included Schnecksville Community Fair's Loretta Sterner, who garnered $250 and a second-place ribbon for her angel food cake with strawberry crème filling. The third-place ribbon along with a check for $100 was awarded to Amanda Stauffer from the West Lampeter Community Fair for her "best ever angel food cake." Tracy Deneen took home the fourth-place ribbon for her Fulton County Fair-winning lemon poppy strawberry delight angel food cake, while the fifth-prize ribbon went to Fayette County Fair's Sheila Suhan for her angel food cake with caramel salted pecan frosting. Pennsylvania's fair queen, Mikara Anderson, was on hand to help present the winners with their awards.
Angel Food Cake with Strawberry Crème Filling (Second-Place Winner)
Angel Food Cake:
1-1/4 cups flour
1-3/4 cups sugar
1/4 teaspoon salt
1-1/2 cups egg whites (about 10 eggs)
1 teaspoon cream of tartar
1 teaspoon vanilla
Beat egg whites until stiff peaks form, then add cream of tartar and vanilla. Sift flour, sugar and salt about 5 times. Gently combine egg whites and dry ingredients, then pour into ungreased 10-inch tube pan. Place in a cool oven. Turn oven on to 325 F. Bake 1 hour or until golden brown. Invert cake to cool. When completely cool, remove from pan.
Make cake into 3 even layers. Spread strawberry crème filling on cut layer and place cake layer on top; do this twice. After assembled, frost cake with whipped cream icing. Garnish with fresh strawberries on top, if desired.
Strawberry Crème Filling:
8 ounces cream cheese
1 cup sugar
1 teaspoon vanilla
1 cup chopped strawberries
8 ounces whipped dairy topping
Cream together cream cheese, sugar and vanilla. Stir in chopped strawberries. After all mixed, fold in whipped topping.
Whipped Cream Icing:
1 cup heavy cream
3 tablespoons confectioners' sugar
1/4 teaspoon vanilla
Combine all ingredients. Beat until soft peaks form. Frost cake. Note: Making a double batch can provide for extra frosting.
Keep refrigerated.
Best Ever Angel Food Cake (Third-Place Winner)
1-3/4 cups sugar
1 cup plus 2 tablespoons cake flour
1/4 teaspoon salt
12 large egg whites, at room temperature
1-1/2 teaspoons cream of tartar
1-1/2 teaspoons pure vanilla extract
Adjust the oven rack to the lower middle position and preheat oven to 325 F.
In a food processor or blender, pulse the sugar until fine and powdery. Remove 1 cup and set aside to use in step 3; keep the rest inside the food processor. Add the cake flour and salt to food processor. Pulse 5-10 times until sugar-flour-salt mixture is aerated and light.
In a large bowl using a hand mixer or a stand mixer fitted with a whisk attachment, whip egg whites and cream of tartar together on medium-low until foamy, about 1 minute. Switch to medium-high and slowly add the 1 cup of sugar you set aside. Whip until soft peaks form, about 5-6 minutes. Add the vanilla extract, then beat until just incorporated.
In 3 additions, slowly sift the flour mixture into the egg white mixture using a fine mesh strainer, gently folding with a rubber spatula after each addition. To avoid deflating, or a dense cake, don't add the flour mixture all at once. Sift and very slowly fold in several additions. This is important! Pour and spread batter into an ungreased 9- or 10-inch tube pan. Shimmy the pan on the counter to smooth down the surface.
Bake the cake until a toothpick inserted comes out clean, about 40-45 minutes. Rotate the pan halfway through baking. The cake will rise up very tall while baking. Remove from the oven, then cool the cake completely upside-down set on a wire rack, about 3 hours. Once cooled, run a thin knife around the edges and gently tap the pan on the counter until the cake releases.
Vanilla Icing:
3 sticks of butter, softened
3 cups confectioners' sugar
1 tablespoon plus 1 teaspoon of vanilla
Beat butter until white and fluffy. Add confectioners' sugar slowly; beat. Add all other ingredients, and beat until fluffy.