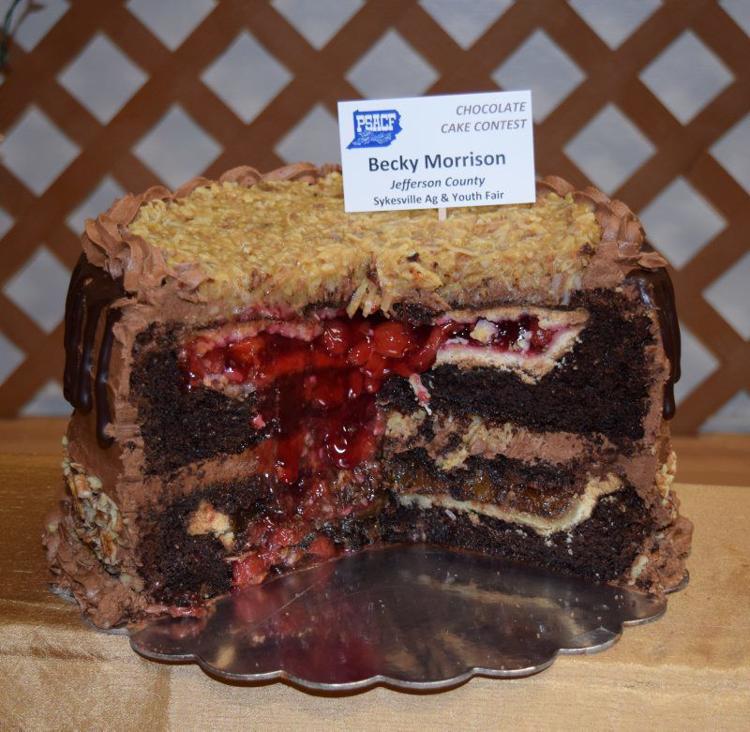 HARRISBURG, Pa. — In the mood for pie? Or do you prefer cake for dessert? Now you can have both at the same time! In an unusual twist, a top-five winner at the Pennsylvania Farm Show's annual Chocolate Cake Contest, Becky Morrison, baked two pies into her cake. Slicing through all the chocolatey frosted goodness of several cake layers, the cake knife then hits a full double-crust cherry pie, then cake and filling, then a second double-crust pecan pie, then more chocolate cake before hitting the plate at the bottom. It made for an interesting-looking slice of pie on the plate, and apparently a delicious-tasting bite to eat, according to contest judges, who voted her the fourth-place prize.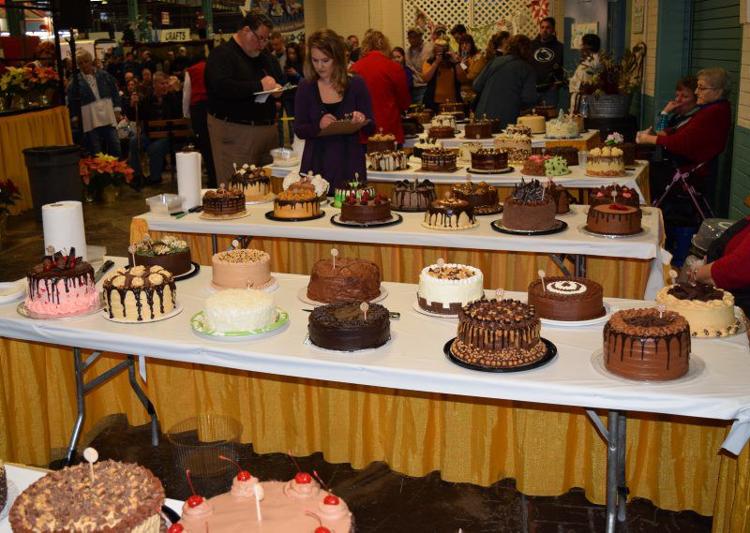 When Morrison's husband was still her fiance, they had gone to Farm Show together and seen the contest. He knew she loved baking chocolate cakes and encouraged her to enter the local fair competition. It was her 2019 victory at Clearfield County's Sykesville Fair that made her eligible to compete on Saturday.
Morrison, from Punxsutawney, said the secret to her pie-cake is to bake the pies a day early and not to overfill the pie pan. She was up until midnight a day earlier, scrubbing the oven to get rid of the smoke smells after the pie contents dripped into the oven, she said.
The other winners in the Pennsylvania Farm Show Chocolate Cake Contest were Joshua Baughman, first place; Sara Clukey, second place; Lisa Buzzard, third place; and Nancy Krampert, fifth place. The bakers competed among a field of 79 cakes.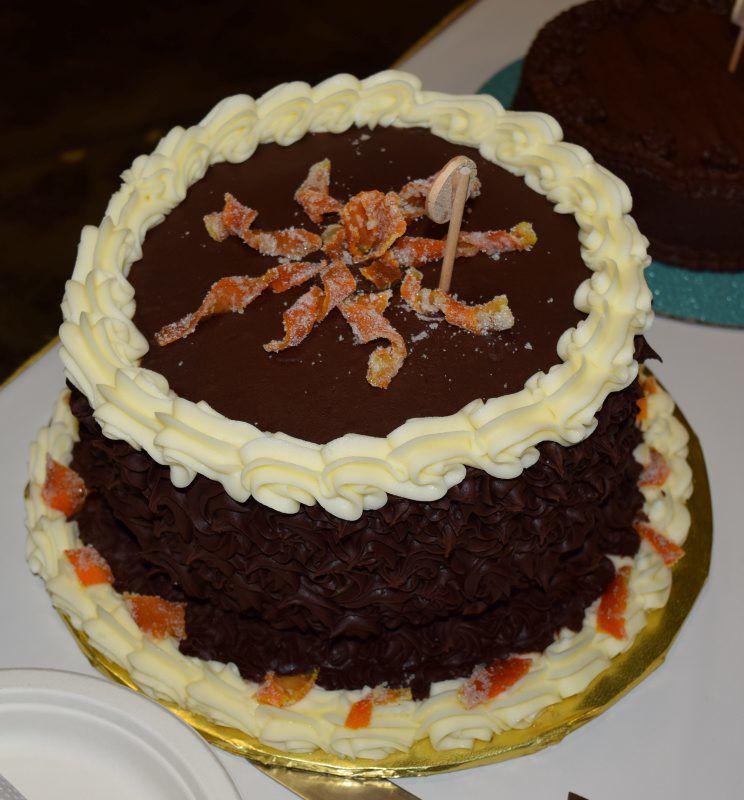 Joshua Baughman, age 16, gets a lot of help with baking from his mom, he said, while talking about the elaborate frosting decorations on top of the winning cake that she assisted him with. The high school sophomore said he hadn't yet decided what he'll do with his $500 prize money. He also enjoys tractor-pulling and soccer.
Buzzard, from Stroudsburg, took home a $100 prize for her cake that combined chocolate with peanut flavors.
"Baking is my passion," she said. "And, I love peanut butter."
So, she decided to focus on making the peanut butter even better by adding chocolate mascarpone to it.
Buzzard enters lots of baking contests and enjoyed having her children at the contest with her on Saturday.
Winner Clukey, from Butler County, believes in using top-notch chocolate ingredients like "good cocoa." She's learned that at her local fair, the judges prefer "chocolate cake with chocolate frosting" more than having unusual ingredients added in to the cake.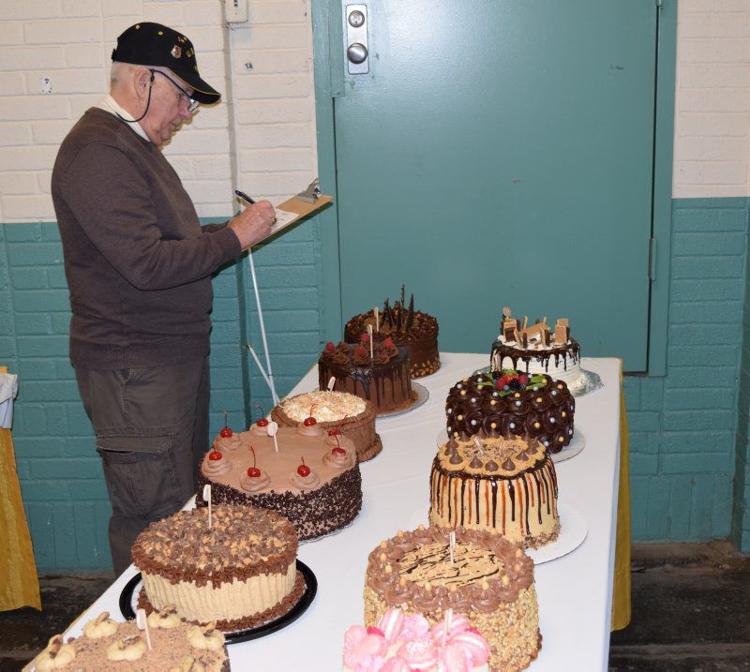 She feels lucky to be at the Farm Show contest because she won second place at her local fair. It turned out that the first-place winner couldn't attend and called Clukey to ask if she could represent their region in Harrisburg instead.
Clukey is a stay-at-home mom raising six children, ages 4 to 14. She and her husband are part-time caterers and she's learned a lot of baking techniques from her mom's side of the family, including how to decorate cakes, she said.
Clukey plans to spend her $250 prize money on beekeeping supplies and a new beehive. She started beekeeping recently and her hive last year was destroyed by a bear, she said.
Lisa Buzzard's Chocolate Cake With Peanut Butter and Chocolate-Mascarpone Filling (Third-Place Winner)
Cake:
1-3/4 cups flour
3/4 cup cocoa powder
1-1/2 teaspoons baking powder
1-1/2 teaspoons baking soda
2 cups sugar
1 teaspoon salt
1 cup whole milk
1/2 cup vegetable oil
2 eggs, room temperature
2 teaspoons vanilla extract
1 cup boiling coffee
Prepare two 9-inch cake pans with parchment paper circles in the bottom and grease the sides.
Sift all dry ingredients into a large bowl and then whisk together. Add eggs, milk and vegetable oil to the dry ingredients and mix well. Add vanilla to boiling coffee and add to mixture. Mix well. Pour into cake pans and bake at 350 F for about 30-35 minutes, then remove to cooling racks to cool.
Peanut Butter Filling:
1/2 cup butter
1 cup creamy peanut butter
4 cups confectioners' sugar
1/3 cup whole milk
Cream butter and peanut butter together until light and fluffy. Add the confectioners' sugar alternately with the milk; beat until light and fluffy.
Chocolate Mascarpone:
6 ounces mascarpone cheese
1-1/4 cups heavy cream
1/2 cup confectioners' sugar
1/4 teaspoon vanilla extract
1/2 cup melted bittersweet chocolate
Melt chocolate in a microwave-safe bowl; set aside.
Using a hand mixer, beat the mascarpone, cream, sugar and vanilla on low until no lumps are left. Add the melted chocolate and mix on medium speed until thick, stiff peaks form; refrigerate while making frosting.
Chocolate Frosting:
1/2 cup butter
1/3 cup shortening
1/3 cup cocoa
3 cups confectioners' sugar
3 tablespoons whole milk
1 cup hot fudge topping
Cream the butter and shortening together until light and fluffy. Add the rest of the ingredients in order and beat until fully incorporated.
To assemble the cake, first cut cooled cakes in half with a serrated knife; place layer 1 on a serving plate. Top evenly with 1/3 of the peanut butter filling. Then, top the peanut butter filling with 1/3 of the chocolate mascarpone filing. Place next cake layer on top and repeat this process until the last layer is on top.
Frost and decorate the top and sides of the cake with the chocolate frosting. Garnish the top and sides of the cake with chopped, salted cocktail peanuts. Note: This cake must be refrigerated. Bring to room temperature before serving.