CANANDAIGUA, N.Y. — For Circle K Cattle Co. in Canandaigua, showing at the Ontario County Fair represents a great way to demonstrate the farm's genetic program.
Circle K specializes in show cattle. Owner Eileen Kennedy raises 23 Charolais beef cattle and 22 black Romney sheep, a wool breed.
Kennedy's heifer won the open show for the Charolais breed. She brought four to the fair and the littlest of them was the one that took home the ribbon.
"It's ironic because usually the larger ones win," Kennedy said. "She was flashy. We're happy to sell good quality animals, and then the buyers are happy."
The current owners of her winner had met the heifer when it was 4 months old and took her home from the fair.
"They named her Pearl, so we called her that," Kennedy said.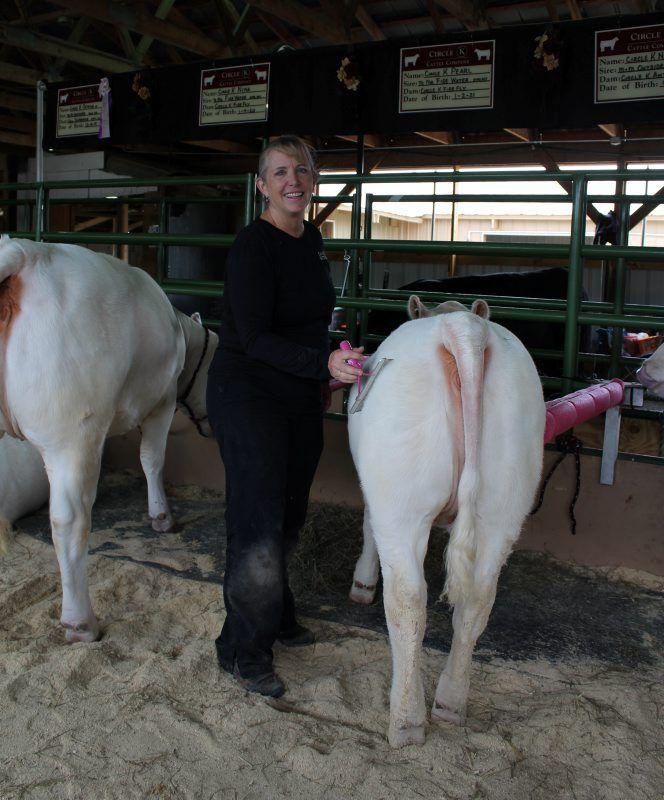 She grew up on her family farm, Tamberlane Farm in Canandaigua, owned by her father, Jake Martin.
Kennedy and her husband, Eben Kennedy, now operate their hobby farm raising show animals. Initially, the animals were for their now-grown children, Ethan and Emilyn, who showed in 4-H. Since Ethan did not care for showing cows, the family took on sheep.
"When he was 11, he researched the different breeds and chose Romney," Kennedy said. "You can sell for meat, but you can use them for wool. I like that they're smaller in frame size and gentle with kids."
Before Ethan left the farm to go to college, he reduced the herd to 25. The previous flock of 99 would have been a lot for his parents to tend by themselves. Ethan's sheep operation on his parents' farm is Thistledown Farm.
"When he sold them online, he did very well. He got good money to use toward his education, but he didn't want to give it all up," Kennedy said.
This is the first year the family skipped showing sheep; however, Ethan still makes all the breeding, buying and selling decisions though he is busy pursuing his education. Emilyn is in the military.
The Kennedys do their own breeding through artificial insemination. Their breeding program includes embryo transfer and in vitro fertilization. Kennedy took classes in how to perform these tasks.
"We watch to see what bulls have the 'show ring look' we're looking for," Kennedy said. "We have a cow on our property who's 13 who's our primary donor cow for 11 years. We've probably flushed her 25 times. We're looking for flashy show ring animals."
But looks aren't the only factor in what genetics she wants to include in the farm's breeding program.
"Our slogan is 'Cows that work in the show ring as well as in the pasture,'" Kennedy said. "We want them to be breedable, good milkers and able to support a baby."
Any cattle that don't make the cut are sold at the local Finger Lakes Livestock Auction for meat.
The Kennedys own 15 breeding cows, making it challenging to keep the herd at a size suitable for their 40 acres. The Kennedys also grow their own hay and bedding straw. All the mother cows are on pasture with hay in the winter. Show heifers receive grain to help them maintain their condition.
"I feel it's all about the feed," Kennedy said. "Anytime we sell an animal, we like to know it's going to a family that knows how to feed it right. That's how you'll maintain body frame. Other than that, if they're just getting into the business, it's worth spending money on the first one rather than not. It's worth starting with a good one, breeding it and building your herd slowly."
Circle K cattle have been sold to new owners in Missouri, Mississippi and many other states.
"If people show them, we can watch and see how they're doing in the show circuit," Kennedy said.