ELIZABETHTOWN, Pa. — When she competes at the Elizabethtown Fair, Emma Musser knows there will always be plenty of people cheering her on.
That's because she shows with both of her sisters and a couple cousins.
"It's a great family bonding experience, and you get to know each other so well," Musser said. "Even though sometimes it can be really stressful, it's just fun to have that time with one another."
The family ties are strengthened because all of the cousins keep their animals at the farm of their grandparents, Harold and Judy Musser.
"As I get older, I'm much more appreciative of it, that we have that tie to one another," Emma said.
Emma's sister Natalie enjoys the time she spends with their cousins, who are also in the sisters' 4-H club.
"Whenever I'm with my other cousins, I realize that I don't know as much about them" as the 4-H cousins, Natalie said.
From watching and listening to her sisters Emma and Maddie, Natalie has learned a lot about showing livestock.
All together, the cousins took 10 pigs to the Elizabethtown Fair and are preparing another eight for the Manheim Farm Show in October.
"We name our steers and my goat's named, but we don't name our pigs. We have too many," Emma said.
Musser, a senior at Elizabethtown Area High School and president of her FFA chapter, has been showing for close to a decade.
She and Maddie started out with pigs, but a few years later, they struck a deal with their father: If they win at the Manheim Farm Show, they get to have steers too.
"He didn't think we would win," said Emma, who had already won with a pig at Elizabethtown that year.
Her pig won at Manheim, and the sisters duly got their steers.
The expanded portfolio of market animals has paid off. Emma's steer was named the overall reserve champion at Elizabethtown this week.
Natalie's entry into steers was less dramatic. Emma and Maddie simply gave her a steer they didn't want.
"They were like, 'Oh, Natalie, you can have it,' so that's how I started," she said.
In any case, the Mussers look for show animals that walk well and have good muscling.
Emma improves her steers' eye appeal by rinsing them every day, blowing their hair out, and training their hair to go forward.
"That really helps just grow their hair and maintain it so they look really cool on show day," she said.
Though Emma has at various times shown pigs, goats and sheep, it's the steers she finds hardest to handle.
"They're very touchy. You never know how they're going to act. Some can be really tame on the farm, but you bring them to a show and they freak out," she said.
Natalie offered one of her steers as an example of beef cattle having an attitude.
"He's really sweet until you get him in the show ring, and then he starts to get a little crazy, and you just have to hold on and hope that you don't get trampled," she said.
Even when an animal acts up in the ring, Emma said she tries to keep her composure and have fun — not that she needed that internal counsel at E-town this year.
In addition to showing the reserve champion steer, Emma had the reserve champion light heavyweight in the pig show.
Animal personalities didn't keep Natalie out of the winner's circle. She showed the champion lightweight steer.
Younger cousin Levi had some success of his own too. He won his division in pig showmanship.
On top of showing animals, Emma has competed in livestock judging for half of her junior career.
Last year, she was part of the state 4-H judging team that placed ninth at nationals. "It was a lot of fun," she said.
Emma puts most of her show earnings into her college fund. She also donates a portion to her family's former neighbors, now missionaries in St. Croix, who use the money to raise chickens.
Emma is set on going to college next year, though she hasn't decided whether to study agriculture or art.
Brayden Burkholder had a more immediate challenge this week.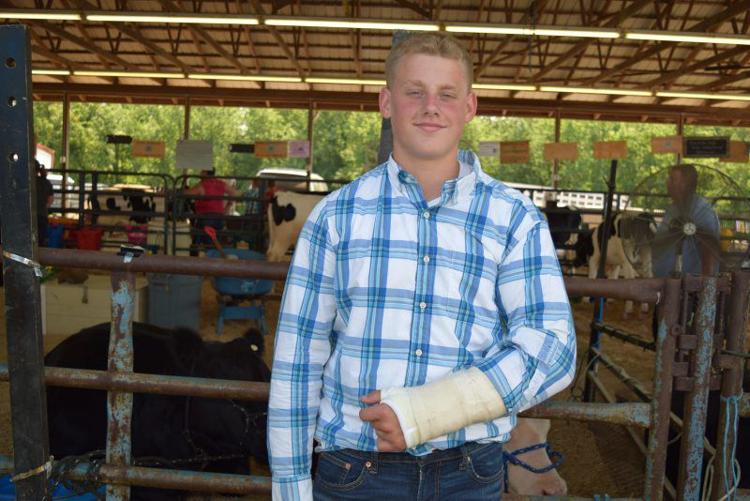 He broke his arm at football practice the day before the Elizabethtown Fair steer show.
With one arm in a sling, Burkholder was still able to set the steer's feet, though a friend led the animal in the ring.
It's good Burkholder stayed in the show. His steer won the champion banner.
Like the Mussers, Burkholder was showing at the fair with a cousin and got involved with showing through family members.
Burkholder, who lives on a beef farm, enjoys raising 4-H project animals, which he says are a lot like pets. "They're like a dog to you," he said.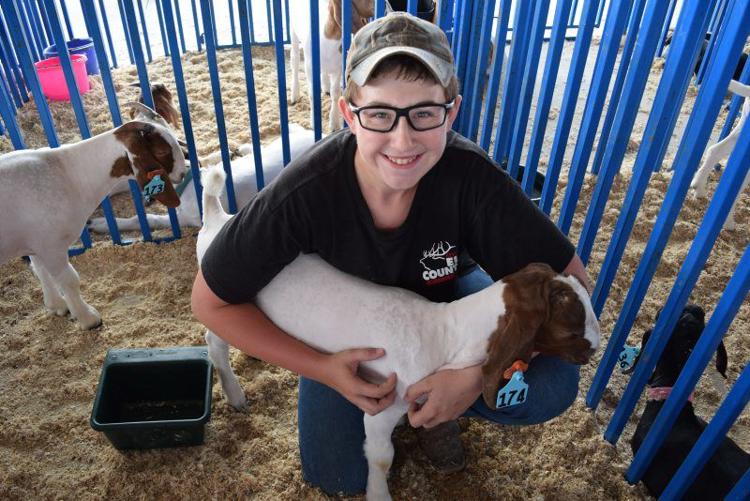 Mason McNitt and Luke Barton used to show steers at the fair, but this year they switched to goats.
Cost was a factor, but McNitt, a sophomore at Elizabethtown, is happy with the decision.
"I feel like goats you can kind of get a little bit more personal with just because they're smaller," he said.
Though McNitt doesn't live on a farm, he lives in the country and is steeped in agriculture.
He's often at Barton's family farm, where he keeps his 4-H animals, and he feeds horses for a neighbor. It was a neighbor, too, who taught McNitt to show animals.
His goat for the E-town Fair, named Susie, was fairly calm. "She'll cuddle with you and snuggle with you," he said.
Barton's goat, Buckwheat, was more rambunctious. "He likes to jump and run around. He's pretty funny," Barton said.
Like the Mussers and Burkholder, McNitt shows at the fair with his cousins.
Spending time with people is one of his favorite parts of the fair, along with getting involved with agriculture and animals.
"It's just a lot of fun," he said.