HARRISBURG, Pa. — On Saturday, Sept. 21, assembled together were 28 of Pennsylvania's finest young leaders at Harrisburg's Red Lion Hotel, for an event that is the culmination of three days of immersion in dairy lore. They were in Harrisburg to compete for the 2019-2020 Pennsylvania dairy princess title. As a crowd of nearly 400 people with ties to the dairy industry looked on, Lebanon County's Paige Peiffer won the dairy crown.
Also crowned Saturday night were alternate state dairy princesses Denae Hershberger, from Bedford County, and Blair County's Vannika Rice.
The occasion was the 63rd annual Pennsylvania Dairy Princess Coronation pageant that began Thursday afternoon with the arrival of the state's county princesses, many of the county alternates, their families and friends.
Peiffer and the other candidates had dinner Thursday night with the pageant judges. Friday began with breakfast with the judges, then they spent the rest of the day in interviews that tested their dairy knowledge and presentation skills. Saturday was more practice and quizzing until late afternoon, when it was time to get ready for the evening ceremony.
Part of the ceremony was a brief address by Pennsylvania Secretary of Agriculture Russell Redding, an enthusiastic supporter of the dairy princess program.
"Pennsylvania's dairy industry effectively empowers and engages its youth to be advocates for dairy and all of agriculture," he told the crowd. "In particular, Pennsylvania Dairy Princess and Promotion Services has for more than six decades molded young ladies into leaders and lifelong promoters of dairy and agriculture. I look forward to working with this year's state royalty team to continue to tell the story of agriculture."
The young contestants were judged on public speaking, dairy industry knowledge, poise and personality. Each contestant prepared a speech, presentation, radio spot, poster display, dairy recipe, and a scrapbook of individual promotion activities. Each took a quiz on dairy promotion knowledge, and was interviewed by a panel of four judges.

At Saturday's pageant, the candidates walked to the middle of the stage to talk briefly about themselves and their passion for dairy. After more skits, speeches and presentations, the candidates waited while the four judges left the room to deliberate. When they returned, master of ceremonies Kirk Sattazahn told the crowd that Peiffer had won the crown in a tight contest.
Peiffer is the 17-year-old daughter of Ammon and Brenda Peiffer and a senior at Cedar Crest High School. She works alongside her three siblings on the family's Boxed-In Acres, a 160-cow Holstein dairy farm. She is her FFA chapter vice-president, a member of the National Honor Society and part of her school's volleyball team. Outside school, she is in the No So Ann Dairy 4-H Club, the Lebanon County Junior Holstein Association, and the PA Junior Holstein Association.
For the contest, Peiffer was runner-up with her speech and took honorable mentions in the dairy knowledge, presentation, and radio spot competitions.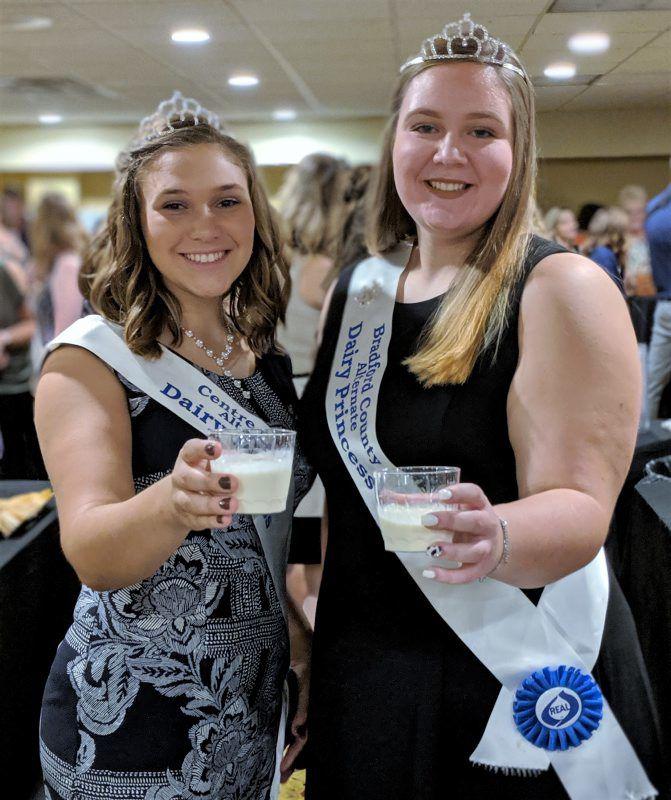 First alternate Denae Hershberger is the 17-year-old daughter of Ross and Yvonne Hershberger. She helps out on the family farm in Martinsburg, and works part-time at Cove Creamery. She is a multi-sport athlete and FFA member. Beyond school, she is vice-president of Southern Cove Dairy and Livestock 4-H Club. She secured an honorable mention with her speech.
Second alternate Vannika Rice, 18, is the Blair County dairy princess. The youngest of five children of David and Terella Rice, she helps out with chores for the family's 50-cow dairy, which provides milk for their Clover Creek Cheese Cellar business in Williamsburg. She exhibits Milking Shorthorns at local shows, and earned her Keystone degree as a member of the Williamsburg FFA.
Rice took top honors with her radio spot and in the dairy knowledge competition, and received honorable mentions for her presentation and speech.
There were four other finalists in the competition for the crown. They were as follows.
Alice Hoover, 17, Cambria County dairy princess, from Patton, was runner-up in the dairy knowledge competition and radio spot, and received honorable mention for her scrapbook.
Laurel Fogleman, 16, Centre County dairy princess, from Centre Hall, won the speech competition, was runner-up with her scrapbook, and received honorable mention for her poster.
Kassandra Stermer, 20, Fulton County dairy princess, from McConnellsburg, was a runner-up with her royal recipe.
Abby Stoltzfus, 17, Somerset County dairy princess, from Berlin, was runner-up with her presentation.
Warren County Dairy Princess Elizabeth Lucks, 18, of Pittsfield, was voted Miss Congeniality by the other county princesses. She received the honor in memory of Cochranville, Chester County, dairy farmer and princess program supporter Horace Prange. Lucks won the presentation competition.
Other award winners included:
• Mercer County Dairy Princess Rebekah Leise, 17, of Transfer, who won the scrapbook and royal recipe competitions and received honorable mention in the poster competition.
• Luzerne County Dairy Princess Kaelyn Traver, 19, of Noxen, who won the poster contest.
• Berks County Dairy Princess Stephanie Younker, 18, of Bernville, who took honorable mention in the scrapbook, speech, and presentation competitions.
• Cumberland County Dairy Princess Veronica Kiner, 17, of Carlisle, who was runner-up in the poster contest.
• Washington County Dairy Princess Natasha Close, 16, of Avella, who received honorable mentions with her scrapbook, poster and royal recipe.
• SUN Area Dairy Princess Khristyn Maurer, 19, of Pitman, representing Snyder, Northumberland and Union counties, who took honorable mention with her radio spot and royal recipe.
• Delaware County Dairy Princess Michaela Freney, 17, of West Chester, who received an honorable mention in the dairy knowledge competition.
• Juniata County Dairy Princess Faith Berrier, 17, of Port Royal, who received an honorable mention in the dairy knowledge competition.
• Mifflin County Dairy Princess Naomi Deihl, 17, of McVeytown, who received an honorable mention in the royal recipe competition.
• Wyoming-Lackawanna County Dairy Princess Loghan Hirkey, 17, of Tunkhannock, who received an honorable mention in the royal recipe competition.
• York County Dairy Princess Emily Shultz, 16, of Dover, who received an honorable mention in the radio spot competition.
In addition, Centre County 2018-2019 Dairy Princess Gabrielle Swavely, 20, of Pennsylvania Furnace, received the Tina M. Shultz Award, which recognizes the princess who has done the most effective job of serving her area as dairy princess.
Wyoming-Lackawanna 2018-2019 Dairy Princess Emma Loch received the Jan Harding-Ruslavage Perseverance Award, which recognizes a princess who is a leader in county dairy promotions, excels in dedication to the program, and perseveres through personal challenges and adversity to represent the dairy industry.
Outgoing state princess Brooke Emery, 22, of Alexandria, Huntingdon County, received the William C. Nichol Appreciation Award and a $1,000 scholarship, which is awarded to the state dairy princess in recognition of her dairy promotion efforts throughout the year.
The four overall judges were Matt Biegal, Baltimore, Maryland; Robin Huizinga, Willseyville, New York; Rusty Kiko, Salem, Ohio; and Tess Zuber, Bryon, New York.
Scrapbook and radio spot judges were Mary Ellen Sommerfeld, Marion, Franklin County, and Maggie Hawbaker, Chambersburg, Franklin County.
Presentation and poster display judges were Rachel Ebert Cloninger, Centre Hall, Centre County; Jeff Raney, Adamsville, Crawford County; and Denise Timmons, Greencastle, Franklin County.
Kirk Sattazahn of Womelsdorf, Berks County, served as master of ceremonies.