HARRISBURG, Pa. — There was something new under the sun this year in Pennsylvania Farm Show's Family Living baking competitions. After sponsoring the annual thumbprint-cookie open baking competition for the past seven years, Gretchen Maser, owner of Christina Maser Pantry in Lancaster, decided it was time for contestants to trade in their cookie sheets for baking pans.
Maser, who manufactures, sells and enjoys a special fondness for the jams, jellies and preserves previously required as thumbprint cookie fillings, opted to allow for more participant creativity in showcasing those ingredients this year. Thus, the 2020 contest was open in more ways than one. Not only was there no requirement for a competitor to qualify by first winning at a local fair, but the new bar competition was also relatively wide open in terms of its rules. Entrants had only to be a resident of Pennsylvania and use a jam or jelly as part of the recipe for their bar-style cookies. Beyond that, bakers were required to submit a dozen of their cookies on a disposable plate and provide a typed copy of the recipe.
Overall, 25 bar cookie entrants took full advantage of the creative license given to them in incorporating jellies and jams into their bar cookies. The results made for an interesting scenario for both the bakers and the three judges, which included Gretchen Maser. Neither the participants nor the judges knew exactly what to expect from the new format, but all seemed to like the broader range of recipes and ingredients allowed.
After thinning the 25 entries down to nine top contenders based on uniformity, texture and flavor, the judges ended up awarding the top five prizes to a refreshing variety of bar cookies.
The blue ribbon and a $200 premium went to seasoned baking competitor, Jim Harper, from Pennsylvania Furnace, for his creation of shortbread and raspberry jam set off by a plump red raspberry atop each bar, because, he said, "fresh raspberries taste so much better."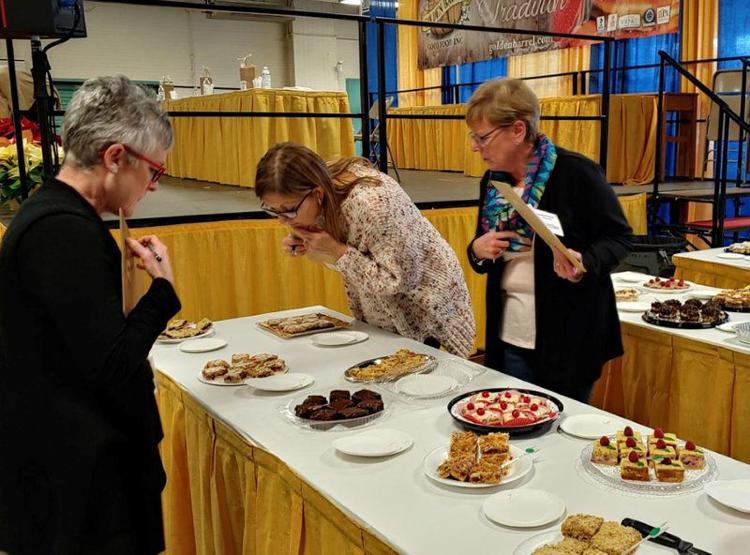 Harper used homemade raspberry jam from berries grown on his family's own acreage. While Harper has a lengthy history of top five finishes at Farm Show baking contests, where he's sometimes referred to as "the whoopie pie king," he acknowledged being surprised by his win in the initial bar cookie competition. In fact, he admitted to only making his winning recipe for the first time the night before transporting his cookies to the Farm Show.
Harper, whose previous Farm Show baking endeavors have included sticky buns, chocolate cake, shoofly pie, shoofly cake and thumbprint cookies, modestly joked that, "before whoopie pies (which have won four first prizes for him thus far), red was my favorite color," alluding to the frequency of his second-place wins. He credited his baking prowess to his family by remarking, "I make what my kids will eat — and they're very picky." Unsure about what use he'll make of his monetary winnings, Harper said that he always needs new kitchen gadgets in an effort to improve his baking efforts.
Second prize in the Jelly and Jam Bar Contest went to Reinholds' Jane Wenger, who won $100 for crafting her strawberry-rhubarb bars. Debra Martin Berkoski, of Conestoga, walked away with the third-place ribbon and $50 for strawberry with almonds bar cookies, which incorporated some of her mother's strawberry jelly that had already won a blue ribbon for Dorothy Martin at the 2020 Farm Show. Taking the fourth-place ribbon was Scott Felix, of Alum Bank, with his lemon-strawberry crumb bars, while the fifth-place ribbon went to Marie Miller from Mechanicsburg for her almond raspberry bars with orange glaze.
Raspberry Streusel Bars
2 cups flour
2/3 cup sugar
1/2 teaspoon salt
2 sticks butter
1/4 cup brown sugar
2/3 cup old-fashioned oats
1/2 cup pecans, chopped fine
1 cup raspberry jam
1/2 cup raspberries
1 tablespoon lemon juice
Preheat oven to 375 F. Mix flour, sugar and salt. Add all but 2 tablespoons butter. (Mix until it resembles sand.)
Take out 1 cup flour mixture and set aside. Press remaining flour mixture into bottom of 9x13-inch greased pan. Bake 14-18 minutes, until edges start to turn brown.
While crust is baking, add brown sugar, oats and pecans to reserved flour mixture. Stir to combine. By hand, mix in remaining butter. Small clumps should form. Set aside streusel.
In small bowl, combine raspberry jam, raspberries and lemon juice. Smash with fork until some small pieces remain.
Spread filling over hot crust. Sprinkle streusel over filling. Bake 22-25 minutes or until streusel is golden brown and filling is bubbling. Allow to cool completely before cutting into bars.