Two years ago, inclement weather canceled Sundae on the Farm, a fun annual Father's Day event that gives the public an up-close look at Saratoga County agriculture while learning about its many benefits.
In 2020, COVID-19 people kept people away.
In a display of ingenuity, resourcefulness and creativity that typifies farmers, the activity made a successful return this year with a drive-thru tour of the equine Mill Creek Farm, combined with an audio recording of its owners and those of two other operations, Saratoga Sod Farm and Riverview Orchards.
The in-person event, on an idyllic early summer day, combined with the virtual component, highlighted the many facets of Saratoga County agriculture that make it such a vital contributor to the local economy.
"You have poultry, dairy, beef, sheep, horses, vegetables and apple orchards," said Samantha Little, Mill Creek Farm co-owner. "People take these industries for granted. It's really important to educate younger generations that have no idea about the hard work and dedication it takes to provide food for families and care for animals. They also learn fun facts about the large machinery here and what it's used for."
Sundae on the Farm is organized by Saratoga County Cornell Cooperative Extension's Ag Promotion Committee. It's typically held at a different farm each year, sometimes attracting more than 3,000 people from throughout the region.
Prior to COVID, kids were treated to special games, interacted with animals and everyone in attendance was treated to an ice cream sundae. This year, guests were directed to nearby King Brothers Dairy for free ice cream.
"It's really meant to support dairy farmers during Dairy Month," said Little, an ag promotion committee member. "But right now is a really busy time for them, so we here at Mill Creek decided to step up to the plate and have a place where people could have a drive-thru experience because of COVID restrictions. One thing about the farming community is that we all have each other's backs and we all work together."
Guests were greeted at Mill Creek's main entrance by Saratoga County Dairy Princess Caitlyn Van Deusen and alternate Ryleigh Wadsworth.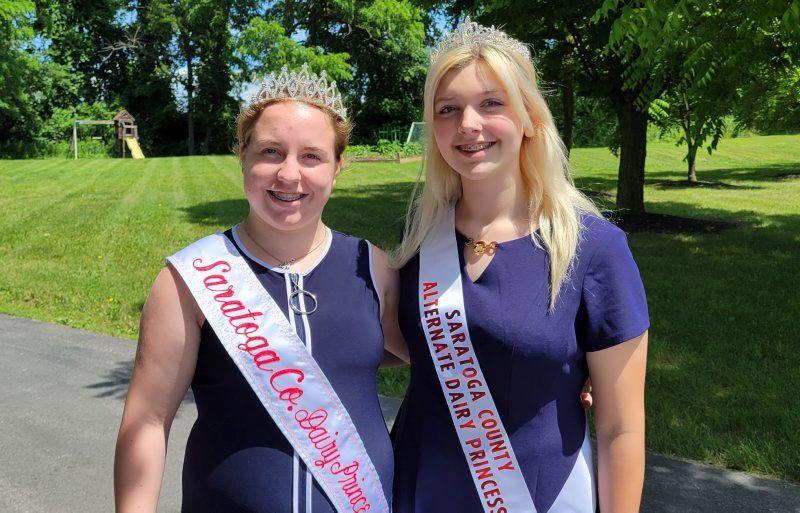 The farm is a standardbred and thoroughbred nursery specializing in breeding, foaling and lay-up, located just outside Saratoga Springs, home to famous Saratoga Race Course, where many of the world's best thoroughbreds compete each summer, and a neighboring harness track.
"People pay us to take care of their horses, anything you can think from hoof and teeth care to any surgeries that might possibly be needed," Little said. "Or if it's a mare, to getting her bred and babies being born. They get weaned from six to eight months. After that they kind of live like a teenager. Sales prep starts at 1 to 2 years when they're introduced to halters and lead training, everything to make them workable with people. At 2 to 3 years old they go into training for the track. Basically, they stay here, get to live their best horsey lives with their friends and be like a kid."
From 90 to 100 horses are on the grounds at all times, in addition to a few beef cows and a handful of Dorper sheep, which are kept for hobby purposes.
The drive-thru gave visitors a behind-the-scenes look at the entire operation. In addition, signs were posted along the way that provided insightful information about various agricultural issues and concerns, such as the ongoing loss of farmland.
Engaging and Educating
Saratoga County, New York's fastest-growing county, lost 9% of its farmland in just five years from 2012 to 2017. Further complicating matters, senior farmers outnumber young farmers seven to one.
Other signs pointed out agriculture's benefits such as providing jobs and economic impact, preserving rural character, making fresh local food available, along with natural services such as wildlife habitat and contributing to clean air.
More than 200-year-old Riverview Orchards is in southern Saratoga County, overlooking the Mohawk River. Owner Isabel Barrett Prescott reinforced this message in the farm tour's audio segment.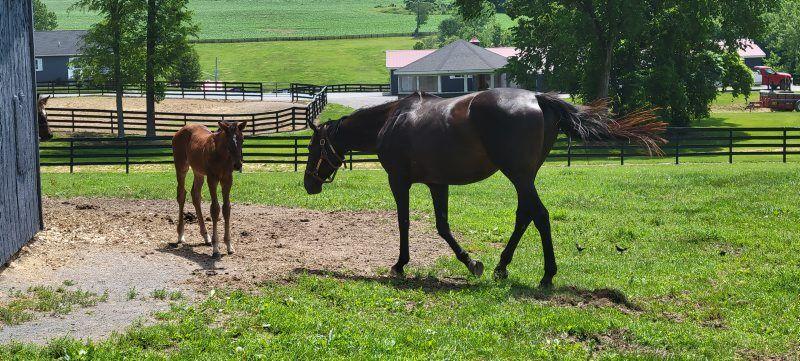 "People come to the country to be able to enjoy the beauty and freedom of the surroundings," she said. "Farms play a big part in making this happen. Our neighbors can buy fresh fruit, homemade pies and apple cider doughnuts, plus enjoy the landscape itself. This is what rural living is all about."
Her farm has been preserved for future generations through the sale of development rights.
"For me this is really of utmost importance," Prescott said. "I truly believe there's no better of quality of life today than the one provided by family farms."
"We love it when kids come to the farm and ask questions," she said. "Food is one thing that no one can ever do without, so everyone needs to understand who produces it and how, especially locally. I really hope that when anyone passes by a family farm or when they eat dinner, have a glass of milk or eat a nice crisp apple they'll really feel thankful to live in such a wonderful place."
Saratoga Sod Farm, bordering the Hudson River in eastern Saratoga County, has 700 acres of sod under production that's supplied to clients throughout the Northeast including prestigious golf courses, professional sports teams and numerous colleges and universities for their athletic fields. Owner Steve Griffen told how he and his father started with 60 acres of sod after transitioning out of the dairy business. The farm also raises 700 acres of row crops such as corn, soybeans and malt barley, the latter for New York's booming craft beverage industry.
Griffen said growing up on a farm gave him valuable opportunities and advantages compared to many non-farm kids.
"I was instilled with a good work ethic," he said. "Plus I learned a lot of other things like how to drive and operate equipment."
"I grew up in ag, too," said his wife, Laurie Griffen. "I live and breathe it every day. It's certainly a business for us, but it's a lifestyle as well."