For certain 4-H members, parents, farmers and crafters, there is one season on the calendar that looms large: fair season.
Fair means early mornings packing up the truck and the trailer, late nights bedding down stalls for both livestock and humans to sleep, blow drying fluffy cows, arranging flower bouquets in the craft tent, living on funnel cakes and barbecue for a few days, showing off a year's worth of hard work in the show ring and so much more.
Eleven-year-old Wyatt Mast of Mill Spring Farm in Bryantown, Maryland, is a member of the local Wildthing's 4-H Club. " I have been showing livestock since I was 6 years old, and my parents and grandparents help me with my livestock projects at our family farm," said Wyatt.
Mill Spring Farm raises cattle and swine, and over the past three years they have begun breeding their own pigs for the fair season. "I love every part of the swine industry. From breeding our sows to birthing piglets in February, to raising a select few up for market hogs and selling the extras, it has been a real-life adventure for me," said Wyatt.
"This year I travel to several shows around the tri-state area to improve my skills as a showman. In January I went to my first 'Jackpot' show with my steers and heifer. It was very tough competition; however I learned so much at the first show. We followed that show with a few more in Pennsylvania and West Virginia. Then in May we started with my first swine show at the Delaware State Fairgrounds. I had worked daily with my animals in preparation for these events and learned so much about the industry, showing and daily care to make my animals look the best in the show ring."
Wyatt isn't the only one in his family who enjoys the livestock show circuit.
"I have two younger siblings that help me with my animals while at home and on the road. My sister Kenley is not old enough yet to show at the county fair in 4-H. She has her own pig that she showed with me this year in the Jackpot shows and she actually beat me at the last show with her gilt."
Younger brother Lane, 5, loves to help around the farm with cleaning stalls, filling water buckets and rubbing pigs' bellies.
"I think I am going to have some hard competition when they both get into 4-H with me," said Wyatt.
This year, Wyatt said, he's raising "three market steers, a heifer that I plan to add to our breeding operation, along with five market hogs and a breeding gilt."
"We have to drive to Bryantown daily to care for my animals as they aren't in our backyard like most families, but I don't mind. I enjoy the time I have in the barn with my family. To prepare for this year's fair, I have been washing my animals daily, cleaning their stalls, feeding them and monitoring their growth. We spend several hours a night in the barn just working with all the animals. My dad said, 'It's great to watch the kids learn about livestock and learn how to take care of them. Because if we take care of them, they will take care of us in return.'"
A Growing Passion
Carrie Jones lives on her family's fourth-generation farm, Windy Willow Farm, in Sunderland, Maryland, where they raise and breed livestock for slaughter and showing purposes.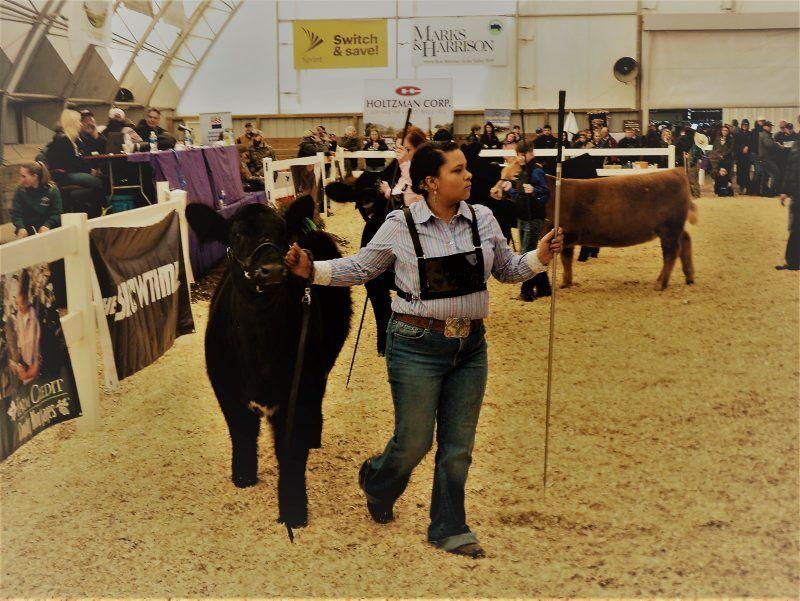 "I started out showing at the county fairs and attending fairs around the state. I eventually started getting more into animals and putting more effort and passion into my county fair projects," said Carrie.
"When we first started with livestock on the farm, we had Red Angus cattle, then we bred with Limousin cattle to make Lim-Flexes. About six years ago, I purchased my first Shorthorn Plus show heifer and from there on out I fell in love with the Shorthorn breed. After starting to breed Shorthorns, I changed my mind and wanted to start jackpotting, so I got the best of both worlds, club calf and shorthorns. I started to AI our older cows and some heifers on our farm but realized that I liked showing hogs a lot more. I bought a spot gilt that I bred and sold the piglets from and purchased two or three more gilts to breed and sell litters for this year. I have really found a calling and passion to show steers and market hogs."
Of course, the fairs aren't just about the livestock ring. Farmers, crafters and enthusiasts of all kinds can enter competitions for produce, flowers, baked goods, photography and more.
Produce and Baking
Little House on the Island Homestead Farm in Cobb Island, Maryland, is active in the farmers markets scene in southern Maryland, and they enter various items into the Charles County Fair each year.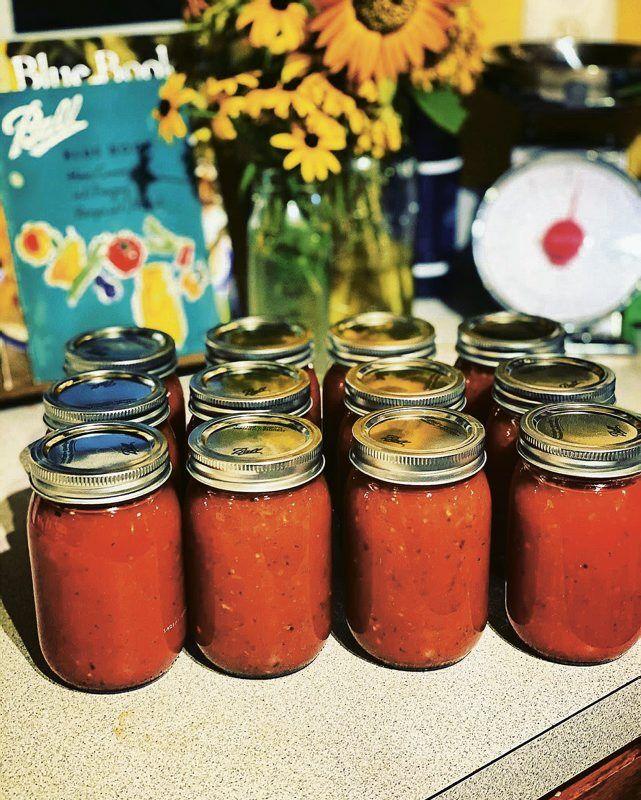 "One of our favorite things to grow are sunflowers. This year, as in past years, we will be entering the large sunflower heads. This past month we were able to can tomato sauce using tomatoes we grew in our garden so we will be entering a jar of that as well," said farm owner Shannon Durst. "Our daughter is a Clover member of Charles County 4-H and she will be entering a painting, decorated cookies and a craft she made during 4-H, and my husband, Bryan, has a woodworking hobby where he uses reclaimed barn wood and wood from fallen or cut trees to hand-carve spoons and spatulas, make cutting boards, turn honey dippers, and other gifts so he will be entering some of his handmade items. Another thing we enjoy doing as a family is taking pictures, especially of scenes outdoors, so we will be entering photographs into that exhibit building, and we will enter our eggs as well."
Outside of their own specialties, all three families are part of the larger fair ecosystem as well.
Wyatt Mast likes to peruse the food stalls, saying "my favorite fair food is the funnel cakes and peanuts. I love the livestock shows, horse events and the St. Mary's County 4-H Livestock Auction on Saturday night, even though come Monday we are worn out."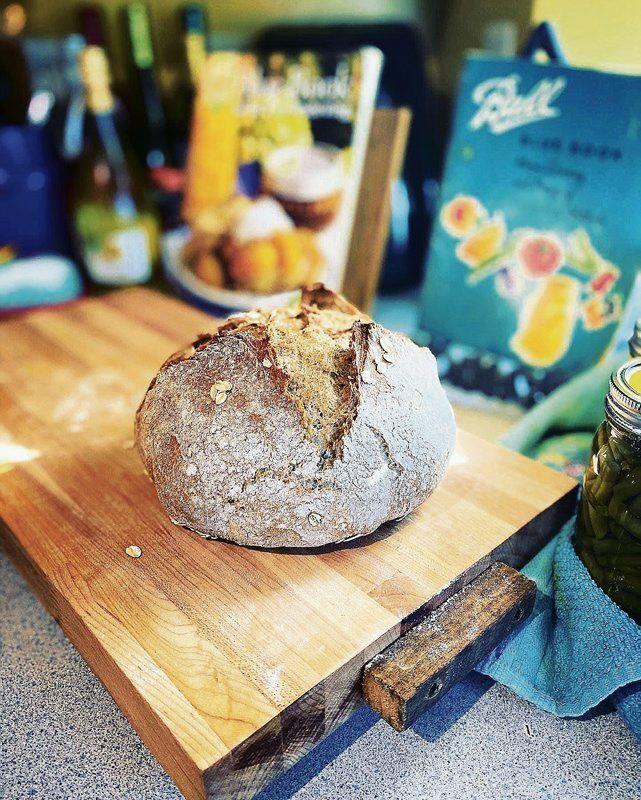 "My favorite part of the fair is getting to show and stay in the barns for a few days and being in the show ring every day," said Carrie Jones. "And the fried Oreos are always my go-to fair food at every fair I attend."
"Our favorite part of the fair is walking through the exhibit buildings and seeing all of the entries," said Shannon Durst. "We love it when we recognize entries that belong to people we know. We love looking at all the animals and watching the 4-H auction. I think it's safe to say that we all love kettle corn from the fair and some of our other favorites are corn dogs, candy apples and funnel cake. The fair has become a family tradition for us and we hope it's a tradition that our daughters continue to carry on over the years."