The Mase family can trace their farming roots back to ancestors who came from Europe and settled in what is now southern Lebanon County, in South Annville and West Cornwall townships. While farming has been an important part of their heritage, so have 4-H and the Lebanon Area Fair.
When Wyatt, 13, and Aubrey Mase, 11, take to the show ring during the 2021 Lebanon Area Fair this month, they will represent the third generation of Mases who have been 4-H'ers exhibiting at this fair.
Wyatt and Aubrey, Cedar Crest Middle School students in eighth and sixth grades, respectively, are both members of the Lebanon County 4-H Livestock Club — one of the same 4-H clubs that their father, Jake Mase, belonged to in his youth.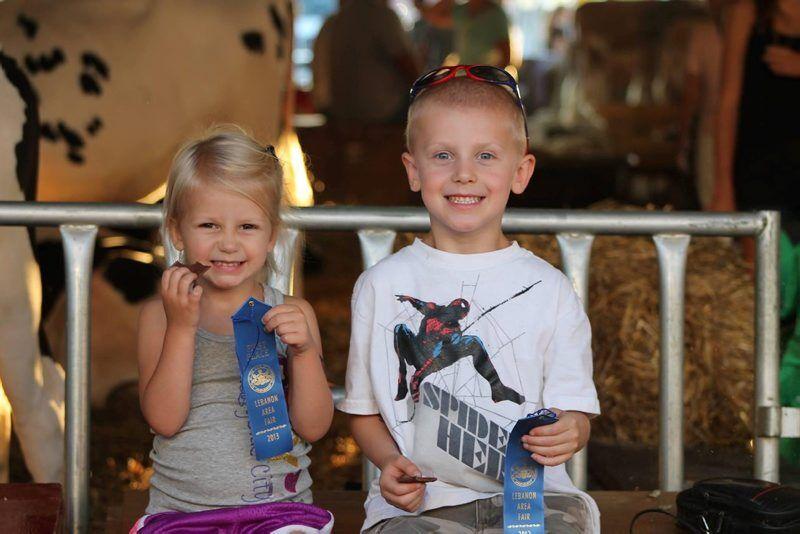 Jake was also a member of the Lebanon County Dairy Club, while Wyatt has added membership in the Lebanon County 4-H Livestock Judging Club to his credentials.
When it comes to family role models, Jake, Wyatt and Aubrey look to Jake's dad, Ken Mase, for their farming, 4-H and fair inspirations. In Ken's case, he was raised on the dairy farm of his parents, Clarence and Arlene Mase. It's the preserved 120-acre home farm where Ken and his wife of 51 years, Irene Dull Mase, now reside in an 1832 limestone farmhouse, originally built by a Hoffer family. The farm was bought by Marvin and Fanny Mase in 1922.
Ken Mase began showing dairy animals in the years before the Lebanon Area Fair had its permanent home at the Lebanon Valley Expo Center. Originally called the Lebanon County 4-H Fair, the event rotated through several local venues between its founding in 1957 and 1970, when it moved to its current site at 80 Rocherty Road, Lebanon, and was renamed the Lebanon Area Fair.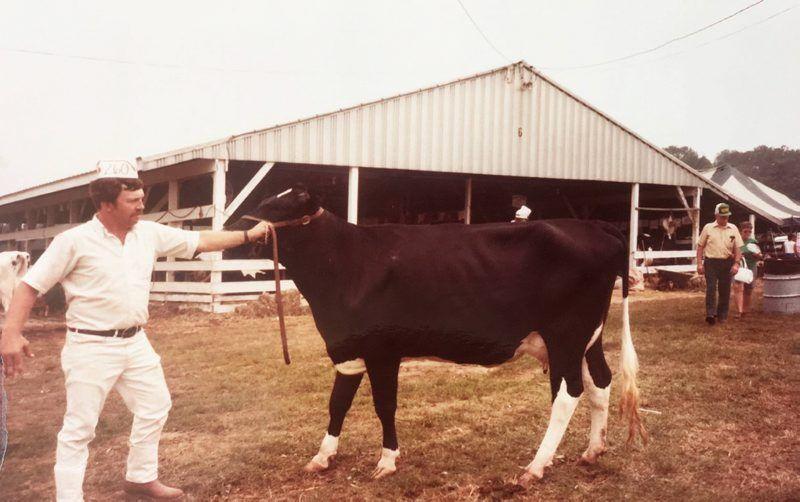 In Ken's years of exhibiting his family's Holsteins as a 4-H member, he recalls being in the ring with his 4-H bovines at Fredericksburg Firemen's Park. He also remembers when the fair was held on the grounds of H&H Tack Shop in Annville. Irene has especially fond memories of the fair's time in Annville, because that was when she and Ken, who were high school sweethearts, had just started dating.
"I always wanted to marry a farmer," she said.
Ken is a recent retiree, after 16 years of employment at Mark Hershey Farms. He continued showing his dairy animals at the new fairgrounds as an adult. He also exhibited at the Pennsylvania Farm Show in Harrisburg. His son and grandchildren have followed his example, aided by Ken's guidance and show ring pointers.
The Family Tradition Continues
These days, Ken and son Jake farm together raising corn, soybeans, wheat and alfalfa on the family farm, along with 65 leased acres. Jake and his wife, Kris, whose family resides in their own house elsewhere on the property, introduced poultry to the farm in 2013 with the construction of two broiler houses. They now produce 350,000 antibiotic-free broilers per year under contract with FreeBird.
While a dairy milking herd hasn't been part of the Mases' operation since November 2018, Ken Mase is proud that there have been Mase cows on the farm for more than 95 years. His grandchildren, Wyatt and Aubrey, will each be exhibiting a dairy heifer at this year's fair. Their cousin, Ashlyn Shaak, of Annville, will be showing two dairy heifers, which she keeps at the Mase farm.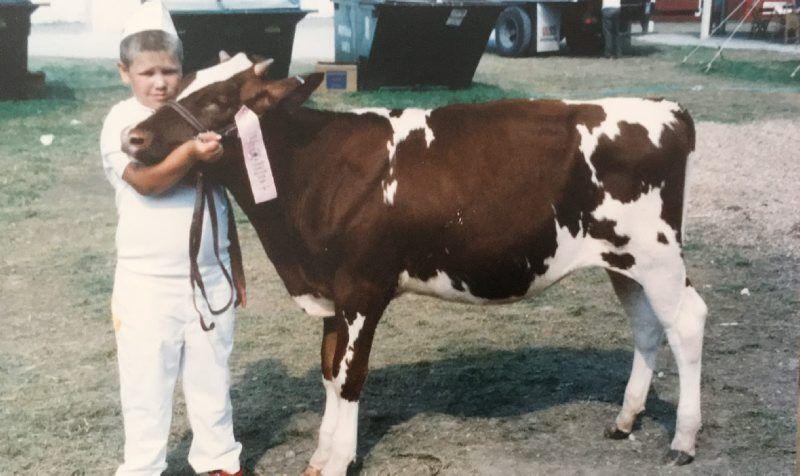 Other livestock on the Mase farm include a few Hereford steers, a hobby herd of hair sheep, and a thriving pig population, thanks to a small-scale, hog-breeding business run largely by Wyatt. That operation currently includes 10 sows, which have combined to produce 40 piglets born since June. There are also 20 pigs on feed for the fair as well as for butcher hogs.
Jake Mase followed his father's footsteps into 4-H membership, as well as showing at the Lebanon Area Fair and the Pennsylvania Farm Show. Photos of Jake with his ribbons bear testament to his successful career as an exhibitor of both dairy animals and pigs. His highest award at the local fair was winning grand champion market hog in 1996.
Ironically, Jake learned about that honor via a phone call while he was at basketball camp, since a 4-H friend had shown Jake's pig for him while Jake was away.
Based on how much he enjoyed raising pigs in his youth, Jake Mase is glad that Wyatt and Aubrey now share his enthusiasm for raising pigs. Jake notes that pigs are fairly simple to manage, involve a relatively low monetary investment and don't require a long-term commitment.
This year when Aubrey sells her pigs at the fair's Friday night youth livestock auction, she plans to save the proceeds for buying a car and perhaps pay for college expenses.
Wyatt also thinks about the economics of selling his pigs.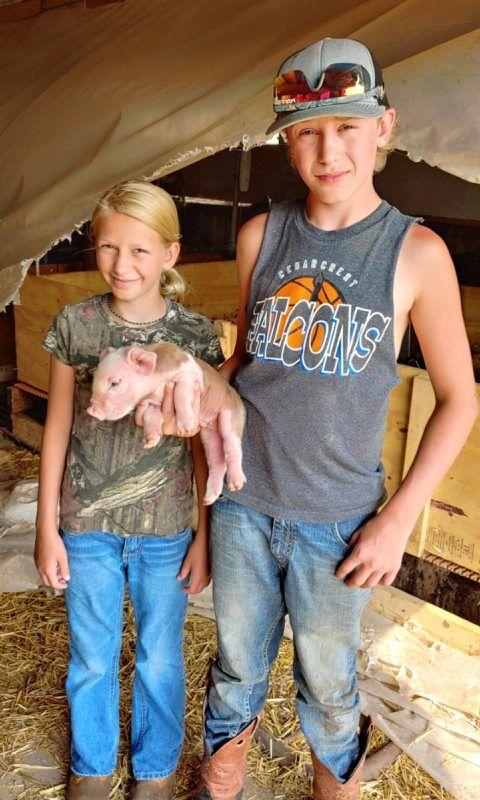 "I like to ride four-wheelers," he said, though he plans to reinvest some of his earnings into his pig breeding operation, too.
Wyatt and Ashley are each showing two pigs at the fair. Wyatt will be exhibiting two Hereford pigs — so-named because they have white heads and reddish-brown bodies like the cattle breed of the same name — while Aubrey will show one Hereford pig and one Duroc cross. She calls her black and white crossbred pig "Bob Ross" because he has a palette-shaped marking on his back which is reminiscent of Ross, celebrity art host of a long-running oil-painting instructional show on public television.
Wyatt and Aubrey could face stiff competition at the 2021 Lebanon Area Fair, where four of their Mase cousins will also be showing pigs that were bred and born on the Mase farm.
Nevertheless, Wyatt and Aubrey have high hopes for their upcoming show ring appearances. Both have previously displayed champion Chester Whites at the fair. They have also exhibited pigs at the Pennsylvania Farm Show once before, where both siblings took reserve champion titles in their breeds. And, they plan to return to the Pennsylvania Farm Show in 2022.
As fair week approaches, Wyatt and Aubrey are looking forward to hanging out with their friends and sampling the fair's famous milk shakes — vanilla for Aubrey, raspberry for Wyatt. Aubrey has the fair's French fries on her dining agenda, while Wyatt has his sights set on Sunday's annual ham dinner.
Meanwhile, the older generations of the Mase family are recalling earlier days. Jake remembers driving in the demolition derby, always a highlight of the fair's final Saturday night. A favorite memory for Ken was winning the fair's tractor driving contest back in 1967.
The Mase clan will no doubt be adding to their happy memories at the 2021 Lebanon Area Fair.