ABBOTTSTOWN, Pa. — There's a reason that many farm supply stores, early each spring, stock up with temporary small pens filled with tiny chicks and ducklings. Customers who succumb to the "cuteness" factor of fluffy, baby chicks and ducks generally become return, and often long-term, customers.
Such was the case when York County 4-H'er Wyatt Baker spied a pen of fluffy chicks, back when he was just 7 or 8 years old.
"We went to a Tractor Supply store and I saw the chicks," said Baker about the tiny balls of fluff that would significantly shape his future interests. "We started with eight of them. They were Red Sextons, sometimes called Red Stars."
"I just wanted some chickens, and they are bred specifically for eggs," Baker said about his first flock, which remained at the family's Abbottstown home for the next several years.
Initially a York County 4-H'er in the shooting sports club, Baker's interest in chickens eventually blossomed into membership in the 4-H poultry club. After starting "from scratch" in his knowledge about the poultry industry, Baker has become a poultry veteran with hatching, raising, butchering and exhibiting poultry.
"Poultry is the only kind of livestock I could have," Baker said, adding that there's not enough space on the family's property to house larger livestock.
As his knowledge and experience with breeding and showing poultry developed, one breed of chickens particularly caught Baker's interest: Buckeyes.
"I just like how the Buckeyes look," he cites as a key reason why the large, dual-purpose (meat and egg producing) birds have earned a spot as his favorite. Baker explains that the Buckeye breed originated in the state of Ohio and sport sleek, deep-reddish-brown feathering. The flowing tails on the handsome roosters shimmer with a green iridescence.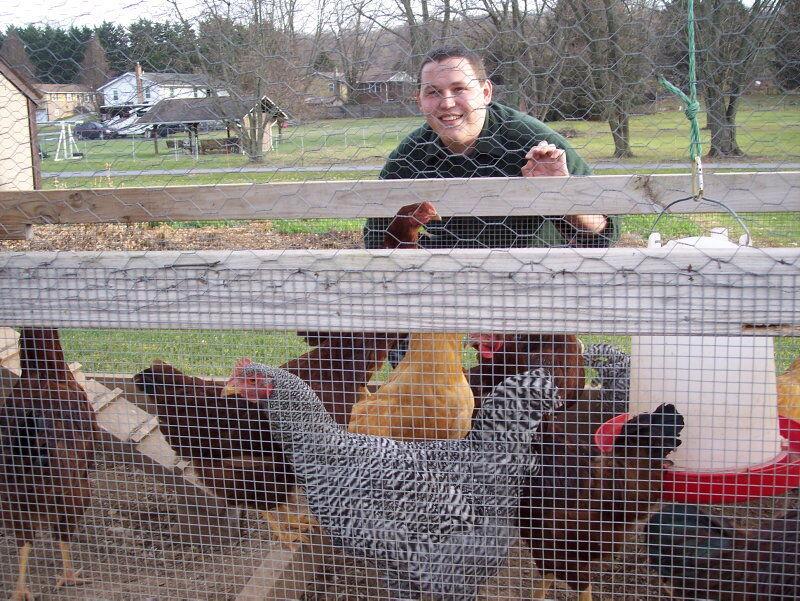 "It was a choice between them and Barred Rocks or Rhode Island Reds," Baker said about how he winnowed out the breed on which he would focus. "I like their smaller, more compact 'pea combs,' which do better through the winter and aren't as likely to freeze in really cold weather. But, there aren't very many of them in the shows."
Adding the new, young Buckeyes to his existing small flock became an overnight demonstration of the term "pecking order." While feeding the flock the following morning, Baker found one young bird "ripped apart" and others somewhat injured, and hastily separated the new birds from the older flock. Although one young chicken was lost, he managed to save the rest with some extra care.
Showing Poultry
"I showed both a hen and a rooster," Baker said about his initial competition venture after joining the poultry club. By utilizing show opportunities to listen to and speak with the judges, Baker has expanded his knowledge and expertise in many facets of poultry care and competition.
"I learned through 4-H what to look for in show chickens," said Baker.
Judges, he said, evaluate not only the quality and coloration of the entries' outer plumage, but also that of the softer feathering beneath. Eye color, beak conformation, quality of the comb, and smoothness of the feet are other physical characteristics closely examined for adherence to each breed's standard for the ideal bird.
And, as in all livestock competition, preparation ahead of the show plays an important role.
"We do give them baths," he said, "and we put baby oil on their faces and their feet to make them shiny. It helps bring out their color."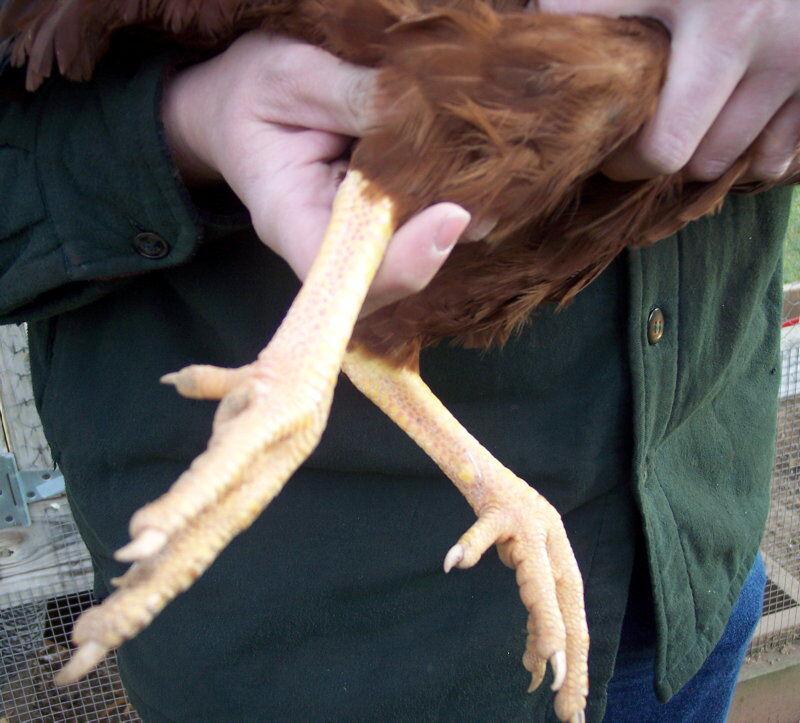 Some competitors may remove or blunt the birds' spurs, although Baker said that is not a requirement. His personal feeling is that spur removal detracts from the overall appearance.
Baker's initial poultry competition at the York Fair soon expanded to include entering his birds at the Pennsylvania Farm Show. At this year's Farm Show, Baker will not only be exhibiting his prized Buckeyes, but helping with routine maintenance and clean-up chores around the poultry display area. He also serves as a member of the Farm Show's poultry committee.
In addition, Baker assists with educational presentations given during the Farm Show. One in which he participated a few years ago entailed demonstrating how incubating eggs are candled to determine embryo development. His preparations for that presentation included having to start incubating fertilized eggs so that they would develop embryos at increasing days of maturity.
Following the avian flu disruption of poultry competitions several years ago, blood-testing requirements were added for poultry entries at farm shows. Each bird entered in a show must be pre-tested by a veterinarian or certified testing individual and certificates must accompany each entry.
'An Incubator Addiction'
Although his first birds were purchased, Baker soon graduated to breeding, incubating and hatching many of his flock additions and show birds.
During his fourth-grade year at nearby Paradise Elementary School, Baker's class hatched eggs, a project done in conjunction with a teaching program of the Cooperative Extension Service. His interest was piqued by that experience, so Baker borrowed a Styrofoam incubator, available through the 4-H poultry program.
"That started an incubator addiction," he said, grinning, explaining his later purchases of incubators acquired from various sources. "I now have several."
One of Baker's early incubating experiments involved several dozen tiny, bobwhite quail eggs. Most of the eggs successfully hatched, only for Baker to discover that the tiny chicks needed to be taught how to eat. Eventually he found that spreading starter feed out on pieces of aluminum foil encouraged the chicks to peck at the shiny foil surface, thus finding the food. To his disappointment, though, many of the tiny hatchlings were still lost.
"After that, I got better at it and have incubated and raised chicks since," he said.
Sometimes, the chicks hatched out during various show displays, like the crowd-popular ones at Farm Show and area fairs. Ultimately, the chicks find a home among Baker's trio of backyard coops, each with its own spacious, outdoor, wire-enclosed run. Multiple pens allow him to separate birds of varying ages and development stages as needed and quarantine show birds for a brief period following competitions.
"I don't use heat lamps; they bring down barns," Baker said about the classic chick-warming lights. Instead, his newly hatched chicks may snuggle under "brooder plates," small table-like appliances gently warmed from overhead that mimic the comfort of chicks nestling under a hen. As the chicks grow, the warming plate can be raised to accommodate their increasing size. Coverings are also installed over his coop windows during wintry months to reduce cold and drafts.
Now a senior at Spring Grove Area High School, Baker plans to major in animal science at Penn State, with a minor focus on poultry production. His goal, which took root with those first tiny chicks, is a career in the poultry industry, beginning perhaps as a field service technician and working into higher-level management responsibilities.
Along with his studies and 4-H activities, Baker works part-time at the nearby H & H Truck Services facility. He also assists with some milking and general farm chores at the Walk-Le dairy farm nearby.
As he prepares to "age out" of the 4-H program, Baker hopes to encourage more young people to get involved in the poultry project. He's observed over the years that poultry competition has generally attracted a more mature crowd and hopes to see enough young members become involved to keep the 4-H club membership going.
"Chickens are generally stereotyped as loved," Baker wisely observes. "People could keep a few chickens, maybe 3 or 4, to have their own eggs. It's a very affordable thing to do."