Twelve-year-old Claire Hlavaty won't soon forget the 2021 Lebanon Area Fair's youth dairy show. It was the event at which she took home both top awards.
The daughter of Bryant and Holly Hlavaty of Lititz won junior supreme champion with her Jersey summer yearling heifer, Spatz Gentry Sonia, born on June 17, 2020.
Bred by Spatz Cattle Co., this top heifer was sired by Rapid Bay Indiana Gentry-ET out of Spatz Premier Sushi.
Claire's older sister, Ella, won junior supreme champion at last year's fair.
The junior supreme champion is selected from among the winning heifers from the eight breeds exhibited at the fair's youth dairy show.
Claire had a second heifer in the 2021 junior supreme competition. Her winter heifer calf, Palmyra Alaska P Gilly, was the youth show's top Ayrshire.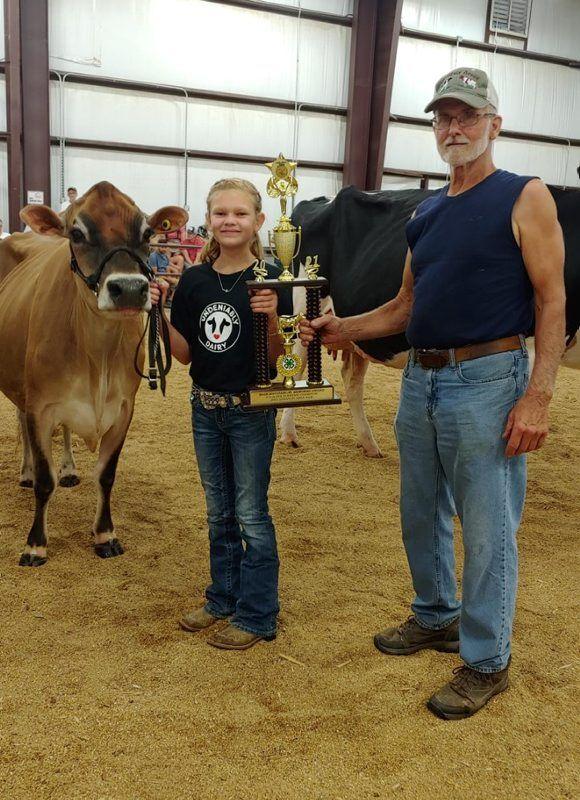 Paul Beiler, of Corrective Hoof Trimming in Fredericksburg, sponsored the jacket he presented to Hlavaty for her winning efforts.
If all this wasn't enough excitement for Claire — a home-school student whose favorite subject is math — she received the youth dairy show's coveted title of supreme champion a short while later for her senior 2-year-old Jersey, Gypsy Hill Black Apple Cameo.
Sired by Rapid Bay Black Apple out of Gypsy Hill Excitation Casey, the supreme champion was bred by Gypsy Hill Farm and born on Dec. 6, 2018.
Announcer Harry Bachman said that, at 213 days, Gypsy Hill Black Apple had produced 12,780 pounds of milk with 773 pounds of butterfat.
Claire was presented with the Dale Maulfair Jr. Memorial trophy for her supreme champion victory. Thereafter followed the traditional auctioning of a gallon of the supreme champion's milk, with the proceeds going to Hlavaty.
After a lively round of bidding, the high bid of $1,450 came from Cormick Hostetter of Fredericksburg, representing Mar-Tean Harvesting.
Hlavaty, who is a member of Lebanon County's NoSoAnn 4-H Dairy Club, said that washing cows is her favorite farm chore, while scraping manure is closer to the bottom of her list.
She is aiming for a career as a vet tech, but in the meantime she is busy playing her clarinet, riding horses, creating artwork and being part of a youth group.
The youth dairy show was judged by Aaron Cornman of Gardners and Josh Sanders of Littlestown.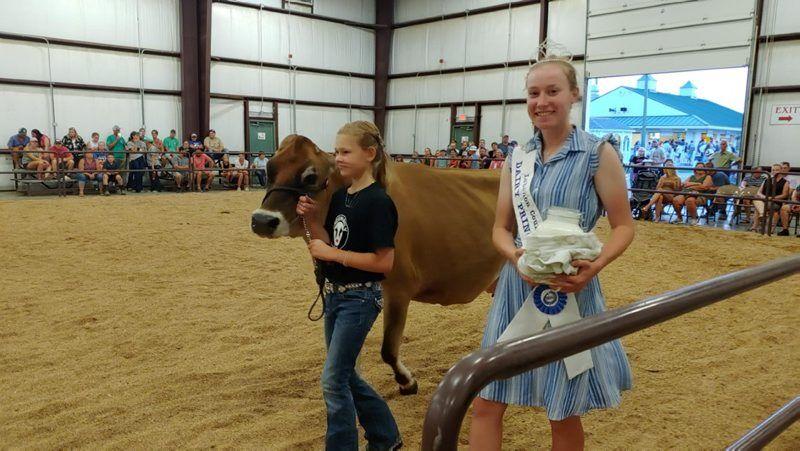 On hand during the awards segment of the show to congratulate winners were 2021 Lebanon Area Fair Queen Katie Shaak and Lebanon County dairy royalty — Dairy Princess Crystal Bomgardner, Dairy Miss Coriana Bomgardner and Little Dairy Miss Carissa Bomgardner.
Prior to naming the junior and supreme champions, winners of the best bred and owned competition were announced.
This designation involves the preparation of a 4-H project book, which is then scored along with the contestant's fitting skills, showmanship and animal type.
There were 10 participants vying for the 2021 bred and owned title. Out of a possible total of 50 points, the top three finishers were separated by just one point.
The best bred and owned winner, with 45 points, was Autumn Martin of Lebanon.
Tied for second place with 44 points each were Kalli Schwenk of Annville and Hayden Weaver of Ephrata.
These three top finishers were presented with blankets by Steve Mohn, representing Morrissey Insurance of Ephrata.