MARTINSBURG, Pa. — A typical Saturday morning at Andrew and Jen Heltzel's farm in Martinsburg usually means a juggling act of their four children's schedules.
Darcy, 15, has to be driven to Mountain District travel soccer practice at State College, while 17-year-old Dana is off to flute practice. Dana will be part of a flute ensemble that plays at nursing homes during Christmas season. Meanwhile, 13-year-old Danielle and 9-year-old Drew must clean the house as soon as they feed the goats. They will also be responsible for making lunch.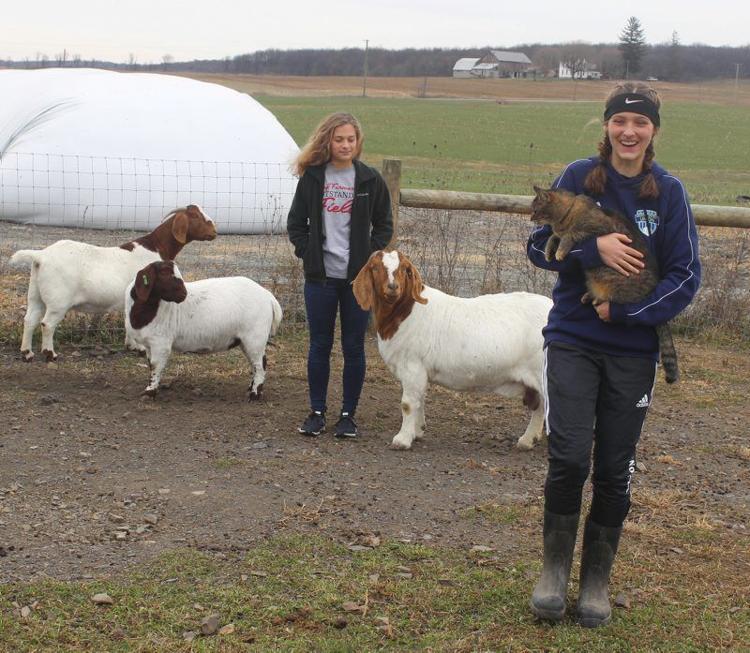 "It's the way we do it," Jen said. "Everyone pitches in to help with all of the work. It doesn't matter if it is feeding the goats or calves, cleaning the house, or getting a meal. They are all so involved in everything, it takes all of us helping each other."
All four Heltzel children will be showing their Boer meat goats at the Pennsylvania Farm Show in January, and all four work together to build up the herd for the big state event. They also show goats at the Blair County Livestock Show and Sale.
Goats are not the only livestock on the farm. The Heltzels farm 200 acres and milk 140 Holstein cows as well.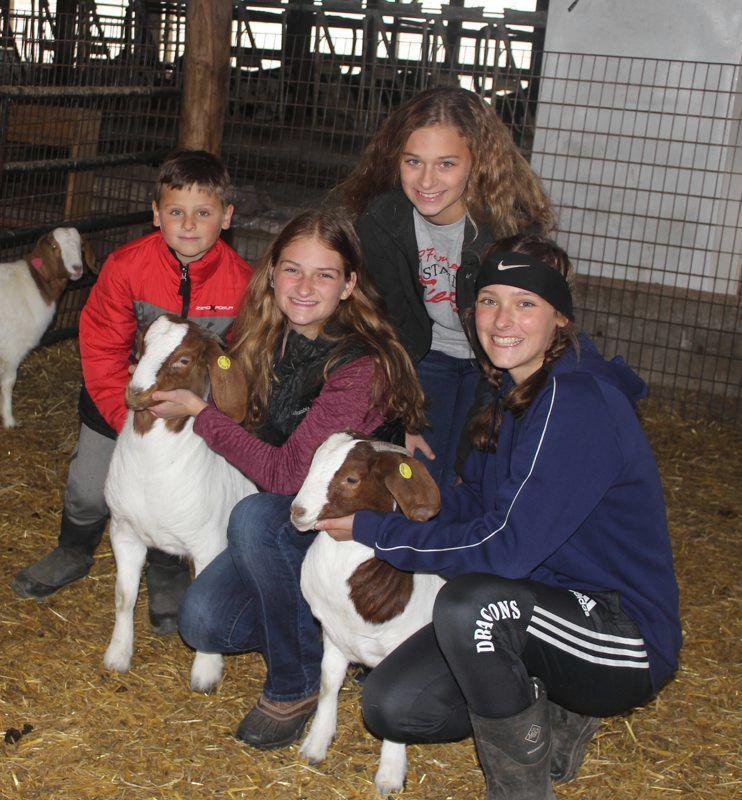 But the goat project began eight years ago with Dana and Darcy, who started with just a few goats and since then have continued to build a herd. Currently, the Heltzels have 12 Boer does, one handsome buck, and a bunch of kids. They all belong to the Kids for Kids Cove Community 4-H Club.
Kidding season will begin in January and there is a herd of pregnant does getting ready to give birth.
Each year, the Heltzels sell meat goats at Belleville and New Holland auctions as well as in New York City. If they make the sale at the Pennsylvania Farm Show, some goats will be sold there.
"Goats are bringing a good price in the ethnic market," Jen said.
All four Heltzel youth collaborate together in taking care of the goats. They do the feeding, oversee the purchase of new goats, and work with their vet to improve the herd.
"We are trying to build up our herd with stronger and healthier animals," Darcy said.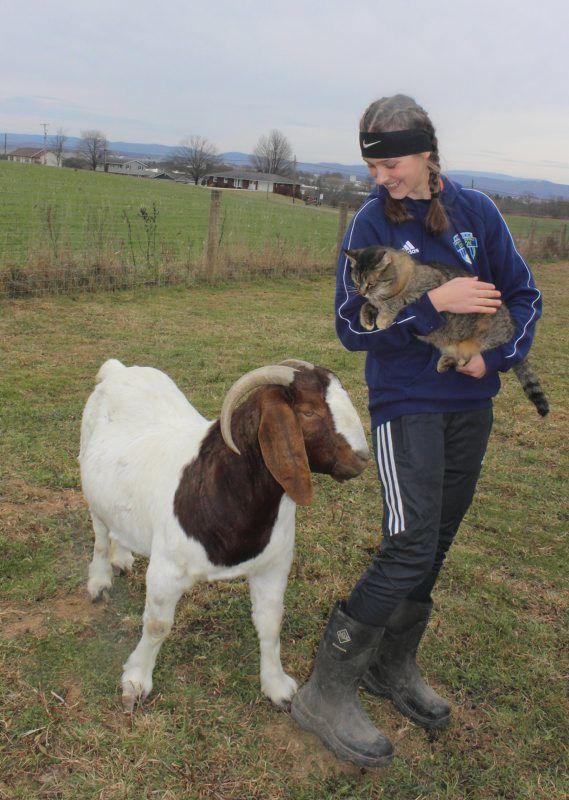 They feel they have developed a herd of good, self-sufficient animals.
"It's been a learning process," Jen said. "Birthing can be difficult for goats and we have had to bring them into the house at times. It has taught them a lot about life and death."
All of the money earned from the goats is put into the same account, and if new animals are to be purchased or there is a need to buy showing equipment or feed, the money comes out of it. All of the profit is shared and used for school activities.
Besides feeding, all four — Danielle, Darcy, Dana and Drew — do the cleaning and practice training the goats together.
"We spend at least an hour a day practicing showing," Danielle said.
The Farm Show is like a vacation for the Heltzels. They will be there for a couple of days, spending at least one night to show their goats — or more nights if the goats make the sale. In addition, the family spends a day volunteering at the 4-H booth, the Pennsylvania Beef Council, the dairy princess booth and Hess's food stand.
"We have not won any top prizes as yet," Jen said about the goats. "But we have not purchased top quality animals. Our herd is homegrown and keeps getting better. In the beginning, they were at the bottom and have worked up to middle class. We hope to keep going to get to the top. We aren't necessarily looking to win big prizes, but to get experience. The Farm Show is a great way for them to see and aim for really top-quality animals and to learn how to get them."
All of the Heltzels have learned a lot about agriculture. They credit their vet for being a big help in building up their Boer herd. Part of their Farm Show experience is learning about the importance of teaching agriculture to others.
When they aren't working as a team, each Heltzel has his or her own interests and talents.
Dana, a junior at Central High, is in FFA and a flute player in the National FFA band. She serves as the Blair County alternate dairy princess and has completed a 4-H Science of Ag project.
Darcy, a ninth-grader, plays soccer and a French horn in the marching band. She has participated in National FFA Band and serves on the dairy princess promotion committee. She also has completed a 4-H Science of Ag project.
Danielle, a seventh-grader, also plays travel soccer, is a Blair County dairy maid, is on the Dairy Bowl team, and is part of a Bible Quiz team at the Martinsburg Church of God, which the family attends.
Fourth-grader Drew will be showing at the Farm Show for the first time. In prior years, he says, he was just along for the ride. He plays the French horn and piano, is on the Bible quiz team, and loves to ride his four-wheeler. He also loves to help his dad on the farm.
The younger Heltzels also have some mixed-breed beef cattle that they plan on showing in the future.
The Heltzel farm has been passed down through four generations of the family.
"Andrew and I take care of the cows, with the kids pitching in to help with feeding calves," Jen said.
And, when dad pulls in with a load of feed, at least three of the four young Heltzels stand by to unload, while one goes with Mom to help in the house. No matter what work needs to be done, it's a team effort.