HERSHEY, Pa. — There was one guy who stood head and shoulders above the other 164 exhibitors at the 2020 convention of the Pennsylvania State Association of County Fairs.
That guy was Cliff Spenger, aka Oakley, dressed as a 12-foot oak tree that moved, talked, cackled and made friends with all who stopped to chat and admire his tree-mendous creation.
Once you start talking to Spenger, puns flow unbidden — Are you rooted there? Should I leaf you alone? Are you going to branch out? Do you feel sappy in that getup?
Spenger has heard them all, many, many times over, and he hasn't heard an original one in decades.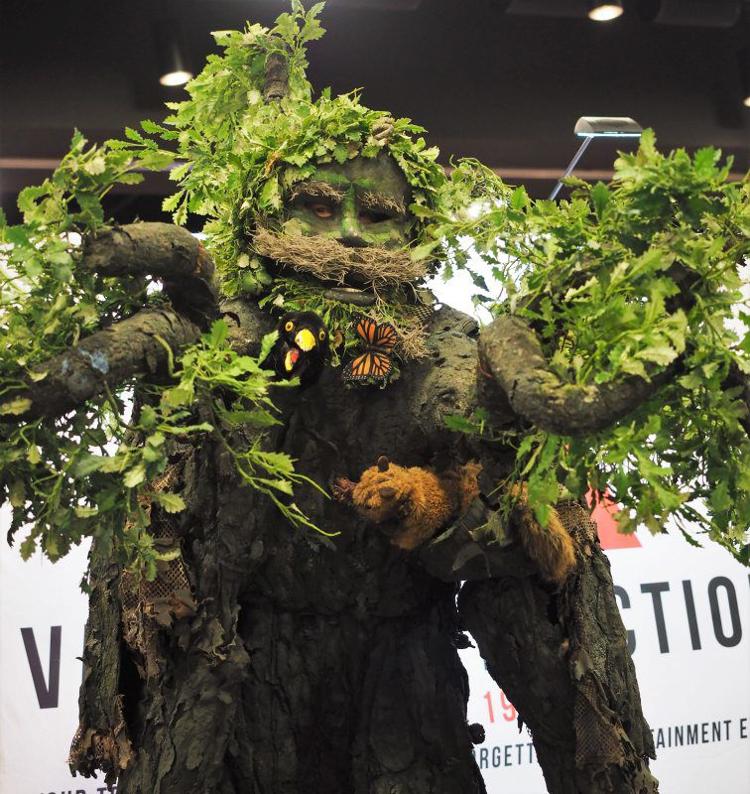 The fair convention is one of the nation's best places for performers like Spenger to meet, greet and get the names and numbers of the people who run Pennsylvania's 108 community fairs — big fairs, little fairs, street fairs, and fairs with grounds and grandstands.
Harry Reffner is executive secretary/treasurer of the fair association. We talked to Reffner briefly on Thursday of the Jan. 20-23 convention at the Hershey Lodge and Convention Center, and again by phone the Monday after. He said the association is popular with both vendors and the fair officials who show up to check out who's offering what and for how much.
The fair people show up in droves. Paid attendance at the 2020 show was 1,563. The pre-registration fee was $30, and if you attended the Thursday and Saturday night banquets, you'd be out another $75. We were at the registration desk when a man showed up who hadn't pre-registered. Hundred bucks. And another fifty for his wife unless he wanted to leave her waiting in the car. Which he didn't.
Reffner told us the Chocolate Ballroom at the Hershey Lodge holds 900 people for dinner. There were 884 seats filled for the Thursday night banquet, and just a few dozen less for Saturday night's finale.
Exhibitors at the trade show pay $275 for a 10-foot booth space to tell their stories about everything from Ferris wheels to dart games. Or, if you wanted your hometown fair to feature deep-fried Oreos, you'd find more than one vendor at the convention who'll be able to help you out.
Attendees and exhibitors all seemed to be getting their money's worth, gauging from the vendors we talked to during a two-hour visit.
Which brings us back to Cliff Spenger, the tree-man who's apparently packed a century or so of living into his 68 years of mortal existence. Before he sewed himself an oak tree and donned stilts for both his arms and his legs in order to wear it, he spent 35 years as a tightrope walker. After he became a tree — and, really, he could blend into a forest — he became what's known in the trade as a full-time variety performer.
His goal is to make a living, which he does, and to inspire people to think about nature. He and his Oakley suit have traveled the world to entertain and inspire. In the few minutes we talked, he mentioned Ireland, China, Okinawa and Hong Kong. In China's Gobi Desert, he was part of a three-day project with mostly Japanese volunteers who planted 15,000 trees on the western edge of one of the world's biggest sandpiles. The planting was part of a Chinese government effort to stem the advance of the desert, the birthplace of massive sandstorms that can reach Beijing, the Korean peninsula and even Japan.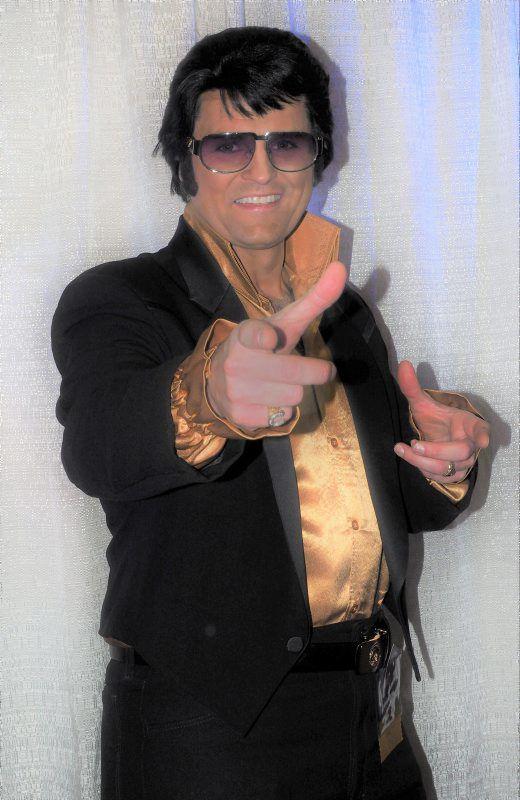 One thing's for sure — you meet interesting folks at the fair convention. We met Elvis, for example, the King of rock and roll. His name is actually David King, he is a Graceland-sanctioned ETA (Elvis Tribute Artist), he's been performing for 30 years (doesn't nearly look it) and his other job is senior pastor at Ebenezer Church in Greencastle, Pennsylvania.
King was named one of the top 10 ETAs in the world by Elvis Presley Enterprises, and he regularly tops other performers at ETA competitions.
And King has a band, The Spin-Outs, which performs at family-friendly events.
We talked to Carrie McQueen for a little bit. She was all decked out in her steampunk outfit and, at a mere 9 feet 3 inches she was a shrimp compared to Oakley. She's been leading the stilt-walking high life for about 20 years. She's based near Atlanta, but travels all across the country for fairs, parties and corporate events. She also juggles and tells high-minded jokes. We asked her to use our phone to take an aerial view of the convention trade show and she cheerfully obliged.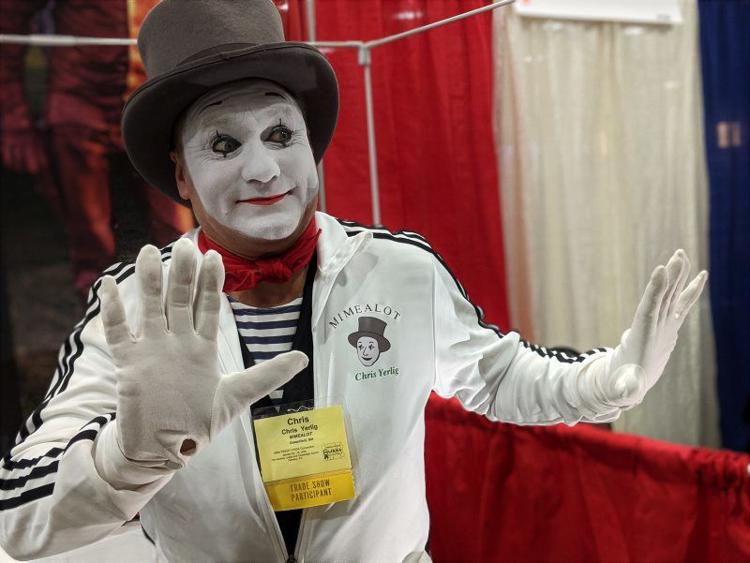 We didn't expect to get much from the next performer we approached. His name is Chris Yerlig. He's a mime. So we put our notebook in our back pocket, and asked if we could take a picture of him trying to get out of his invisible box? "Well, yes, certainly we could do that."
And then he kept talking. And talking. Stories about his 25 years of miming. We didn't catch all the details because, well, our notebook was stashed away. His website presents a picture of an accomplished performer, born in England, perfecting his craft on the streets of cities in France and Spain, and performing throughout the world. He volunteers for Magicians Without Borders, Clowns Without Borders and Project Troubadour. He's performed in Africa, Asia, Central America and the Caribbean, as well as many locations in the U.S. He was in Hershey hoping to add a stop or two in Pennsylvania.
Finally, our eye was caught by Backdraft, one of those behemoth automotive fantasies built to look like it's ready to take on anybody anywhere in the world. Backdraft is owned by Xtreme Monster Sports of Airville, Pennsylvania, founded by Paul Breaud and Ty Cornelius in 2011. Their business came out of a lifelong friendship and a mutual passion for big, loud and powerful machines.
Backdraft is powered by a 534-cubic-inch supercharged Merlin engine that burns pure ethanol. We really wanted to hear it roar, but an indoor convention really wasn't the time or place.
We talked briefly to Breaud about the trucks and the business. There are four Xtreme Monster competition trucks and another truck that was built to give rides to motorheads. A truck like Backdraft could cost $150,000 to $200,000 to build, Breaud said, but then you need a truck to haul it around, spare parts, a place to keep it when it's not crushing Toyotas, etc., etc. Getting into the business with just one truck could cost up to half a million dollars. And then you have to earn paychecks by winning competitions, which means hauling the truck hither and yon — the Xtreme team has been all over the U.S., Canada, Peru — and then when you get to yon, you have to score points by hurtling through the air riding 10 tons of screeching steel and rubber in a machine without wings.
Sounds kind of fun, actually.
Pennsylvania's fair season starts June 18 with the Kempton Fair in Berks County.
Lancaster Farming will feature a full list of this year's fairs in the 2020 Fair Guide, which will be published and inserted in our May 23 edition.
For information about advertising in the Fair Guide, contact Becky Rowe at 717-721-4420 or rrowe@Lnpnews.com.