A year and a steer have made a big difference in the life of one Perry County 13-year-old.
Summer Gsell, an eighth-grader in the Greenwood School District, recently took several top honors at the Perry County Fair with her steer, Mudball.
Summer's Simmental crossbred won the grand champion market beef title during the fair's Aug. 13-17 run and was also cited as the fair's 4-H market beef rate of gain champion. In addition, Gsell was named as reserve champion showman for her efforts in the ring.
Those are awards any 4-H'er would be proud of, but that's especially the case since Summer just completed her first year as a member of the Perry County 4-H Livestock Club and has only resided on a farm for the past year.
Summer is a typical 13-year-old in many ways. She likes the carnival rides at the fair, and at school enjoys art class and cooking in her family and consumer science course. In her spare time, Summer loves tooling around the Gill farm on a four-wheeler.
However, she has also faced some unique challenges in her young life.
Raised in the city of Carlisle, Summer's home life, and that of her 7-year-old brother Johnny, took a turn for the worse and they needed foster care placement. Fortunately, by August 2018, the Cumberland County Children and Youth agency was able to connect them with their aunt and her husband, Perry County farmers April and Brad Gill, whose farm they had occasionally visited.
The Gills operate a small cattle spread near Newport, focused on breeding their dozen beef cows via embryo transfers and raising the offspring. Brad and April met each other as 4-H'ers. April grew up in the Perry County 4-H Horse and Pony Club, while Brad spent 13 years in the Perry County 4-H Livestock Club and as a member of Newport High School's Future Farmers of America chapter.
Brad's 4-H experiences included his team winning the 1995 state livestock judging competition and going to nationals that year. After completing some judging programs during his college days at Virginia Tech, he transitioned to breeding and raising cattle, as well as doing some fitting. He and wife, April, who have been together for 22 years, initially grew their beef herd to 25 head, but in his early 30s, Brad faced a life-threatening health crisis that forced the couple to disperse the herd.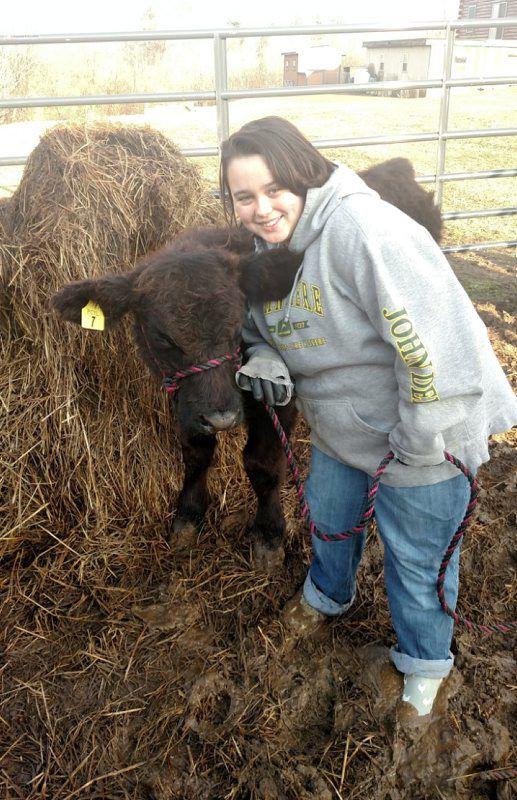 In order to focus on Brad's treatment and recovery, both spouses made career changes. After 12 years as a veterinary technician working with horses, April is now a medical assistant and does horse judging. Brad returned to school for a degree, allowing him to move from production agriculture to becoming a full-time tax accountant. Now 42, Brad works in a small rural public accounting firm with a largely agriculture-related clientele.
Even while coping with the challenges of the past decade, Brad remained true to his agricultural roots. He continued his connection to livestock through fitting, judging, and for the past seven years, coaching the Dauphin County 4-H Livestock Judging Team. As a qualified judge for cattle, horses, sheep and goats, Brad has judged at fairs in six states within the Northeast and Mid-Atlantic regions. From June through August 2019, he had judged at 22 fairs.
"That's what keeps me busy," Brad notes, hoping this experience will help him progress to upper echelon shows, such as his ultimate goal to one day judge on the green shavings of Louisville.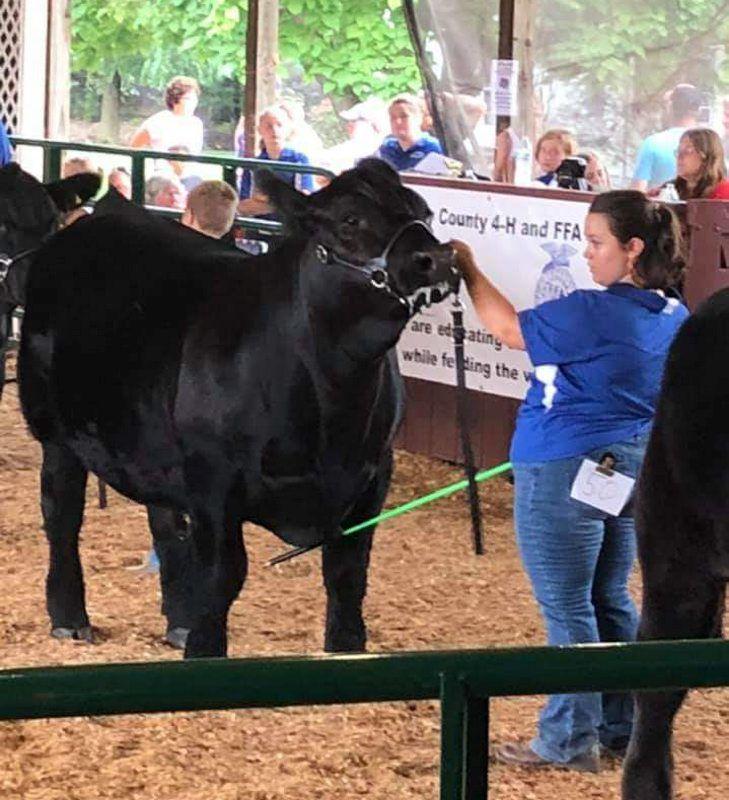 Despite their busy schedules, Brad and April missed raising and showing beef cattle. The unanticipated addition of Summer and Johnny to their household enhanced the Gills' return to animal husbandry. They had already started rebuilding a beef herd when their two young charges joined them last year. Given the Gills' own positive 4-H experiences, Brad and April decided to introduce Summer to 4-H and see if she had an interest in a beef project.
As it turned out, Summer and the Gills' Simmental crossbred steer with his solid black coat and a white tail tip were a match made in heaven. Mudball had gotten his name from his rough start, being born in the pasture during very wet conditions. Literally up to his ears in mud, he needed to be rescued to survive. Summer took an immediate shine to the tiny calf and feelings were mutual. Thanks to knowledge gained from the Perry County 4-H Livestock Club and her uncle's tutelage, Summer proudly shares that Mudball's halter broke in just a week and adds that, "I love that he would only walk for me."
Although Summer soon learned that raising a steer requires hard work and long hours — some of them very early in the morning — she found chores like rinsing him several times daily during hot weather and walking him often were rewarding experiences. She even relished learning to use a product to make Mudball's hair grow, and to train his hair forward using a rice brush.
Summer declared herself "very surprised" when Mudball claimed the Perry County Fair's grand champion market beef title. Along with this honor came the financial reward of $6,300, which the 1,280-pound Mudball brought at auction from the high bidder, Tuscarora Hardwoods of Elliottsburg. Brad notes that these funds have been placed in a savings account for things like Summer's future education.
Will Summer be back in the Perry County Fair's show ring next year?
"Absolutely!" comes her enthusiastic reply.
Meanwhile, she'll be showing her 4-H project heifer at the 2020 Pennsylvania Farm Show. And thanks to his big sister's enthusiasm, Johnny is already looking forward to joining 4-H when he turns 8 so he can become a Perry County Fair exhibitor, too.
Meanwhile, the Gills look forward to making Summer and Johnny permanent additions to their farm family.