MADISON, Wis. — The world's top dairy cattle were in Wisconsin's capital city last week for the World Dairy Expo, and a family from Quarryville, Pennsylvania, was among them.
Siblings Hanna, 20, and Jarrett Welk, 16, are the owners of Oakfield Us Ramona-Red, a Red and White heifer. They previously had success with her at the All-American Dairy Show in Harrisburg, Pennsylvania. She was the first-place summer yearling in the Premier Junior National Show and was the third place finisher in the All-American Red and White Show.
Due to their high placings, the Welk family decided to embark on a new challenge — exhibiting on the world stage in Madison.
Hanna is a junior at Penn State University, where she is studying animal science and is involved in the agronomy, Block & Bridle, and dairy science clubs.
Jarrett is a junior at Solanco High School, where he is vice president of the FFA chapter. He is also involved in the Lancaster County 4-H Dairy Club and is a volunteer firefighter with the Quarryville Fire Department.
One thing the Welk siblings had never done before is exhibit at the World Dairy Expo, a week-long event that showcases some of the best cattle from the United States and Canada. Nearly 2,300 dairy cattle are exhibited every year. The event is known for its colored shavings and supreme champion pageant, and attracts over 65,000 dairy enthusiasts annually.
The decision to send an animal to the World Dairy Expo did not come lightly. With Hanna in college and Jarrett in high school, they knew they couldn't take off the entire week of classes. Justin and Ashley Kauffman of Berlin, Pennsylvania, helped to trailer their heifer out to Wisconsin and care for her during the week.
"We've watched the WDE livestream for years and now it's our reality," Hanna said.
Jarrett and Oakfield Us Ramona-Red took to the green shavings in the summer yearling class in the International Red & White Show. The class was filled with some big names like Milksource Genetics, which had exhibited the supreme champion heifer at last year's expo. But Jarrett was not fazed intimidated. He used his dairy showmanship skills to exhibit his heifer to the best of his ability, and placed seventh in the junior show.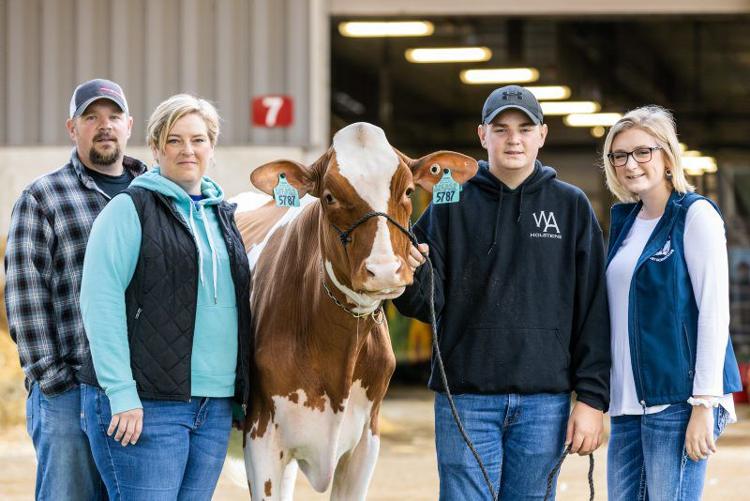 They may not have repeated their first place finishes at All-American, but for their first time exhibiting on the colored shavings it is a finish to be proud of.
Hanna and Jarrett attribute much of their show ring success to their family. Their father grew up on their family dairy farm and also showed cows from their herd, though the herd was sold in the early 2000s. When Jarrett was old enough to join 4-H, he decided he wanted to show dairy cattle. That is what brought cattle back to their family farm, and Welk-Acres Holsteins was reborn.
"We are so lucky to have a supportive family behind us and acknowledge their part in our success. Getting Ramona to WDE has been a team effort and there is no better team to do it with than family." Hanna said.