HUGHESVILLE, Pa. — As Rachel Winter watched her sister, Grace, win grand champion at the Lycoming County Fair 4-H beef cattle show on July 18, she wasn't surprised.
During the year leading up to the show, the sisters worked long hours together in the barn caring for and training their show steers. While Rachel, 14, and Grace, 11, competed as separate entries in the show, the individual awards were reflective of their teamwork at home in Cogan Station.
"If I win, it feels like we both win," said Grace, who captured the top honor with an Angus cross steer. "My sister helped me so much, and I love going to the barn with her to work on the animals. Rachel makes it fun."
To her credit, Rachel captured first place for showmanship in the intermediate category, so she didn't go home empty-handed.
But even if she hadn't earned a ribbon, Rachel said the show would've been a success just from seeing her sister win.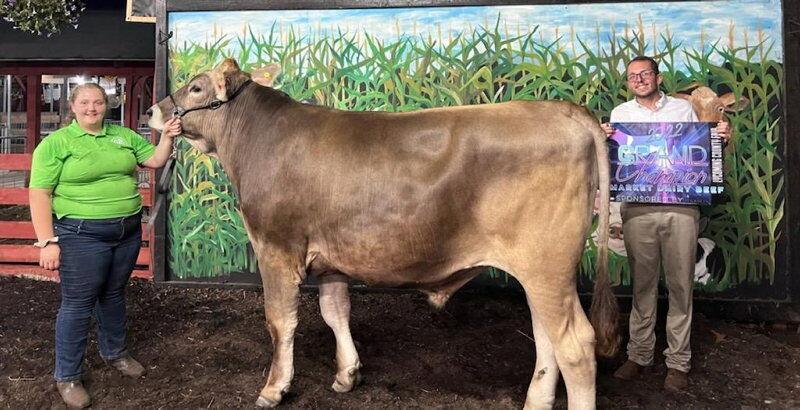 "You grow bonds with each other working in the barn. You gain trust and build teamwork, and those are important things when you're working with 1,500 animals," said Rachel, who is a member of the Keystone Country 4-H club along with her sister.
Although the fair is now two years removed from a pandemic-related cancellation, the livestock events were still dealing with some disruption in 2022.
Due to the risk of African swine fever, only market hogs were allowed to be exhibited at the fair, and those that didn't make weight were considered feeders and prohibited from entering. At the conclusion of the swine show, market hogs had to be taken directly to slaughter.
The avian influenza outbreak also forced the cancellation of the poultry show.
"Poultry and swine definitely are big parts of the fair, and pigs have always been a huge 4-H project," said Sandy Knipe, livestock entries director for the fair. "Other than swine and poultry, it feels like the shows are definitely getting back to normal after 2020 and entries are strong."
More than 190 animals were registered for dairy events, while the beef cattle show attracted 56 entries across three categories — market, breeding and dairy beef.
Nineteen of the entries were in the dairy beef category, which was dominated by a pair of Brown Swiss steers shown by MacKenzie Paternostro of Montoursville.
The 18-year-old was competing in her last 4-H show, and her Brown Swiss steers took grand champion and reserve in the dairy beef category.
Paternostro knew the grand champion steer had a chance to do well because it won the feeder steer category last year.
She raised the steers since they were under a week old and said it took two years to finish them for the show. It is somewhat rare to have entries from the same competitor take the top two spots in a show, Paternostro added.
"It feels really good to have this accomplishment under my belt, especially in my last year," she said. "It's a bittersweet ending because I enjoyed the achievements, but raising these two steers took a lot of dedication."
The Winter sisters still have a few more years to compete together, and their finishes at the Lycoming County Fair will help keep them going.
"I won other events this year with my steer, and I'm going to put in the bank account to buy another animal to come back next year," Grace said.