HARRISBURG, Pa. — Time Warp made it back into the winners' circle at the 2020 Sheep-to-Shawl Competition that has been part of the Pennsylvania Farm Show for 41 years. It's familiar territory for the Montour County team, which consists of a shearer, weaver, carders and three spinners.
Time Warp has been competing at the Farm Show event since 2002. The team has now won the traveling championship trophy in 12 of its 19 appearances.
The last time they did not win was 2019, when they lost to Franklin County's team, Friends thru Fiber, which finished fourth in the 2020 contest. In total, there were eight six-member teams for this year's contest.
It was a tough year for competitors, according to Susan Withnell, one of the event's three judges.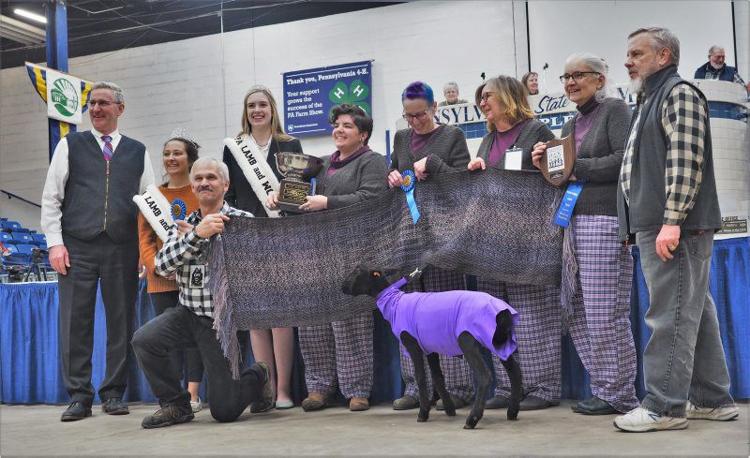 "We had a very talented field," she said after the competition closed at 5:30 p.m. on Jan. 8, day five of the Farm Show.
Withnell said the judges had an especially difficult time this year, with little difference in scoring numbers between the first- and eighth-place teams. Withnell said she had never heard of a perfect sheep-to-shawl score, but guessed it might be around 500. The shearing alone is worth a maximum of 100 points.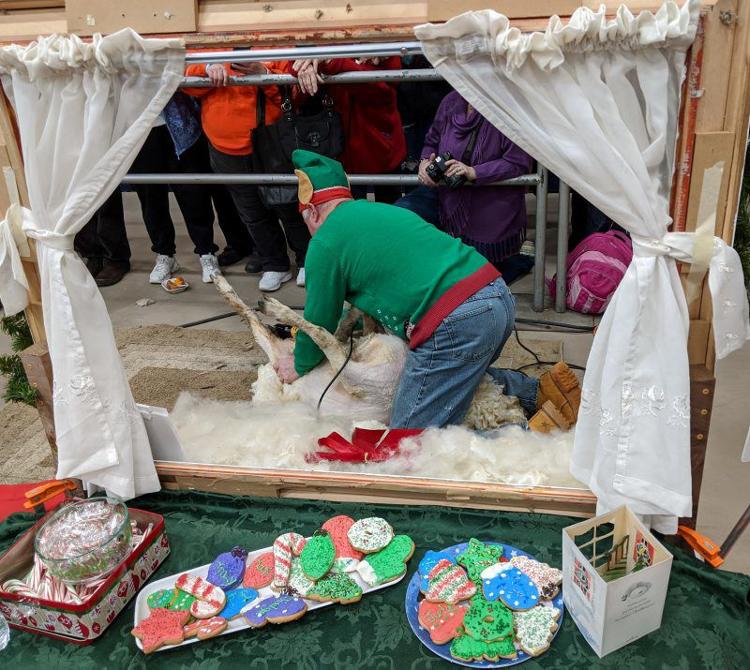 There were four judges for this year's event. Withnell retired from her job in 2018 after 32 years as a kindergarten teacher. She is now a full-time shepherd and fiber artist whose studio, Ewes-ful Fiber Arts, is in Westminster, Maryland.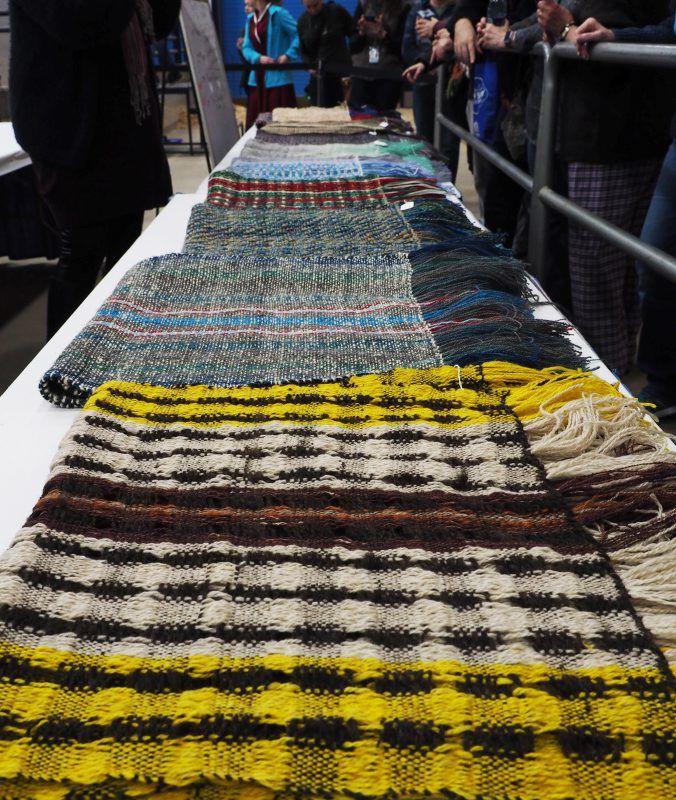 Judge Cynthia Baker has been weaving since 1996, when she began working in the Textile Barn shop at the Landis Valley Village and Farm Museum. A member of the Pennsylvania Guild of Crafts-men, she weaves altar pieces for churches and monasteries in Pennsylvania and surrounding states. She also creates textiles and wearables.
Rebecca Clark's formal education is as a musician, but she is a crafter at heart who teaches knitting and crocheting to other fiber enthusiasts. She is the former owner of the Eweknit Yarn Shop in Everett.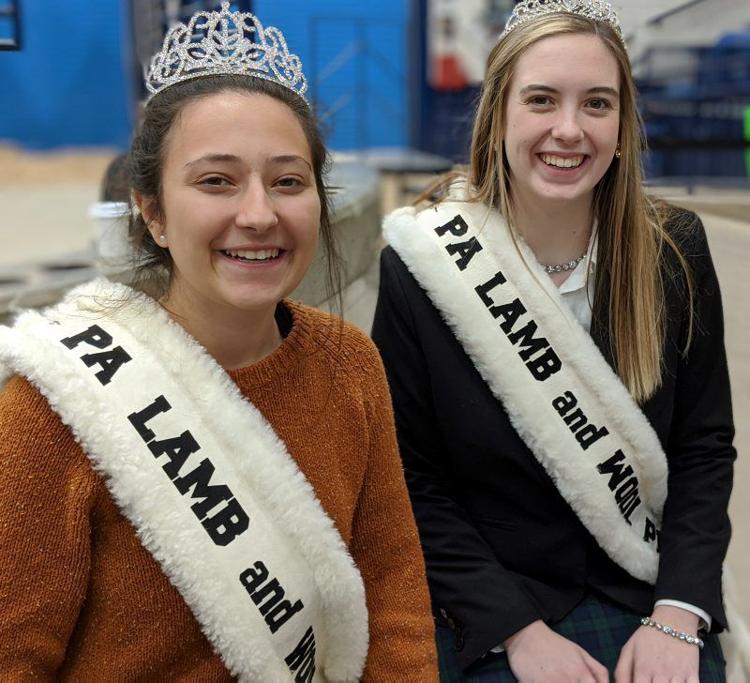 The fourth judge, Fiona Powell, was not on the floor during the final stages of judging. Her job was to critique the work of the shearers who separated the fleeces from the sheep. Born in Somerset, England, she grew up working with sheep, chickens and dairy cows. Powell moved to the U.S. 30 years ago, where she continued shepherding in Virginia and West Virginia, and developing her skills and knowledge of knitting, spinning and weaving.
The fleece award went to the team, Spin City. Team choice honors and premium spinning group prizes both went to Fiber City. Time Warp won the weaver's award.
The eight teams in this year's contest, and the order of placing were:
First Place: Time Warp, Montour County. Carl Geissinger, shearer; Jeff Johnstonbaugh, carder; Libby Beiler; weaver, and spinners Ivy Allgeier, Emily Kephart and Katherine Dashner.
Second Place: For the Love of Ewe, Cumberland County. Hoyt Emmons, shearer; Michele Gaydos, carder; Rachel Logue, weaver; and spinners Lisa Logue, Hannah Gaydos and Dot Helmick.
Third place:  The Fidget Spinners, Lancaster County. Chris Stitzel, shearer; Jill Wilson, carder; Tara Kiley-Rothwell, weaver; and spinners Dayna Reidenouer, Donna Walton Gibbs and Jennifer Maurer.
Fourth place: Friends Thru Fiber, Franklin County. Dan Dailey, shearer; Darcy Maier, carder; Michelle Lushbaugh, weaver; and spinners Joyce Mellott, Jill Schooley and Julie Shindle.
Fifth place: Shetland Circle, Lancaster County. Nathan Good, shearer; Ann Wysock, carder; Paula Bieber, weaver; and spinners Samantha Vincent, Hannah Scannell, and Patti Smith.
Sixth place: Wabi Sabi, Cumberland County. Chris Stitzel, shearer; Jill Wilson, carder; Tara Kiley-Rothwell, weaver; and spinners Dayna Reidenouer, Donna Walton Gibbs and Jennifer Maurer.
Seventh place: Loyalhannon Spinners, Westmoreland County. Chuck Penich, shearer; Deb Hart, carder; Liza Jennings Seiner, weaver; and spinners Nancy Parris, Diane Yorkshire and Diana Danko.
Eighth place: Spin City, Adams County. Geof Ruppert, shearer; Kate Bostek, carder; Jenny Sethman, weaver; and spinners Dawn Brown, Donna Panner, and M. Lynn Yu.