HARRISBURG, Pa. — Few folks involved in dairy production would argue with the harsh reality of financial and emotional stress that has been felt across the industry through the last few years.
While standing, bending, balancing and leaning on a partner for support, attendees from across Pennsylvania at the recent Penn State Extension Women in Dairy Conference got tips on how to "FLY," including learning physical mechanisms for helping to cope with mental and emotional stresses that can cause severe health issues.
"You have to first love yourself," said keynote speaker Sadie Frericks, explaining that FLY means "First Love Yourself." She led the approximately 100 dairy women attendees at the Dec. 4 conference at the Best Western Premier hotel in Harrisburg through exercises such as bending, stretching, breathing and meditating, designed to help them relieve the physical tension spurred by stress.
"Women think about those we love, but fail to return that love to ourselves," said Frericks, a Minnesota dairy farmer who operates Blue Diamond Dairy with her husband, Glen, and their three children. She has a degree in agriculture communications and marketing from the University of Minnesota, and blogs about their farm life at www.DairyGoodLife.com.
"People don't feel like they have time for self-care, but we are put on this earth for a purpose. It's hard to fulfill that purpose if we're not feeling good, if we don't take care of ourselves. There are a lot of challenges in dairy right now, and it's hard to focus on self-worth," Frericks said.
"I wasn't flying in my life," Frericks said of her past, talking about how overwhelmed she felt when their second child was due. She faced having two youngsters in diapers while helping full-time on their now 90-cow, 200-acre crop operation.
Then she had a traumatic encounter with a newly fresh cow she'd gone to check in the pasture. The resulting injuries put Frericks in the hospital, and she had to deal with a period of extended recuperation. The help of a therapist to overcome the emotional flashbacks of the accident, and support from a physical training partner and close friend, reinforced to her how critical it is to accept support from others who want to help.
"You have to breathe. Most of us don't use our lung capacity," Frericks advised as a key component in dealing with stress, while leading attendees through various breathing and simple stretching exercises.
"And you have to move, to exercise the whole body," she added, emphasizing the need to do a variety of motion techniques. "Walking doesn't necessarily exercise the whole body. And farmers move the same way, the same motions, a lot. Diversify how you move. Even just 10 minutes a day is OK."
Focusing on remaining calm is also important to self-care, since physical well-being is heavily impacted by excessive stress. Other critical wellness factors cited by Frericks include healthy eating and a diet that includes diversity, along with eating a balance of healthy foods "only as we need."
"If you have to choose between the various kinds of self-care options, take a nap!" Frericks said, emphasizing the importance of adequate sleep in looking out for one's wellness. "If you're having trouble sleeping, please see a professional."
"Wellness in moderation is finding a balance between doing it all and doing nothing," Frericks advised. "You are the expert on your own body, so find a balance that helps you feel your best. There's no end goal except to feel good and fulfill your purpose. It's a journey, and there will be ups and downs."
Included in the conference were several breakout sessions, ranging from cow and calf care to genetic engineering. A "Finding Your Balance" session featured Lela Reichart, vice president of strategic development for Sterman Masser Inc., a large potato production and marketing operation headquartered in Schuylkill County. Her message dove-tailed with the keynote wellness theme.
Raised — and still living on — an Adams County farm, Reichart grew up involved in all aspects of dairying. She has an MBA and a degree in marketing, and spent several years with the Pennsylvania Department of Agriculture as director of marketing and economic development.
"Put 'resilient' in your word book," Reichart said, as she related events that changed what might have been perceived by some as her family's perfect life into an emotional tailspin. With jobs that she and her retired military husband, Brian, both enjoyed, and sons in fifth and sixth grades, their lives did a dramatic turn more than five years ago when Brian was diagnosed with advanced cancer and a then-life expectation of only six months.
"We get so wrapped up that we forget to enjoy living," Reichart reminded her audience, detailing how she tried to "keep it all together" as they went into battle with the cancer diagnosis.
"I didn't want anyone to see me vulnerable," she said. "I thought we were OK."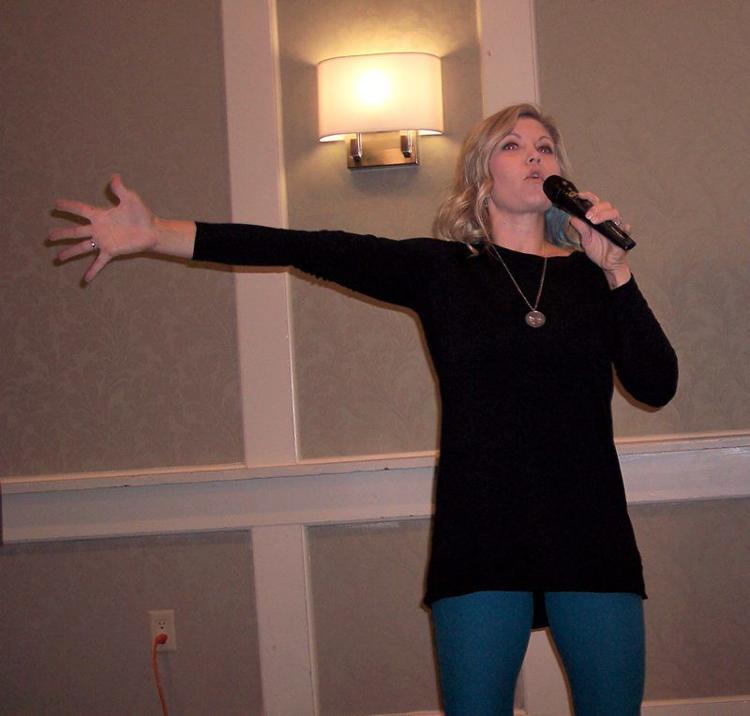 An attorney friend finally convinced her that she had to deal with the reality of the situation and take care of herself, if she was going to be able to take care of the others who were depending on her and make decisions on issues that had to be faced.
"You have to learn to say 'no' sometimes, give yourself a break, focus, and make the most of the moment. Find someone to lean on, a circle of friends. Schedule self-care. Ask for help," Reichart admonished the session of rapt listeners.
Today, Lela and Brian Reichart and their family continue to embrace and cherish every moment of their lives together, while fighting his ongoing battle with cancer.
Additionally, at the conference, a panel of three dairy women, each currently serving as a dairy organization director, as well as holding leadership responsibilities in other farm groups and activities, shared their experiences and advice with other dairy women who might be interested in pursuing directorships.
The panelists included Berks Countian Diane Hartman, who serves on the board of the Professional Dairy Managers of Pennsylvania, Lolly Lesher of Bernville, a board member of the Center for Dairy Excellence, and Christine Waddell of Crawford County, serving on the board of Ag Choice Farm Credit.
Along with many returning attendees of the conference — specifically geared to dairy women — was a significant number of first-time participants.
"I always heard good things about this conference," said Yvette Longenecker of Williamsburg, who was attending her first Women in Dairy Conference.
"It's a good time to get out and meet other dairy women and the topics seem to offer something for everyone," said Longenecker, who is a partner and the office manager for the Penn-England family dairy and crops operation.
Becky Nearhoff of Warriors Mark expressed similar reasons for participating in the conference. A nutritionist with Cargill, she and her husband maintained a dairy operation until he passed in 2012. Now, she continues to board dairy heifers.
"I like to connect with other women," said Nearhoff, adding that she doesn't see too many farm women in her herd nutritionist capacity. "So many of them are away working."