After dairy farming for 16 years, Burnell Martin feels his decision to part with his milking herd of 100 was a tough, but wise, choice. He had purchased his first cows as a teenager, and eventually operated Kar-Nell Farm in Clyde, New York.
But more recently, as a husband and a father of five, dairy farming left less time than he wanted for his family and for serving the Lord. So, in 2019, he and his wife, Karen, decided to sell their herd, raise grain crops instead, and invest in a local grocery business that had sat vacant for months. The couple leases the building.
"We've gone from wholesale to retail," Karen said with her customary chuckle.
Her optimistic outlook and can-do attitude has helped over the past year. The couple had no other investors joining in their retail adventure and they lacked experience in operating a retail store. Despite this, they said it is easier and less risky than dairying.
"It's a tough business and I didn't want to do it all my life," Burnell said.
The family can now get away for a few days to go camping while their employees operate the store. They can also feel more free to worship all day Sundays, the only day of the week the grocery store is closed, without rushing back to the farm to milk the cows and do chores.
While Burnell continues to raise 133 acres of corn, 133 of soybeans and 133 of wheat, along with keeping up with the farm's grain and manure hauling enterprises, Karen oversees the store and their 10 employees. Burnell also helps Karen at the store for tasks such as unloading trucks.
Shifting from dairy farmer to retail store operator was a big adjustment.
"When you're farming, you don't see a lot of people face to face," Burnell said. "In dairying, I didn't deal with people every day."
"We also had to learn what people want," he said.
The store's site has remained the only grocery store in town for decades. For many years, it was a P&C store, operated in the space as a mainstream grocery store. In 2012, Save-A-Lot took over the store after it was vacant for a few years. Save-A-Lot sold a small selection of goods under its own store label, along with one name brand for the more popular types of items.
Though a popular store, its owner's untimely death shuttered the store for a few months until the Martins re-opened it as Martin's Grocery Outlet, selling mostly close-to-date or slightly outdated items. Shifting the customer's expectations has challenged Karen.
"People used to come to us and say, 'This is out of date,'" Karen recalled. "We're not perfect; if you get something not right, we'll take it back."
After a few weeks, the customers became more familiar with how a food outlet operates.
Many food items stay perfectly safe and wholesome after the date on the package. Karen views her store as a means to prevent food waste and also provide low-priced food for the residents of the small village and outlying rural areas.
The Martins source close-to-date items from a supplier in Pennsylvania and provide low-priced frozen and shelf-stable goods to their customers. The store also features regularly priced fresh items such as Upstate-brand dairy products, local produce and bakery goods, along with Walnut Creek staples like snack foods, canned goods and pasta that come from the Ohio-based supplier.
Over the store's year of operation, the Martins have also increased its supply of pre-bagged bulk goods, mostly in the baking, pasta and candy aisles.
The Martins' store also operates a deli with take-away items. The meat is cut in-house.
Dealing with the onset of the COVID-19 pandemic this year — with less than a year's experience in the industry — challenged the couple, though they feel grateful to have the extra income from the store. When the pandemic started and customers realized that chain stores in the area were cleaned out of certain items, they turned to independent stores like the Martins'.
The Martins' supply chains differ from big stores like Walmart, so even when the big stores in the area had no new stock coming in, Martin's store could sometimes carry what other stores lacked.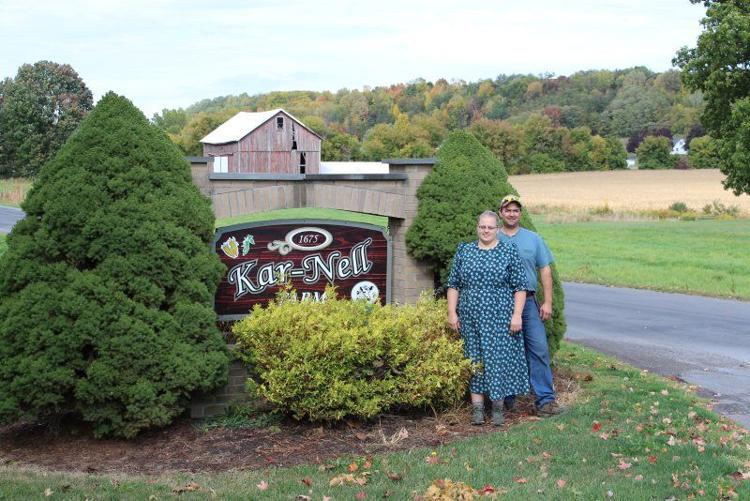 "At first, people came to buy toilet paper," Karen recalled. "They bought it in truckloads!"
For a while, Karen turned to any toilet paper brands available, including an alternative made from wheat fiber.
Since then, items like beef and pork have become periodically harder to stock and keep at an appropriate price point because of changes in the larger supply chain.
Karen said at times it is challenging to find the right balance among her duties at home with the children and at the store. Karen and Burnell are the parents of Teresa, 16; Justin, 15; Jolan, 14; Travis, 10; and Tyler, 7.
Still, when she turns off the lights at the store and Burnell turns off the equipment, their day is done. Overall, they feel pleased with shifting from dairy to their retail store and grain farming.
The Martins help others when they can, supplying food pantries with extra food that they cannot shelve.
"We want to support the community and make a living," Karen said. "We're thankful for our customers and appreciate them."
"And we want to offer good products at good prices," Burnell added.