MILLERSTOWN, Pa. — A need to give away too many boxes of cereal grew into weeks of groceries for those lacking food in eastern Perry County.
Linda Byers and her husband farm beef and poultry in Millerstown, Perry County. Their daughter, Krista Pontius, is an agriculture teacher at the local high school.
A few months ago, Pontius was given six cases of cereal from a friend in the food industry.
She asked her mom, "What are we going to do with all of this cereal?"
As she has in the past, Pontius thought of some of her students whose families are often facing financial struggles. The COVID-19 pandemic had just begun in March, and Pontius knew where to take the cereal with the help of her mom.
"This girl," Byers said about that first home where they stopped to drop off cereal boxes, "she came running outside, crying, saying they had nothing to eat. She was so excited for the cereal."
Byers said the first cereal delivery occurred early on during the state's pandemic shutdown orders, before checks came from the government for those out of work.
That first girl inspired Byers and Pontius to do what they have done similarly in the past. They realized they needed to provide some aid to these families in their area.
Typically, each year during the Christmas season, the family chooses to give gifts to those in need, rather than buying presents for one another.
Byers has attended meetings for the Perry Valley Grange. When a woman with that Grange heard about what the Byers and Pontius were doing, she offered to provide some Grange funds.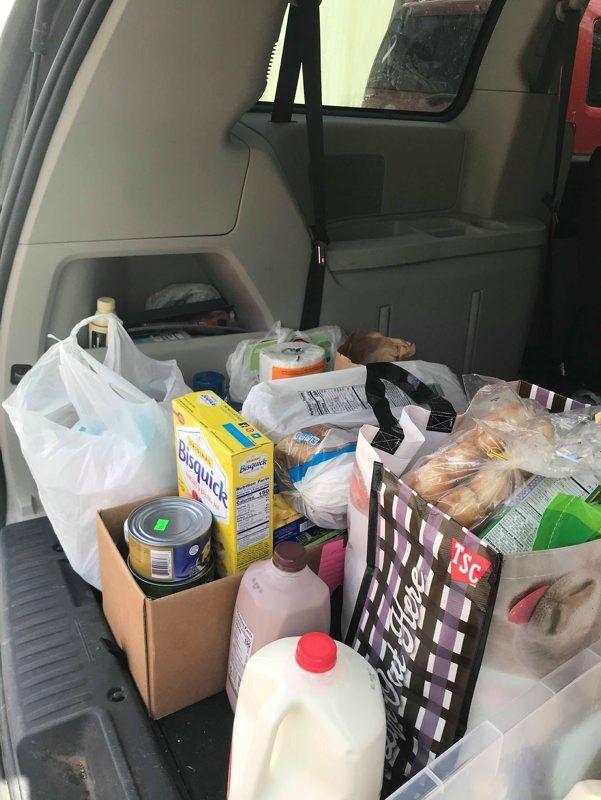 "That first week we decided to do this, we had $1,000 just from word of mouth and people who heard about what we were doing," Byers said.
Coincidentally, before COVID-19 had been fully diagnosed as a pandemic and before any shutdowns had even occurred, Byers recalled a Grange member saying the group needed to "set aside $5,000 for this virus, just in case."
"I thought, 'this is crazy.' Never in my wildest dreams did I expect things to change so fast," Byers said.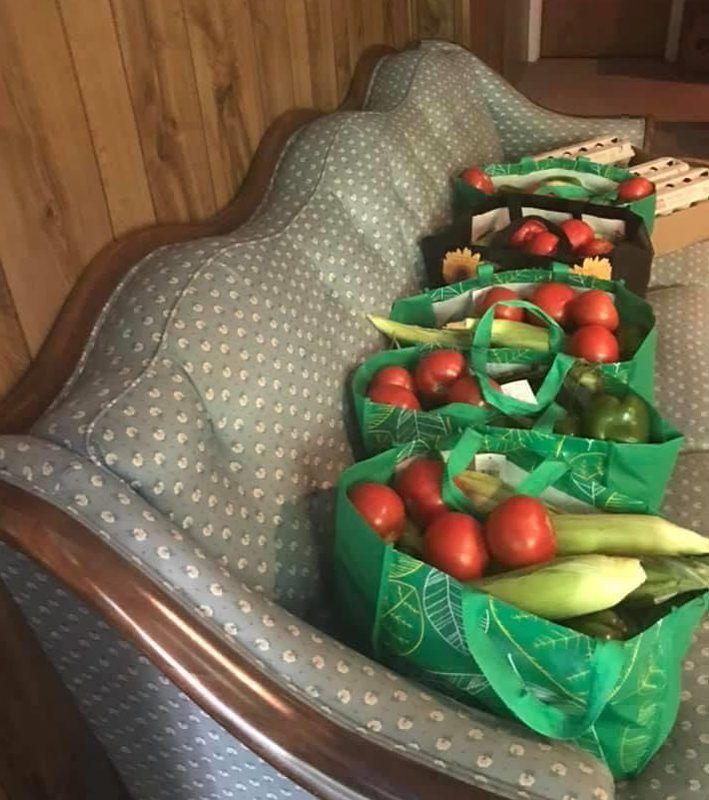 Once the pandemic was declared in mid-March and the state's stay-at-home order happened, Byers and Pontius started buying food for the families in need.
They never requested help, Byers said. But the help started coming in from other farmers and members in the community, either in the form of fresh produce, dairy or meat, or in the form of checks.
Byers said it was amazing to find more and more checks showing up in the mail to help purchase items. Boxes and boxes of food were purchased and delivered by dropping the items on a porch or door step, and making a quick knock on the door. They would then leave the items there and return to their vehicles.
Some donors even provided toilet paper for the families when paper stores were running low around the state.
"There was so much food," Byers said. They had to make two trips with two vehicles each week to deliver the items.
"We would go to Millerstown first and then do Liverpool. With my sister-in-law's big van and our SUV, we couldn't get it all in."
Those early weeks during the pandemic, Byers said they aided seven specific families in the Millerstown and Liverpool areas. One woman who helped with the effort made seven lasagnas for the families.
Byers said the response of the families receiving the groceries was a blessing.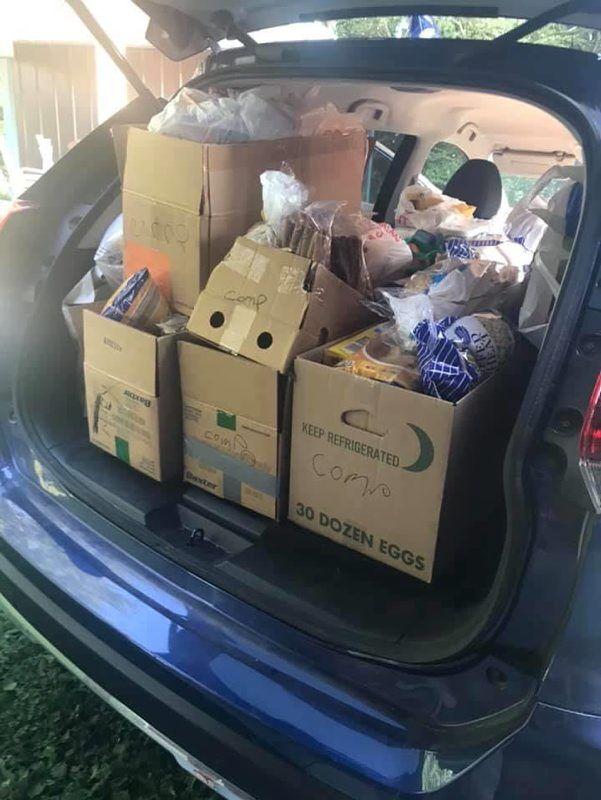 "There was one little boy who was 3 or 4 years old and he was so excited over getting toothpaste. He was like, 'We have toothpaste now!'"
The average family size was five members, Byers said.
All but two of the families included students from Pontius' school.
The effort was a lot to keep doing each week and Byers said they never could have done it without the help of volunteers in the community.
Byers said that every Tuesday her family gathered in her sister-in-law's home, which served as a food pantry of sorts.
"Some people just packed the food in boxes," she said, which was appreciated.
When the food was purchased, her sister-in-law, Sue Byers, would buy specific items to make a meal.
"For example, if she bought tacos, she would buy everything you would need to go with that," Linda Byers said.
Sue Byers and her husband, Lloyd, raise beef, so they always provided the beef for the families in need.
Linda Byers' niece in Delaware, who has a poultry farm, would ship items to help out as well.
"People kept giving money. We purchased milk, all fresh foods," Linda Byers said.
She said it was very important to provide healthy foods instead of all packaged food items.
"We wanted them to have fresh stuff to eat, not just junk food," Linda Byers said.
One produce farmer gave some vegetables and then said, "Let me buy some packages of cookies." Byers said that was fine to have that special treat for the families. But they did not want to focus on the less healthy items. The goal was to provide not only food to eat, but food that would be good for them.
Byers said there are food banks in the area that the families could utilize. However, they chose not to ask them whether they received food elsewhere.
They wanted to share a blessing from God, Linda said.
And, one family did not even have a car, she said, so she is doubtful they were receiving anything other than what was given through this project.
Pontius had posted on social media that they were helping families struggling to buy groceries during the pandemic and to please contact her if they knew someone who needed help. They heard from a counselor in Newport that a client was unable to buy much for her family to eat. So Pontius met up with her and provided what they needed.
The effort wrapped up in early August and is no longer operating. One family moved away from the area while others had family members able to return to work. School started in the area Aug. 26, and Byers said she is hopeful the children are getting lunches at school.
"If any of those families are not doing OK, I am sure Krista will find out," Byers said.
The program can restart when the need arises again, she said, looking toward the winter.
"This project snowballed into something wonderful. I can't say we won't do it again," Byers said. "You just don't know where (the pandemic) will go."
For Byers, though, the motivation for this food giveaway will always go back to the girl receiving the cereal.
"I can still see that girl running out to us crying," she said.