ORANGEVILLE, Pa. — It was quite a lengthy project for Melissa Whitenight to build her dairy herd.
Literally.
More than 10 years ago, Jeff and Melissa Whitenight's son, Sawyer, raised a Jersey cow for a 4-H project. Afterwards, the Whitenights decided to keep her as a family milk cow, and they bought Sawyer another Jersey for another 4-H project.
And they kept that cow as well.
Later, when the Whitenights' daughter, Maggie, wanted her own Jersey cow for a 4-H project, the family was unknowingly building the foundation for a dairy herd.
"No one could part with their projects," Melissa said. "When they all started to freshen, we had milk cows."
But, they had no dairy experience.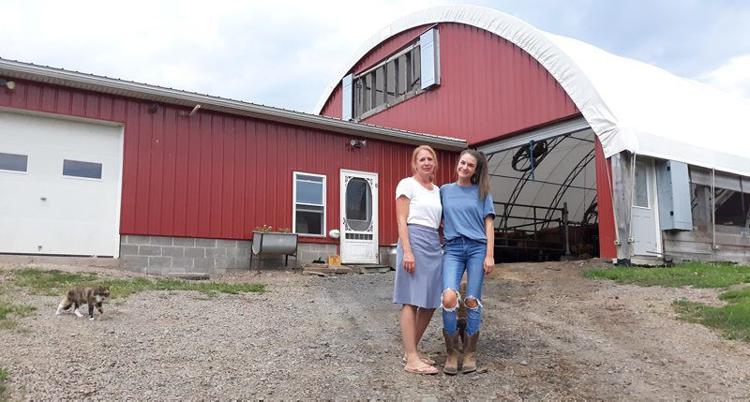 Melissa and her husband both had farm backgrounds, but it was mainly with grain and beef. So, when Melissa decided to start dairying 10 years ago — thanks in part to her kids' 4-H projects — she admitted it was a learning curve.
She began milking in an old bank barn on the Columbia County farm that was owned by Jeff's great-grandparents. Melissa quickly fell in love with dairy farming and soon quit her job as a teacher, while her husband worked off the farm at a bank.
Mindful of not getting too big that she couldn't handle the dairy, Melissa said it was her goal to keep the herd small.
While that kept the workload manageable, running a small dairy presented a different challenge.
"If we were going to stay small, we needed to find a niche," Melissa said.
It turns out that the key to the family's dairy venture was raw milk.
Melissa obtained a permit to sell raw milk on the farm, and her dairy co-op continued allowing her to ship the extra milk.
Things were going well, she said, but change was inevitable.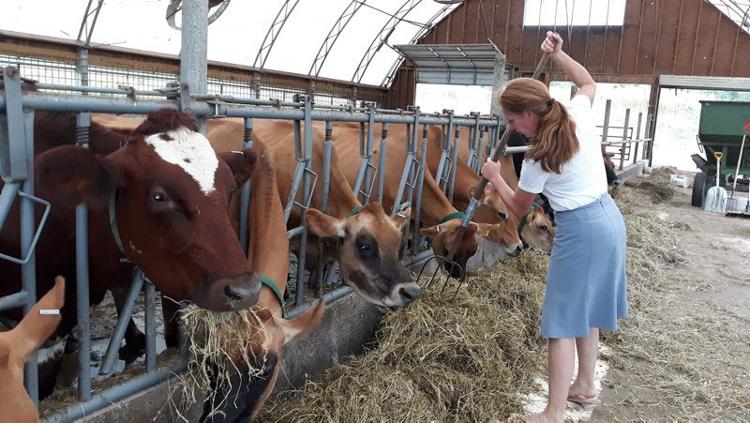 Milking cows in the old barn was a humble experience, Melissa said, but the family worked hard to run a clean operation. As the dairy became established, the co-op eventually wanted the family to ship more milk.
"We were milking about 20 cows at the time, and it was crowded in the bank barn," Melissa said. "We had to either build or cut back."
They chose the former.
Milk prices were good at the time, so the family decided to build a new dairy barn. They opted for a hoop barn, complete with a double-four herringbone parlor, which was an upgrade from milking in the bank barn.
They moved the herd into the new barn three years ago, and were eager to begin the next chapter of the dairy.
But, it wasn't long before Melissa faced another challenge in her dairy dream.
"We were in the new barn, and then we, like everyone else, got caught in the drop in milk prices," she said. "Having the raw milk business helped us weather that."
Today, Melissa milks 30 cows and sells raw milk and cheese on the farm. While she intends on keeping the herd small, her dreams for the dairy business are big.
The family recently was awarded a dairy investment grant to construct a raw milk bottling facility on the farm. The ability to bottle and cap their own milk will allow the family to sell in stores, opening up new markets. Melissa said they've already had interest from several stores, and she's optimistic about the farm's future.
"We started with a few cows, and grew slowly to 30 milking cows and 70 total, with heifers and dry cows," Melissa said. "By taking it slow, it gave us time to learn and now grow."
Still, the key to success for the farm is family.
While Melissa runs the dairy and does all of the milking, she's always joined by either Sawyer or Maggie. To accommodate everyone's schedules, Melissa milks at 8 a.m. and 8 p.m. Originally, she chose to milk later in the morning so she could finish household chores before heading to the barn. The later times also allowed Melissa time during the day to home-school her children when they were younger.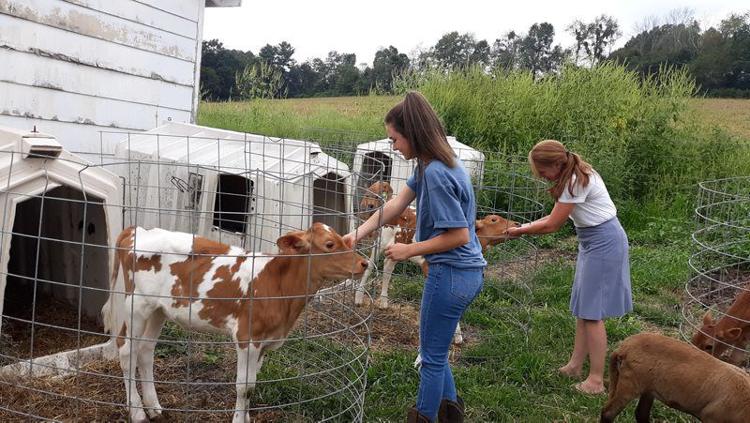 And now, the milking times allow Melissa's kids to join her in the barn without disrupting their day.
"One thing with dairy farming that appealed to me as a woman is the kids could be a part of it," she said. "We have some of the best conversations when we're milking together. We talk about family, school, farming and life. I really cherish that."
And it's something that Melissa hopes is enough to keep her kids involved with the farm.
Now, Sawyer is a junior at Bloomsburg University, studying business, while Maggie will be starting at Bloomsburg this year to major in marketing. Melissa hopes her kids can one day apply what they learn in college to the farm, and keep the business growing.
"They've been involved in every aspect of the farm, which was so important for a small operation," she said.
In addition to the dairy, the Whitenights also raise and sell their own beef and pork, and have a poultry dressing business.
But it's the herd of 30 mostly Jersey cows that serve as the backbone of the family farm.
"The dairy is my baby," Melissa said. "I was a former teacher and I chose this life. We worked very hard to get it to this point and we did it by starting from scratch. That makes us all proud."