SLIPPERY ROCK, Pa. — Derek Kellogg is following a dream to have a business of his own.
When he and his family moved into the farmhouse they built in Slippery Rock, Kellogg kept looking at an old horse pasture wondering what he could do with it.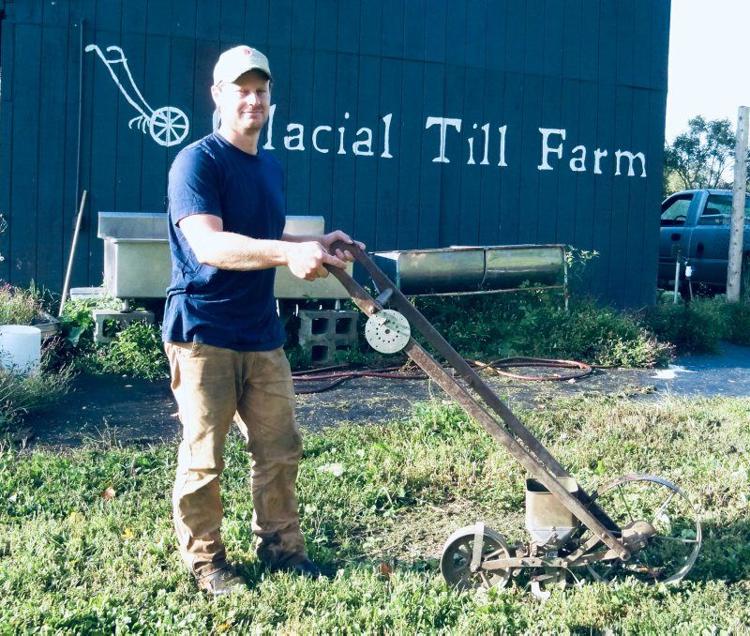 Earlier, he had created a cider press business, but had found that there was far more marketing and very little farming with that enterprise.
"I got swept up in the craft brewing craze and found that it wasn't for me," he said.
"A friend suggested that I read 'Market Gardener,' by J.M. Fortier," Kellogg said. "When I read the first page, I knew that I had the perfect place to build a garden."
The horse pasture was on 2 acres with a slight, south-facing slope made up of sandy loam soil.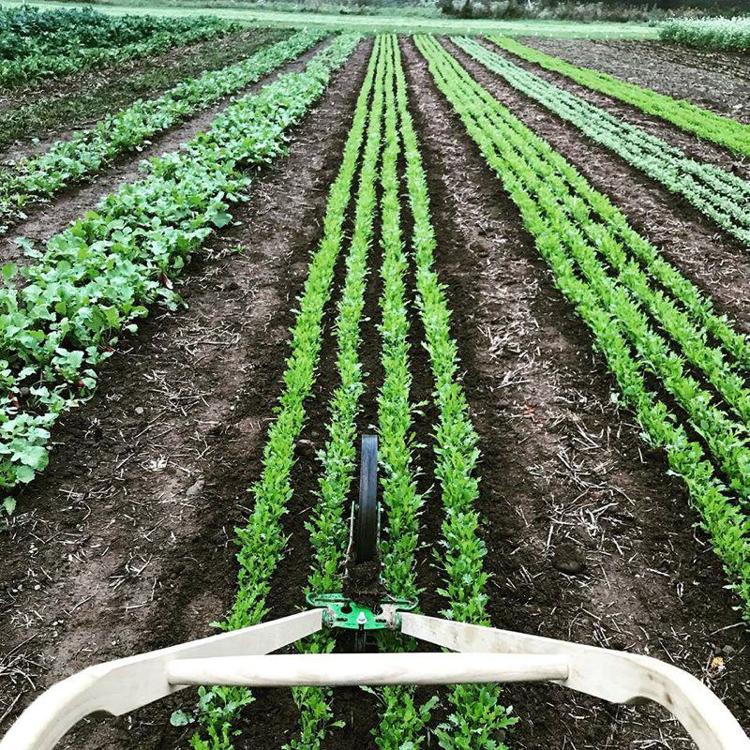 It was everything that the book described, Kellogg said, as the best place to grow vegetables. There was also a pond nearby that could provide water.
So, in 2017, Kellogg began to lay out beds and experimented with growing vegetables for his family.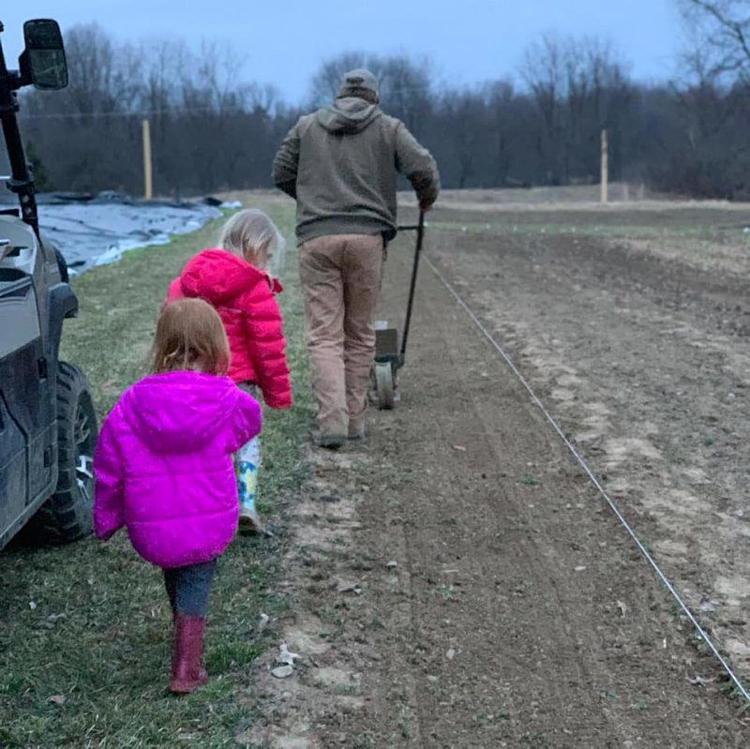 Glacial Till Farm's growing beds are 30 inches wide by 100 feet long, on 4-foot centers with 18-inch walkways between them, so that equipment can easily go through the beds.
"You really couldn't bring the combine in here," Kellogg said with a laugh about the small acreage. "The 18 inches is big enough for most people to walk through them and you can harvest from either side of the row without having to stretch too far. They are ergonomically designed to make them easy to work in."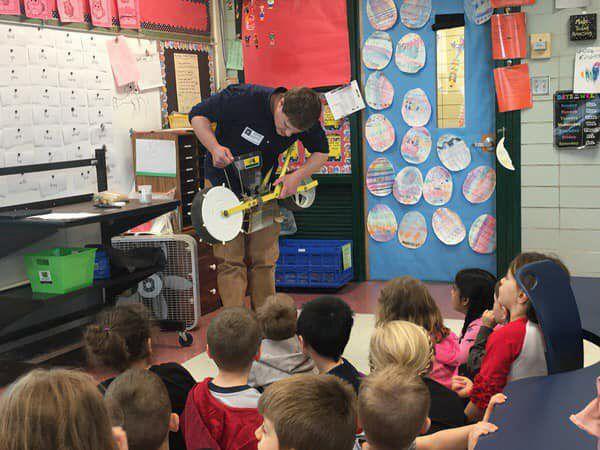 He also farms with his father, Joe, on their large grain and beef operation.
Every Tuesday throughout the season, from 5:30 to 9 a.m., Kellogg can be found at Glacial Till Farm picking mixed greens, lettuces, bok choy, spinach and kale to be sold either through a growers co-op or at the local farmers market. He grows other seasonal vegetables, too.
He and his wife, Autumn, have four children — Makenna, 6, Althea, 4, Declan, 2, and Ophelia, 9 months.
Kellogg said it was one thing to grow what he and his family could eat in the summer and preserve for the winter, but quite another to grow what would he could sell to the public.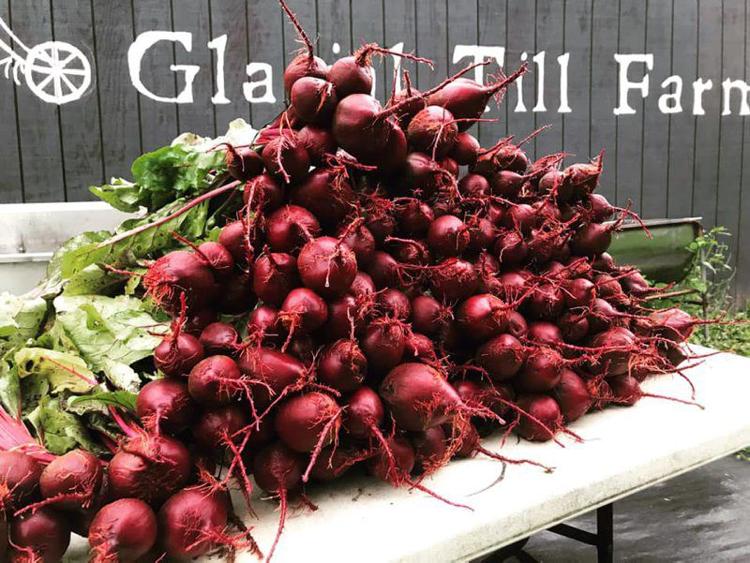 "I really don't like the marketing side of the business," he added. "The Northwest Pennsylvania Growers Cooperative has turned out to be a great way to sell my produce. They do all the marketing."
The growers cooperative organizes a CSA, or community supported agriculture, program and an online store to provide customers with fresh produce and other farm products throughout the year. The co-op has many growers that provide sweet corn, green beans and tomatoes. But, they didn't have anyone who really focused on greens.
Besides greens, Kellogg's 2-acre plot produces tomatoes, onions, garlic, leeks, cabbage, broccoli, eggplant, green beans, peppers, beets, carrots and radishes. He said the root crops work well in the sandy soil.
In late summer, one garden bed had a beautiful crop of peas that was in bloom. But Kellogg said he found that peas are too labor intensive to sell at the market. However, he can harvest "pea shoots" for sale several times before the pods form, and learned that farm-market shoppers like them.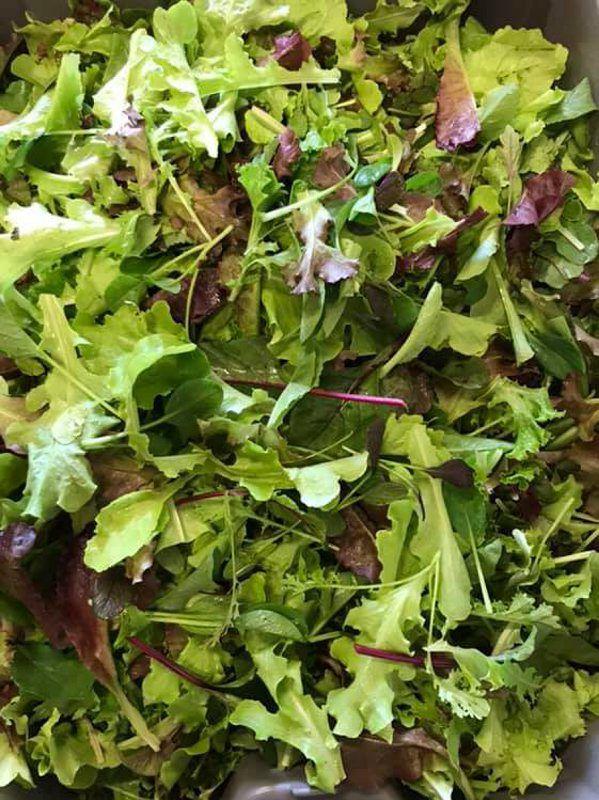 Kellogg has a degree in exercise science from nearby Slippery Rock University. Now, he said, his market garden provides his daily workout. He is interested in sustainable farm practices and has enjoyed learning about the range of specialized hand tools available for market vegetable farming.
Kellogg uses a hand-operated BCS tractor that has PTO, or power take-off, attachments that work well with the 4-foot center beds. He uses a wheeled hoe to cultivate his crops. His favorite tool is an antique push seeder that he got on Craigslist. It was in need of a part when he purchased it, but once he got it operating, he used it to seed nearly all of his crops. It opens the furrow, drops the seed and closes the furrow as he pushes it down the row.
Greens and other vegetables require washing, so the farm's washing process happens in an old barn that has had various uses over the years. Kellogg created a bubbler system in his great-grandfather's first milk tank. The system washes garden soil and any insects off of the greens. The water is about 50 degrees and starts to cool the greens. After they have been washed, he spins them dry in an old washer that accommodates a plastic basket. The dried greens are then put into a cooler — a remnant of the cider-pressing business.
He uses colored-coded totes for different tasks, such as bringing greens in from the field versus for holding them after they are washed, to ensure the greens stay clean.
To keep fresh, tender young greens available all season for customers, Kellogg now plants his lettuces and mixed salad greens every seven days in succession plantings. Last year he was able to produce greens up to about Thanksgiving.
As the beds produce for the last time, he will plant a cover crop of oats and peas to protect the soil for the winter.
Kellogg's mom, Jill, helps out the couple by weighing and packaging produce and working at the stand at the local farmers market.
"I was really excited, I had people waiting in line," Jill said recently about the market. She had been away from the market for two weeks and was pleased when fellow vendors told her that customers wanted to know where she was.
The mixed greens are the farm's best seller at market, but they also sell their other vegetables there weekly.
"I eat a lot more vegetables now," Kellogg said. "I probably have a salad every day. We really like kale soup."