MUNCY, Pa. — A family potato farm turned berry farm has been green with growth for more than 60 years.
The Green Barn Berry Farm in Muncy, Lycoming County, Pennsylvania, began as a labor of love for the grandparents of current owner Robyn Schreiber.
It started when Ralph and Edna Styer met in high school. They married in 1954, and purchased the farm property shortly after they wed. Ralph was the oldest of 12 children, and had just graduated from Penn State on a wrestling scholarship.
The couple raised six children of their own. Their son, Ralph Styer Jr., took over the farm years later.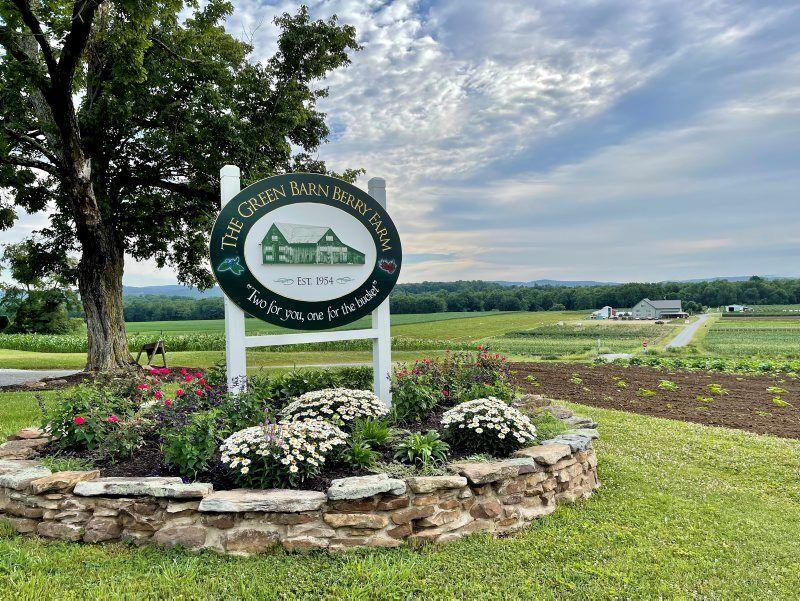 It was in 2010 that Schreiber, the daughter of Ralph Styer Jr., bought the property with her husband, Jarod Schreiber.
For many years, Schreiber said, "Everything they had grown was potatoes."
As Ralph and Edna aged, they decided to grow some produce. They added strawberries and blueberries in the late 1970s. The elder Ralph had known a grower in New Jersey who had too many blueberries and was planning to burn them. So, Ralph Jr. and his brother Carl picked up the leftover stock.
Schreiber pointed out it takes 10 years for the bushes to bear fruit.
"It was a patient farmer's dream," Schreiber said, adding, "The community thought they were crazy."
The brothers planted a plot on 4 acres, which later grew to nearly 8 acres.
"Berries are like children," Schreiber said, "You tend to them properly, and they flourish and grow."
Diversifying Berries
Since the Schreibers took over in 2010, Robyn's father and uncle have been instrumental in helping them with maintenance of the berries.
Robyn's husband is a pharmacist by day and a farmer in training, she said.
"My dad has helped us with everything," Schreiber said. "The only thing my dad does not do is marketing and work with customers. ... I do the marketing."
Schreiber has spent 29 years helping, too. She began assisting her Grandma Edna with strawberries as a teenager. When Robyn Schreiber earned her teaching degree, she still assisted with the farm in the summer.
Eventually, the potatoes "went by the wayside," she said. "We planted field corn instead. We took out a strawberry field. The corn put wonderful nutrients in the ground. It was prime."
Schreiber insisted that the family add raspberries to their crops, particularly black raspberries.
"My husband loves red raspberries and it's so hard to get them," she said. The family grew both of the raspberries on the property.
"They really thrived. We had half an acre of black raspberries in the beginning and now we have 2 acres," she said.
The marketing approach Schreiber used was pointing out that black raspberries are not available at stores. She said many people assume the blackberries sold at grocery stores are the same thing as black raspberries, but they are not.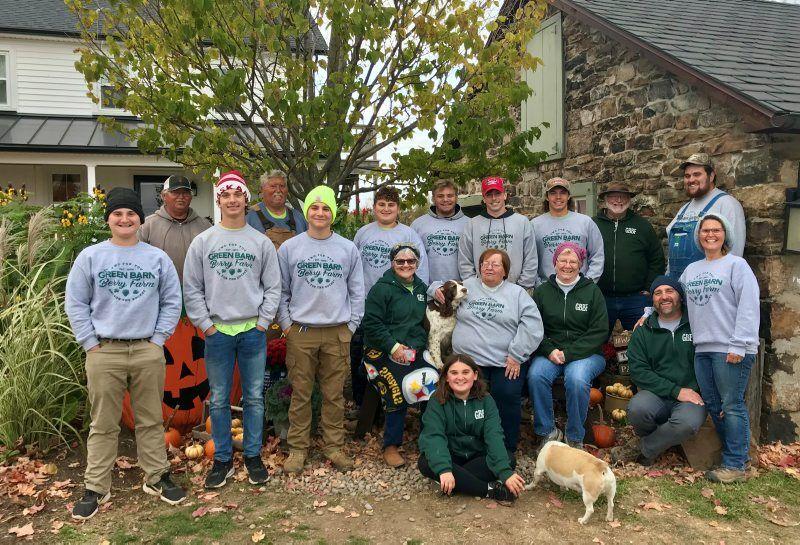 "(Black raspberries) are normally in the wild," she said. It was a good niche for their business, and offering them on the farm was a hit for customers.
"My dad suggested we add strawberries again," she said, and she admitted she was reluctant.
After years of assisting her grandmother with strawberries growing up, Schreiber was not sure she ever wanted to do that again.
Her dad reminded her that the month of June would need income. From July to August, they sell blueberries.
"So, we planted an acre of strawberries. We now have six and a half acres. It was one of the best decisions he helped us make," Schreiber said.
Barn Gives Farm Its Name
Up until 2010, the farm had been known as the Ralph Styer Farm. When Robyn and her husband became owners, they felt it was important to change the name.
"Calling it Schreiber Farm just didn't seem right," she said, "Having worked here for years, the one way people find us is to look for the green barn. The Green Barn Berry Farm just kind of rolls off the tongue," she said.
However, the community sometimes shortens the name in referencing the place where they purchase berries.
"They either call us 'Green Barn' or 'Green Berries.' It's funny, because you don't eat green berries! But they know us either way," she said.
The barn has been on the property since before the Styers owned it.
"That barn was old," she said, "It was originally a dairy barn. Then (my grandparents) raised spring chickens in it for 40 years."
Schreiber said they could never afford to fix it. It had green, faded, sheet metal on its surface to cover up the aging.
After the Schreibers purchased the property and used the green barn in its name, they decided to have it refinished. They hired the August Barn Co. to brighten up the appearance.
"Now we use it just for storage," she said.
Following the height of the recent COVID-19 pandemic, the barn's lean-to was used as an outdoor work station to sell the berries.
"So the market is at the barn, but not inside the barn," Schreiber said.
Business has been booming in recent years. The farm now average hundreds of customers each week.
There is a U-Pick option for tomatoes, cabbage, cucumbers and corn.
When the summer berry season comes to a close, the family prepares for fall. They have a pumpkin patch that also does well for them each year.
The farm is closed to the public from Nov. 1 through Christmas. The family uses this time to prune and renovate.
The farm opens again in March.
The Green Barn Berry Farm continues to incorporate family members into its process. The Schreiber children, ages 17, 15 and 12, all assist on a regular basis.
Robyn Schreiber is one of 13 grandchildren in the Styer family.
"Every kid who comes here wants to do their best," she said.
Ralph and Edna Styer have since passed away, but Schreiber's dad, Ralph Jr., and her Uncle Carl continue to give their feedback. Schreiber also has the assistance of her mother and her in-laws, who help with customer service.
Schreiber said she often thinks of the stories her grandparents told of purchasing the farm in 1954. Ralph had made the purchase without Edna ever seeing the property. He described it as close to the river and railroad tracks — an area Edna immediately decided was unsafe for raising children.
"She thought he made the biggest mistake," Schreiber said, "I'm sitting here now thinking he made the best decision ever."