MOUNT WOLF, Pa. — When a cattleman heads off to a bull sale, he doesn't expect to end up owning a hops yard as a result.
But that's exactly what happened to friends Dan Gross and Curtis McFadden.
"We knew each other through the cattle industry and were going to a bull sale in Ohio. Curtis got to talking about growing hops," said Gross, who operates a diversified beef and crops farm north of York with his brother, Steve.
"Curtis gave me the idea. I ran with it. I was looking for the next great adventure," Gross said.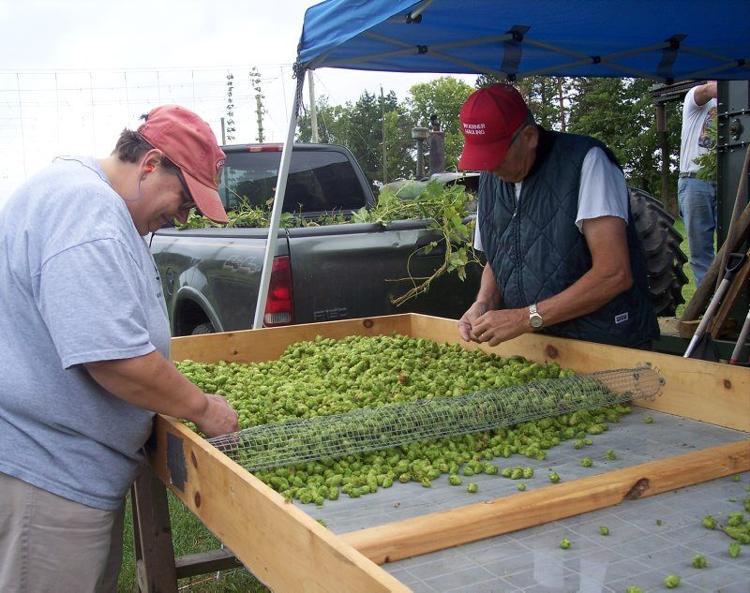 After getting home following the bull sale, he began researching information on growing hops.
The pair's conversational seed took root, so to speak, four years ago, as they made plans to partner up and do their own experimental hops planting. The resulting half-acre yard, with 300 hops plants twining up and around 35 tall posts and connective stringing, was planted almost in the backyard of Gross's farm near Starview.
Gross and McFadden did all the intensive labor of setting up their River Hills Hops "research plot" by hand.
"We went into the woods and cut down trees to make the posts," Gross said. "And we did all the stringing, out of a tractor loader bucket."
"That was in February of 2017, and by May, we had the rhizomes in the ground," said McFadden, who works in the cattle industry and became acquainted with Gross while he was a cattle buyer for ABS. A New Holland-area resident, he currently works with a calf milk replacer firm on feeding and nutrition.
A brewer friend who was interested in getting hops was somewhat of an inspiration for the fledgling venture, with the burgeoning craft beer market as their ultimate marketing focus. Hops, the "flower" of the plant, resemble small, papery pine cones. They grow on long, tough-stemmed vines that must be trained and trellised up tall poles topped by a network of strings. It's a labor-intensive crop requiring a significant initial investment to establish the extensive, trellis-like structure necessary to support the leafy vines.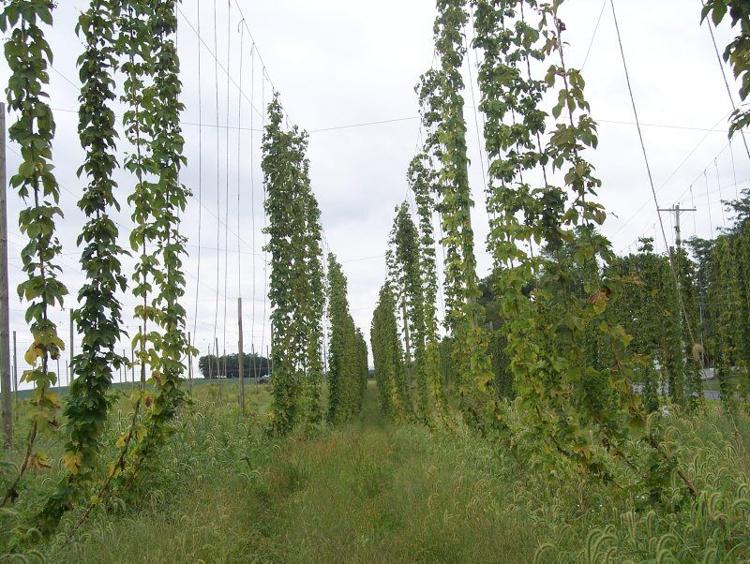 Most domestically produced hops are grown in the Pacific Northwest, in desert-like areas where rainfall and humidity levels are low. Hops are especially susceptible to mildews, which can quickly destroy the crop's value.
Hundreds of varieties of hops are cultivated around the world, each with a unique flavor and scent profile. McFadden and Gross carefully researched which varieties would be best suited for the weather conditions of southcentral Pennsylvania, finally selecting two for their experimental planting.
As part of their hops education research, McFadden and Gross attended an industry conference at Virginia Tech, where they were able to meet with and garner advice from experienced growers from several states.
"We got a lot of information and help from their experience," said McFadden about the farmer-to-farmer shared learning opportunity.
"The one thing I really remember was the seminar professor saying that hops are weeds. We can grow weeds," Gross said with a grin.
The pair quickly emphasize that the first year, as with most new ventures, entailed an substantial learning process. Establishing and nurturing a hops yard into full production takes from three to five years, as the perennial plants develop and mature toward their maximum yield potential.
As their learning curve flattened, and they gained hands-on experience with harvesting hops, the pair realized that their new venture faced the same issue that confronts so much of agriculture. To justify being able to invest in mechanical equipment to handle harvest more efficiently, they would need to get bigger.
With a leap of faith, and with more hours of study, planning and hard labor than either probably cares to remember, in the spring of 2019, Gross and McFadden began laying out their River Hills Hops 5-1/2-acre expansion.
The expanded hops yard includes 216 poles, each one 22 feet high. Each pole was set in the ground in early spring, 3 to 4 feet deep, utilizing construction equipment. Unfortunately, just one day after the poles were set, bad weather rolled in and dumped 3-1/2 inches of rain on the new yard. The excessive moisture caused many of the tall poles to lean slightly in their now-muddied bases. It required many of them to be reset and the surrounding soil re-tamped.
"We planted the 7,000 plants in May, but we were still working on the structure in the extreme heat of July," McFadden said. "Everything was planted by hand; we've had a lot of family help."
As might be expected, the erection of long rows of tall poles, strung together by a couple of miles of wire, spurred considerable neighborhood interest and chatter.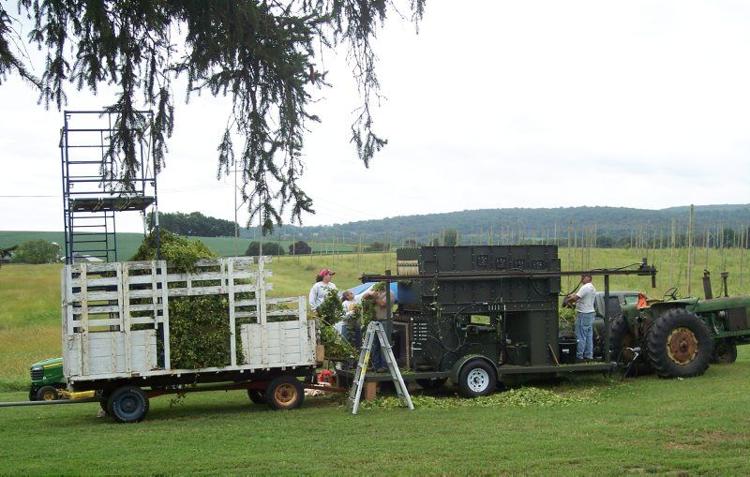 "It had everyone talking," Gross said of the neighbors' keen interest in the project. "The neighbors have been really supportive of what we're doing. They think we're crazy, but they're supportive."
Last year's growing season for the new plot focused primarily on letting the seven varieties of hops plants get well-started. By early August this year, River Hills Hops' expanded yard began yielding up its first harvest.
With both partners working full-time at other jobs, it meant a string of successive Saturdays of long, sweaty hours through mid-September, dedicated to the hops harvest.
In preparation, McFadden and Gross invested in a stationary hops harvester from an equipment firm in New York state. The harvester is somewhat boxy-shaped and features a host of moving parts, which the pair have fine-tuned to their needs through the several weekends of harvest.
"It works much like a stationary corn picker does," said Gross, of how the harvester separates product from vines and leaves.
To harvest the 20-foot tall crop, the pair outfitted a high-sided, open hay wagon with a working platform mounted atop the back. Standing on the high, moving wagon platform, members of the harvest crew of family and friends can grasp the top of the vines from a row on each side and pull them into the wagon, after the vines have been snipped loose at ground level.
With the vine-filled wagon backed to the harvester, crew members pull vines, one by one, from the pile, attaching one end of each vine to a moving chain, which drags the vine through the machine. Inside, a series of moving fingers plucks the hops cones, or flowers, loose from the vines, while a fan blows the leaves out an open side of the machine. The plucked cones drop to a belt running out the opposite side of the harvester. As the cones exit the harvester on a moving belt, other crew members sort them for quality and discard any remaining leaf residue. The chain drags the stripped vine to the back of the harvester, where another crew member pulls it loose and discards it into a pickup.
Harvested cones are then dumped into wire-bottomed drying boxes, constructed by McFadden, for further sorting for quality and residue. Once thoroughly checked and cleaned, the screen-bottomed boxes of hops are moved into an indoor drying area, where fans circulate air through them for at least 24 hours. Follow-up use of a dehumidifier reduces additional moisture.
"Many growers dry with heat, but we make do with air," Gross said, noting that hops can also be brewed from the fresh, or "wet" stage.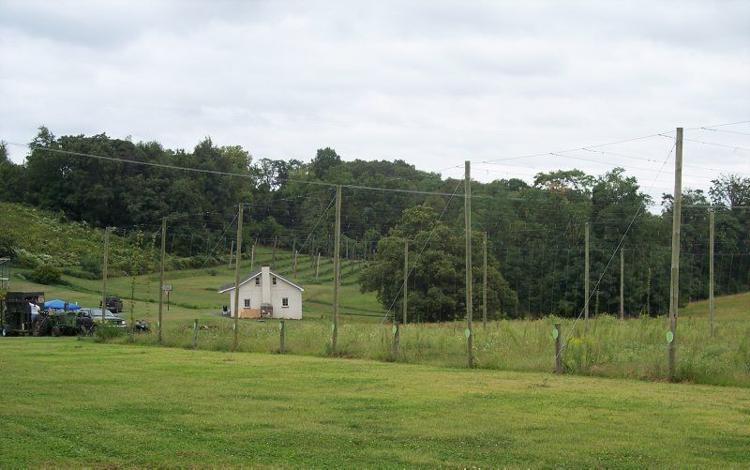 A sign at the farm entrance advertises that fresh hops are available for sale, with customers mostly being home or hobby brewers.
Even the hops leaves can be brewed, according to Gross, although the fibrous leaves quickly clog brewing filters.
Once dried to 10-12% moisture, the light, papery hops are compressed into plastic bale bags for more efficient storage and handling. Because hops are a food-grade product, they can only be processed for marketing at food-grade approved locations. River Hills' hops are hauled to an approved processer in Carlisle for pelletizing, to about the size of rabbit-food pellets, the form generally preferred by craft breweries. According to Gross, the hops material dissolves during the brewing better once they've been processed into a concentrated form.
Inside each hops flower, protected by the papery outer scales of the cone, are tiny, yellow-colored bits, the part of the plant which actually provides the flavor, fragrance and brewing value. Called "lupelin," the minute particles are pollen, the "heart" of the plant, its delicate nuances differing with each variety.
Only female plants yield cones, therefore no male plants are cultivated in the hops yard.
"Veteran hops growers can often tell the variety, just from the smell," Gross said.
Because hops are susceptible to mildew and insects, a regular control program is in place to protect the delicate flowers against damage.
"Hops are similar to pumpkins in disease and pest susceptibility," said Gross, a now-veteran pumpkin grower who began planting and roadside-marketing the popular fall icon several years ago as part of their farm's diversification. With pumpkins and hops both considered food-grade products, control programs are very similar for the two specialty crops.
Prior to marketing, hops must be tested for the proper levels of oils and acids, necessary for them to brew properly. Buyers are often very specific and particular about their hops preferences, and working with the industry has been a "slow dance" of learning and marketing.
"We have a group of core brewers who we work with," said McFadden, who focuses more on the marketing side, while Gross handles the bulk of the production responsibilities.
Social media is also utilized to help promote sales of the hops among the industry, and word-of-mouth from satisfied customers is always a plus. Being "locally grown" is a marketing angle beneficial within the region's craft brewery industry.
"We're now doing some visiting with local brewers. That's the niche that we're working in," McFadden said. "We emphasize high quality, locally produced hops, and have found some solid partners to work with."
Along with the usual challenges faced by new, start-up small businesses, the COVID-19 pandemic and continuing closure and limitations on restaurants and food service establishments have added additional roadblocks to the craft brewing industry and its raw material suppliers.
It's a different world right now," McFadden acknowledges, about working with food and beverage-service clients dealing with strict limitations on customer numbers. "We're now working more with the distribution side and not as much as meeting one-on-one."
Even with the addition of mechanical harvesting equipment, the process continues to demand a lot of hand labor and time.
"This is all family and friends," Gross and McFadden said. They are quick to acknowledge the help from a number of people, including wives and children, who are busy tending to various jobs with the harvest process. Both business partners emphasize repeatedly that the venture simply wouldn't have happened without that enthusiastic support and help. They gratefully applaud the patience of their wives, Tina Gross and Kaitlyn McFadden, as the pair recall the countless hours, late nights and weekends devoted over the past years to getting the yard constructed and planted.
With their first year of harvest from the expanded operation now ready to head to the pelletizer, the partners are pleased with the yields from the expanded hopyard.
"We were pleasantly surprised by the amount of hops we got; the volume was good," Gross said.
And, those yields came from a crop that, in many areas of cultivation, are grown under irrigation. Still, despite what turned out to be a relatively dry summer in the area, the varieties at River Hills performed well.
"I guess we're gonna' find out what they can do," Gross said, already looking ahead to what the next season might bring.