PALMYRA, N.Y. — For Chad and Kelly Jorgensen, showing cows at the Wayne County Fair in New York with their children has for years represented one of the many ways they keep farming fun for their teens, Madison, 15, and Mason, 13.
"Showing was excellent," Chad Jorgensen said of the most recent fair. "We don't know a lot about showing, but rely on friends and family who know about it. The kids love it, so we do it."
This year, Mason Jorgensen won reserve grand champion in the open class and grand champion in the 4-H show.
Farming and showing "keeps the kids grounded," Chad Jorgensen said.
With an increasing number of people who are a generation or more removed from their agricultural roots — even in a mostly rural county like Wayne — Chad Jorgensen likes that he's doing his part to help keep his children knowledgeable about farming and also learn the lessons one can learn only through farm life.
"There's not enough farm kids," he said. "Growing up with a farm background sets you up for success down the road. You learn about a lot of things, even if you don't go into agriculture. It helps in other aspects of life. I grew up farming my whole life and it's helped me understand how things work and how to work hard."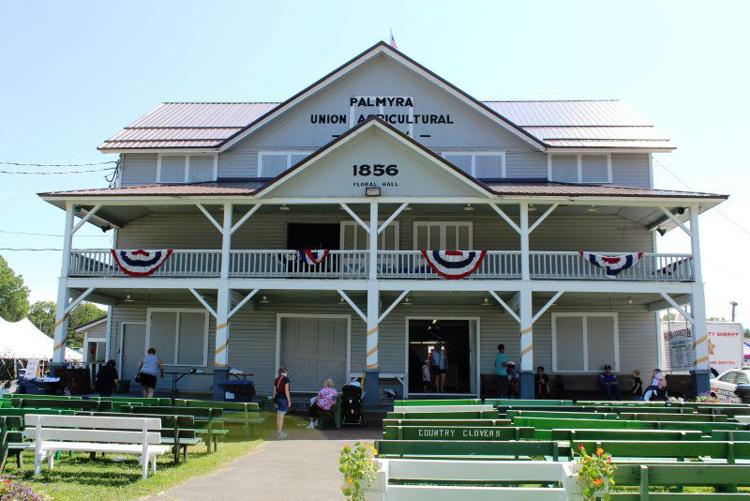 The family has been showing animals at the Wayne County Fair for the past several years. Chad Jorgensen said that every year, the children improve a little more. Buying more grooming equipment helps too, Jorgensen said. Plus, they learn more about the proper way to prepare animals and show them.
"I enjoy the people walking through the (fair) barn," Chad Jorgensen said. "Some have never petted a cow before. We try to teach them as much as we can."
He believes it's vital for farmers to promote agriculture to a public that has become more and more removed from farming and the source of their food. The couple farms 120 acres in the village of Newark, raising hay, corn, soybeans, oats, rye, triticale and buckwheat. It's also home to about 20 or 30 beef cattle — mainly Angus and a few registered Simmental, two sows and 10 farrow-to-finish pigs for freezer pork.
The family purchases animals from Robert Groom of Lyons, owner of Tullyfergus Angus farm.
The Jorgensens keep their brood cows in the pasture and the feeders are all on a feed lot. They have a gambrel roof barn to shelter the animals and separate paddocks in the barnyard to keep them in their groups.
"We've been trying to develop Holstein-Angus cross calves and transition them into the barn to see how they work out," Chad Jorgensen said. "The rest of the feeder cattle we buy."
He said that crossing the "lower end" of the Holstein herd to an Angus bull results in more valuable calves that are larger, like a Holstein, and with more muscle, like an Angus.
Farming has been their dream for years, but it hasn't come easily. After 10 years of a partnership with another farmer that didn't work out, the Jorgensens had an opportunity to own a farm. Larry Bastion, a neighbor around the corner, offered them an opportunity to rent-to-own his farm. That's where the Jorgensens have lived for the past two years, working toward purchasing the equipment and land.
"The guy we rent from is big on advocating for kids in farming and getting ag in school," Chad Jorgensen said with admiration in his voice.
Jorgensen said that his landlord frequently sends him clippings about farming from newspapers because he wants Kelly Jorgenson to share the information with the students at Newark Central School District, where she works as assistant to the superintendent of finance. Chad Jorgenson also works as a road technician at John Deere for LandPro Equipment.
The farm is a part-time venture, which is OK for Chad Jorgensen. He wants to keep the farm small and manageable for the family and still fun for the children.
"As long as we break even, we do it," Jorgensen said. "I do it because I love doing it. I like farming and the way kids grow up on the farm and the way they turn out."
He thinks that keeping it fun will help inspire his children to enjoy farming as well.
The Wayne County Fair was the first county fair in the state of New York and has run continuously since its institution. This year, the event ran Aug. 12–17. The fair's roots were planted when, 170 years ago, locals organized a horse race and exhibits of agricultural goods in Hathaway's Grove. That year's event lasted only three days. Since then, the fair has changed locations and attractions and has grown in size, duration and the number of buildings. The Union Agricultural Society formally organized the fair in 1856. In the same year, the original building was constructed for the fair, the Floral Hall, which remains a main exhibit space at the fair.