LANCASTER, Pa. — "A little more than a decade ago, I decided I wanted to get my hands back in the dirt," Elisabeth Weaver says with a smile on her face, while she weaves an exquisite holiday wreath from greens and ornamental plants she has grown.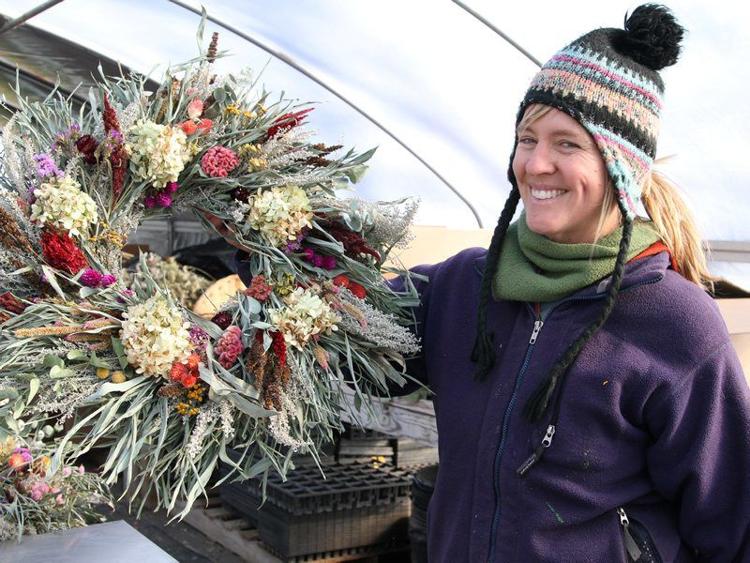 Today, the Strasburg native is up to her elbows in rich Lancaster County soil and she wouldn't have it any other way. Her business, Lancaster Farmacy, in East Lampeter Township, is a certified organic, medicinal herb, flower and produce operation. It is the culmination of Weaver's plan to farm with a purpose.
As an early member of the Lancaster Farm Fresh Cooperative, or LFFC, Weaver, along with 200 other members — many from the Plain Sect community — are growing and selling their organic produce to an expanding customer base that includes online ordering and social media outreach. Weaver does not have to market what she grows or makes, or even maintain a retail outlet to sell her products.
"It's perfect for me," she said. "It allows me to spend my time working on the farm."
Although she originally looked for property to purchase, the cost of farmland in Lancaster County is prohibitive for small, start-up farms. Weaver was fortunate to find a certified organic farm site and she leases 5 acres. In 2009, she got it all started with a $500 investment in seeds and has grown every year.
"It's small plot farming in a technological age," Weaver said, "and without the LFFC, I'd only be farming a small garden behind my home. I'm grateful for co-op support in marketing, sales and delivery of my products to customer to pick-up sites in and around central Pennsylvania."
That support allows the 39-year-old to balance home life and the farm. Weaver met her husband and business partner, Casey Spacht, shortly after returning to Lancaster County in 2007. Spacht serves as the executive director of LFFC. They have a 7-year-old son, Quehanna, whom they named after the Susquehanna River.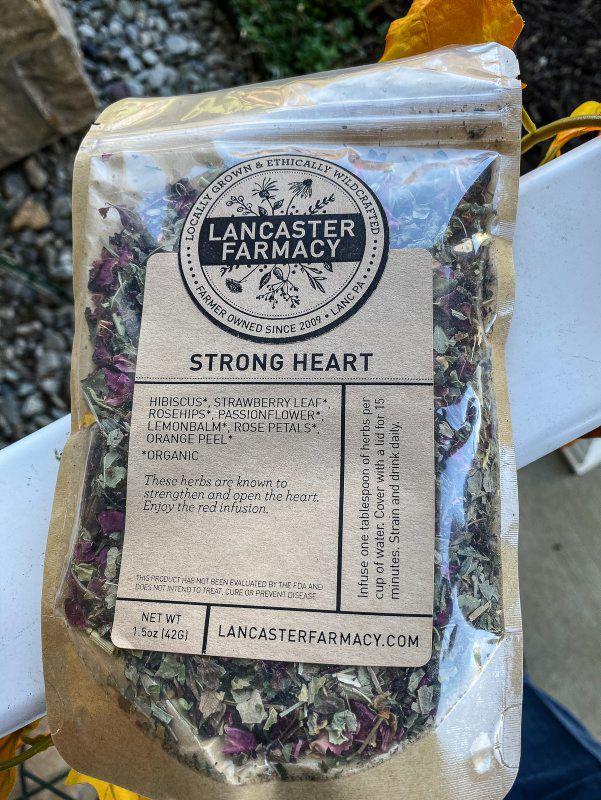 This fall, Weaver and her small staff are creating exquisite, 24-inch, seasonal and holiday wreaths by hand. The wreaths include as many as 10 species of greens in the base decorated with colorful, ornamental plants for the finishing touches. All the plants are grown on the farm, or foraged from evergreen trees.
Earlier in the season, Weaver's autumn wreaths contained strawflower, statice, gomphrena, amaranth, bamboo and interesting seed-pod accents. They sold for about $70.
These days, the farm's holiday wreaths contain spruce, boxwood, cedar, pine, holly and hemlock for greenery, and are adorned with a variety of dried plants like ornamental peppers, dusty miller and hydrangea. They are hand-tied with a natural sisal bow and sell for about $50. Swags also are being made from the same materials for about $25.
Weaver has seen orders grow steadily in the three years she has been making them. The hardy wreaths are all unique and will last through the winter months. They are available for pickup within a few days of the order. Currently, Lancaster Farmacy is not shipping wreaths, but exploring the possibility for the future.
Weaver is a self-taught farmer and says there maybe some serendipity in how she started.
"I knew I wanted to grow medicinal herbs that I could turn into teas, similar to the Goldthread Farm in Conway, Massachusetts, where I interned," Weaver said.
She did her first organized research on herb farming at the Lancaster County library. The first book she opened had an inscription to her great-grandmother from her grandmother, and Weaver knew then she was on the right track.
As a Lancaster County Country Day and a Hampshire College graduate, Weaver majored in community education with a focus on art. She worked in her profession out of college in Northampton, Massachusetts, and again for a few years after she returned home before the Farmacy turned a modest profit so she could devote all her efforts to the operation.
Although Weaver cultivates many flowers, plants and produce, she still grows and is well known for her herbs, which she blends into a line of six unique flavors of tea.
She participates in the Community Supported Agriculture, or CSA, where customers purchase a weekly share of small farms' crops before the season at preferred pricing, then pick up boxes of vegetables throughout the summer at designated points.
"It's great for small farmers," Weaver said, "as our certified organic produce can be pre-sold before the seeds even germinate."
Weaver also runs special programs at Lancaster Farmacy during the year as she reaches out to the community to introduce them to organic farming.
She hosts a community volunteer planting day in the spring where she invites farm neophytes to help her and her staff move seedlings from the barn to the dirt in a planting day.
During the summer, Weaver hosts a Farm-to-Forest day camp for first- to third-graders to introduce them to farming and the forest and to deepen their appreciation of nature.
Lancaster Farmacy welcomes an intern each year to work part time from April through November to learn about taking seed to harvest and gain an appreciation of what it takes to operate a small farm or large, productive garden. When asked about the future of Lancaster Farmacy, Weaver says the farm has grown steadily and keeps her busy for all but a month and a half each year. Although she doesn't rule out expansion and possibly shipping wreaths during the holiday season, for now she is content.
More information about the wreaths can be found at the LFFC website: https://lancasterfarmfresh.com/product-category/wreaths-and-swags/. Or, for more information about the farm's programs, contact Weaver at Lancasterfarmacy@gmail.com.
Art Petrosemolo is a freelance correspondent and photojournalist in Lancaster County, Pennsylvania.