EMLENTON, Pa. — Brightly colored quilt blocks have been appearing on Grange halls, barns and homes across Pennsylvania. The designs, often reminiscent of Grandma's quilts, bring smiles to passersby.
Many of these blocks have originated from classes conducted by Glenn and Barbara Gross of Emlenton. When Barbara retired, she became an avid quilter.
"I have always been sewing," she said. "My mother and grandmother always sewed."
Now she spends part of her time away from fabrics, sewing machines and quilting frames.
Glenn, who taught vocational agriculture for 10 years and retired from USDA Rural Development, enjoys woodworking and has transferred those skills to creating and mounting wooden quilt blocks.
The couple spends much of their time as volunteers. They will return to the Farm Show as volunteers in the Family Living section.
"I am there for 11 days. I help with checking in entries, setting up displays and working with the events in the Family Living section," Barbara said. "I also help with checking things out at the end of the show."
When the Farm Show is over, they will return back to Emlenton where they help people create quilt blocks, also known as barn quilts, around the state.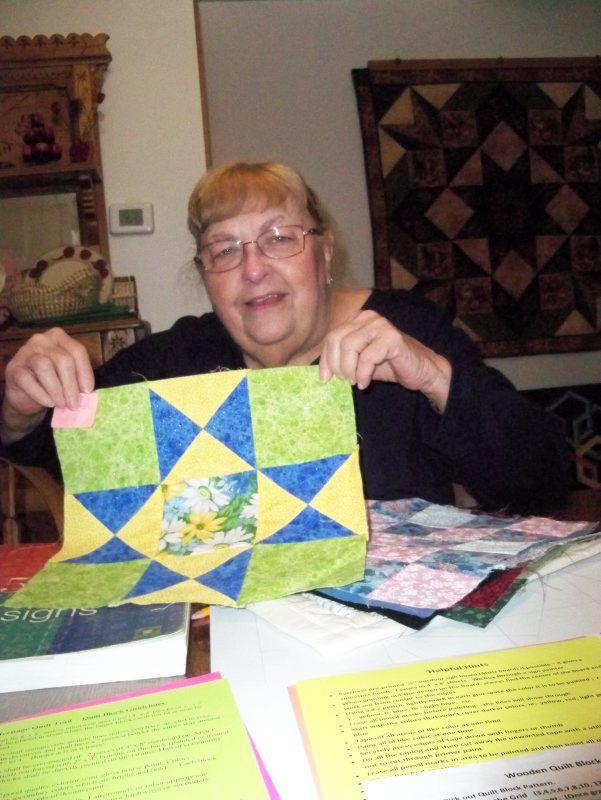 They began making quilt blocks about 15 years ago.
Over the years they have created detailed instruction sheets and a page of hints so that their students can take the information home and teach others as well as complete the quilt block they start in the class.
"Though it costs more for the MDO board (pre-primed plywood), it creates a nicer finish," Glenn said. "The cost of priming plywood is nearly as much as MDO board."
They get their MDO board from a local sign painter. The edges of the MDO board need to be primed and painted with the border color.
The class begins with participants creating a grid that is appropriate for the design they want to use.
"We encourage our students to use a design that means something special to them or that represents where they plan to display the block," Barbara said.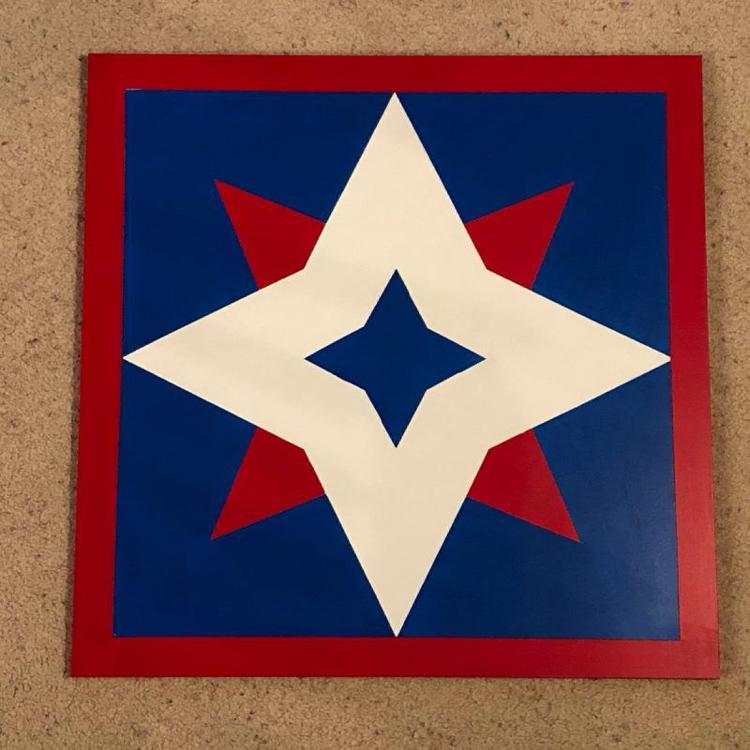 "I start out talking about fabric quilt blocks and how they are created."
After creating an appropriate grid, students graph out their designs.
"We make several copies of their designs," Glenn said. "We take our copier with us and I don't remember ever not using it."
All designs are worked from the middle out so that any variations in measurements are corrected with the border. Though all designs don't have a border, one is recommended.
Students then experiment with colors to determine what they want as their final product.
"Every student goes home with enough paint to complete their block," Glenn said. He takes paint from a quart can with a large syringe and puts it into a medicine bottle.
The Grosses have found that high quality house paint works well. Bright colors work best.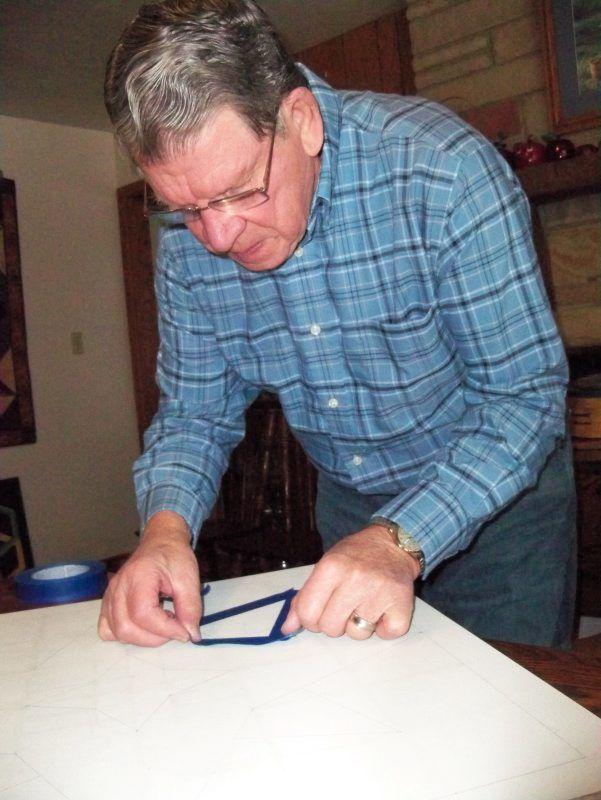 "If quilt blocks are to be used on buildings along the road, we encourage them to use bright colors so that motorists can see the block from a distance," Barbara said.
"We plan for everyone to have created their design; to have the grid and design on their board before we break for lunch," Barbara said.
When the Grosses are creating a new block, Barbara creates the grid and sketches out the design and puts the grid and design on the board. After the colors are determined, they mark each patch for the appropriate color.
Then, it is Glenn's turn to decide what color should be put on first.
"I tape off all the blocks that will be painted with the first color," Glenn said. "We used painter's tape to tape the edges of the blocks, not masking tape."
The tape is pressed down and the edges are rubbed down several times to ensure that paint does not seep under it.
After taping off the patches, any pencil marks that are within those borders need to be erased.
"Any pencil marks not removed will show through the paint," Glenn said.
Each color of paint must dry two to four hours and each patch must have at least two coats of paint. Glenn says that he has learned that white should go on last. It covers well.
"When our students go home they have their board with one color painted and all the paint they will need to complete their boards," Barbara said.
For several years, the Grosses have conducted classes at the Pennsylvania State Grange Fun Fest, a weekend of grange activities held at the Centre County Grange Fairgrounds.
The Grosses will conduct classes for groups with a minimum of 12 people and a maximum of about 20. The class runs from 9 a.m. to 4 p.m.
"We will go wherever we are invited and only charge for our expenses," Barbara said.
A class can be made up of people from a church, a Grange or a group of friends.
"We have taught classes to quilt guilds," Barbara said.
"We are happy to share our instructions with anyone interested in making a block."
For more information contact Barbara Gross at 724-290-3783 or berglen@verizon.net.