ANNVILLE, Pa. — If you hear the words "homemade paper Christmas decorations" and a chain of interlocking paper loops automatically comes to mind, there's good news. There are also other ornaments that can be fashioned out of paper products to create stylish tree, wreath and gift decorations. In addition, these attractive ornaments can be designed to give a customized look by following particular themes or color schemes.
As part of its "Take A Break Tuesdays" series, the Annville Free Library in Annville, Lebanon County, recently offered a "make and take" paper ornaments workshop that demonstrated how to make paper rosettes of varying sizes to serve as the basis for a variety of holiday looks. The library's director, Dee Neff and Sindy Funck, children's librarian, led the session.
Decorative designs can be downloaded from the internet and printed at home, but rosettes can also be made using any medium-weight paper, including holiday wrapping paper, magazine pages, old sheet music or even outdated road maps.
For decorating these rosettes, one way is to use pictures cut from old Christmas greeting cards.
While hobby crafters may already own special equipment such as an edge punch, paper edger shears, a scissors machine with dies, and a glue gun, all useful in making decorative Christmas rosettes, the beauty of this project is that it can be completed more simply using a household scissors, a pinking shears and a bottle of tacky glue.
And, making and decorating rosettes can be for the whole family. It is fun to do as a group with Christmas music playing in the background and maybe some hot cider or cocoa and cookies to snack on. Young children making rosettes will need adult supervision.
Whether doing this as a solo project or in a group setting, first assemble the materials and equipment needed. These items include a pencil, a ruler, a small scissors, tacky glue, 4-inch-by-8-inch sheets of medium-weight decorative paper for forming a small rosette, and some old Christmas cards. Other accents such as ribbon, buttons, sequins and glitter also make good decorative elements.
How to Make Paper Rosette Ornaments
Here are the steps to fashioning a small rosette:
1. Cut decorative medium-weight paper into a 4-inch-by-8-inch rectangle for each rosette.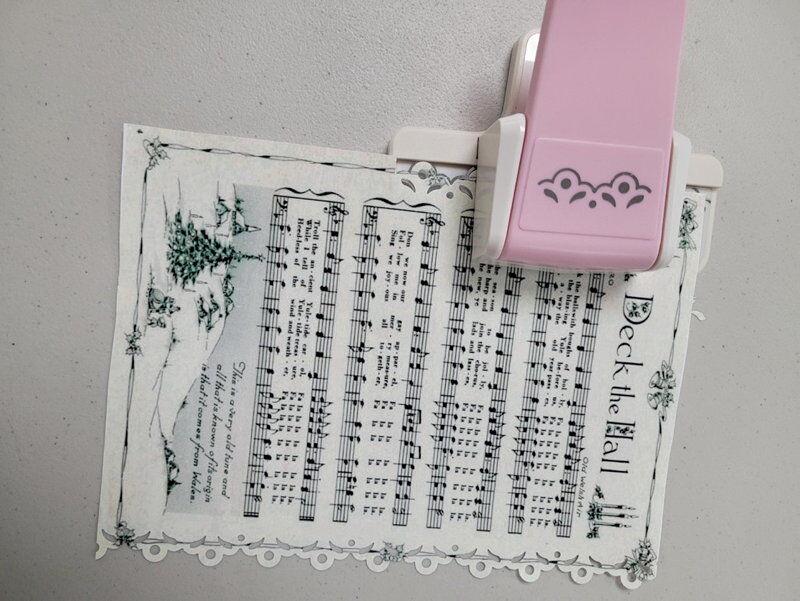 2. To make a decorative edge around the rosette, use a pinking shears, edge punch, paper edger shears, etc. along both 8-inch sides of the paper.
3. Turn the decorative side of the paper face down and, on the reverse side, mark off 1/2 inch intervals along the 8-inch side, creating 16 separate sections.
4. Fold the decorative paper at these 1/2-inch intervals to create an accordion effect. (Note: When you complete folding your paper, both ends should be folded in the same direction and showing the reverse side of the paper.)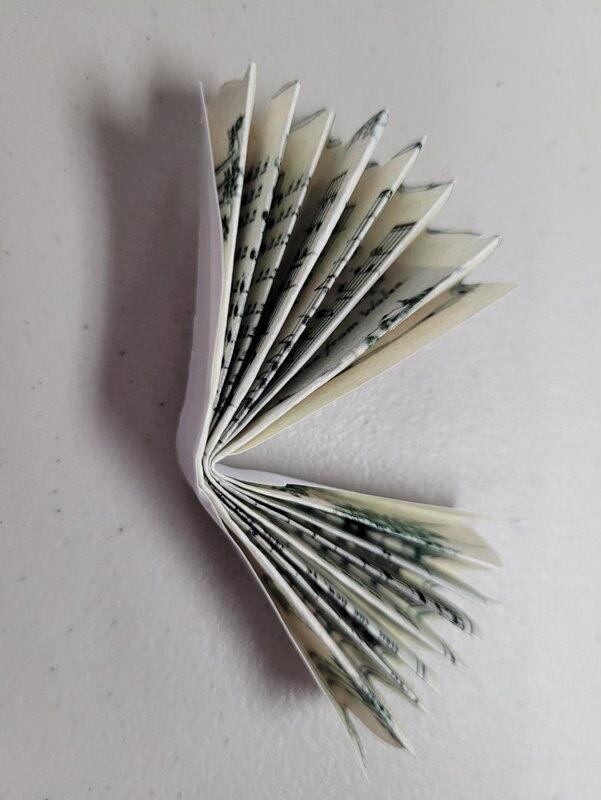 5. Fold this accordion-like strip in half and crease the middle to form a "V."
6. Use tacky glue to attach the two sides of the "V" facing each other; pinch them together and hold in place using a paper clip or mini binder clip until the glue dries securely.
7. Gently open the other two ends of the "accordion" and extend toward each other until the pleated sections have formed a circle; glue these two ends together and secure as above.
8. Allow glue to dry thoroughly before removing clips.
9. Get creative by gluing decorative elements to the center of the rosette. Some ideas include cutting out pictures from old Christmas cards or downloading holiday images from websites and printing them; consider layering pictures with other cutouts from contrasting colored paper, or add some glitter or perhaps include a layer of shiny foil. Let your imagination be your guide.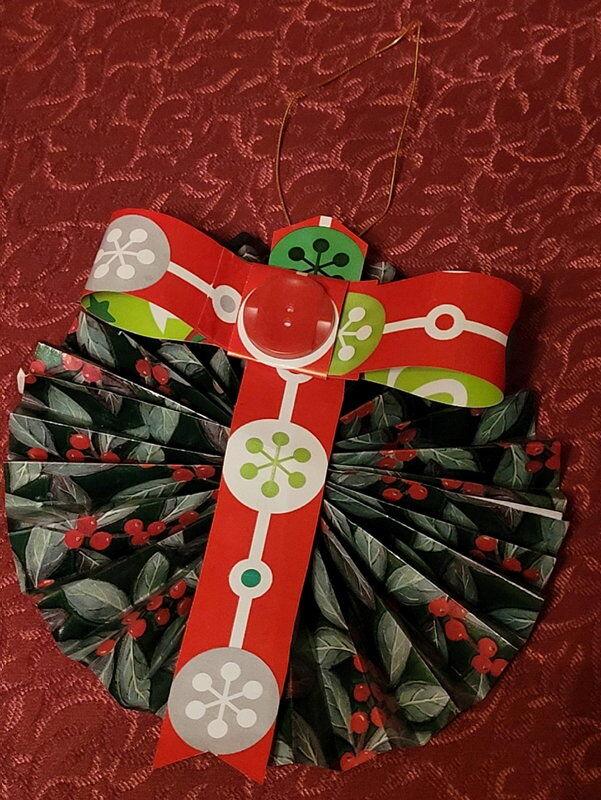 10. Punch a hole at the top of the rosette and insert a thin yarn or metallic thread to create a hanger.
11. Place on a tree or a wreath, add to a package instead of a bow, or use several to create a mobile or hang as a window decoration.
To Make a Larger Rosette
To create a larger rosette, use two 6-inch-by-8-inch sheets of identical medium weight paper.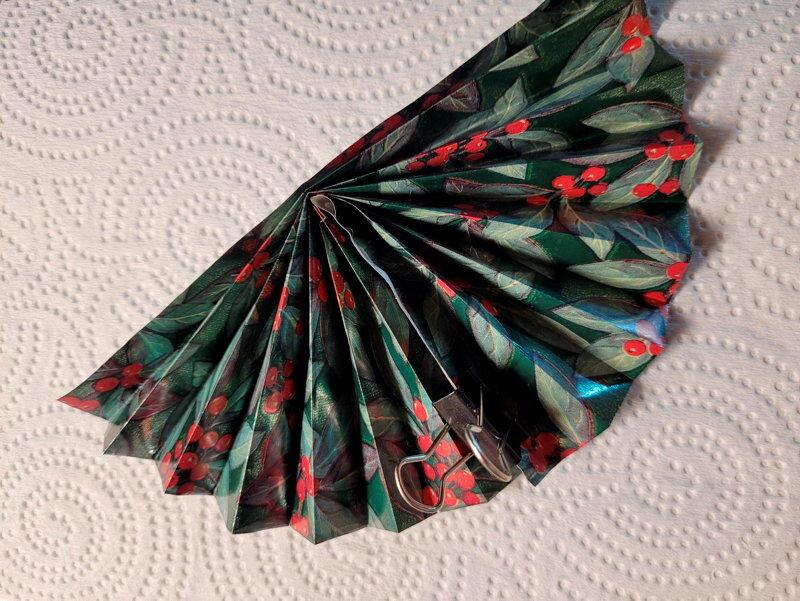 Then, follow the basic steps above for making a small rosette: If desired, create decorative edges along the 8-inch sides of both sheets. Mark the reverse sides and then fold each sheet accordion style, as described above in Step 4. Fold each accordion-like strip in half and crease each one in the middle, as in Step 5. Glue together as described in Step 6 above. After the glue has dried, open each of these two accordions into half circles. Place the flat edges of the two half circles together to form a full circle and glue these flat edges together. Secure glued areas in place using paper clips or binder clips. When the glue has dried, remove clips and get creative.
Some additional ideas for decorating rosettes are making them look like a wreath by adding a bow made of either paper or ribbon. Experiment with stacking rosettes of graduated sizes on a string to look like a Christmas tree or stack on a string putting the largest rosette at the top and graduate smaller size rosettes below it to achieve a pinecone-like effect.
After you learn how to make rosettes, you can decorate them for other holidays, too.