For nearly 50 years and three generations, ownership of the Farmersville Auction in Ephrata, Pennsylvania, has passed from father to son in the Rutt family. And, the fourth generation has already arrived.
Farmersville is a large site for buyers and sellers of antiques, furniture, collectibles, lawn and garden tools, and other vintage items. For years, it has hosted buyers on Tuesdays at both indoor and outdoor auctions that may last 12 hours and run regardless of the weather.
The Rutt family had been looking forward to returning to live auctions after weeks of shutdown caused by the coronavirus pandemic. On June 9, Farmersville reopened with its first live sale of the spring since the shutdown, and auctions are again scheduled for the regular Tuesday time slot going forward.
Farmersville today is under the direction of a third-generation Rutt son, Lane, who took over the operation from his dad Larry in 2019. Lane, 28, works closely with his father as well as his brothers Logan, 25, and Jake, 27, and the extended Rutt family.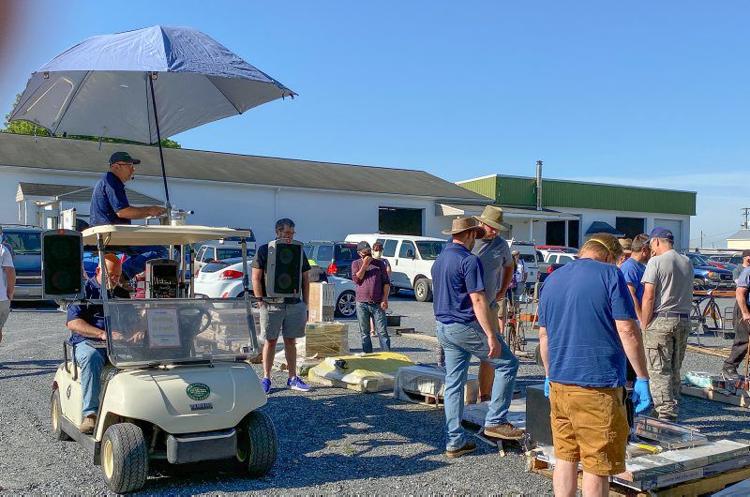 Lane's grandfather, John Jacob Rutt, started it all when he purchased about 4 acres of land off of North Farmersville Road in 1962. He built a successful farm growing cash crops as well as starting an on-site furniture store, called Farmersville Furniture, in 1965. After 10 years, John Jacob transitioned to running auction sales featuring antiques, furniture and other items.
John Jacob Rutt, who passed away in late 2019 at age 80, handed the business down to his son, Larry, in 1995. Larry Rutt ran the auction with the family and his sons until 2019.
Now, Lane works with his brothers and sisters, his mother and the extended Rutt family to keep the operation running efficiently.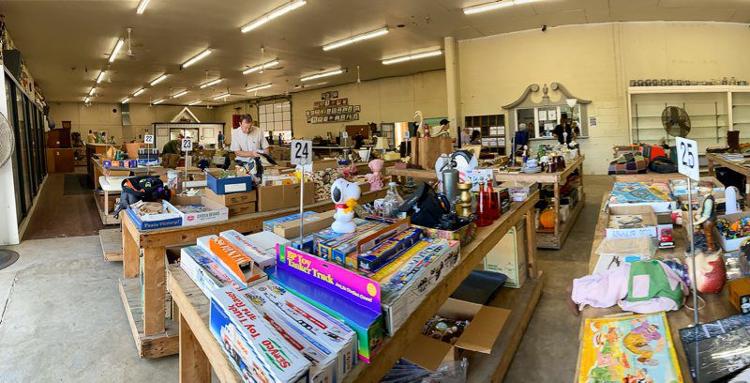 "We run smoothly," Lane said.
He said that everyone knows their jobs well and enjoys working together as a family. Besides, he added, "Our Dad keeps us focused."
The Rutt family men have been auctioneers well back into the 20th century. Lane and Logan, besides doing a little of everything at the auction, are apprentice auctioneers who are able to use their skills working under the license of their dad, who is a certified auctioneer, and one of his brothers, John Rutt, of another firm, Martin & Rutt Auctioneers in New Holland, Pennsylvania. Lane and Logan expect to take the Pennsylvania auctioneer certification test later this year.
Larry Rutt smiles when he talks about his boys' start in the business, as youngsters helping out wherever they could.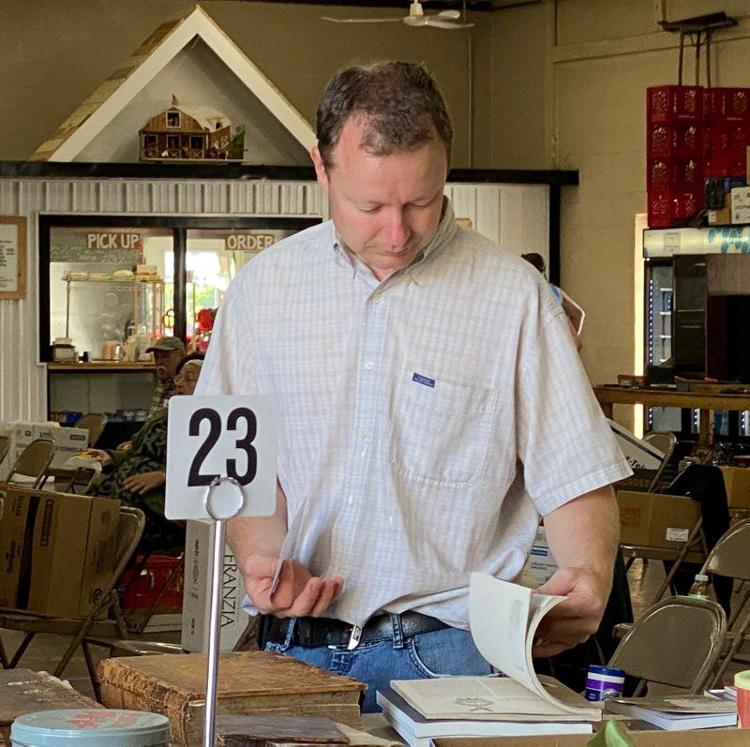 "Lane and especially Logan were interested in auctioneering," Larry said, "and before they were teens, they were auctioning off day-old doughnuts and long Johns from Achenbach's pastry shop, in Leola, a few miles away. They caught the auctioneer bug early."
The Rutt family has had to adapt to changes in the business over the years. That was especially true during the early spring shutdown of non-essential businesses after the COVID-19 pandemic was declared in mid-March. Lane said the pandemic has prompted Farmersville to add online auctions — as has been done by competitors — to make up for the loss of its large, weekly, live-auction event.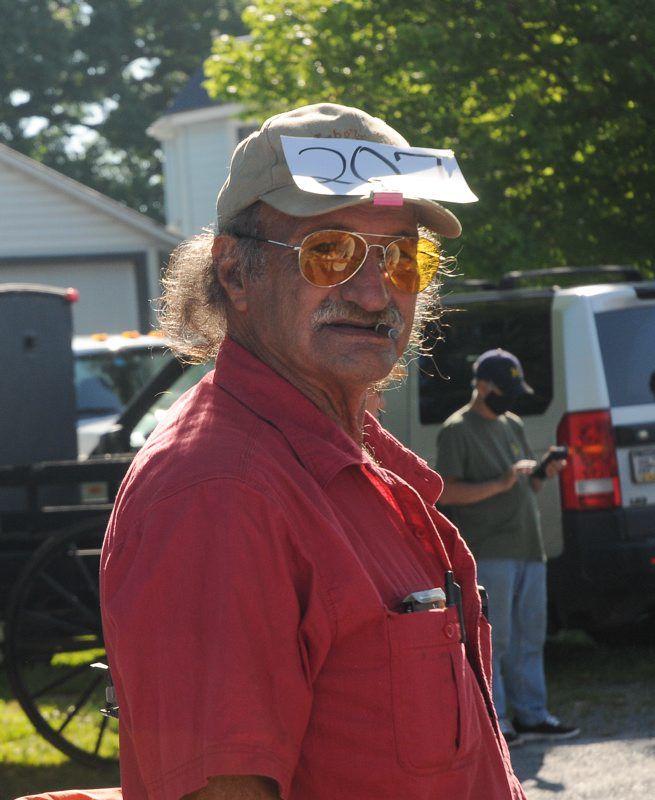 Farmersville's weekly online furniture auction started in March. The Rutts work with a Wisconsin-based company, High Bid Auctions, to handle online bidding and payment. The Rutt brothers photograph items from their inventory to be posted on the internet. A recent online sale listed 103 lots.
"It's been different," Larry Rutt said, "(It wasn't) something we expected to be doing and my sons have done a good job in adjusting. It is a learning process, but without it we would have had no sales for more than three months."
Lane Rutt feels that online auctions are here to stay for all auction houses, and that they certainly will be a part of Farmersville's long-term plans.
Larry Rutt explained that during the early years, Farmersville was known for antiques.

"That's changed," he said. "Over time we became more of a site for families to sell regular furniture and household items as retirees began to downsize large homes for smaller residences or apartments."
Farmersville has almost 15,000 square feet of interior space and about 2 acres of exterior space to store items. That allows for large sales. The auction site is known now for the large quantities of items it has available, as opposed to antiques.
"We always have buyers who are looking for collectible items, too, like older radios or vintage bicycles," Lane said, "and those items pop up quite often."
Furniture always has been of interest to the Rutt family and auction founder John Jacob. Today, another of John Jacob Rutt's seven children, his son Lester, runs Garden Spot Furniture store in Ephrata with his brother Nelson. It specializes in quality, pre-owned furnishings.
Cameron Rutt, the son of auctioneer John Rutt, works with his uncles at Garden Spot Furniture and also helps at Farmersville Auction with his extended family. On busy Tuesday sale days, about 30-plus part-time workers also help out at Farmersville.
"It's all hands on deck on auction days," Lane Rutt said, "and although it may look somewhat chaotic to a first-time visitor, it is surprisingly organized and something we are used to. We have several auctioneers from the family as well as colleagues to handle sales from morning until after dark," he said. "Auction day really is our easiest day. The remainder of the work week is spent accepting items from what can be long lines of sellers on Thursdays, or taking our trailers out into the field to pick up furniture, lawn and garden items to be stored for the next sale and then getting it all staged for the auction."
"All Farmersville Auction buyers must have a bidder's tag," Logan Rutt said, "and we can give out more than 600 on a perfect-weather auction day in late spring and early summer."
Larry Rutt said there are so many vehicles that arrive throughout an auction day, that the family actually rents almost 2 additional acres to get their buyers parked.
"I could not be happier in the business," Lane Rutt said. "Having the knowledge of my dad to fall back on as well as the help of my brothers and extended family makes it rewarding. My wife, Clara, and I have three children, including fourth-generation sons Lance and Clark and daughter Clara, who we look forward to welcoming into the business in the years ahead."