If your farmhouse's cabinetry could use a facelift or replacement, Stephanie Holmes at The Working Kitchen Ltd. in Oneonta, New York, has a few tips. She and her husband, Chip, founded the home renovation in 2014 and have been working in the business for nearly 20 years. While many capable carpenters can install cabinets, the Holmes' approach includes interior design, a field which Stephanie studied in school and practiced in Charleston, and now uses at The Working Kitchen.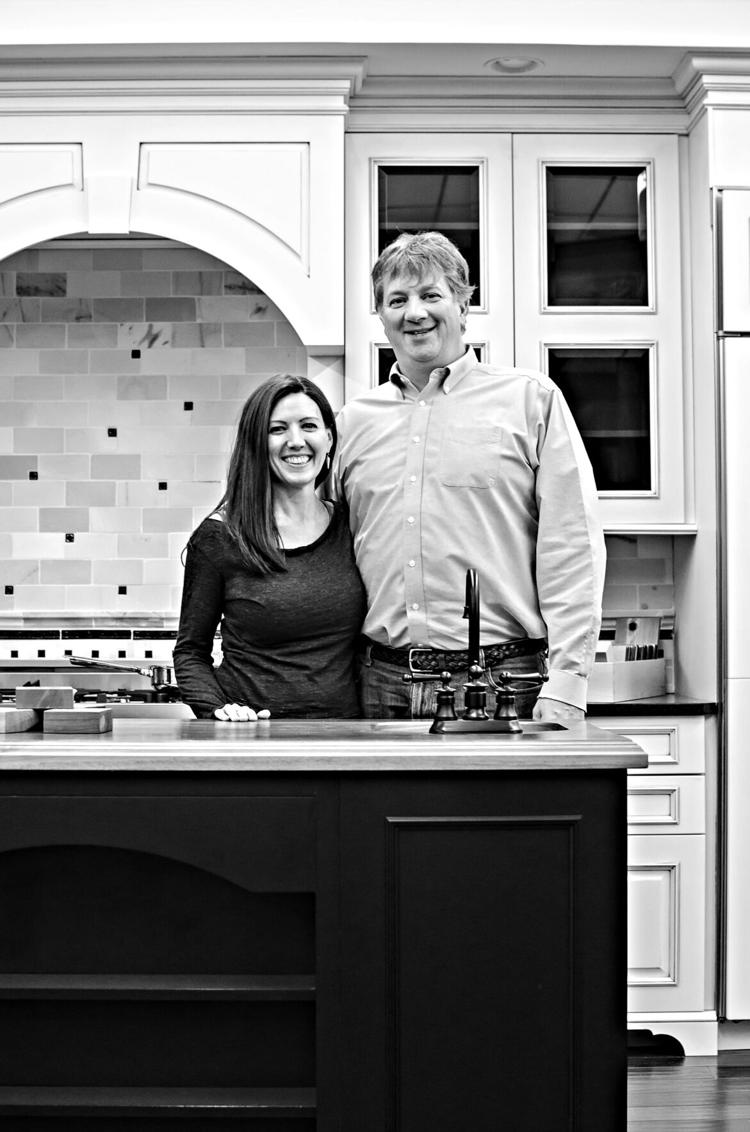 Along with two employees, the couple works together to make cabinetry both functional and appealing. In addition to an abundance of old farmhouses in the region — the Holmeses live in one, in fact — the couple focus on these dwellings because they love the history and character these homes possess. The Holmeses have also learned how to deal with the quirks of farmhouses, such as tilted floors and not-so-square corners.
In addition, open floor plans are not as common in farmhouses. They were also built to let in lots of natural light.
"They have a lot of windows and doors to work around and smaller rooms with built-ins," she said. "We try to keep as much of that as possible. We want our kitchens to feel they could've been in the home unless the client wants something modern. But we want it to feel appropriate. It comes down to materials and choice."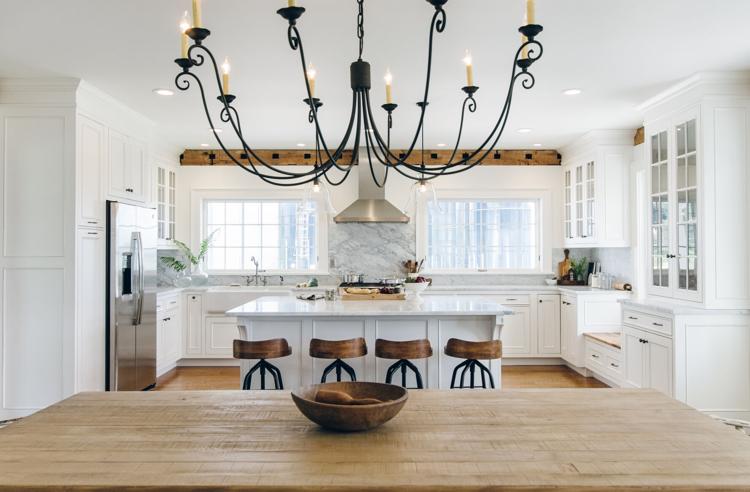 Blending old and new can be challenging, but Holmes advises keeping old beams and fireplaces to retain the traditional feel, even if modern appliances are in plain view.
If you have old cabinets you want to keep, it is possible to retrofit them with more conveniences or keep the fronts and replace what's behind them. Holmes said that oftentimes, these options cost more than entirely replacing cabinets.
"If you have a small space, you want to make it both efficient and beautiful," Stephanie Holmes said.
One common problem is the awkward corner cabinet where you must remove things in front to reach items in the back. Holmes said that shelves that pivot outward or lazy Susans can access that space better. Overly deep cabinets can become much easier to use with the installation of slide-out shelves.
Older cabinetry often includes drawers that lack metal drawer slides which wears over time and can stick in humid weather. Adding slides is more difficult than replacing the drawers.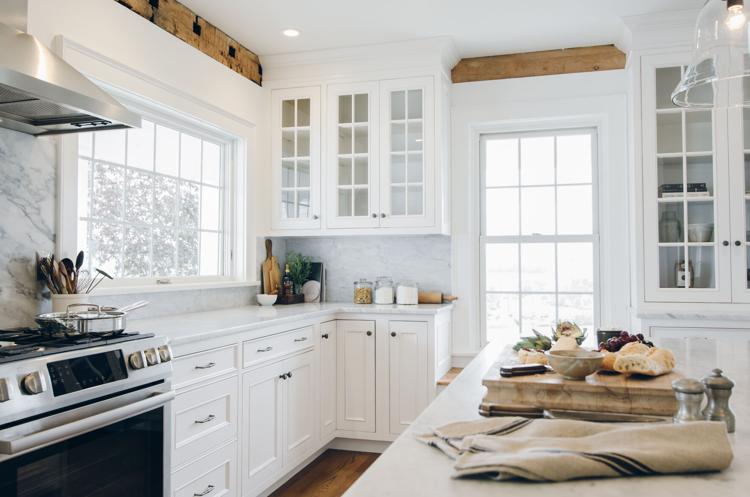 Smaller homes with highceilings may benefit from floor-to-ceiling cabinetry. While Holmes said that strategy can make use of all the available space, it can become expensive quickly.
Another option is open shelving, which can display pretty dishware and keep items within handy reach. It is a popular look; however, it leaves dishes more exposed to dust, which is more of a problem on a working farm.
Holmes likes to mix materials to add character to the spaces she designs.
"Not everything should be new," she said. "You can add old materials into the space that have age and character like old marble, wood and brass instead of everything shiny and new. You can vary the materials. In older homes, the things would be collected."
If yours is an older home, think of it as a built-in head start.
If you want your home to look more period, don't feel you need to conceal all your appliances. Holmes said it's better to expose half and conceal half behind cabinetry fronts.
"It depends on the placement of your other appliances," Holmes said. "It can be just as attractive if that industrial look works in the space. The refrigerator can anchor the space opposite of the range. We use panels to cover most of our dishwashers so you have a gorgeous farm sink and your dishwasher isn't competing for it."
Many farmhouses lack kitchen storage since fewer gadgets existed 100 years ago. Current-day refrigerators are much larger than their icebox ancestors. Plus, designers must cram in a dishwasher and space for both trash and recycling bins.
"We do a lot of built-in banquettes for kitchen seating,"Holmes said. "Those can be a great place for extra storage."
Of course, if a customer wants a modern space in their older home, Holmes accommodates their wishes.
In addition to kitchens, the Holmeses also perform cabinet renovations in bathrooms, mudrooms, laundry rooms, libraries and rec rooms.
"Bathrooms can be tricky because it's very popular now to have vanities with no storage underneath," Holmes said. "We like to put in a linen cabinet built in to match the cabinetry. If the toilet is built into a separate water closet room, we may get some storage by pulling it forward a foot. You can fit a ton of storage there. I don't like to have a cabinet hanging over your head."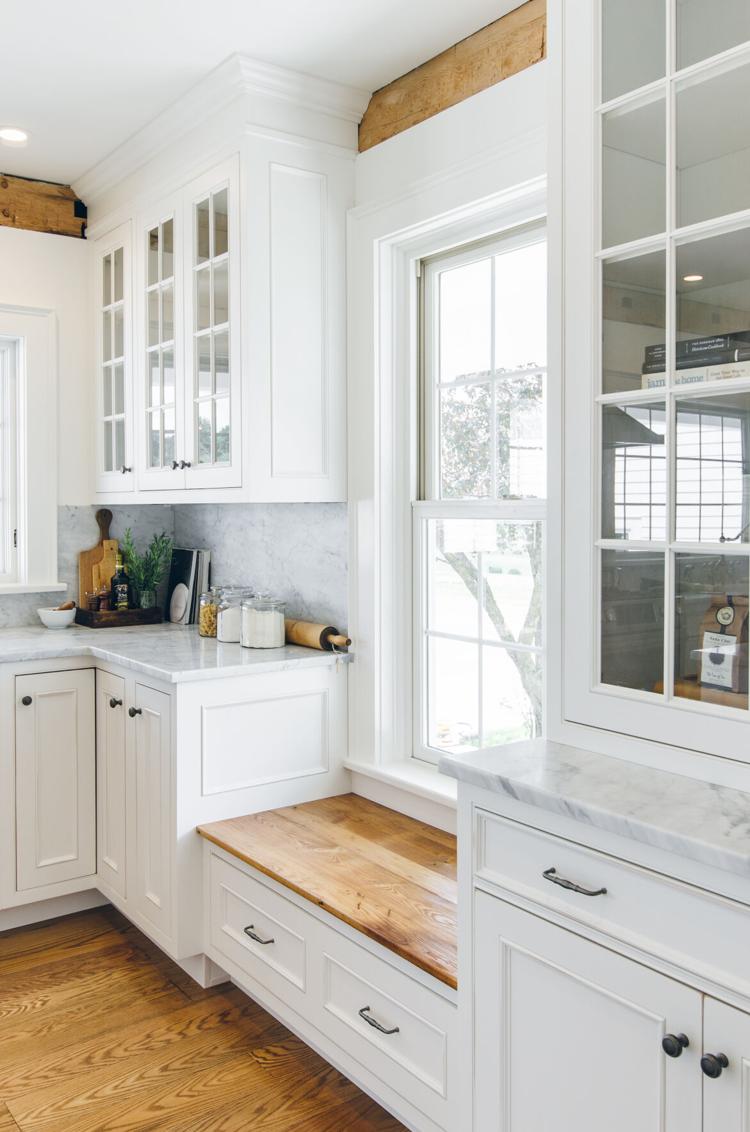 In the mud room or laundry room, she likes to include mop and broom storage and a pull-out receptacle for trash so it is out of site. Stowing these utilitarian items keeps these spaces more streamlined and attractive.
As with kitchens, "anyplace we can hide storage, like under the stairs, we do it," Holmes said. "There's a lot of underutilized space."
Despite all the changes she makes to old farmhouses, it's the character of the places she wants to keep intact.
"There's no substitute for character, like beautiful old wide floorboards and trim that's seen some things over the years, and big, old windows," Holmes said. "Older homes have solid wood doors, opposed to hollow doors.
"We really love old homes and old projects. We live in an old home and that's something that's always appealed to us — the whole feel of it."
By Jan. 1, the duo plan to open a new store in an older storefront in their town to showcase their cabinetry and design. The store will include a working kitchen to offer working demonstrations.
In addition to custom cabinetry, the Holmes do flooring, tile, plumbing and lighting.