Every year, a few days before Thanksgiving, a group of students from Tully Middle School visits Loretto Health & Rehabilitation in Syracuse, New York. Instead of the typical meet-and-greet or musical presentation, these students spend some time helping Loretto residents assemble pies for their Thanksgiving dinner later in the week.
The tradition of pie-making with seniors has drawn students from Tully Middle School to Loretto for decades. All told, the children have made more than 1,000 pies with Loretto's senior residents.
Kelly Bovi, who teaches seventh-grade social studies at the school, said that pie-making with seniors is her grade's service field trip.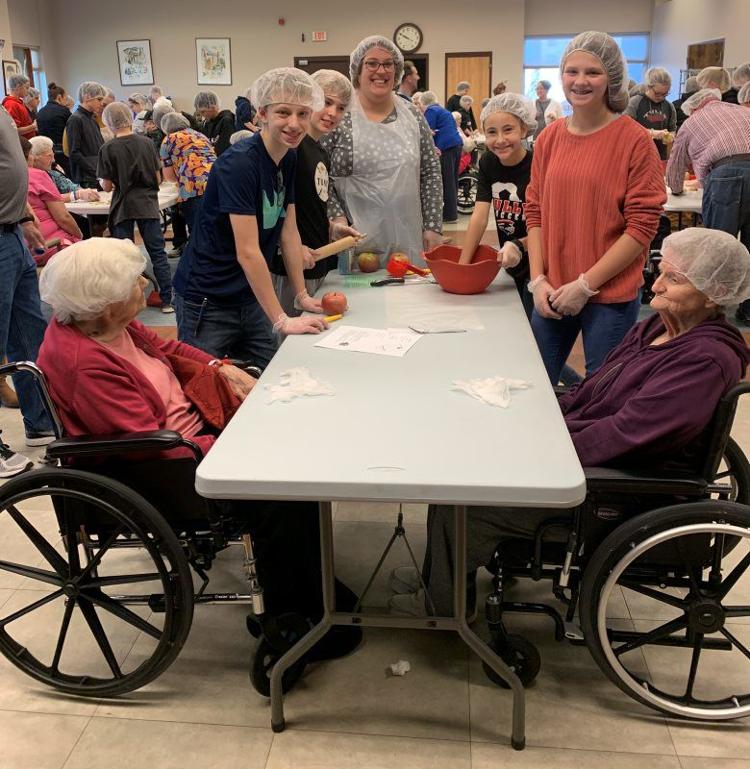 This year, 60 children, 16 parent volunteers and seven teachers participated, along with 120 residents. The children helped make pie crust from a Jiffy mix, roll out crusts, and peel apples to mix with flour, sugar and spices, along with learning how to turn all these ingredients into pie.
The trip to Loretto also teaches some practical skills.
"Some of these kids have never made a pie," Bovi said. "They practice math skills as well."
Baking requires measuring ingredients, pie plates and crust size. The children assembled 35 pies this year, a few less than other years.
"The kids weren't peeling the apples as fast this year," Bovi said, with a laugh. "We've had more other years."
She feels that baking skills are not something many children in this generation learn from their parents. If their grandparents live far away, they miss this opportunity.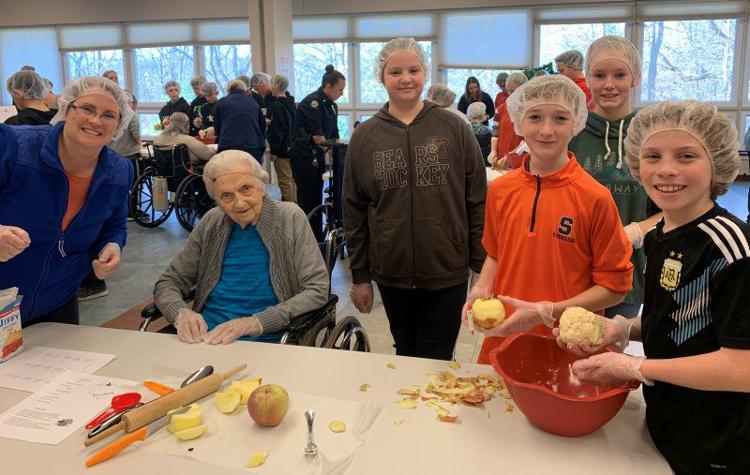 "It's a new experience for them all around," she said. "Some of them don't cook in their homes and have never done this."
At an age when they're contemplating their future career, making pies with seniors might be especially inspiring.
"It might promote culinary arts as something they want to pursue in their career," Bovi said. "Maybe some might want to look into baking or cooking."
She said that the home and career education in schools has decreased the required amount of sewing and baking children must do. Experiences like this can help schoolchildren explore an activity that might at least become a hobby. But, she said, what's most important for each student is learning a sense of belonging and helping.
"It promotes lifelong skills of community service and giving back, interacting with people of a different generation, and understanding what life was like for them and how to have some compassion," Bovi said.
"Around the holidays, it's about tradition and making memories. It's something both the residents and students will remember for years to come," she added. "Many children don't have grandparents living nearby. They also learn that other people matter."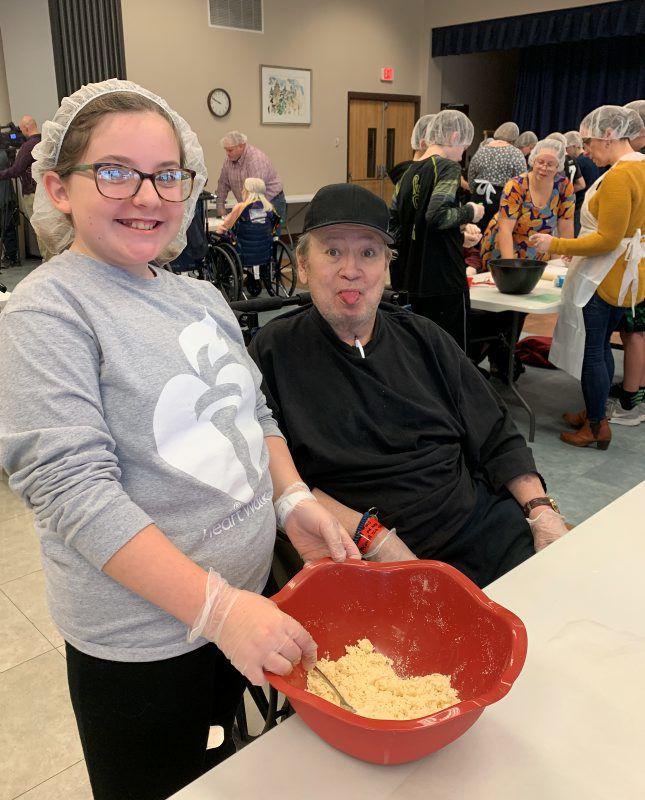 In a world where many young people plan much of their spare time around technology, Bovi views the trip to Loretto as a chance for students to get back to something real.
"Kids are so quick to text someone or be on their phone," she said. "(Here) they can put their technology away for a couple hours and realize you can have social interaction with people. I'm not saying I'm against technology, but this is just an experience away from that for a while."
She also said that the Loretto residents seem to enjoy the children's visit.
"It's really about community service and bringing a smile to someone's day," Bovi said. "Some residents may have their own memories making pies growing up and it brings back those memories for them. It's a break in their day."
The pie-making experience is part of The Positivity Project in which several schools participate in Onondaga County, New York. Every week, the program promotes a different trait. The week of Nov. 25, the trait was gratitude, appropriate for Thanksgiving week.
"We remind (students) to be grateful for what you have, not what you don't have," Bovi said.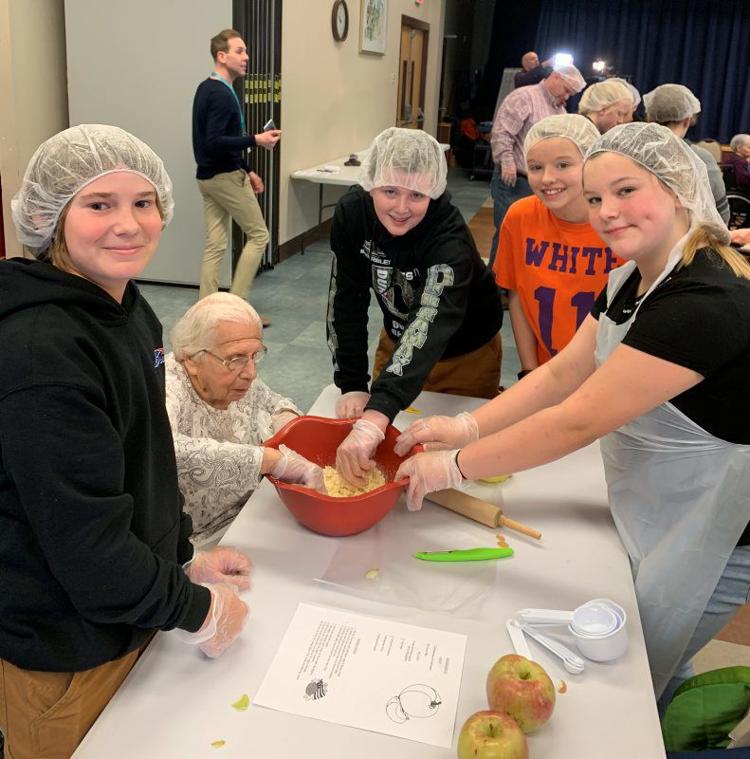 Green Hills Farms, a local grocery store, donated the pie crust mix. Green Hills Farms began in the 1930s as a dairy farm with a side business of selling produce and became a full-service grocery store by the 1950s. Jean Reed, a Syracuse resident, donated the apples. Tully teachers purchased the flour, sugar, cinnamon and pie tins.
After the students and seniors make and assemble the pies, the Loretto chefs bake them so residents have plenty of pie to enjoy following their Thanksgiving meal.
Bovi said that the school has taken students on other service trips, such as making breakfast for families staying at Ronald McDonald House at a local hospital while their children are patients.
"The families were very appreciative," Bovi said. "The students get to understand the purpose of the Ronald McDonald House. "
But pie-making with seniors has proved to be the most popular service trip the school has tried.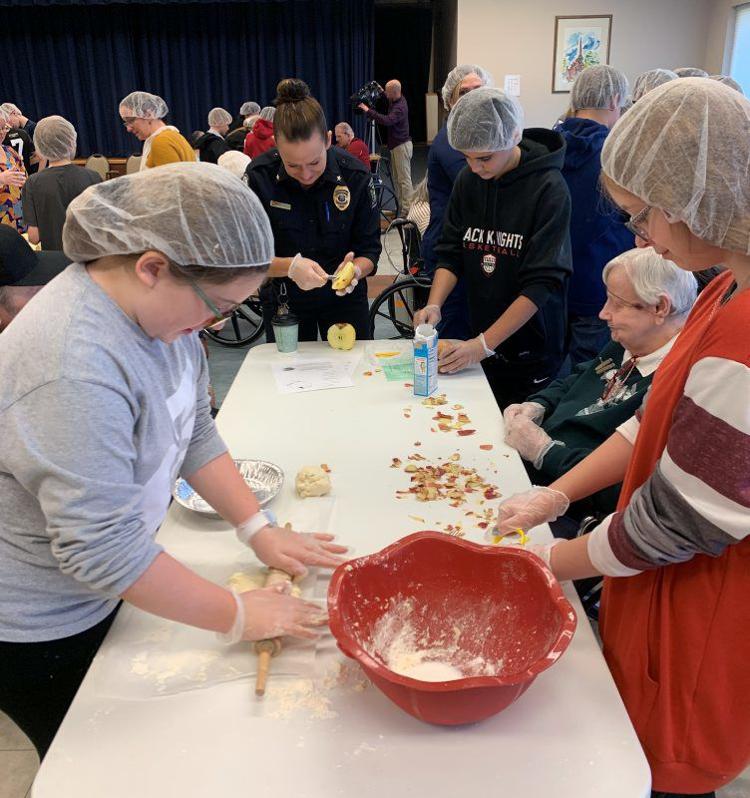 "This has been a staple in our community," Bovi said.
Loretto provides healthcare services in Onondaga and Cayuga counties for people of all ages as the fourth-largest healthcare provider and sixth-largest employer in the region. Its services include adult day programs, rehabilitation, assisted-living communities and skilled nursing facilities.