It started out with five Hereford heifers and a dream.
Sixteen years later, first-generation farmers Chad and Kacee Burke have achieved their goal of owning their own farm, but they haven't stopped dreaming.
Or diversifying.
Today, the Burke family farms approximately 400 acres (owned as well as rented) in Stormtown, Centre County, Pennsylvania. The family raises beef cows, hogs, pastured chickens, row crops and hay. They sell their meat at two farmers markets, along with the Centre County Grange Fair (Aug. 16-24).
And they have plans to grow Twin B Farms even more as their three children grow older.
Still, the Burke family didn't jump into agriculture on such a large scale. While Chad, 33, left his job as a heavy equipment operator six years ago to run the farm full-time, he and Kacee built the enterprise with patience and a learning curve.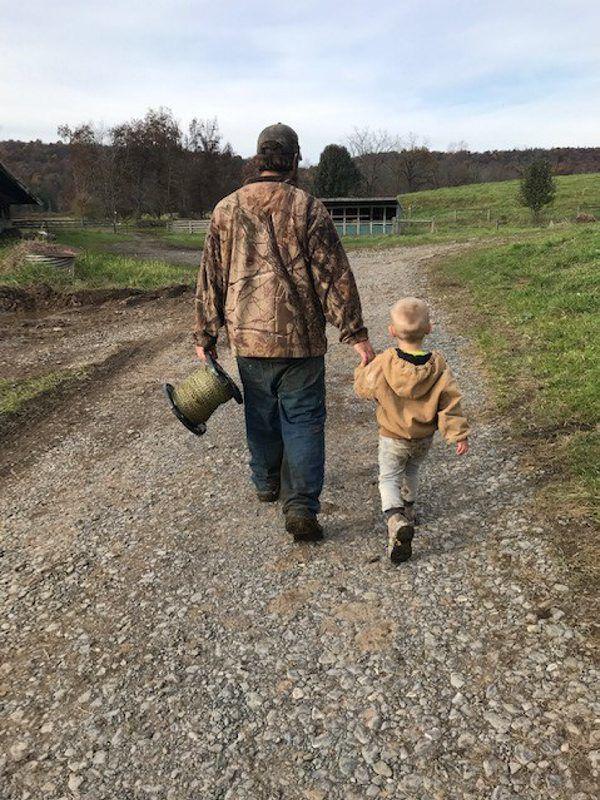 "You have to do your homework, because everything you expect to happen, doesn't," Chad said. "But you have to buckle down when it comes to farming, and don't quit when something challenging comes along."
The base of the farm is the family's herd of 50 brood cows, which actually began 16 years ago when Chad purchased five Hereford heifers while he was in high school. Over the years, the family kept heifer calves from their cows, switched out bulls and the herd continued to grow.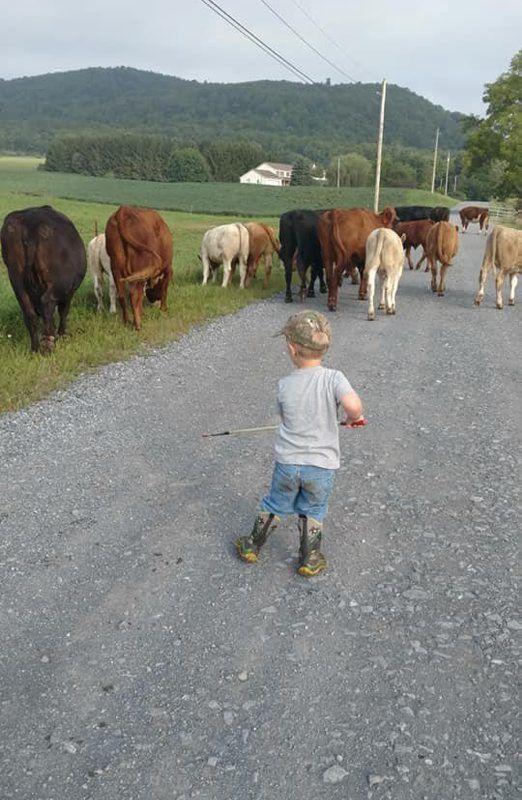 Before long, the family added hogs and chickens to the farm and Chad, whose prior agriculture experience consisted of working on dairy farms during high school, was faced with a choice.
He had been working long days operating heavy equipment, and dedicated his evenings to the farm. It was a balance that wasn't going to last.
"We had to cut back on one as I started getting busier on the farm," Chad said. "It was one or the other, and I knew we were heading to the farm full-time."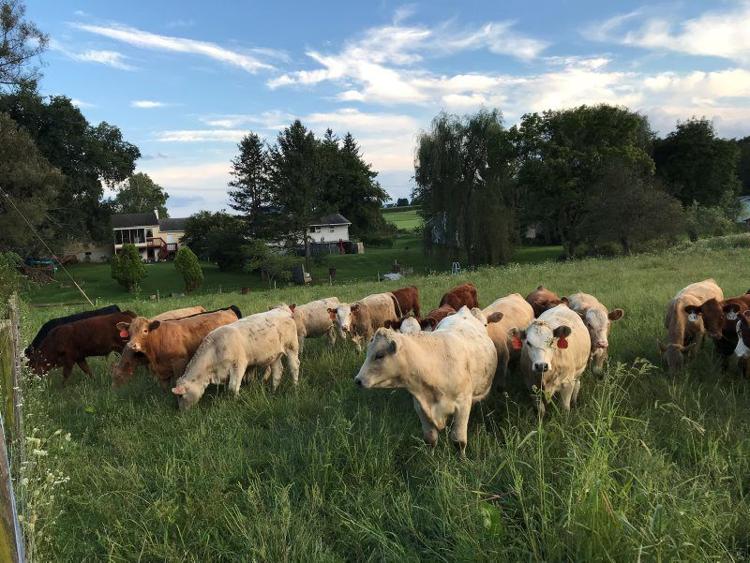 And, it was a big step in the family's path into agriculture. But it wasn't the only one.
Last year, Chad and Kacee were able to purchase their home farm, an experience they said was overwhelming and exciting.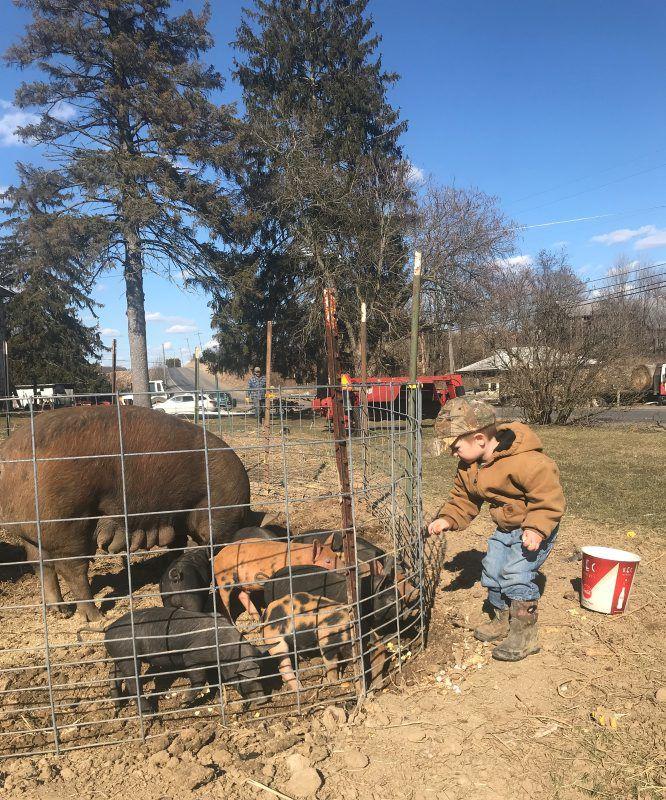 The purchase did give the family peace of mind knowing they could firmly plant roots in the farm. Still, to make it work, they had to take steps to reduce overhead, lessen risks and capitalize on the farm's proximity to a major population center, State College.
They achieved the first two goals by raising their own feed and hay, and adding additional livestock to have a backup in case the market bottomed out with another.
Only 10 miles away from State College, the Burkes feel the pressure of suburban sprawl.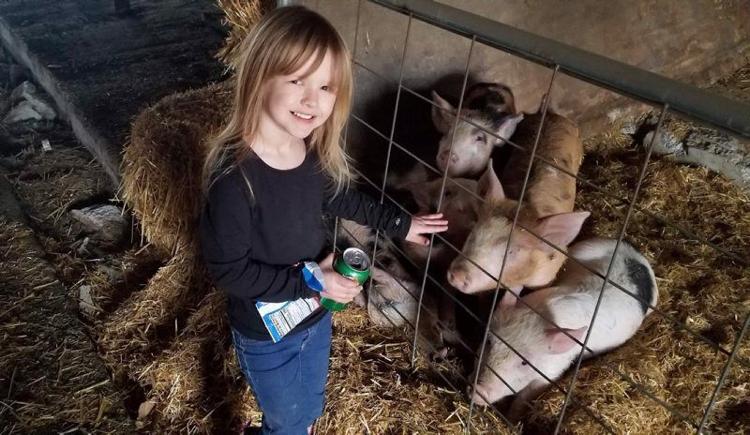 But, they also realized the opportunity in being so close to a major population center. It allowed them to tap into a customer base to sell their grass-fed beef, pork and chicken.
"Being close to a college town, there's a wide variety of customers with a different mix of cultures. We started doing the farmers markets and I was surprised at all the different cuts and even parts that people asked for," Chad said.
Always looking to try new things, the family also supplies whole-beef hamburger patties to a local restaurant and a stand that is owned by Kacee's uncle at the Grange fair.
"The burgers were really well received, and when we saw people coming back to the stand every day it felt good," Kacee said. "We use a couple of our young cull cows for the burger, and it's quality whole beef. People want quality."
While Twin B Farms is now established, the Burkes aren't complacent. They're considering raising lambs, goats, turkeys and rabbits to diversify their offerings at the farmers markets. And, they're working to raise enough corn so they can make their own pig feed.
Still, diversifying is only one element that has made the farm successful.
Family is the other.
Kacee has a full-time job away from the farm, but still handles all of the marketing, bookwork and social media — an element she said is critical for reaching customers and giving them a behind-the-scenes look at how their meat is produced.
Chad's parents, Kathy and Mike, and Kacee's mother and father, Denny and Linda Wheeland, are also active in the farm's operation. And the couple's three children, Meadow, 6, Byron, 4 and Leland, 1, are all set to take on active roles as they get older.
"It's truly a family farm and we've come far, but you never want to step growing and learning," Kacee said.
And never look back.
From the day he purchased five heifers while in high school to his decision to leave his job to farm full-time, Chad said they have no regrets.
"I'm tied to the farm now, but there are freedoms that come with it. It's a life choice," Chad said. "I used to sit in a machine all day, and I do that now, except it's a different kind of machine.
"That was the goal."
Tom Venesky is a freelance writer in northeast Pennsylvania.