SENECA FALLS, N.Y. — Unpredictable prices, weather, pests, diseases and animals — is anything certain in farming but stress? New York's Empire Farm Days acknowledged the challenges of farming this month through its program's page "Stress Management for Farm Families," which highlighted several resources for farm families feeling the pressures of agriculture.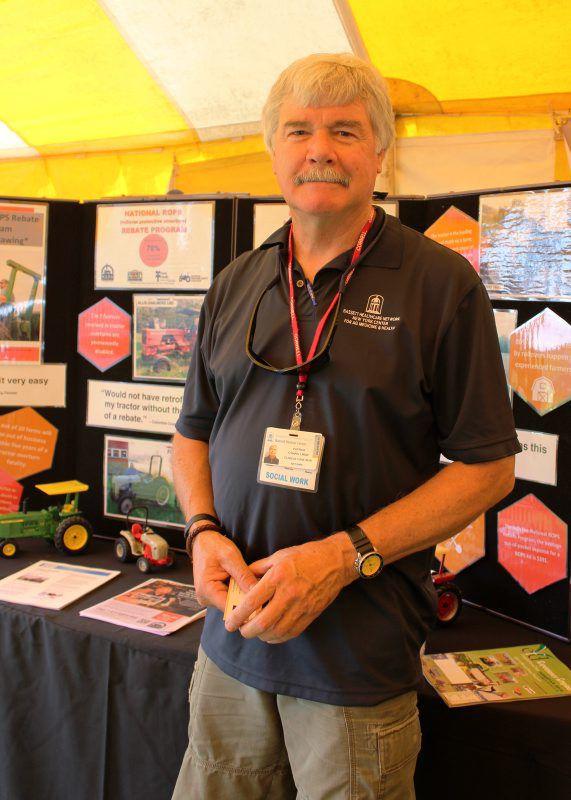 One of those resources represented at Empire Farm Days, Aug. 6-8, was NY FarmNet, a program of the Charles H. Dyson School of Applied Economics and Management at Cornell University. Extension associate Daniel Welch manned a NY FarmNet booth at the event.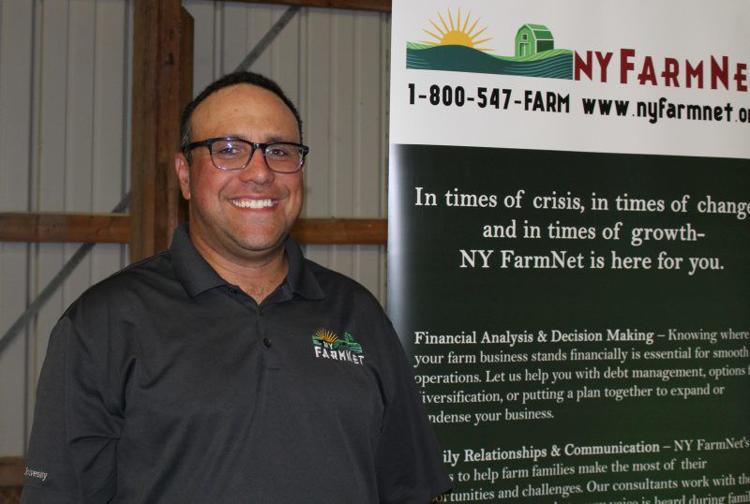 "Overall, farmers in the Northeast continue to deal with some very stressful conditions, ranging from the weather this season to uncertain global markets to the challenges that have been experienced over the last few years around milk prices and the milk markets," Welch said. "We've certainly seen an increase in the number of farmers and farm families that are reaching out to us for help."
He said that at events like Empire Farm Days, most visitors interested in seeking information about stress management may grab a brochure or business card and a few may engage in a short conversations, but almost none would talk at length about their experiences. "Calling later" is the route they want to take.
NY FarmNet works with state farmers on financial stressors and refers families to professionals such as licensed clinical social workers as needed.
He said there are signs indicating that a farmer experiencing chronic levels of stress may need professional help of some sort or another. Signs can be things like changes in routine, decline in animal care, increased illnesses and farm accidents, decline in the farm's appearance and general signs of family stress.
"Oftentimes faith communities can be an important resource for farmers to lean on," Welch said.
The Empire Farm Days program also listed Fellowship of Christian Farmers International as a resource for stressed farmers. Region 8 Fieldmen Stephen and Christyne Brown hosted a tent at the event where visitors could stop in for prayer and pick up literature.
"We also evangelize those who don't have a relationship with the Lord," Stephen Brown said.
The organization, headquartered in Florida, also provides hands-on relief wherever farmers are in crisis from events such as fires, floods, tornadoes and hurricanes, to aid in rebuilding.
"People are stressed about the weather," Brown said. "We pray with them about that and their own good stewardship, and that the Lord would increase their finances. Some of the local farmers we know are praying about the milk prices coming up so they can be competitive."
Patrick O'Hara, licensed clinical social worker and clinical case manager with Bassett Healthcare Network of New York Center for Agricultural Medicine and Health in Cooperstown, also said that production costs exceeding prices is a big reason farmers feel stressed these days. But, farm transition issues also stress out farmers, among other problems.
"There aren't a lot of younger people wanting to get into farming," O'Hara said. "The individuals running the farm are getting up there in age and their offspring don't want to have anything to do with it.
"Finances have always been stressful for farmers. The milk price just isn't good. I have people really struggling. They're working tremendous hours and they're losing money or if they're lucky enough to cut back here and there, they might survive."
From his experience, he sees only very large dairy farms as well as small farms with diverse revenue streams or specialty items as the types of farms that will make it.
"If you're carrying a lot of debt, you'll be in trouble," O'Hara said.
Keeping stress bottled up inside and remaining stoic won't help though.
"Stress is like throwing a rock in a pond; it affects everything," O'Hara said. "It affects your home life, bankers, neighbors, lenders — everything."
He said that representatives of NYCAMH can make appointments to meet farmers right on the farm. O'Hara said that rarely does a farmer want to make an appointment to come into an office to see a professional, both because of stigma about mental health, lack of insurance coverage and also for the simple matter of finding the time.
O'Hara has met with farmers in the milking parlor, while shearing sheep, on the back porch or at the dinner table.
"If they need medication, I'll refer them to psychiatric services or mental health clinic, as they have a sliding fee scale," O'Hara said.
He believes that speaking with someone who has a farming background like himself is easier for farmers than someone who lacks a farming background and doesn't understand the farming lifestyle.
"I've helped people market their skills and get different jobs, which has worked out pretty well," O'Hara said. "Someone who's never written a resume and has never done an online job application needs help."
He also helps people reorganize their farm with a business plan and bring diversity to the farm.
"When a farmer says, 'I can no longer do this,' you'd better believe he can no longer work," O'Hara said.
"Stress is going to affect your health. There will be physical and behavioral changes. It's important to get help for that. It's important to talk with family members. It's toxic to hold in all this stress."