LANDISBURG, Pa. — The Brown family wanted to move away from the city and create a self-sufficient farmette.
They knew it sounded crazy to make the effort with no farming background, but they had the faith to make it a reality.
Four years later and they are not only raising goats, but churning out goat milk products and selling these items at stores and various events.
Crazy Faith Farm came about when Jason Brown, his wife, Jean, and their family of four kids put their house up for sale in York. It took years to sell the home and for the family to find their niche in Landisburg, Perry County.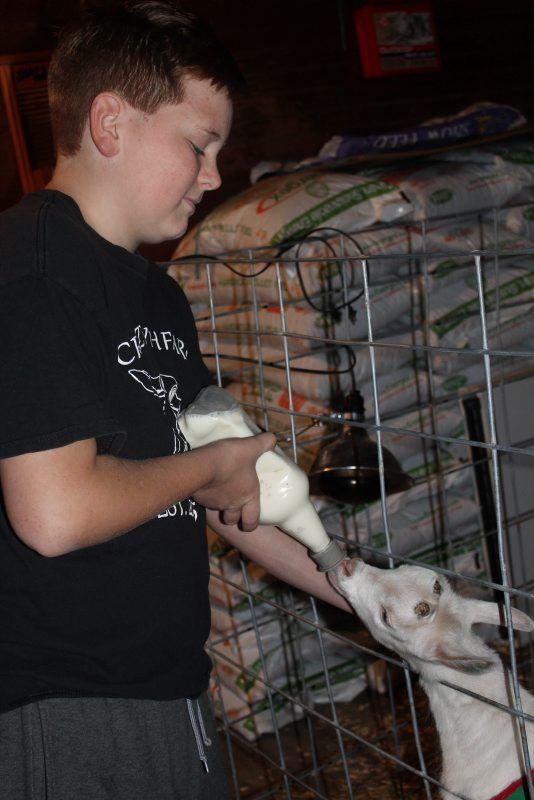 "We were looking for our own land so we could raise our chickens," Jason said, having previously raised some poultry in their former location that was less than ideal.
So, they moved in 2015. They wanted more than just a few backyard chickens, Jean said. Their two older children had moved on, and their two younger children, boys ages 11 and 13, are fully involved in the process.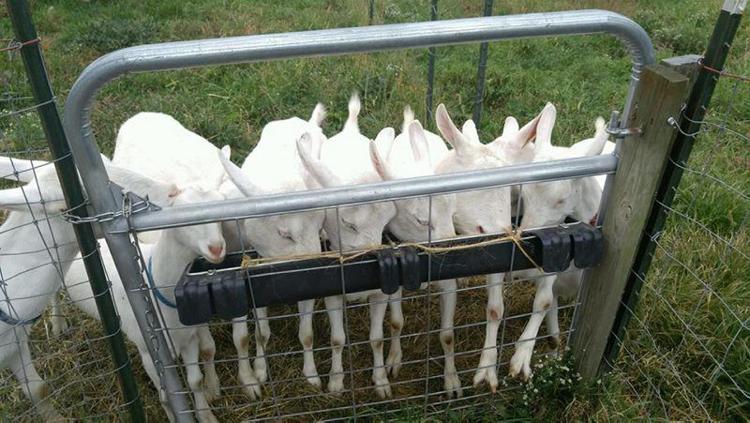 It's been a learning experience for the entire family, as crazy as it may have seemed.
"We wanted to be self-sufficient. We decided we can raise goats. I wanted a huge garden," Jean said. "And, now we are doing it. We are living it and also teaching people how to live it."
Jason said the couple was willing to "try a little bit of everything" and raised chickens, turkeys, a few rabbits and goats. They were partial to the goats.
Like many people who start in goat farming, the Browns found the production rate of goats' milk to be a bit overwhelming. They began researching what they could do with all the milk, and decided to try it all.
So they made soaps, lotion and goat cheese to launch the homestead products. They also raise bees for making candles and lip balm.
"If we can sell (the products), we just put the money back into the goats," Jason said, adding that goat farming creates expenses such as additional feed, medications and vet bills.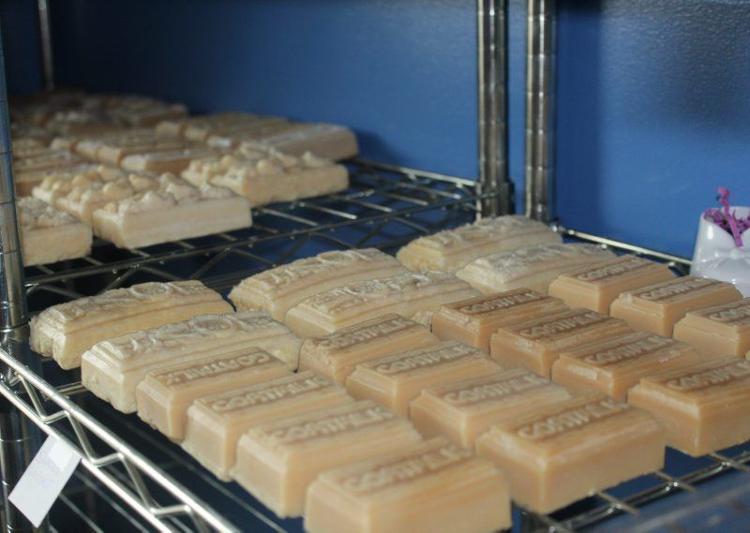 The Browns began attending craft shows and other local events to showcase their products.
"Every time we go to a show, someone will ask, 'Do you have this?'" referring to a particular scent or fragrance or flavor of cheese.
"Then that becomes our next product," Jason said, recognizing the demand of the market.
Jean said that over Christmas she is going to work on goat milk shampoos as suggested by some customers.
Jason said they have taken recommendations for items such as pumice and charcoal soap, bath bombs and lip balms. They also have created goat milk fudge in chocolate and peanut butter flavors.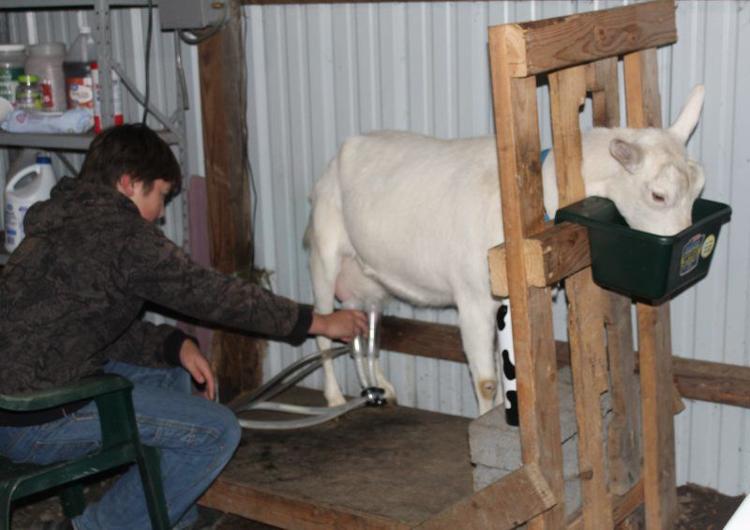 In 2019, the Browns took part in 22 different craft shows and vendor events.
The weeks approaching Christmas are the farm's busy time in terms of getting the products out and sold. They are trying to get into farmers markets, but time is of the essence due to their schedule. Jason still works full time in Thomasville, while Jean works as paraprofessional for the local school district down the road.
"The difference between the farmers market sales and selling at a store is that you have to be there. The stores will sell it outright," Jason said.
Their Crazy Faith Farm products are currently sold in some Perry County businesses such as Butcher's Farm Market in Newport, Tranquil Spa in Newport, the New Bloomfield Pharmacy, and Jones Country Store in New Bloomfield. Other locations in southcentral Pennsylvania selling their products include Tickle My Senses in New Cumberland and Hanoverdale Agway in Harrisburg.
On this day, the family is selling items at the Christmas in the Park event held at Basom Community Park in Richfield, on the Juniata-Snyder county border.
Jason said they tried online sales through a catalog format, but found it was not worth the time and expense.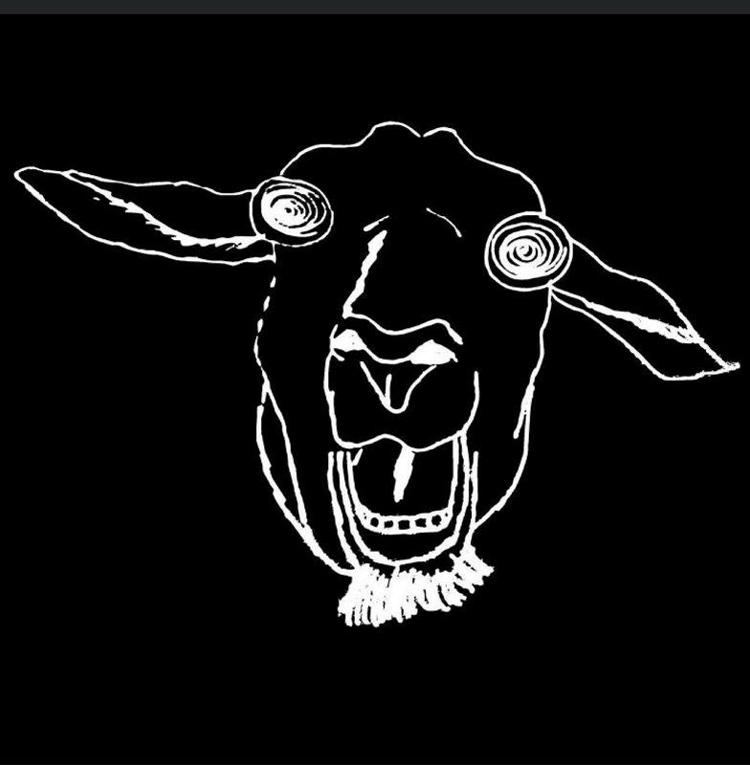 The family also began showing the goats, earning reserve champion status and first-place ribbons at local fairs.
The Browns have 13 goats currently. Jason said they began their Crazy Faith Farm adventure with "the $50 backyard goats," and then found information on Saanens, a pure white goat.
The Saanens were the family's final pick after trying a few other breeds. The Saanens, Jason said, are easier milkers and have a more personable approach.
"The Nubians we had, we had to milk them on our knees," he said.
Alpine goats were not a family favorite, either, Jean said. "They were pistols."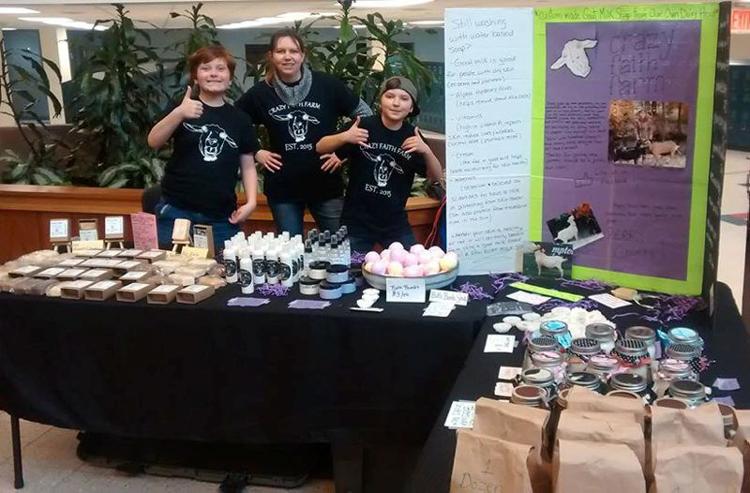 The LaMancha goats are described by Jean as "sweeties," but not easy breeders.
The Saanens are the best fit for this farm, Jason said, though they can be picky eaters.
"They will pick through the grain," he said, and tend to be more likely to consume their food if they see it as a competition. All of the goats eating at the same time, vying for food, seems to work.
The Browns have 5 acres and grow some brome and orchard grass.
"We give them alfalfa mix and 16 percent sweet feed," Jason said.
They also added four alpacas to the farm to help guard the goats.
"They do their job and get along fine," Jean said about the alpacas.

All of the does are currently pregnant, Jason said, and babies will be born in February and March.
As the babies arrive, the "crazy cycle" of caring for newborns and making products from milk begins again.
The name Crazy Faith Farm "is what it is," Jean said. The family is Catholic in faith, which is also a passion, Jean said.
"We were kicking around ideas for a name and we decided we wanted to keep God in it," Jason said. Jason created the logo with a goat face that has "crazy eyes." The family wears the T-shirts to events to promote the farm.
"This is something of faith," Jean said, "And yes, we are crazy for doing this. It's a double whammy."
More information about Crazy Faith Farm can be found on Facebook.