SHAVERTOWN, Pa. — The youngsters attending the Children's Grief Camp at The Lands at Hillside Farm know tragedy.
They've lost parents and loved ones to suicide, drug overdose and even murder. One young girl lost her grandmother and father within days of each other. Several of the children were removed from their homes and placed in foster care due to tragic circumstances.
For all of the 17 children attending the five-day grief camp from July 8-12, life has been full of serious challenges.
But for those five days that the kids were on the farm for camp, tragedy took a back seat.
While the children were already well aware that life can be tough, they also learned that a farm can heal.
"All these kids are going through stuff. They're dealing with circumstances that no child should have to go through," said Suzanne Kapral, director of marketing and development for The Lands at Hillside Farms. "But here, they have chores, animals and nature. They still grieve, but the farm allows them to feel happy too."
Hillside Farm held its first grief camp in 2014 and now holds three camps each summer. The program, which is run by farm staff and grief counselors, is open to children ages 6 through 14 who have experienced a life-changing circumstance within the last 12 months. There is no charge for the camp, which is funded by donations, and the kids are referred by guidance counselors, social workers, therapists or psychologists.
Most of the children don't have farm backgrounds, and the experience allows them to focus on other things, such as the animals.
"This morning we were holding a chicken and an egg popped out," said Landon, 6. "I really like holding the chickens and collecting the eggs."
While an hour of each day is dedicated to grief education sessions, each activity offers the children a chance to find peace.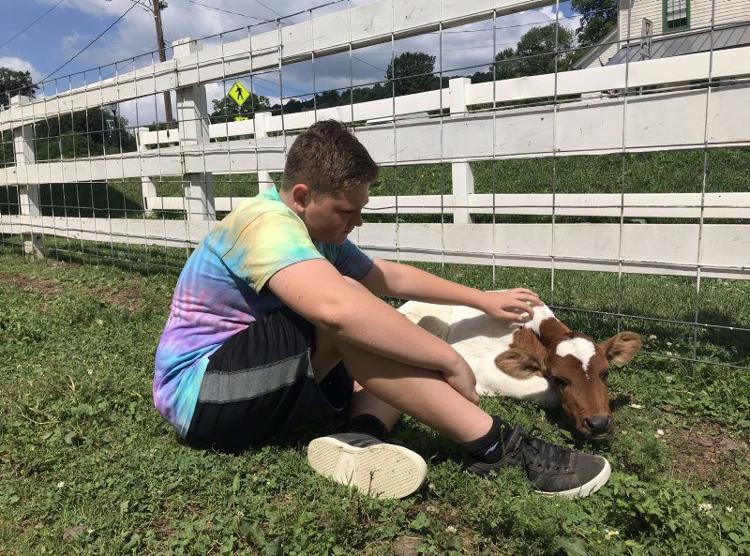 Among the most popular activities were any that included the farm animals. As the children cared for the goats, calves, donkeys and chickens, they found that the affection was reciprocated.
Ryan, 12, said his favorite activity was grooming the goats, calves and donkeys.
"It was relaxing and the animals were calm. It felt good to them and to me," he said.
The camp culminates with each child placing a note to a loved one in a garden and planting flowers. They each paint a brick that surrounds the garden and release a monarch butterfly as the final activity.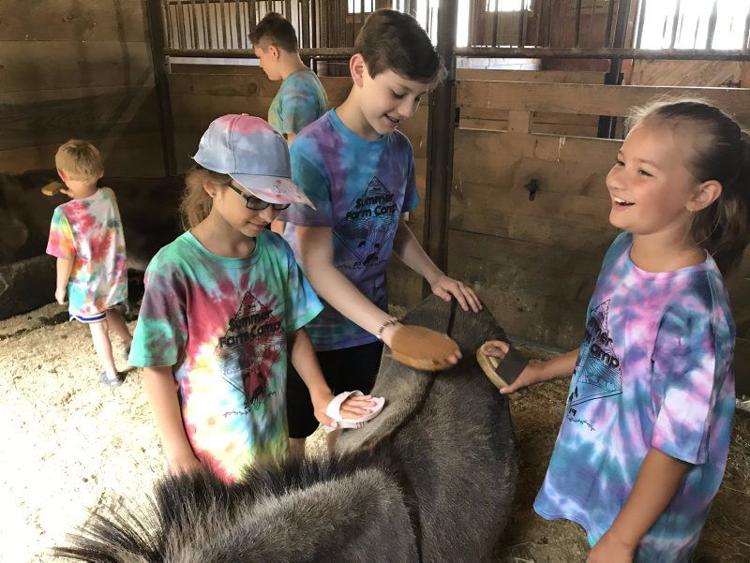 Kapral said the camp fits into Hillside's mission of sustainability. The kids are fascinated to witness firsthand where their food comes from, and they were in awe of watching the cows being milked at Hillside's dairy barn.
"Our dairy farmer explained the process of grass to glass (of milk), and it was great to see their reactions and watch the lightbulbs go off," Kapral said.
Hillside will hold two more grief camps this summer, and Kapral said 24 and 26 kids are enrolled for each program. After the first camp in 2014, she said, the number of children referred to the program kept increasing.
In an ideal world, Kapral said, a grief camp wouldn't be a necessity.
"Sadly, that isn't the reality," she said. "Decades ago, some of these issues weren't talked about. That's not the case today, and we're fortunate we have the opportunity to offer this.
"It's an investment in our children, and that's an investment in our future."
When it comes to the unique form of healing that only a farm can offer, the children were invested as well.
"I liked all of it — gardening, watching cows being milked, holding chickens," said Noah, 8. "But my favorite activity was when we went to the barn and read stories to the animals. I read a story to a horse, and he was falling asleep just like I do during a story."