Dr. Jody Kull always knew she wanted to work with cows.
Today, she not only works with cows, but with a whole host of other livestock on her clients' farms in northcentral and northeast Pennsylvania.
Kull, who is a large animal veterinarian, was one of several presenters featured March 22-26 during the Women in Agriculture and Conservation Conference, a series of virtual presentations organized and hosted over five days by the Columbia County Conservation District.
"I live out of my car," said Kull, whose Valley Mobile Veterinary Service in Danville is, literally, operated from her vehicle, in which she travels about 30,000 miles annually in the course of business. About half of her practice entails working with dairy cattle, with the rest of her days spent handling cases dealing with a variety of domesticated livestock, including deer.
"Every day is a little different," said the 2004 graduate of the Virginia-Maryland Regional College of Veterinary Medicine.
Her presentation included a variety of the "animal tales" she's experienced in her career, handling everything from routine herd checks to more challenging animal medical emergencies.
Starting Out on Large Animals
After earning her veterinary degree, Kull practiced for four years with the Leighow Veterinary Hospital in Danville, doing daytime dairy herd checks and large-animal care along with evening work with small animals and weekend emergency coverage.
"Food animals have always been my special interest," she said.
One small-animal case became a life-changing experience for Kull, after dealing with Sammy, a dog that had been hit by a car. Sammy had suffered a severe jugular vein injury and neck trauma. So, in 2008, Kull opened her mobile vet care business, focusing on large animals.
"I look at a lot of cows and bulls," she said, illustrating her presentation with numerous photos relating to both the routine — and the more unusual — cases she's encountered.
She's had to put down cows in which she found cancer tumors, stitched up badly torn teats, repaired and stitched post-calving uterine/rectal prolapses, and routinely completes barnyard surgeries for LDAs (left displaced abomasum), familiarly known to dairy farmers as "twisted stomachs."
Kull related one case of a dairy cow she was called to examine, which had a mass growing over her one eye. The animal was pregnant, carrying a valuable, implanted embryo calf. The cancer proved to be more deeply embedded than anticipated, so owner and vet made the decision to remove the cow's eyeball.
"That cow did really well afterward. She healed, and has since had several more calves," she said about the difficult, but successful, decision to remove the cow's eye.
Then there was the instance of Hickory the pig.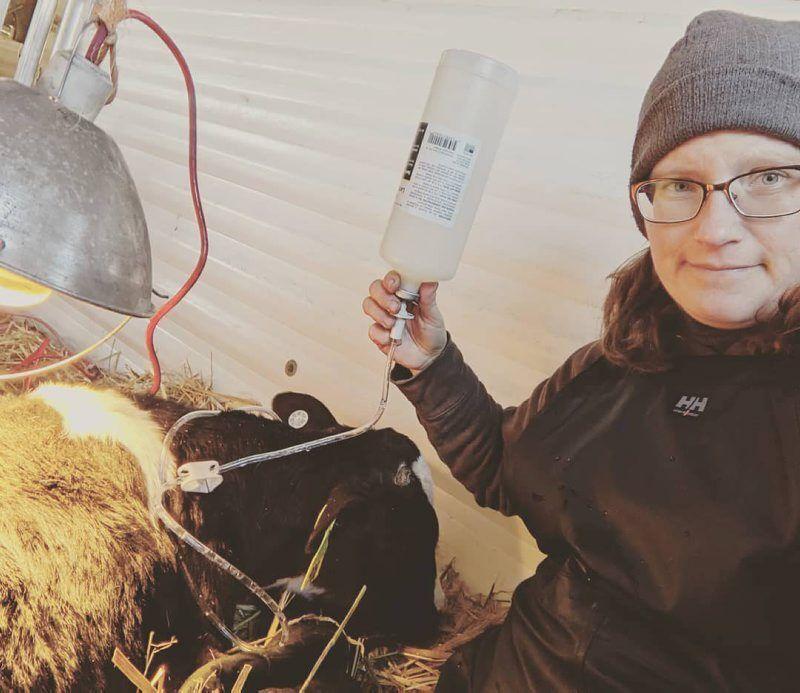 "He was a breeder boar, but was nuts as a piglet, so they named him Hickory," Kull said.
After Hickory sustained an injury that left him unable to function as a breeding sire, the decision was made to castrate him. Due to his feisty, and potentially dangerous, behavior, Hickory was sedated for the procedure, performed outside on a 5-degree winter day.
"And, while he was down, we also trimmed his tusks," Kull added. "He's now a happy pet pig."
Not all of Kull's animal tales end so happily. She was called out on one unfortunate occasion, when a stray dog had attacked a flock of sheep.
"As we sheared, we kept finding more and more body punctures. Fortunately, we were able to save some of them," she said.
Advising Others
As part of her career and devotion to the community, Kull works closely with 4-H'ers, helping to educate them with her knowledge, experience and some attention-getting visuals.
"I started collecting specimens when I was in college," she said about the extensive collection of glass containers in her basement lab filled with "parts" retrieved during surgeries and animal care.
"My son says that our basement looks like Halloween," she said of the somewhat gory assortment.
As part of her service to clients, Kull assists in writing protocols for the FARM program, holds employee educational-training meetings, does diagnostics and problem solving, and consults on milking and feeding.
"Sometimes having employees hear directions and protocols from someone else sounds better to them than hearing it from the boss," she said, of the value of helping her farm clients educate their employees on proper methods of animal care and handling.
Kull acknowledged that, like most small business owners, she experiences many things that she likes about what she does, along with those not quite as enjoyable.
"I like being my own boss and working outdoors. I like driving around the countryside, and that every day is different. I like helping to save animal lives. I like that I don't have to dress up for work," she said. "I enjoy interacting with clients and getting to know their families."
"Sometimes I don't like being my own boss, because I'm responsible for everything. If it goes wrong, it's my fault. I put on lots of miles, on bad roads, in bad weather, and I work outside year-round. Some days get really long. Clients can be mentally exhausting," she added, of the "cons" of her career. One late night emergency call, for instance, had Kull handling a problem calf delivery, still wearing a pajama top.
"Due to the income to investment ratio, it can be a challenge," said Kull. "A current veterinary student graduates (with) about $300,000 in debt, at the average graduation age of 30. The current starting salary is about $65,000. And that all comes at a very active time of an individual's life, the time of marriage, home ownership, children."
For young people interested in pursuing a veterinary degree, even snagging a spot as a student is a huge challenge, with an estimated 7,500 applicants annually seeking one of about only 2,000 available spots to begin veterinary studies. Kull advises young people considering vet studies to begin preparing early, even during high school, taking lots of math and science courses, and volunteering at local veterinary practices.
Various career paths are available to veterinarian graduates, from private practices like Kull's to work with commercial firms dealing in animal feeding and medical care, teaching at universities, Extension positions, or working with wildlife and zoos.
Raising Reindeer
The dedication of large animal vets, like Kull, is of immeasurable value to their clients, and never more so when puzzling problems arise in herds and flocks.
Farmer Cassandra Hoover and her husband, David, for instance, struggled with animal medical issues while establishing their Spruce Run Farm reindeer business in Bloomsburg, Pennsylvania.
"We raise reindeer for profit," Hoover said during her presentation to the virtual conference participants. But reaching that point in their unique livestock operation proved to be a challenge, as they sought to expand from petting and agriculture education enterprises that had already been established earlier on the farm by David's family.
"Does your farm have a mission?" Hoover suggested that listeners consider, if they are pursuing diversifications of their operations.
"What is your uniqueness? Many people don't think about what's unique about their farm, or how they profit from it. People will exchange currency for your unique experience, product or service. How can you tap into that?" she said.
In December 2011, following an event in Shamokin, Pennsylvania, the Hoovers decided they wanted to try raising reindeer. It was a change of direction for the farm, and required some time in preparation to implement the new business direction.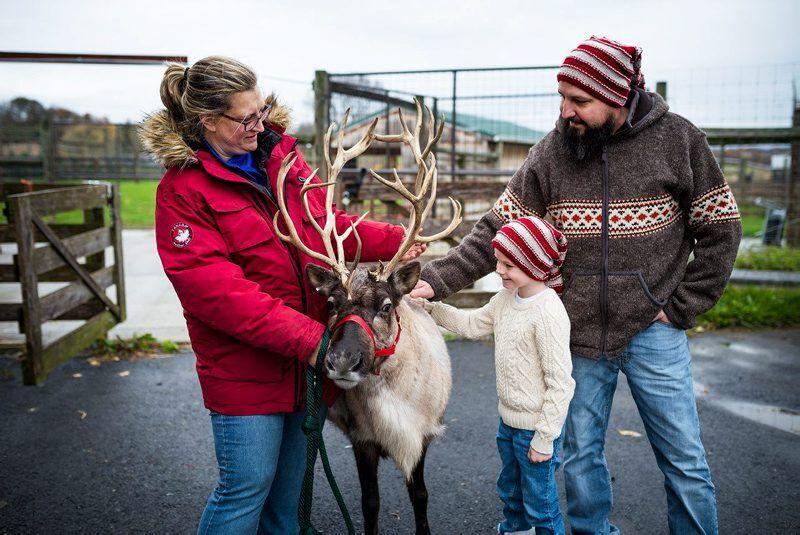 By May 2015, Spruce Run Farm's first reindeer, a breeding pair, arrived from Indiana. During the first weekend of that following October, the female died after contracting an undetermined ailment, which they had no idea how to treat. One day later, they also lost the bull.
The couple could find no ready answers for the animal deaths. Searching for reasons and possible solutions, the Hoovers checked plants on the farm that might have caused the losses and changed their water system. They still had no answers.
In spring of 2016, they acquired a young bull. But it was fall of that year before they were able to find a companion for him. Again, problems arose. Although they hauled the young reindeer to a university animal hospital, they were unable to save it.
"Reindeer are not easily found and they are quite pricey," Hoover acknowledged of the emotional and financial loss of yet another reindeer.
Ultimately, it was determined that tick bites, suspected to have come from ticks in organic hay which they had purchased, was the cause. After losing three of their initial seed stock, it was a huge relief when they were able to save the fourth.
Spruce Run's reindeer have now become a popular and familiar presence in the area, especially at Christmas season events. Photo sessions, both at the farm and at various community activities, generate lines waiting to pose with the gentle reindeer. On-farm reindeer herd tours are also available. In addition, the couple raises Scottish Highland cattle.
At least two reindeer are present at every event they attend. And the couple maintain three cattle trailers for hauling, since, due to their wide antlers, only a few of the reindeer can be hauled together. When the antlers are in the fragile velvet stage, extra care is given, because the iconic reindeer headgear can very easily be injured and damaged.
Hoover warns that, while reindeer can add seasonal income, anyone considering them for a farm enterprise should become knowledgeable of the extensive regulations involved in keeping the species as domestic livestock. Documentation is even more extensive if the animals are moved across a state line. The presence of CWD (chronic wasting disease) in Pennsylvania's wild deer herd has intensified regulations on raising domestic deer.
"I have to do a great deal of paperwork every time they leave the farm," she said. "And there are annual reports that must be made. It is a lot of paperwork."
More information on the reindeer operation can be found at the farm's website, SpruceRunFarm.com.