McALISTERVILLE, Pa. — Mike Brubaker, a farmer-turned-entrepreneur, has navigated his way through this year, even as the COVID-19 pandemic delayed the opening of his business hosting farm weddings.
COVID-19 caused the postponement of many weddings in the spring and summer of 2020. The farm wedding venue owned by the Juniata County farmer was impacted by these decisions to cancel weddings.
Mike Brubaker is the owner of Stone Ridge Acres in McAlisterville. Brubaker is the son of a farmer and is part of a family of entrepreneurs.
He and his brothers, Eric and Cody, and their father, Doug Brubaker, own Double B Farm Supply in McAlisterville. They also operate Double B Farms, which raises broiler chickens, beef cattle and crops amid 400 acres in eastern Juniata County.

How the Farm Wedding Venue Came to Be
Mike said that when 115 acres came up for sale in 2018, along Route 35 at a former farm property, he couldn't pass up the opportunity to go to auction and bid on it.
Initially, his plan was to exclusively farm it. But, while looking at the property, Mike said he thought it would make a nice farm wedding venue.
His mom, Tonda Brubaker, and sister, Angie Reinford, have their own business doing wedding décor. It's known as Consider Inspired Rentals. That business plans to store its supplies at Mike's farm wedding venue.
Mike Brubaker named his new property and farm wedding venue Stone Ridge Acres, because of the stone ridge behind the property. It includes a farmhouse he gutted and a refurbished barn.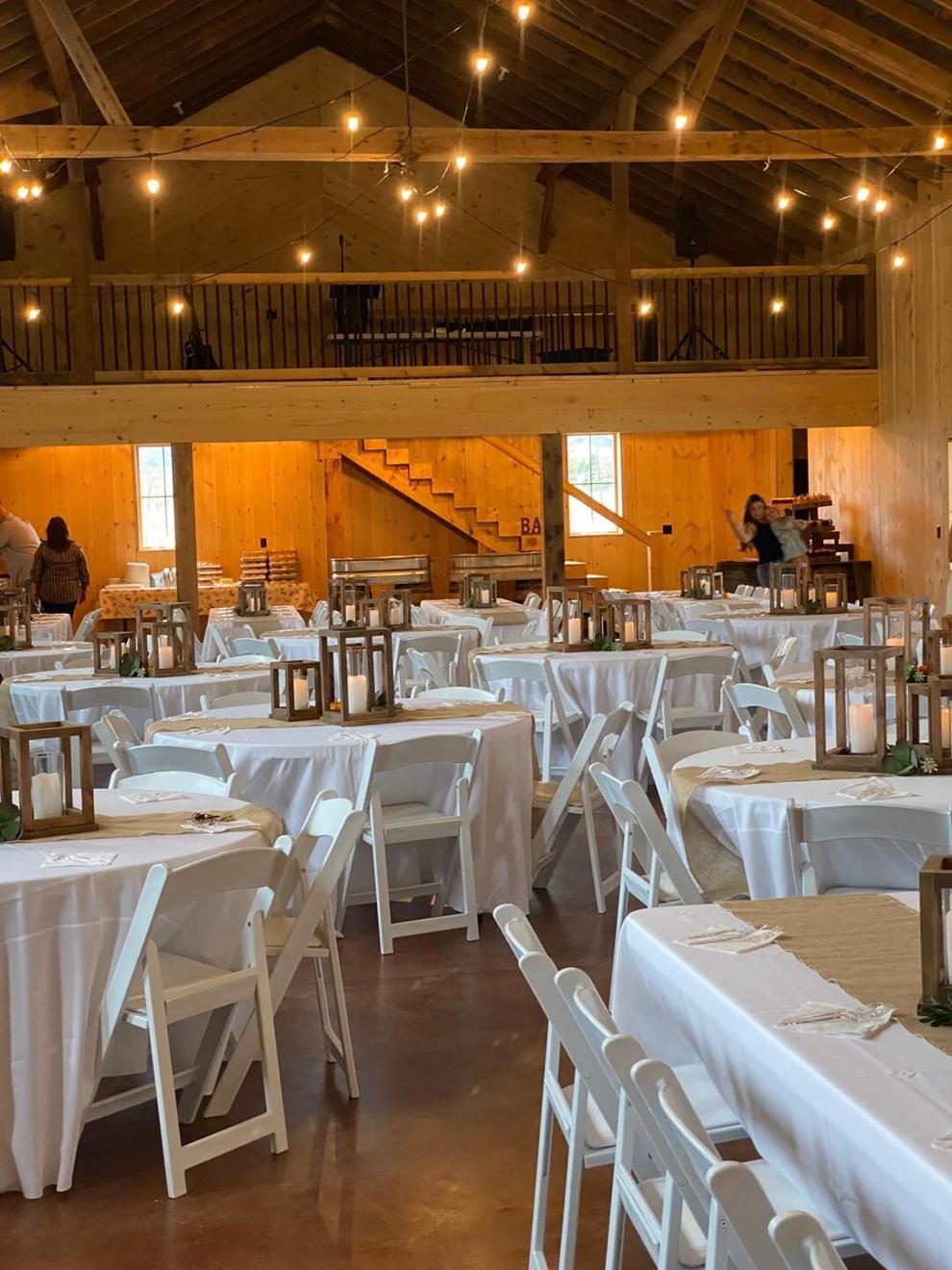 Brubaker Prepares For His First Farm Wedding
Brubaker, who is a newlywed himself, spent over a year preparing the site for its first scheduled farm wedding in May 2020. When the COVID-19 pandemic closed businesses in the spring, at Stone Ridge Acres at least one wedding was canceled due to COVID-19. Fortunately for Brubaker, that event had been booked by a friend who was able to plan an event later.
Another delay for the 2020 venue opening was the process of obtaining all of the proper permits. This had nothing to do with the pandemic, according to Brubaker. It is a lengthy process, he said.
As Pennsylvania businesses began to open up again this summer — with pandemic protocols in place to prevent the spread of COVID-19 infections — Brubaker said his phone was loaded with voicemails.
"I had 30 to 40 messages just in the last couple days," he said on the phone in September.
Many folks were inquiring about fall 2020 events, but Brubaker said it just isn't going to happen.
"With everything going on, I just couldn't do it," he said.
Mike is currently busy working on last-minute touches to landscaping and getting concrete poured on the barn floor. Contractors had to shut down during COVID-19, so projects got delayed.
Mike was busy in 2018 and 2019 doing the majority of the construction and refurbishing himself with few outside contractors.
"It was literally just me here," he said.
Not Just a Farm Wedding Venue
His first booking is slated for December 2020 in the form of a holiday party. He said the venue construction work will not be completely finished by then, and the party booking the event understands that.
Farming has taken a back burner. Currently, one Brubaker brother is farming at the farm and the other is running the Double B Farm Supply store.
Mike Brubaker is focused on the venue property as well as yet another side business. He has been selling old whiskey barrels as furniture décor for the last five years. The barrels are also used for the wedding venue, he said.
"I went from five (barrels) to 250. I have dealers set up across Pennsylvania," Brubaker added.
Though the wedding venue has been closed, Brubaker has been able to do business by selling the barrels.
"I still sold them. They increased in sales," he said.
The barrels were sold from the Double B Farm Supply store. Since the store sells agriculture supplies, it was considered an "essential business" by the state during the pandemic shutdown, and allowed to stay open, so people could purchase at that location.
Brubaker said he believes he will stay busy as the official opening is planned for early 2021.
The idea is to allow couples to use the property for outdoor weddings and the barn as the rustic, elegant reception area. The house would be the overnight quarters for the bridal party. Brubaker said up to 200 people can be seated in the barn, and it will be rented for other functions such as bridal and baby showers, banquets and so on.
The original barn on the property was destroyed by fire in the 1950s and rebuilt, he was told. The stone foundation is from the original structure when the house and barn were built in the late 1800s. Brubaker completely gutted the interior of the old farmhouse, starting fresh with interior construction.
Only 5 acres will be used for the wedding venue. The other 110 acres will be farmed.
However, Brubaker admits he is a bit more of an entrepreneur and is enjoying doing business on a farm.
Tabitha Goodling is a freelance writer in central Pennsylvania.