NEWMANSTOWN, Pa. — Chances are, your grandmother and her forebears cooked using cast iron. Chances are that you don't. With plenty of non-stick cookware options and microwave ovens out there these days, perhaps you feel the idea of cooking with cast iron is too demanding. Debbie Hartman, instructor for "Thyme with Debbie" cooking classes, makes a good case for bringing your cast iron out of storage and putting it to use on your range.
"Cast iron is an amazing workhorse," Hartman said. "It will fry, it will bake, sauté and braise."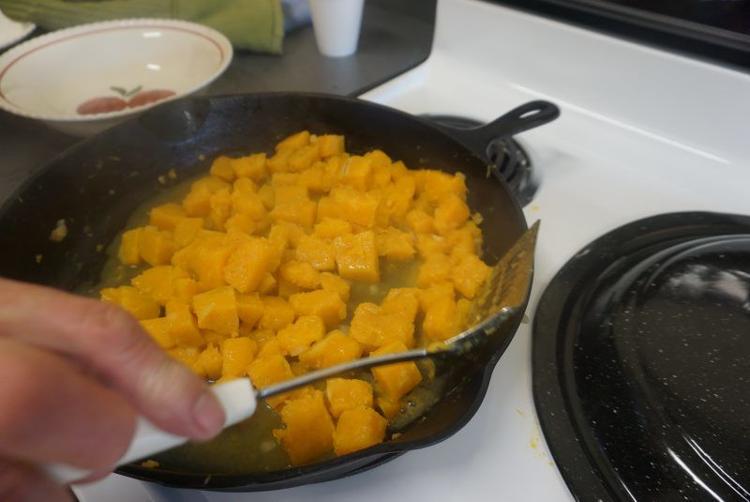 During a recent class, held in Newmanstown, Hartman traced this versatile material back to the fifth century B.C., when cast iron was used for armaments in Asia. Merchants on the Spice and Silk roads eventually introduced it to Europe. In the 1700s, England was using cast iron for bridges and buildings.
In 1707, Darby used cast iron to make thin pans with heavy lids and three legs for setting into an open hearth. As cookstoves gained popularity, cast iron pieces became flat-bottomed for use with stovetops and ovens.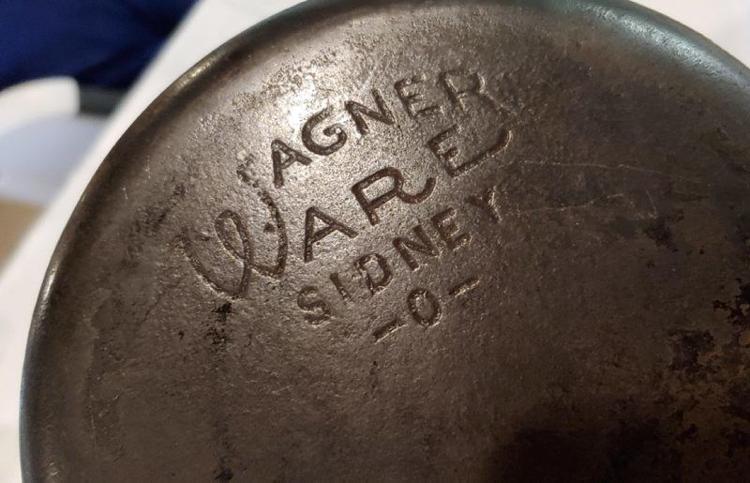 In 1865, Griswold Manufacturing Co. started making cast iron skillets, pots and waffle irons in Erie, Pennsylvania. They were bought out in 1957 by the Wagner Manufacturing Co., which had been manufacturing cast iron in Sidney, Ohio, since 1891.
America's oldest still-operating cast iron cookware maker is the Lodge Co. of South Pittsburg, Tennessee. Founded in 1896, Lodge remains an industry-leading family business.
The newcomers to cast iron cookware development in the U.S. are Smithey, Finex and Nest Homeware, whose pieces Hartman terms modern "works of art."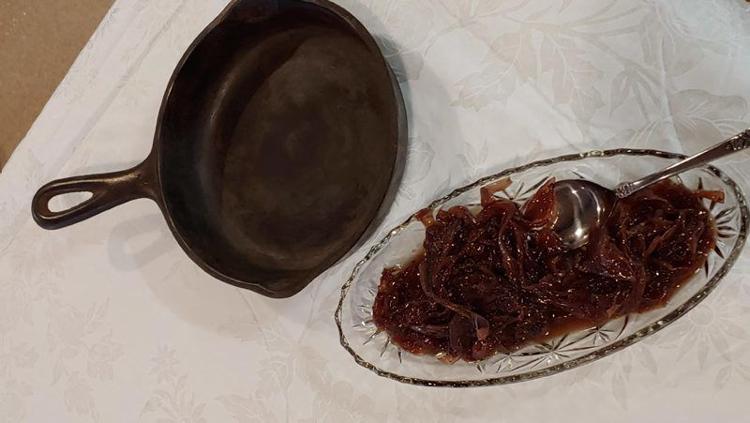 Although newer styles of cast iron cookware usually come pre-seasoned from the factory, older pieces need fat polymerization to "season" them chemically by melding a vegetable oil into the cast iron surface, using heat to make the cookware relatively non-stick. To season it, start with a clean cast iron piece that has been hand-washed with mild soap using a non-abrasive brush or pad. Dry thoroughly before rubbing the inside and outside of the piece with a thin coating of vegetable oil. Bake it for one hour at 400 F on the top oven rack, with the pan placed upside down on a sheet of aluminum foil, and allow it to cool in the oven. This same procedure can be followed to rehabilitate rusty cast iron cookware if it is first scrubbed using fine steel wool to remove rust and grime down to its raw state.
To clean cast iron after use, a scrubber or non-abrasive scraper works well to remove debris, or try rubbing with kosher salt and a paper towel to remove food particles.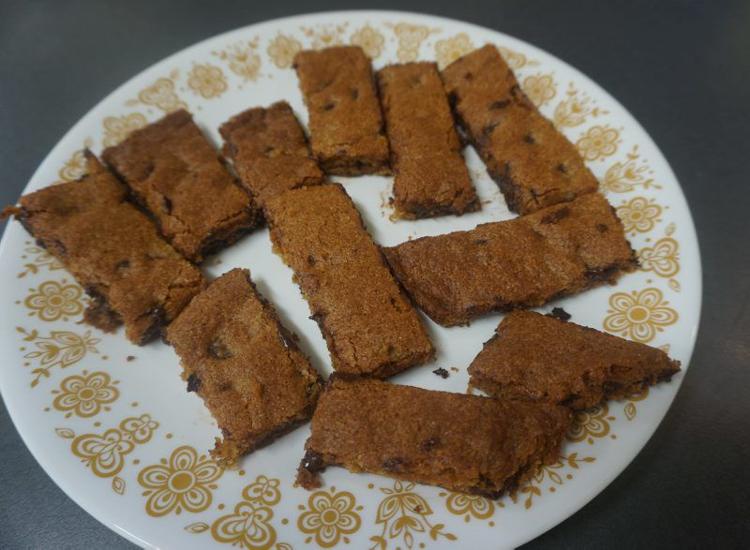 When washing cast iron, a small amount of soap may be used, but the piece should be rinsed and dried immediately, either with a towel or by briefly heating it on the stove to evaporate the moisture. Cast iron cookware should then be stored in a cool, dry space; if storing with a lid, allow a space for air circulation to prevent a rancid smell.
Hartman points out the more a cast iron piece is used, the more seasoned it remains; however, if foods begins sticking, it's time to refresh the seasoning. After washing, put a small amount of vegetable oil into the cast iron piece, wipe the oil on all surfaces using a paper towel and warm over medium-low setting for five to seven minutes, continuing to rub the interior of the piece to keep all surfaces oiled until the cast iron is black and shiny. Finish by wiping with a fresh paper towel.
Hartman demonstrated the versatility of cast iron cookware by making a range of recipes: cornbread, a grilled romaine salad, a condiment, a leafy greens frittata, a pan-braised vegetable and a dessert item.
The following onion jam is recommended by Hartman as a tasty condiment with many uses, such as a topping for burgers or pizza, an addition to a soup, a salad or egg dish, in wraps or mixed with apple.
Onion Jam
6 tablespoons butter
2 pounds yellow onions, halved lengthwise and thinly sliced
1/4 cup brown sugar
1/4 cup red wine
1 tablespoon balsamic vinegar
2 teaspoons finely chopped rosemary
Salt and pepper
Melt butter in a 12-inch skillet over medium heat. Add onions and stir to coat. Cover skillet and cook, stirring occasionally until onions are completely limp, about 15 minutes. Uncover skillet and reduce heat to medium-low. Cook, stirring often to scrape up the brown glaze that forms on the bottom of the skillet, until onions are very soft, golden brown and caramelized, about 25 more minutes. Add brown sugar, wine and vinegar. Stir until the sugar dissolves and liquid cooks away, about 5 minutes. Remove from heat. Stir in rosemary and season with salt and pepper to taste. Set aside to cool to room temperature.
Serve, or store in refrigerator, covered, for up to one week.
Hartman suggested cooling this particular mixture in another container so the vinegar's acid doesn't break down the cast iron, which could cause a metallic taste and reduce the skillet's seasoning. She adds that the metallic taste only occurs if this mixture stands in the cast iron for 30 minutes or longer.
Braising vegetables in cast iron is easy and brings out their natural sweetness. Hartman said that the following turnip recipe can also be used with other vegetables like butternut squash or carrots. Pearl onions could also be substituted for the minced yellow onion. She adds that chicken stock can substitute for water when cooking this dish.
Pan-Braised White Turnips
20 white turnips, about 2 pounds
2 tablespoons unsalted butter
1/2 cup minced yellow onion
1 bay leaf
Kosher salt
Wash turnips, peel, and remove root tip and stem. Cut in half from stem to tip. Melt butter in 5-quart, cast iron, Dutch oven (or a 12-inch skillet with a lid) over medium heat until it foams. Add onion and bay leaf, cover and saute the onion until softened, but still with no color; it is important not to add any browning, as that step comes later.
Add the turnips, cut side down, in a single layer. Try to nestle them down into a single layer and not on top of the onion. Add enough water to come halfway up the sides of the turnips, then sprinkle with a good dose of salt. Cover the pot and bring to a boil. Reduce heat to simmer and cook over low heat until turnips are just softened, which will take about 15 minutes of simmering.
Then, remove the lid, bring water to a rapid boil over high heat and continue to boil until all the liquid is gone. Continue to cook over high heat until bottoms of turnips turn a beautiful brown. Remove from heat and serve.
Both preceding recipes come from the "Lodge Cast Iron Nation" cookbook.
For a dessert made in a cast iron pan, Hartman chose a recipe that's sure to please everyone's sweet tooth. This giant cookie can be served warm topped with ice cream as a sundae base or shared with hungry kids after school.
Skillet Chocolate Chip Cookie
1 cup firmly packed brown sugar
1/2 cup sugar
1 cup (2 sticks) unsalted butter, softened
1 teaspoon vanilla extract
2 large eggs
2-1/2 cups flour
1 teaspoon baking soda
1 teaspoon salt
2 cups chocolate chips or M&Ms
Preheat oven to 375 F.
In a large bowl, using an electric mixer, beat both sugars and butter until smooth. Beat in vanilla. Add eggs one at a time, beating well after each addition.
Add the flour, baking soda and salt. Stir well with a wooden spoon. The dough will be stiff. Stir in chocolate chips or M&Ms.
Oil or butter a 10-inch cast iron skillet (or spray with cooking spray). Pat the cookie dough evenly into the skillet. Bake in the oven until the edges are lightly browned, about 25-30 minutes. Remove skillet from oven and let cool on a wire rack for 15 minutes. Cut cookie into 16 wedges and serve immediately using a pie server.
Hartman said the foregoing recipe and many others are available at http://wwwlodge mfg.com/recipe. The Lodge website also has many helpful videos on using cast iron cookware, including how to rehab old, rusty pot and pans. She also cited the National Cornbread Festival's website, https://nationalcornbread.com/food as a good resource for recipes to make cornbread in cast iron.
Visit https://thymewithdebbie.com for information on upcoming cooking classes.
Sue Bowman is a freelance writer in southeastern Pennsylvania.