According to historical legend, in a letter to his daughter, Ben Franklin once proposed that the turkey be the official bird of the United States. And, while the bald eagle ultimately won that particular distinction, turkey is still wildly popular in America.
According to the Southern Farm Network Turkey Facts website, approximately 46 million turkeys are eaten each Thanksgiving in the U.S.
Morris Hill Farm Shares Their Story About Raising Poultry and Other Animals The Right Way
At Morris Hill Farm in southern Maryland, David and Vicki Haberkorn and their children, Gradin and Maggie, are raising some of those turkeys.
"We are a small family farm raising animals ethically for meat and eggs," David said. "We began farming seven or eight years ago in Tampa, Florida, and then we relocated to Vicki's childhood home in Tracys Landing, Maryland, in 2018."
"We currently offer pasture-raised chicken, duck (and) turkey (as well as) eggs and forest-raised pork," he added. "All the poultry is currently processed on-farm. We also have a small flock of sheep being grazed on pasture and (a) woodlot that we hope to expand in the future for lamb."
The Haberkorns raise Broad-Breasted White turkeys on pasture, using electric net fencing combined with regular pasture rotation. They move their poultry shelters daily and their paddocks weekly.
"The Broad (Breasted) Whites really improve the land when managed this way," David said.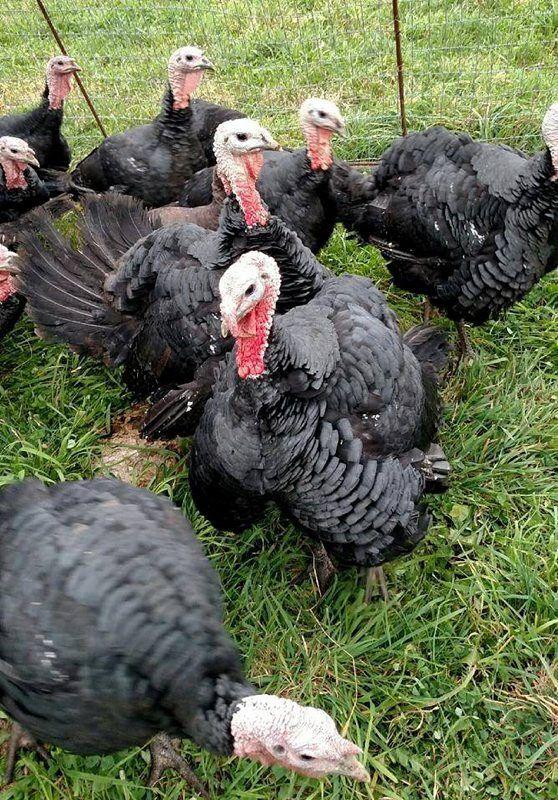 They use the same rotation schedule with their laying hens. Their ducks and broilers are moved daily in 10-by-12-foot hoop houses. They've found that their birds do better in the hoops than in the lower chicken tractor-style houses.
In regards to this year's season, David said, "When COVID-19 first began, we experienced a rush of business. It was a bit overwhelming, and then it calmed down. Since then, we have seen an overall growth that I believe is more on plan with a natural growth of our farm, and folks appreciating a quality product. We did receive a grant from the county for a separate farm-store building that should be open late this year and are excited about that."
Products from Morris Hill Farm are sold on the farm, at the Severna Park Farmers Market, and at the Sunday Market at Honey's Harvest Farm.
Morris Hill Farm also offers online sales and home delivery every other week during the winter months.
"Our farmers markets have been extremely supportive," said David. "I'm so thankful to have such appreciative customers, and we have sold out of turkeys for the Thanksgiving holiday. We do our best to offer the best local meats to local people, and we are definitely excited about what the future holds."
Raising Turkey at Whispering Breeze Farm
Also raising turkeys in Maryland is Whispering Breeze Farm, which was established in 1901 on 117 acres of red clay dirt in Taneytown. Over the course of the last century, dairy cows, turkeys and laying hens were raised there together until 1968 when the farm's focus turned solely to milk.
Eight years ago, however, the fourth and fifth generations of the Brower family — current owners Donald and Lisa Brower and their son, Adam, and his wife, Katie — took the farm back to its roots by again raising turkeys and laying hens. Whispering Breeze Farm now offers a wide array of products including fresh turkeys, pastured eggs, cheese, beef and chicken.
"Our Heritage Bronze and Broad-Breasted White turkeys enjoy fresh air, sunshine and green grass from the safety of their mobile pens," said Katie Brower. "The birds are raised from day-old poults and then they graduate from their cozy, heated brooders to the great outdoors, where the mobile pens are moved daily and offer protection from foxes and coyotes."
Along with the fresh pasture access, their turkeys are fed a custom finishing mix to "give their flavor a sweet finish."
Whispering Breeze Farm serves customers in Carroll, Frederick, Howard, Baltimore and Montgomery counties. They market their products through farmers markets, CSAs, local businesses, and the food hub Chesapeake Farm to Table. The Whispering Breeze Farm website also provides a list of where to find its products and information on how to order directly from the farm.
Orders for whole Thanksgiving turkeys from Whispering Breeze Farms began in August, and so did the sale of ground turkey, breasts, legs and wings.
"Due to COVID-19, we hear that more of our customers will be staying at home for the holidays, and cooking for just their immediate family," Katie said. "We had anticipated this, so we planned for smaller turkeys and delayed feeding our custom finishing mix so that our turkeys would be smaller this year. Another option we are offering now is turkey breasts, wings and legs sold separately, for those who don't want to purchase an entire bird."
Due to the pandemic, Whispering Breeze is able to also take payment online as well as offer pre-ordered bundles for contactless delivery or pickup of its products.
Talking Turkey and Thanksgiving from a Chef's Perspective
Thinking about Thanksgiving this year from a chef's perspective is Craig Sewell. Previously, he was the executive chef and owner of A Cook's Cafe in Annapolis, Maryland. Currently, he is the program manager of the Southern Maryland Meats Program at the Southern Maryland Agricultural Development Commission.
Sewell knows a lot about cooking with pastured turkeys.
"Typically, the reason people love turkey gravy is that it actually gives the bird some additional flavor, as some commercially raised turkey breeds can be somewhat bland tasting," Sewell said. "But turkey doesn't have to be that way. In their natural state, turkeys are actually very moist, because in the wild they are very active. So what you want in a bird, is one that has moved around a lot during its lifetime, so it imparts more flavor. This is why locally pastured-raised turkeys have become so popular with consumers."
Sewell's recipe to prepare any turkey for cooking in a way that draws out the most flavor is to brine the bird using a brine recipe consisting of 1 cup of salt to 1 pound of sugar to 1 gallon of water. He said to immerse the turkey in the brine for somewhere between 18-24 hours. Brining the turkey allows the liquid to permeate the surface cell structure and to remain in the turkey, ensuring that the meat remains moist throughout cooking. He noted that after brining is completed, home cooks should make sure to thoroughly rinse the turkey inside and out before cooking.
The most popular ways to cook a Thanksgiving turkey are in the oven, by smoking or by deep frying.