The local food scene and regional foodshed continue to broaden and deepen their roots, right down to many core ingredients. Local tomatoes, we've all heard of. Local seasonal fruit, we love. But ... local pasta?
Enter Sfoglini.
Sfoglini pastas are made from North American grains that are milled in the United States, along with many grains straight from New York's Hudson Valley region.
Sfoglini co-founders Scott Ketchum and Steve Gonzalez came to the pasta marketplace with a wealth of experience gained over years of national and international travel and work.
Gonzalez, a chef by trade for over a decade before launching Sfoglini, spent years making pasta in kitchens that spanned from Philadelphia and New York City to Spain and Italy.
Ketchum worked as a creative director and graphic designer for nearly 20 years in New York and San Francisco, studied brewing and management in Chicago, and then traveled across Europe to study various food and beverage cultures.
Ketchum was looking for an endeavor of his own after years of creating brands for other people.
"I wanted to be a little more hands-on with something," he said.
The two had met years before, always hoping to work together, and reunited with the original idea of starting a pasta-themed restaurant in New York City. Gonzalez had the grains background, after years of studying the flavors and textures of pasta across the world. The two trusted each other, and they knew they could get the work done.
And so, Sfoglini was formed. It was not a restaurant, but a pasta company specializing in the niche, the flavorful and the organic.
Pasta Made With Local New York Grains Grows in Popularity
Sfoglini produces 15 durum semolina pastas made from North American organic grains, and a series of New York State grain pastas made with organic whole grains like rye, emmer, einkorn and spelt. It also creates seasonal specialty pastas that have included cuttlefish ink spaccatelli, basil reginetti and sriracha, beet and ramp fusilli.
"These alternative grain options combined with our unique shapes were something not being offered," Ketchum said.
The name "Sfoglini" was inspired by women in Bologna, Italy, known as "sfogline," who, for generations, made pasta by hand using traditional techniques.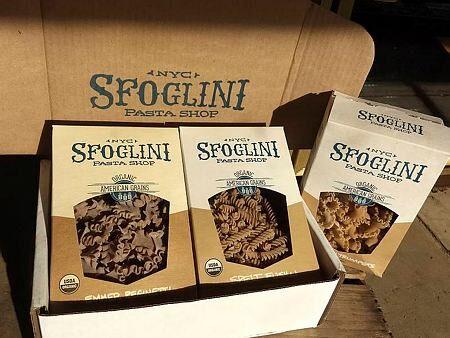 Here in the U.S., the Sfoglini pasta company began in an old laboratory building in Brooklyn in 2012. The pasta makers rapidly outgrew the space available to them.
"We were happy with the success we were seeing," said Ketchum of their takeoff in the Williamsburg neighborhood of Brooklyn.
In the span of six to eight months, they moved Sfoglini from the original 700 square feet into additional rooms of the building, jumping to 2,000 and then 4,000 square feet, in three rooms. Wholesale accounts with restaurants grew into additional direct-sale enterprises. New York City's Greenmarket Grain Program began to carry Sfoglini pasta at flagship farmers markets. From there, continuing to grow, they left the city in 2018 and opened a facility in Coxsackie, New York, in the Hudson Valley.
The facility in Coxsackie is about 37,000 square feet now, allowing them to approach grocery stores and bigger retail outfits. They have not fully grown into this space yet, but they are well on their way.
"We're steadily growing in natural and organic food stores," Ketchum said.
The Key is in the Ingredients
Though Sfoglini wasn't originally focused on organic, they began testing durum semolina wheat from the Midwest. Ketchum and Gonzalez found that the organic grains led to a better quality product in the end. So, they moved their entire line toward organic grains.
"It was another way to differentiate our pasta," Ketchum said.
The combination of Italian technique and regional ingredients creates an artisanal edge and the unique textures and shapes Sfoglini strives for.
The two use traditional bronze dies and plates to make their pasta. Bronze dies are the actual metal plates that go into a machine to make the shapes of pasta. The bronze dies are more porous and lead to a rougher texture that allows sauce to stick more thoroughly than on a smoother pasta. Bronze dies, as an artisanal product, are more expensive than their Teflon counterparts — they need to be replaced and are damaged by high temperatures over time — but they keep the pasta unique.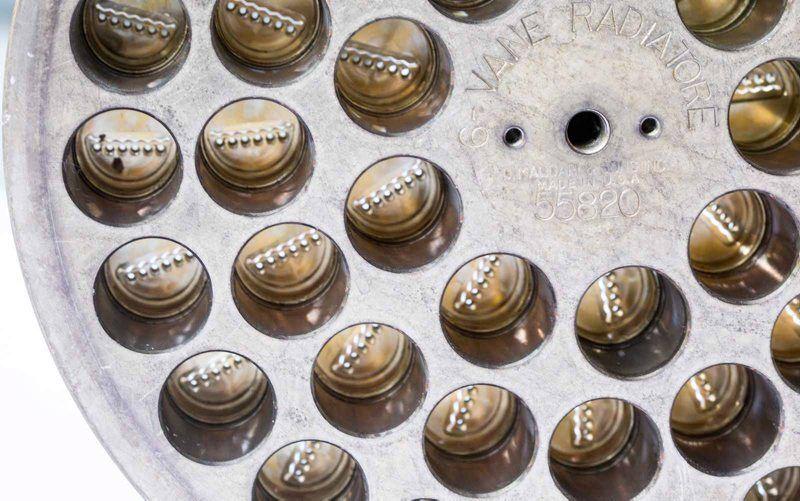 Slow-drying pasta is another key element of Sfoglini's design — the process takes longer than mass-producing pasta companies have time for, but it better preserves the pasta flavor and nutrients. Sfoglini's slow-drying process takes about 10 hours. Comparatively, bigger facilities will average batches that dry in three to five hours.
And, of course, one of the biggest factors to set this pasta apart is its grain.
Farmer Flour
It was nearly a dozen years ago that Farmer Ground Flour took shape in Trumansburg, New York. There, a group of grain growers decided that one would learn how to be a miller, and the other two would focus on growing organic grains. Thor Oechsner, one of the owners who is still farming grains today, contracts with other growers in the Finger Lakes region when he can't keep up with the demand for corn, wheat or rye.
"Organic was a main priority," said Ben King, one of the current millers. "We wanted a good, healthy product."
The mill doesn't offer a white flour — everything is milled whole on stone mills only, and they never remove the whole bran.
"Different people are interested in different parts of our flour," King said.
Buying locally raised products is important for many, but predominantly, the flavor aspect of the grains is what brings the most interest.
In New York City, the Greenmarket farmers markets require that makers of value-added goods source their ingredients from within a certain mile radius. So, many bakers and chefs initially approach Sfoglini for that reason.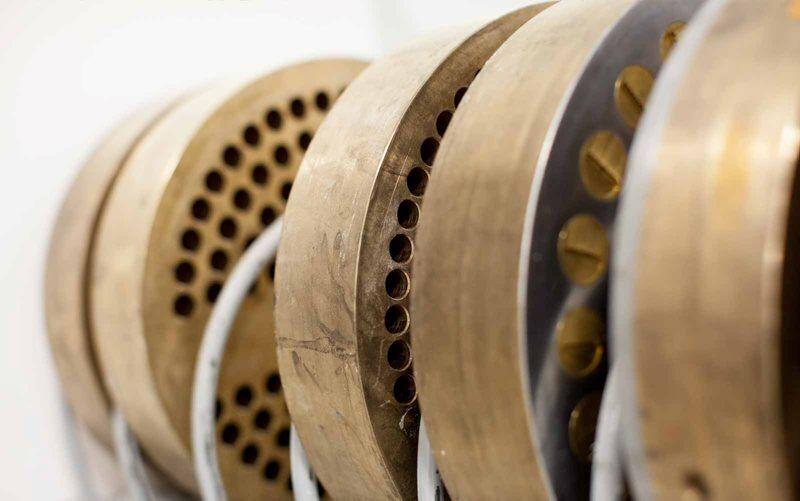 They stay, King said, for the flavor.
Sfoglini buys a half white flour from the mill for full germ and full bran flavor, and in the past has bought in rye and spelt from the mill. Some specialty grains, like emmer, have been phased in ... and then out ... at the mill. The demand just isn't strong yet, and the price becomes too high.
Introducing Customers to Organic Flavors
Both Sfoglini and Farmer Ground Flour hope to continue to bring these grains into the limelight, in time.
"I really love to support organic farming and more regenerative farming practices," Ketchum said.
Sfoglini, like so many food ventures, was hampered in 2020 by massive restaurant shutdowns and grocery stores that were not bringing in new products in the midst of new and ever-changing COVID-19 protocols and safety regulations. Those retail customers, Ketchum said, are now slowly starting to increase. So is purchasing from distributors like Baldor and similar national companies., he said.
While sales slowed during the pandemic, the pasta company worked with New York City to help make pasta for the city's food pantries.
Sfoglini also offers a Pasta of the Month Club, something the two founders started early on in the business. The pasta club sends out a box of specialty pasta made with ingredients from local farms, and a box of its signature pasta, along with recipes and pairing suggestions from Gonzalez.
At the end of the day, it's still all about the grains.
"I really want these grains," Ketchum said. "I hope to grow the audience for these."