PINE GROVE, Pa. — There are bakers and there are bakers, but at the top of the list there are blue-ribbon bakers. These culinary artists create award-winning pies and cakes that are honored with blue ribbons at fairs across the country throughout the summer and fall.
In Pennsylvania, the blue-ribbon bakers get to compete against their peers at the annual Pennsylvania Farm Show in Harrisburg each January. There, 100 bakers wait (a little nervously) as five judges narrow the field to 25 pies, before a second round of judging determines the top five ribbon winners and the champion.
Amy Witmer's pies have made it to the final round twice in her six previous Farm Shows.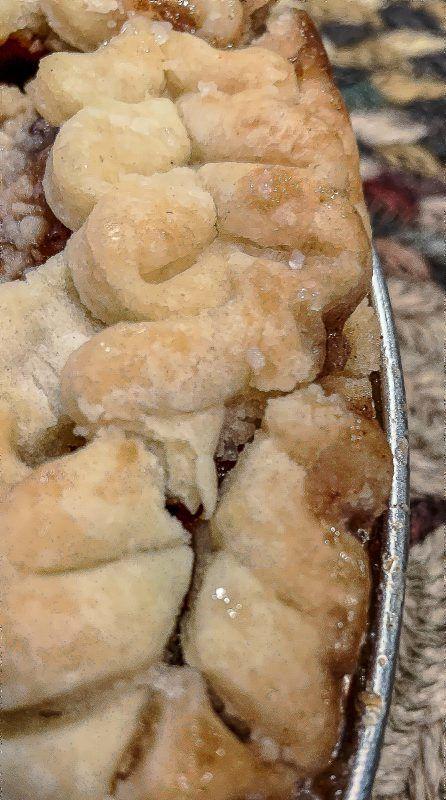 If you are a serious, amateur baker, being named in the top 10 at the Farm Show is an honor. Taking home a top-five ribbon at the event is "over the top." And, having your apple pie chosen as the best of the best is a dream come true and may take, literally, years of competing and a little luck.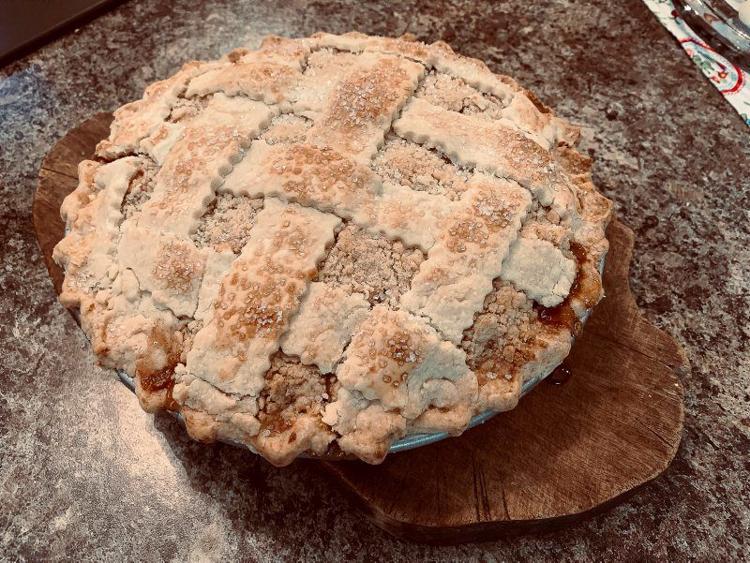 This January, Witmer, of Pine Grove, who, since 2011, has won multiple blue ribbons for her pies, will compete at her seventh Farm Show. She will bake her latest apple pie creation — the winner at the 2019 Schuylkill County Fair, held July 29-Aug. 3, and maybe her best — for the judges. Witmer is hopeful and optimistic that this is the year the judges will pick her pie for top honors. Her supportive family and friends believe her last six entries were all good enough to win and they, too, are positive that this year will be Witmer's year.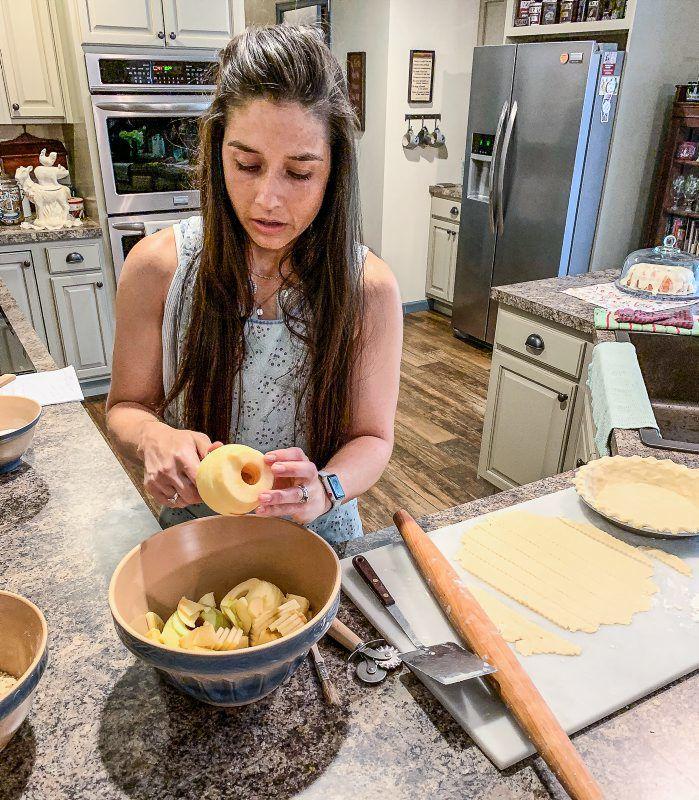 A Jonestown native, Witmer has been cooking and baking since she was a child. In recent years, her hobby has blossomed into what some people might call an obsession. She attends cooking seminars, acquires vintage cookbooks and scours them for ideas she can adapt, collects antique pie plates, and tries new baked goods on her family whenever she can.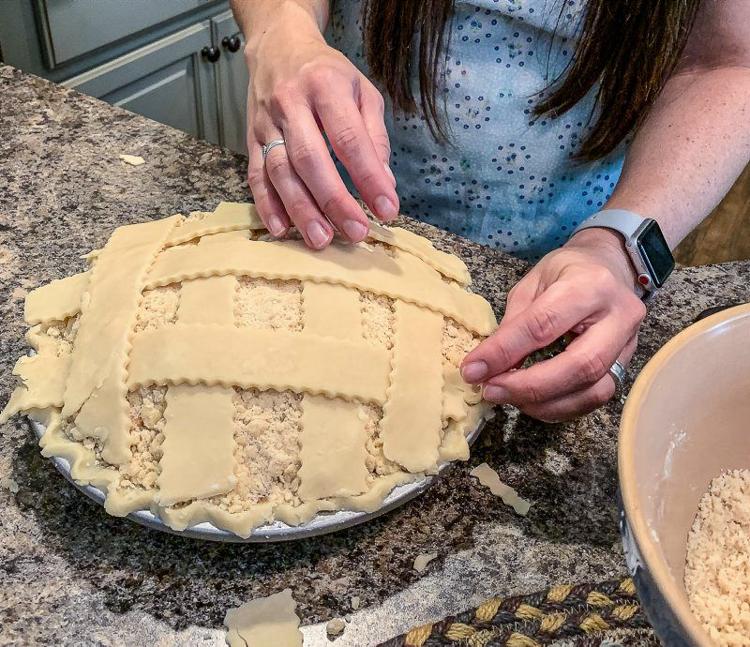 In 2015, the Witmers built a new home on 9 acres at the top of a steep hill — so steep they park their cars halfway down the driveway during winter storms so they are sure they won't slide into the woods on their way to work. Witmer's husband, Joe, is supportive of her competitive baking exploits. He encouraged her to be sure she had the right kitchen in the new home. She does. The kitchen has double ovens, large working counter spaces, an extra center burner on the cooktop for canning, a pot filler sink and a walk-in pantry.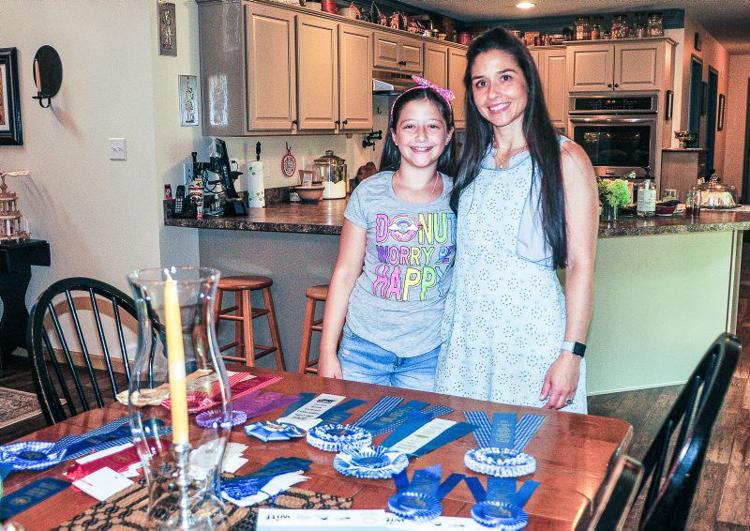 Witmer said she and her husband think of themselves, living way out in the country, as homesteaders. They live close to the land. She cans fruits and vegetables, raises chickens for eggs, makes soap and candles, and experiments with snacks and cereal like granola. The traditional ice cream the Witmers make is a big hit at social events and reunions.
Between working outside the home and raising daughters Sara and Emily (who both have learned baking skills from their mother), Witmer often finds time to bake for family and friends so they can test her recipes for the fair circuit.
"You have to be ready to compete in multiple fairs," Witmer said, "to have the best chance that your apple pie wins a blue-ribbon award. ... A blue ribbon from a local fair is the ticket."
That has not been an issue for Witmer as she has won the blue ribbon for her apple pie in every fair competition she has entered.
The baker first got the bug to enter one of her apple pies — always a hit with friends and family — into competition in 2011 at the Lebanon Fair. She won her first time and hasn't looked back since. In 2017, she won blue ribbons for both her apple pie and her chocolate cake at the Lebanon Fair.
Completely self-taught, Witmer's first blue-ribbon pie was pretty traditional. She describes it as two-crust apple-blueberry pie. Apple pies can be mixed fruit, Witmer said, as long as they include 60% apples.
So how did this just-turned-40 baker get the baking bug and stay so successful?
Witmer said, "I come from a Pennsylvania Dutch background and inherited the baking gene from my maternal and paternal grandmothers, as well as my mom, Millie Leininger, who did a little competitive baking" when (Amy) was a child, but never got the bug.
Witmer's mother-in-law, Yvonne Witmer, taught her the artistic side of baking — and that cakes and pies can look good as well as taste good.
Witmer said she always helped her mother bake and as an adult started baking cakes and pies for family and friends for birthdays and celebrations. In the last two years, she even made intricate wedding cakes for her brother's and niece's weddings and one for the wedding of a friend. She has always been a fan of French pastry arts, too, and her Pennsylvania Dutch background got her interested in baking German specialties at Christmas, including Stollen, Pfeffernusse, Springerle and iced Lebkuchen.
The blue-ribbon baker uses several varieties of apples in her recipes depending on the season, and, naturally is a little reluctant to talk in detail about specifics. She said she is always looking for what is freshest that season and has had success with Granny Smith, Golden Delicious, Honey Crisp and MacIntosh varieties.
Competitors do not skimp on ingredients, Witmer explained, from the flour (always King Arthur-brand for her), to the fillings and spices that tweak the flavor. And, many competitive bakers, she said, have signature designs for their pies. She creates detailed leaves out of her pie's circular crust edge, giving each a unique look.
"And, competitive bakers," she smiled, "may not be happy with the look or taste or consistency of the pie they are baking for a major competition and could do it a second or even a third time before turning it in."
Witmer always takes a close visual look at the top five pies at the Farm Show and reads the recipes carefully to see if there is something unusual or a combination of ingredients or spices she hasn't seen before. But, she emphasizes, her pies are always unique to her and do not include anything special from a competitor's creation.
"There is no rule against submitting the same pie a second time if you didn't win the year before," said Witmer, "but I don't understand why anyone would do that. I want to make a pie that tastes and looks better than the last. That's the challenge. That's having the bug!"
Fair judges rarely share information with competitors about their pies.
"You always are guessing or trying to figure out what made the winning pie the winner and it isn't always obvious," Witmer said. "There are lots of variables."
Where does Witmer go from here?
"Well, first I want to bake the Farm Show winning apple pie," she said, "or at least make the top five. Maybe then, I'll give serious thought to moving on to the Pillsbury Bake-Off, the King Arthur baking challenge or maybe the American Pie Council competition."
Although family and friends have encouraged her to go into business, Witmer said the issue is her location. It isn't that she doesn't think her cakes and pies won't sell, but because she lives out — way out — in the country, the question is where to sell them or how. For now, Witmer is focused on the 2020 Farm Show. She'll think about the rest after that.