What if you found something edible that had just 96 calories per cup, was low in carbohydrates and was a great source of vitamin C, too? This isn't a newfangled diet food. It's something ancient — and it's also not something you'd likely eat by the cupful. I'm talking about horseradish, a root vegetable with many uses through the years. According to horseradish.org, it has been used since 1500 B.C. when the Egyptians were first to use it.
Horseradish is best known as a tangy condiment that can accent the flavors of proteins like beef, pork and eggs. But, horseradish has also been used as a topical pain reliever, an aphrodisiac, a sinus opener, a spring tonic, the key ingredient in German "horseradish schnapps," an expectorant cough syrup base, and an important part of the Jewish Seder, a meal held during the Passover holiday each spring. There's even an International Horseradish Festival each year in Collinsville, Illinois, in an area with potash-rich soil where about 60% of the world's horseradish supply is grown.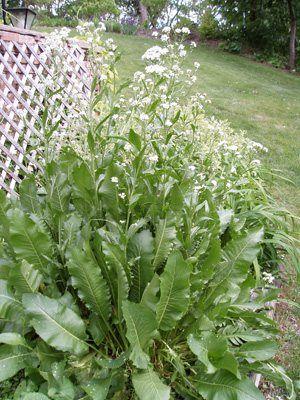 Horseradish is a perennial of the Brassicaceae family along with its better-known vegetable cousins: mustard, broccoli, cabbage, wasabi and the common radish. Wikipedia notes that horseradish grows best in hardiness zones 2-9, where it can reach up to 5 feet in height, with bright green, unlobed leaves that may be as long as 3 feet. While the leaves are quite showy, it's the plant's large white roots that are the horseradish plant's main attraction.
Samuel "Sam" S. Stoltzfus, of Leacock Township, Lancaster County, Pennsylvania, is a man who knows his horseradish. He and his family have been growing or processing horseradish on their farm for the past 30 years. What started as a search for an alternative sideline to raising tobacco on their dairy farm, soon led to horseradish becoming an important supplement to the Stoltzfus' household income. Sam recalls that, ironically, some visitors thought that the border of large-leafed horseradish plants growing along their farm lane was a crop of tobacco.
Sam points out that the name "horseradish" has nothing to do with horses. Rather, horseradish was grown near the sea in Germany, where the word for sea is "meer;" thus, it was known as "meerrettich" or literally, "sea radish." Meer's pronunciation sounds like the English word "mare," a female horse, and thus the English translation to "horseradish" was born from a bit of bilingual commingling.
Discovering Demand 
Another side venture on the Stoltzfus farm has been building gazebos and sheds. While making a gazebo delivery in New York City in the mid-1980s, Sam encountered a Jewish family seeking horseradish roots. They were interested in growing them for use during Passover, their faith's commemoration of the Jewish people's exodus from Egypt. The Passover dinner, or "Seder," often includes prepared horseradish as the "maror," or bitter herb, symbolizing the bitterness of the Israelites' enslavement in Egypt, as directed in Exodus 12:8 in the Bible.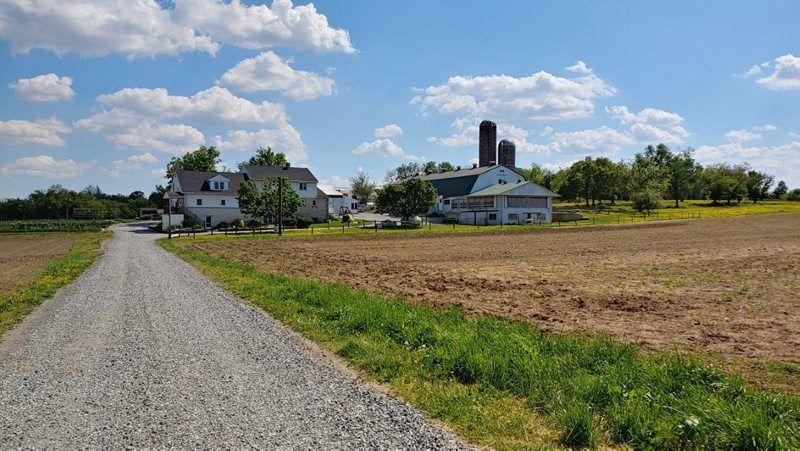 Eventually, while at Hunts Point Produce Market in the Bronx, New York City, Sam was approached about providing "big horseradish roots" by the owners of the Rosenthal and Klein market stall there. They requested that the green tops be left on the roots, to better preserve them for Passover, when horseradish prices are at their highest. Sam obliged by shipping them four 40-pound crates of large horseradish roots, packed in 5-pound plastic bags.
Before long, Sam and his son were borrowing a U-Haul truck and riding along to New York City to unload 50 or 60 cardboard boxes of large horseradish roots with attached greens at the market.
"We just kept on doing more and more," said Sam of the ongoing demand for their horseradish roots. By 2012, they were selling 300 to 400 boxes of horseradish roots each growing season.
Meanwhile, Katie Stoltzfus, Sam's wife of 53 years, had begun digging up some of the smaller roots left behind at the end of the growing season, which runs from late March until the first killing frost. That's when the horseradish roots are dug, sorted by size, and separated. The large main roots are ground to make the condiment known as horseradish, while the most sizable new shoots will be replanted to produce the following season's crop.
Katie grated the smallest roots, adding some vinegar, sugar and salt, and then filling jars of the resulting product for sale. Her prepared horseradish became popular locally, providing a further supplement to the Stoltzfus' household income.
"We had a big blessing with it," Sam said.
Evolving the Horseradish Business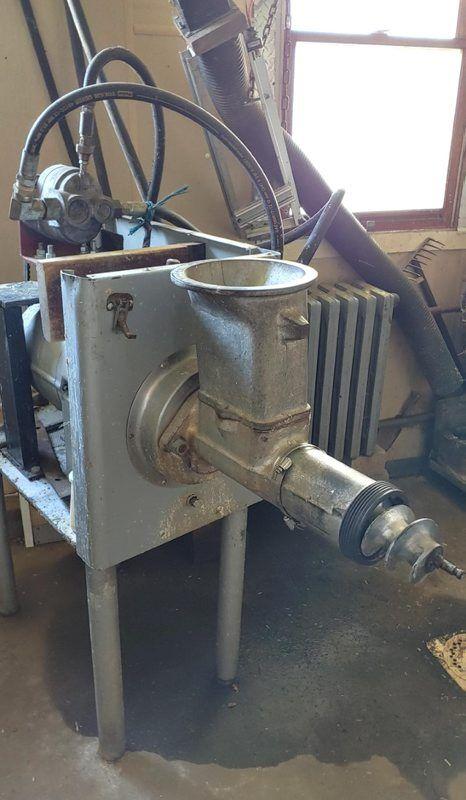 Things changed at the Stoltzfus farm after the couple's sons married and no longer lived at home. In 2013, Sam and Katie discontinued the labor-intensive process of growing horseradish. Mounding the soil, planting roots in those mounds, cultivating and hoeing to control weeds are physically demanding and time-consuming tasks. Now the elder Stoltzfuses focus on producing horseradish by grinding it into a ready-to-use product they sell under their Leacock Manor brand name.
Sam explained that, these days they get about 1,000 pounds of horseradish roots shipped to them annually from a supplier in Illinois. Sam stores the roots in a walk-in cooler on their farm. He then grinds nine 4-gallon buckets every three weeks, which yields about 700 gallons of prepared horseradish annually — enough to fill 2,000 8-ounce jars. He and Katie also sell their horseradish in 4-ounce, 16-ounce and 1-gallon size containers.
Processing these roots is done with a mechanical grinder, which is washed and sterilized before each use. After the roots themselves have been washed and any imperfections removed by hand, Sam grinds them directly into a plastic bag-lined 5-gallon bucket, with vinegar in the bottom of the bag.
Grinding these roots releases allyl isothiocyanate, better known as mustard oil. Because it is an irritant to mucous membranes in the eyes and sinuses, Sam keeps a fan running during the grating process and also places a plastic shield over the bucket area to prevent strong horseradish fumes from filling the work area. The prompt exposure to vinegar yields a mild version of this tangy condiment, since vinegar quells the allyl isothiocyanate.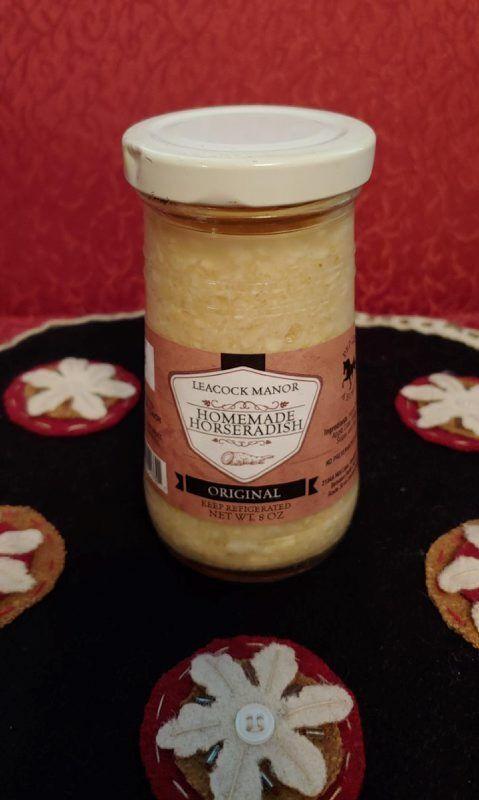 The grinder can process eight 5-gallon buckets of grated horseradish per hour. Sam calculates that it takes 3 pounds of roots to fill four 8-ounce jars. In addition to their basic horseradish, the Stoltzfus' Leacock Manor brand also offers a horseradish mixed with beets and another with mustard added.
The Stoltzfuses sell much of their horseradish at Gordonville's annual mud sale in mid-March, which attracts attendees from all over the East Coast. They then receive a good deal of repeat business from customers who contact them to purchase more.
Sam and Katie enjoy eating horseradish with beef or pork dishes, while other folks like it as an accent in soups, salads and with eggs. The Horseradish Information Council calls horseradish "the secret ingredient" and proves it by including numerous recipes for appetizers, main dishes, side dishes, beverages and kids' recipes at horseradish.org.
Although known to many as "Horseradish Sam," Sam Stoltzfus still sells and fixes gazebos and sheds, writes for several Plain Sect publications, and is the published author of "What It's Like to be Amish."
For further information, Sam may be reached at 3184A Mill Lane, Gordonville, PA 17529-9504 or 717-687-8194.